California, thirty-first state of the United States of America,  the birthplace of the film industry, the hippie counterculture, the personal computer, the internet and a ton of hot women.  Denise Schaefer was born and raised in Lima, Peru, (So WTF are we reading about California?!) but she is a pure Cali girl by heart.  This voluptuous model was discovered in this online mobile photo-sharing site, thus becoming an instant Instagram sensation. She modeled for a number of top brands which brought her traveling around the world.
Denise Schaefer was born on Febuary 16, 1994. Her parents moved from Lima, Peru to Ventura, California when she was just eleven years old. Although Peruvian by birth, she is a typical Californian girl, enjoying the sun, surf and bikinis. Who would have guessed that this sexy vixen would be a badass gamer. She won't quit a game until she beat everyone around her. Starting with Temple Run she has the record of fifteen million points. Right now she is into FIFA, not that great yet but playing as Real Madrid with Ronaldo at the helm, this tenacious game addict will kick your ass. As Denise's modelling career soared, the twenty two year old beauty moved to Los Angeles and New York City eventually. If she were not a model, she could be an actress or a lawyer.
Instagram- this photo sharing app has given us joy as well as countless beautiful women. This is where all it started for Denise. Just taking snaps of herself and posting it online, checking out how she looks. Eventually the pictures got hotter and hotter and her followers grew more and more.  Currently with two hundred thousand followers and three thousand more every month, she is a social media goddess. Even at this stage of Instagram stardom, Denise hates the word selfie… it creeps her out. Kudos to you Instagram for giving us this fiery hot model.
The perks of a sought after model is that you travel around the world. After her social media explosion, Denise would model for top brands like Guess, Marciano and Sports Illustrated to name a few. These brands do really know how to choose what we like. In her career as a model, one shoot stood out that she could never forget. It was an outdoor bikini shoot with wet hair at twenty five degrees. She thought she was going to freeze to death. But after the pictures were out, it was worth it. Her favorite stopover when working/travelling is Tahiti.
Denise Schaefer, a young hot beautiful Instagram goddess who plays FIFA while travelling around the world, is definitely living the California dream.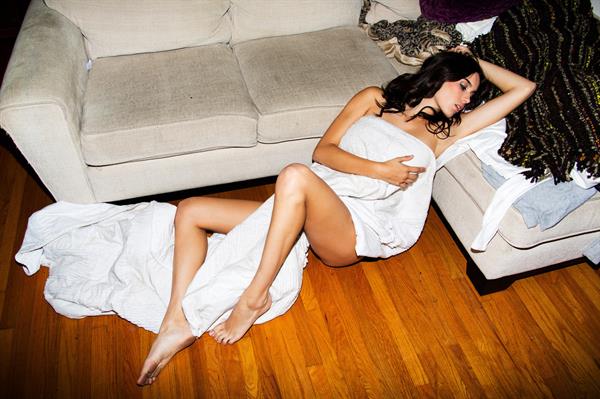 If you need more of her check out her infinite scroll:  Denise Schaefer Pictures