A less angry Rosie O'Donnell?  (Editor Note: I never thought I would see that name in one of our articles) Very unlikely as Gina Carano here is 300% hotter outside her Angel Dust character.  I mean, the Man of Steel wouldn't date her if she weren't.  Here have a long, good ogle at the woman who performs all of her stunts.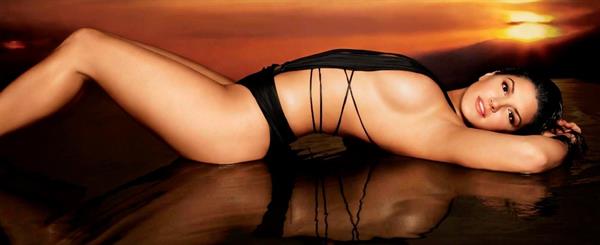 Heck, she was even once rumored that she's using her hot looks to advance.  But man, I cannot blame whoever is behind that rumor.  I mean, with her looks, I'm pretty sure that she can get whatever she wants.  Not just in her career but also in life.
Who is Gina Carano?
Gina is an American (former) MMA figher, actress, and fitness model.  She began her career as a Muay Thai fighter and was crowned as 'The Face of Women's MMA'.  Gina here holds an amazing Muay Thai competitive record with 12 wins, one loss, and one draw.  She is also the first American woman to win a title in Thailand in Muay Thai.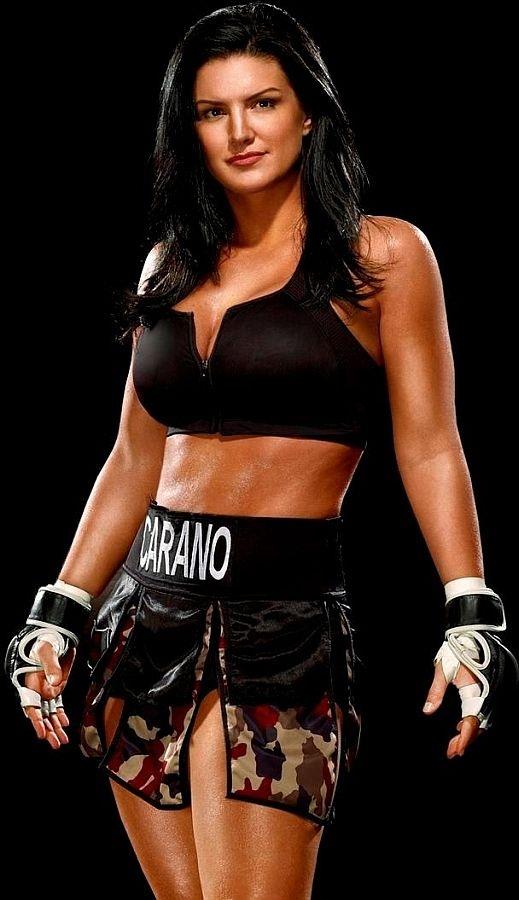 As an actress, she is notable for her roles in films such as 'Haywire', 'Fast & Furious 6', 'Heist', and Deadpool'.
Her Early Life
Gina Carano was born on 16 April 1982 in Dallas County, Texas.  She is of Italian, English, Scottish, and German heritage.  She has an older sister, Casey, and a younger one, Christie.  Though her parents divorced in her childhood and she was primarily raised by her mother, her father played an integral part in her upbringing.
Being the daughter of a professional football player, Gina was heavily exposed to sports.  She studied gymnastics, jazz, tap, ballet, and horse riding while growing up and excelled in basketball, volleyball, and softball in school.  She also trained in Jiu-Jitsu and wrestling.  (In other words, she could totally kick this writers ass)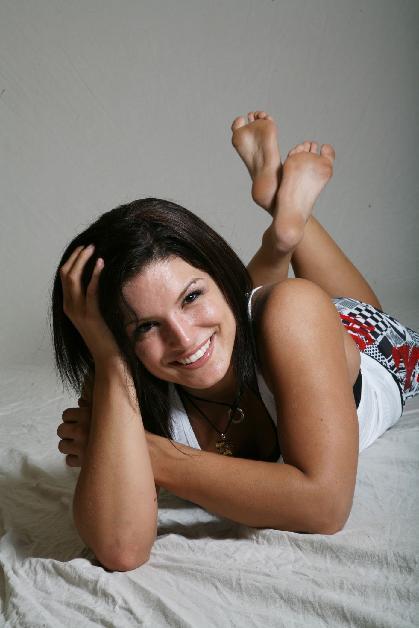 Gina studied at Trinity Christian High School in Las Vegas, Nevada where she led her girls' basketball team to a state title.  After graduating high school she attended the University of Nevada and majored in psychology.  However, during her last year, she dropped her studies to support her older sister through a crisis.  At 21, she started Muay Thai training with the four-time world kickboxing champion Master Toddy on the advice of her then-boyfriend Kevin Ross.  The master was impressed by her determination and saw potential in her.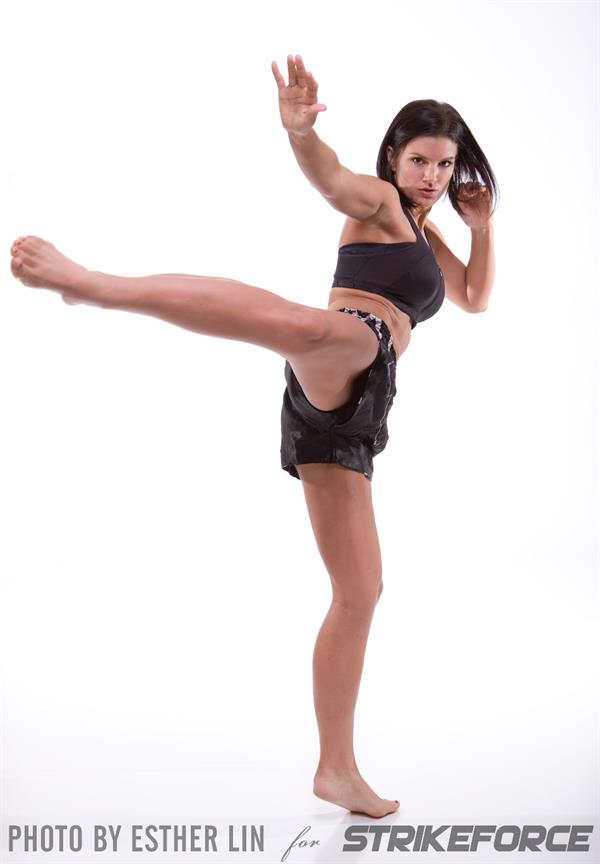 Her Fighting Career
In June 2006, Jamie Levine invited her to take part in the first-ever sanctioned women Mixed Martial Arts bout in Nevada by fighting against Leiticia Pestova.  Gina registered a remarkable win in the first round within 38 seconds.  In the World Pro Fighting show in Las Vegas on 15 September 2006, she knocked Rosi Sexton out in the last seconds of the second round.  She won a jaw-dropping fight over Elaina Maxwell on 8 December 2006 at the first Strikeforce: Triple Threat female fight.  In the following year, she appeared in the reality show 'Fight Girls' as a mentor and won millions of hearts for her amazing work.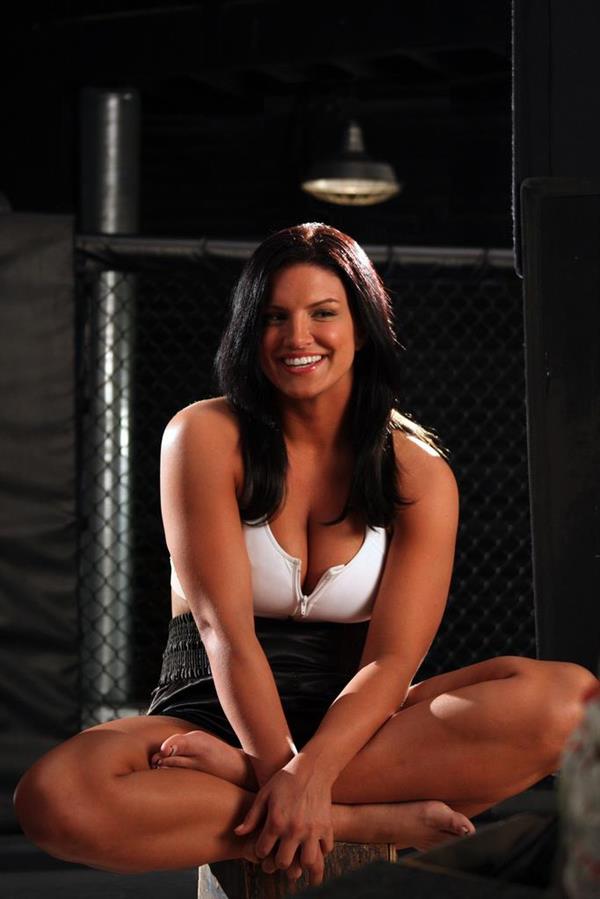 On 10 February 2007, in the first televised female fight on Showtime, she knocked Julie Kedzie flat in the second round. This roaring brawl was called as 'Fight of the Night' in which the fans applauded for both women by giving them standing ovation.  In September of the same year, she won the fight against wrestling champion Tonya Evinger by using submission for the first time, through a rear naked choke.  In May of the following year, she defeated Kaitlin Young at EliteXC: Primetime.  October 2008, she stripped off at the weigh-in and successfully made it to 141 pounds to fight against Kelly Kobold.  She defeated Kobold unleashing powerful kicks and blows which ultimately caused a deep gash over Kobold's right eye.  Carano won unanimously and dedicated this victory to her grandfather.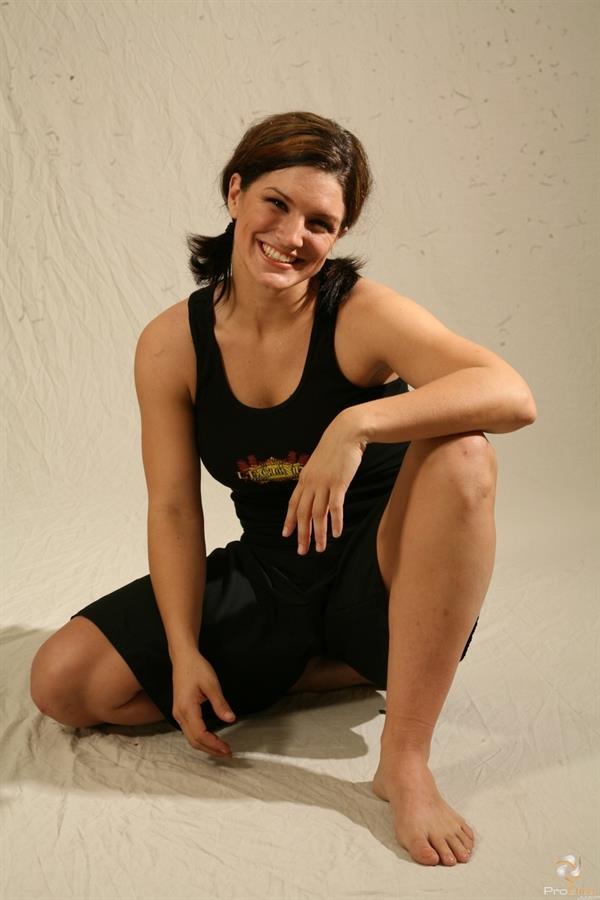 On 15 August 2009, the biggest fight occurred in the history of Women's MMA amidst approximately 14,000 viewers in San Jose, California which brought about the end of Carano's MMA career.  At Strikeforce's first Women's Championship, Brazilian fighter Cristiane 'Cyborg' Santos defeated Carano in the first round.  Through this fight, Carano also became the first female fighter who earned $100,000 for a single fight.
Her Entertainment Career
In 2006, Gina Carano appeared in 'Ring Girls', a cult movie about five women Muay Thai fighters challenging the best fighters all over the world.  Her real-life success in the sport, beauty, and personality drew her a significant number of fans.  She also played the role of an ice breaker for female boxers in Thailand.
In 2009, Gina was cast to star as 'Crush' in the TV show 'American Gladiators' in NBC.  She also appeared in 'Command & Conquer: Red Alert 3', a video game, acting as a Soviet commando and sniper, 'Natasha Volkova'.
Also in the same year, she did a cameo in 'Blood and Bone', a film by Michael Jai White. She also graced the cover of 'ESPN The Magazine – The Body Issue' posing topless and invoking criticism.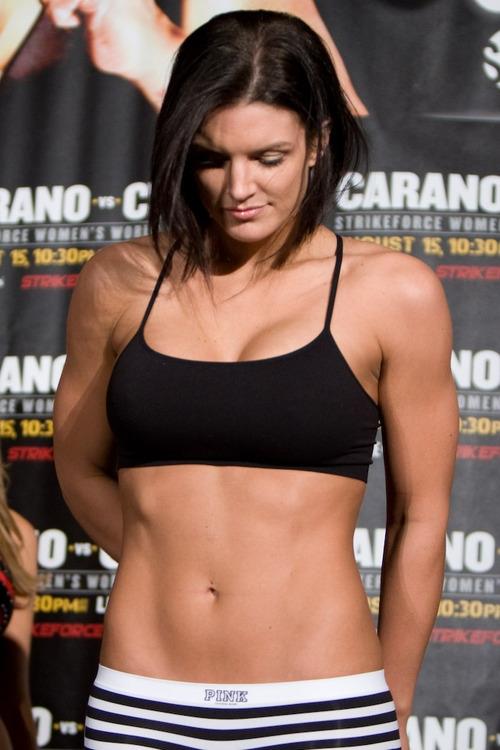 Gina's authenticity to making the Action look real earned her performance a Critics Choice Award Nomination for Best Actress in an action film.  Just this year, she starred opposite Richard Dreyfus in Daughter of the Wolf.
Gina will next be seen in the dark comedy Madness in Method, which is Jason Mewes directorial debut (set for release this August).
Facts and Trivia
According to the Unified Women's MMA rankings, she was the world number 3 in the 145 lb. category.
Gina Carano was 'The Face of Women's MMA' due to her skyrocketing popularity which she rejected politely.  'Big Biz Magazine' voted her as the 'Hottest Woman In America' in their Spring 2008 issue.
She became the fastest-rising most-searched personality on Google and on Yahoo, placed as the third most searched as per 13 May 2008.  Yahoo also ranked her fifth on their list of 'Top Ten Influential Women of 2008'.
Gina ranks 16 in the list of Hot 100 in 'Maxim' in May 2009.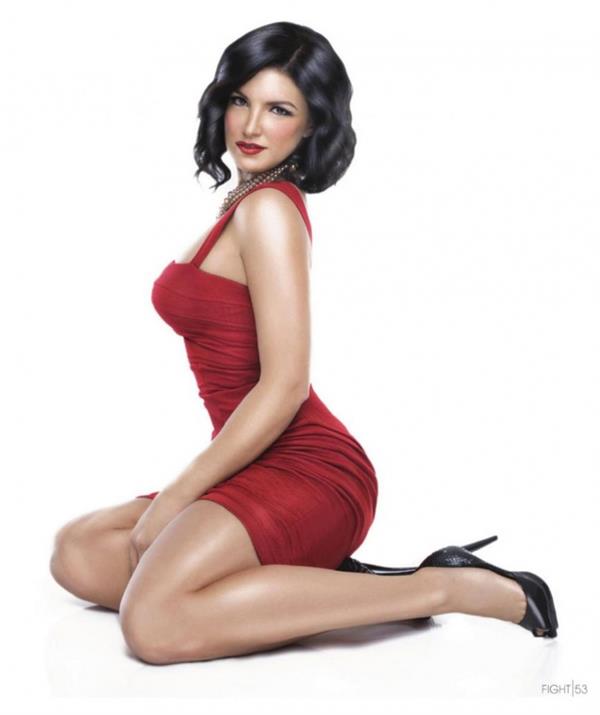 Gina's MMA career consists of seven wins and one loss. After her heart-breaking loss to Cristiane "Cyborg" Justino in August 2009, Gina never returned to the ring.
She got the ActionFest's first 'Chuck Norris Award' as the year's best female action star in April 2012.  She also received 'Awakening Outstanding Contribution Award' in the same year.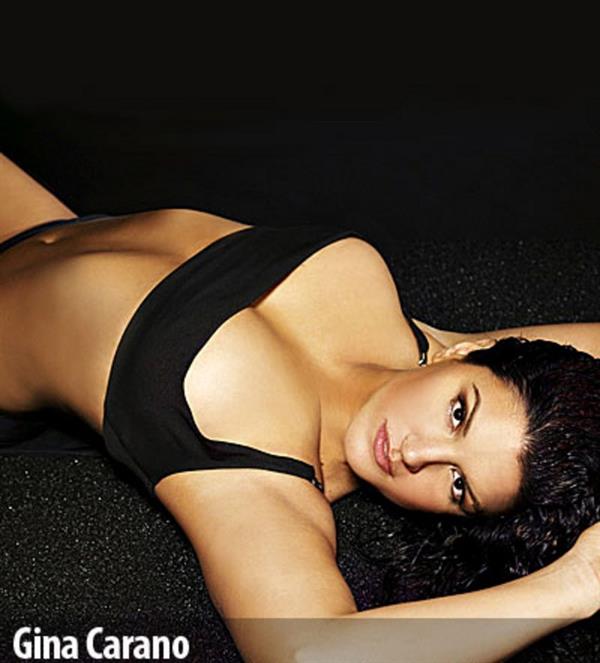 Gina Carano dated 'Man of Steel' actor Henry Cavill for two years from September 2012.  Currently, she is in a relationship with Kevin Ross since June 2015.  Gina and Kevin were in a relationship previously for four long years and separated for almost a decade before getting back again.
For 'Haywire' she was nominated for the 'Critics Choice Awards' in the best actress criteria in 2013.  She was also in the top 10 most searched athletes as per Yahoo in the same year.
Her Body Measurements
Gina Carano stands 5 feet, 8 inches and possesses a 38-28-37 figure.
Gina Carano Photos
Follow Gina on Instagram for her newest personal posts and career updates.
Also, do check out our Gina Carano page for more of her pictures.