It has been quite a while since we came up with a listicle about hot athletes.  And we know that you are dying for one. So here, from the sport that has sunkissed players…  Yup, folks.  This sport is just a joy to look at. And it's quite easy to understand the game…  That is if you can focus on how it's played rather than the ones playing it.
Oh, yes, there are a lot of hot ladies in this sport.  So let's start…  Again, in no particular order of hotness.
Sara Hughes
Sara Hughes is a beach volleyball player from the United States.  In August 2018, she shared a career-high global ranking of No. 9 with teammate Summer Ross.  Sara has three AVP Pro Tour tournament victories, two gold and three bronze medals on the FIVB World Tour, and one gold medal on the FIVB Pro Beach Tour.
Sara is a right-side defender known for her quickness and desire to chase down balls.  She was named the 2017 FIVB Top Rookie.
Winifer Fernandez
Winifer Fernandez is a Dominican beach volleyball player that brings more than just elegance to the court.  She has won numerous awards and helped to put her country on the map…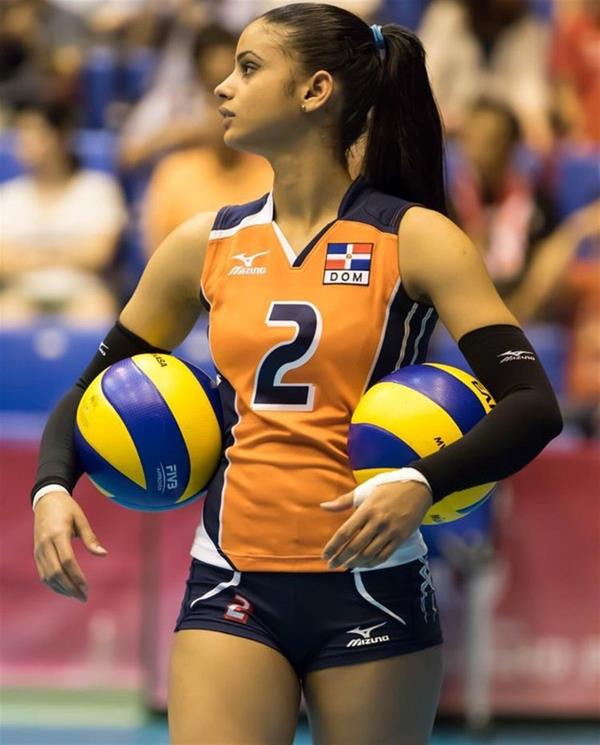 At the 2016 Pan-American Volleyball Cup, she won a gold medal with the Dominican Republic squad.  She also helped the squad to a silver medal at the 2015 NORCECA Championships.  Winifer was a member of the Mirador Club volleyball squad.
Alisa Manyonok
Alisa Manyonok was such an attractive beach volleyball player that she had to retire at the age of 17; the modeling industry couldn't wait to get her on their side.
After winning Miss Primorye in 2013, she decided to pursue modeling.  Alisa went on to win the Supermodel International competition in 2016.  In 2015, she was also named Russia's Top Model.
Sara Goller
Sara Goller is a well-known beach volleyball player in Germany.  She has been playing for over ten years and has won a few major championships with her partner Laura Ludwig.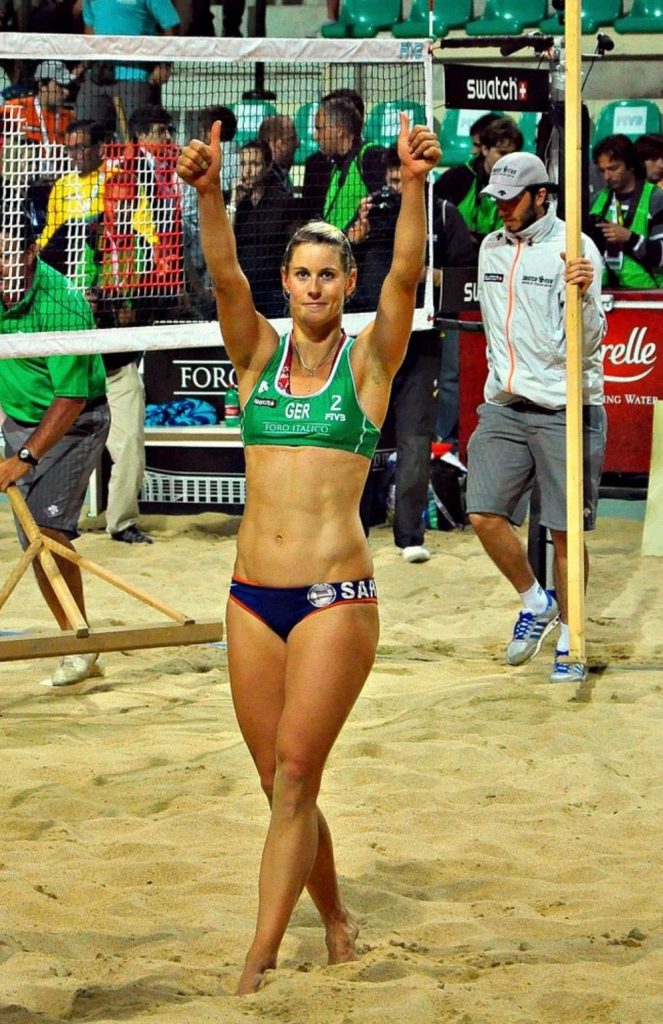 She won two silver medals at the European Beach Volleyball Championships in 2007 and 2009, as well as two gold medals at the Beach ECH in 2008 and 2010.  The duo competed in the 2008 and 2012 Summer Olympics, finishing ninth in 2008 and reaching the quarterfinals in 2012.
Siri Bjorkesett
Siri started her career in 2005. Tonje Reme Sand was her initial sand partner, but in 2008 she switched to Ranghild Aas.  They have created a name for themselves in the Norwegian beach volleyball scene by winning the Norwegian Tour and finishing fourth in the NM in the same year.  She was a member of the Norwegian national team at the 2009 World Cup in Stavanger.  In 2011, she and her partner Vilde Sollvoll called it quits.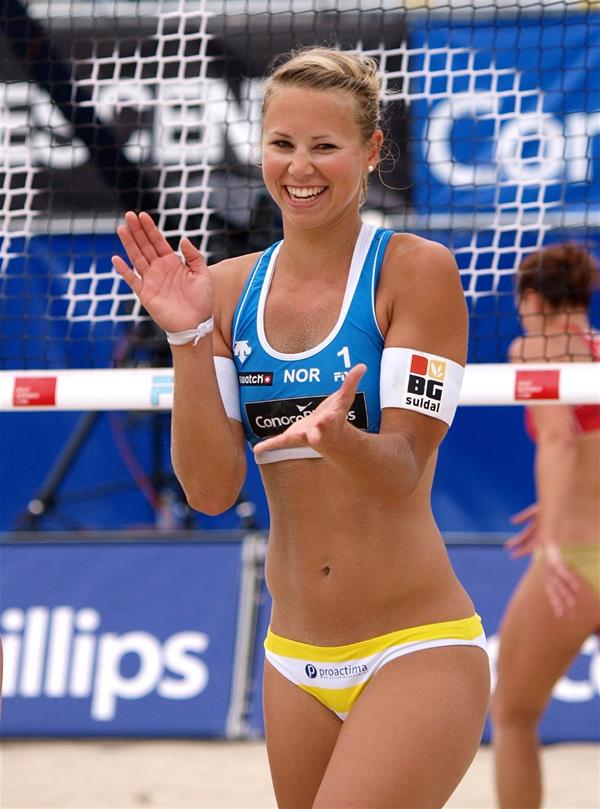 Siri Bjorkesett is a geologist with a master's degree.
Taylor Pischke
Taylor is a very talented Canadian beach volleyball player who made her international debut with Melissa Humana-Paredes at the 2012 FIVB World Junior Championships, finishing fifth.  The pair then won back-to-back bronze medals at the FIVB World Under-23 Championships in 2013 and 2014.
In 2014, they also won the NORCECA Continental Championship and finished fifth in the FIVB World Tour Grand Slam event in Sao Paulo.  Pischke has also played indoor volleyball for the Manitoba Bisons.
Jennifer Kessy
Jennifer Kessy is a total babe and a beach volleyball force to be reckoned with.  She has been in the game for many years and has won numerous titles with her partner April Ross.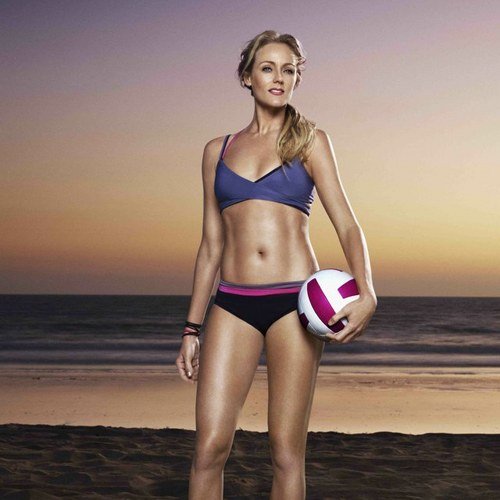 Of course, she's made a small fortune for herself along the way, and her beauty earned her a rare opportunity to appear as a Cover Girl for the 2012 Summer Olympics.  During the competition, she received a silver medal.
Maria Clara Salgado Rufino
Beach volleyball is nothing new in the Salgado family, and Maria Clara has been playing with her sister for years under the guidance of their mother, Isabel.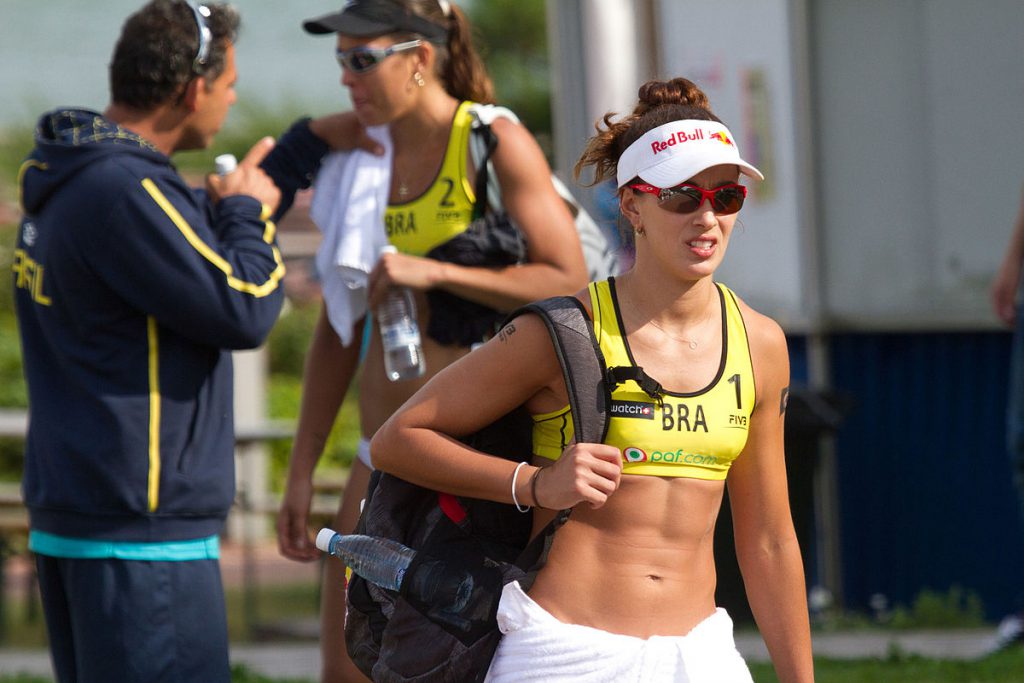 As of 2019, the South American was only active in the United States, where she finished in the top ten on the AVP Tour alongside Traci Callahan, Brittany Hochevar, and Caitlin Ledoux. After a year off, the South American finished ninth twice with Lexy Denaburg in 2021.  Delaney Mewhirter achieved the same result a year later.
Melissa Humana
Melissa Humana has been playing beach volleyball for over a decade despite being in her twenties.  When she began representing her county at the age of 16, she quickly demonstrated that she possessed more than just good looks.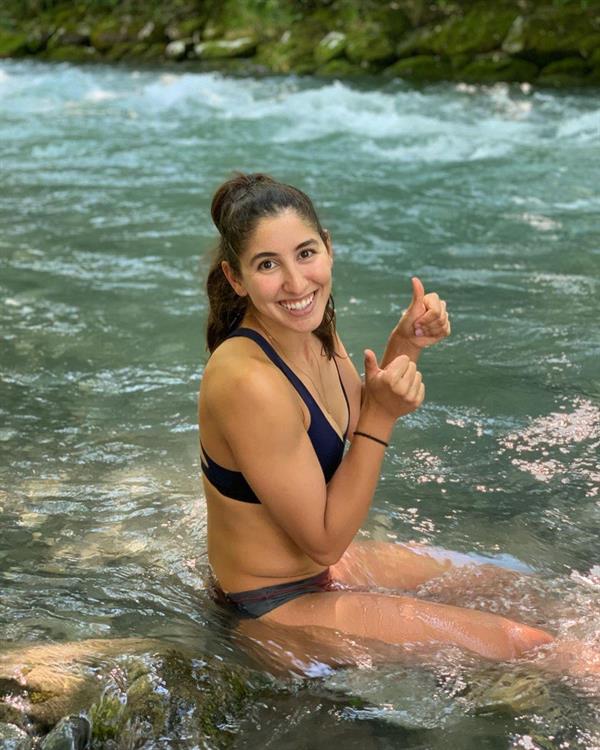 She is now one of the game's most fearsome left-side defenders when representing Canada.  She and Sarah Pavan won the women's gold medal at the Beach Volleyball World Championships in 2019.
Margareta Kozuch
In 2010, this German beauty of Polish descent was one of Germany's top athletes.  Margareta Kozuch is one of the world's top beach volleyball players, and her slim figure has won her many fans on social media.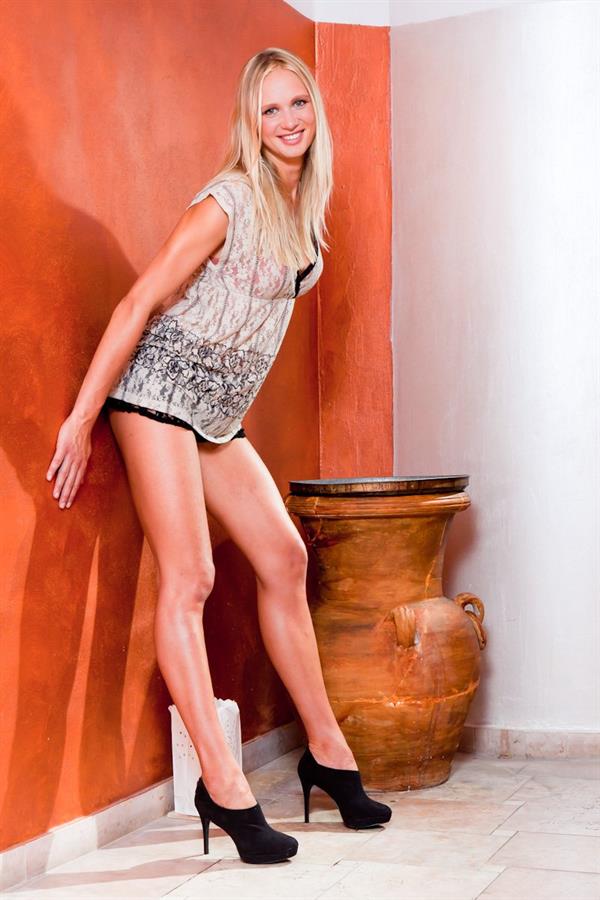 In 2009, the volleyball player also represented her country at the FIVB World Grand Prix.  After a successful career as an indoor volleyball player, she transitioned to beach volleyball in 2017 and even partnered with famous Olympian Laura Ludwig.
Anouk Verge-Depre
Anouk Verge-Depre is a well-known beach volleyball player from Switzerland.  She gladly represented her country at the 2016 Olympics in Rio de Janeiro but was defeated by the German team.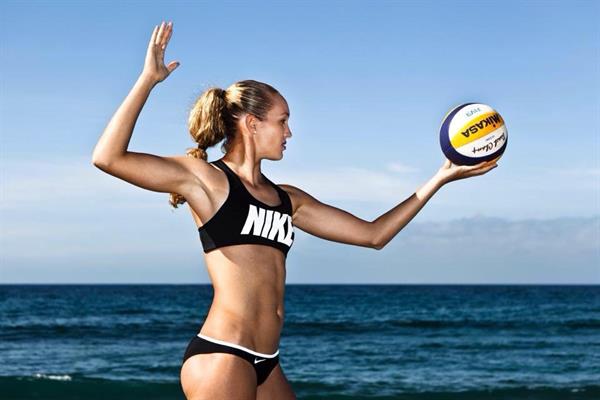 In 2016, she earned a bronze medal in Toronto against Larissa Franca and Talita Antunes. Joana Heidrich is her current partner.
Joana Heidrich
The Swiss beach volleyball player competed in the 2016 Rio Olympics, finishing sixth.  When Nadine Zumkheir retired, Joana Heidrich partnered up with Anouk Verge-Depre, who would also be her partner at the 2020 Tokyo Olympics.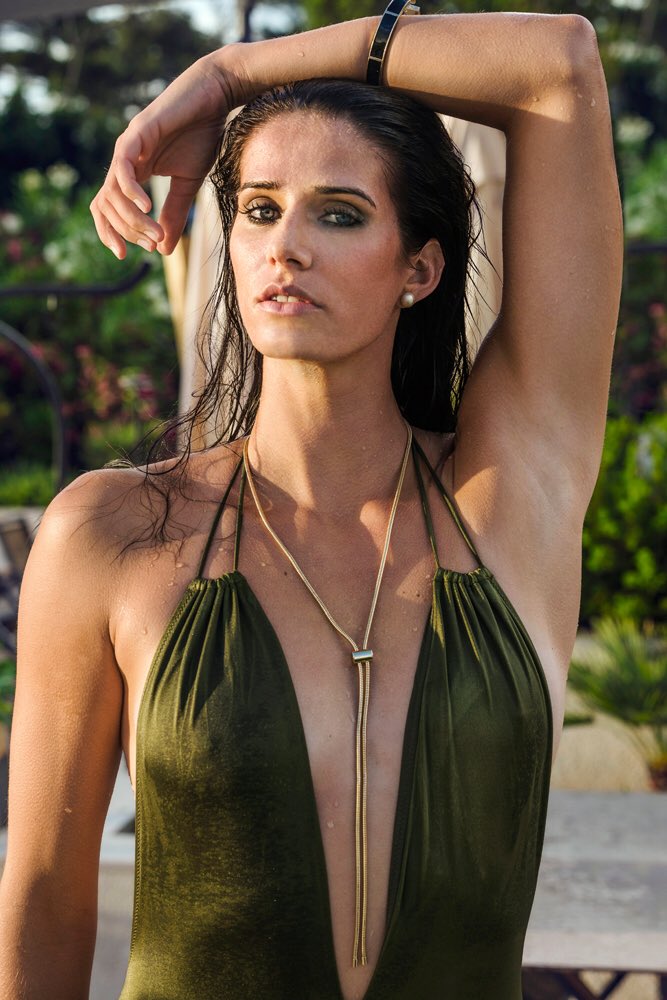 She and Joana reunited in July 2021 to represent Switzerland at the 2020 Summer Olympics in Tokyo, which had been postponed because to the worldwide Covid-19 outbreak.
Mariafe Artacho Del Solar
The gorgeous Australian volleyball player is still in her twenties and is currently partnered with Taliqua Clancy.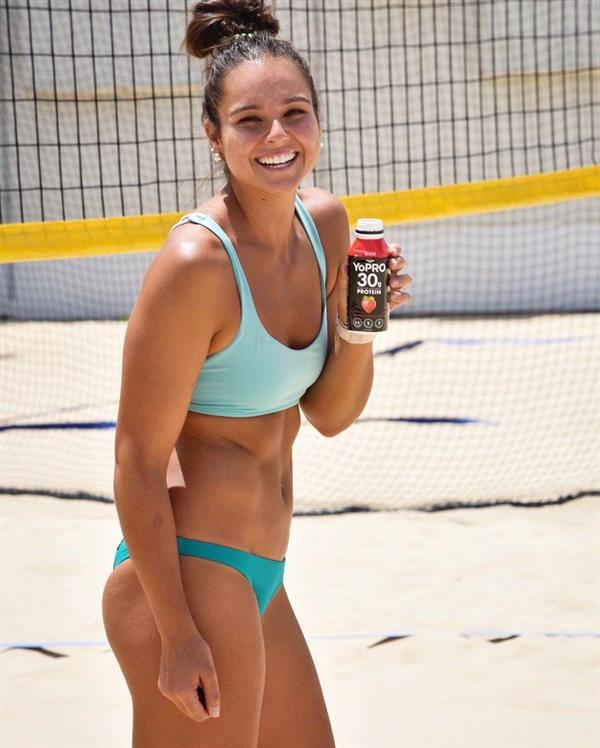 Mariafe Artacho Del Solar represented Australia at the Rio Summer Olympics in 2016 and the Tokyo Summer Olympics in 2021.  Artacho defends on the right side.
Eduarda Santos Lisboa
Eduarda Santos Lisboa is a Brazilan Beach Volleyball superstar.
Her best achievements came with her partner Elize Maia, with whom she won a silver medal at the 2019 World Championships and a bronze medal at the 2018 World Tour.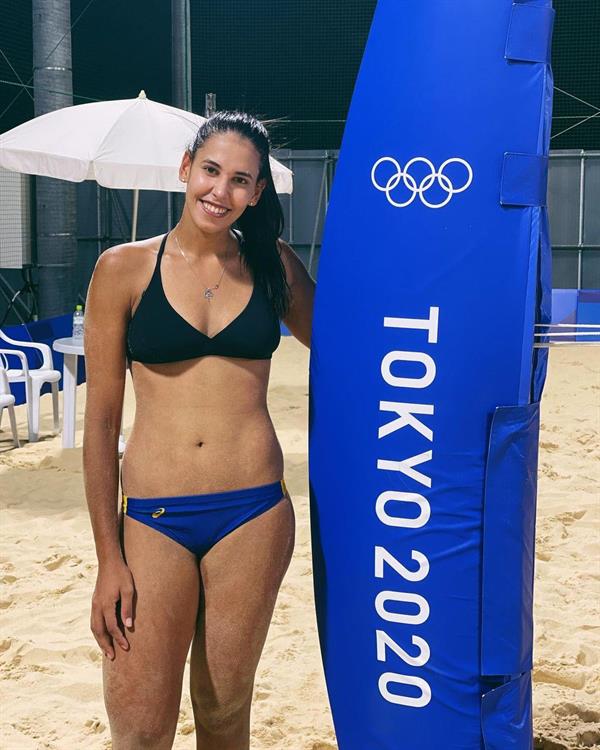 Duda is known for her dynamic playing style and ability to adapt to different partners and playing styles.  She has a strong serve and excellent ball control, making her a dangerous and competitive player on the court.
Carolina Solberg Salgado
Brazilian Carolina Solberg Salgado has competed on the FIVB World Tour since 2013.  She won gold at the 2004 FIVB Under-18 World Championship and again at the 2005 Under-21 World Championship.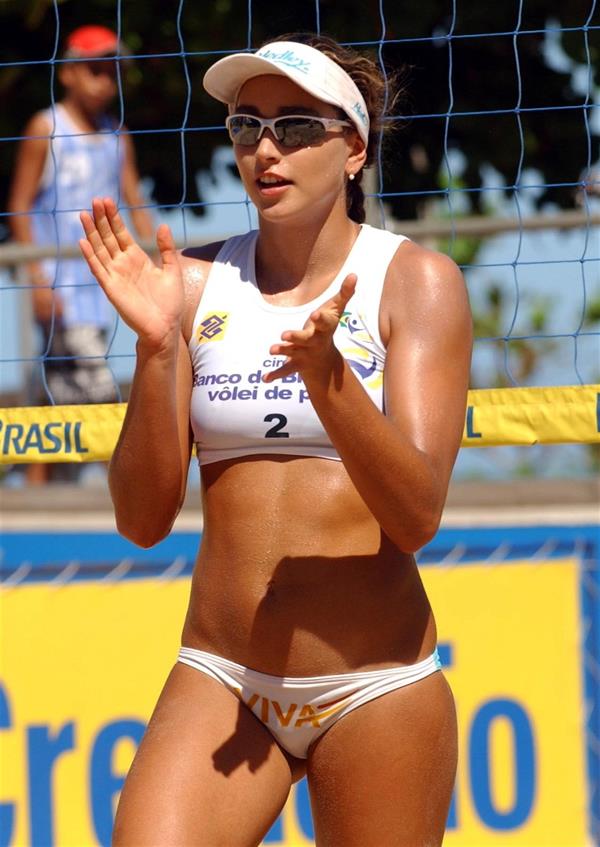 Maria Clara Salgado, her elder sister, is also a well-known l beach volleyball player.  Oh, and it seems that beach volleyball is in their blood as their mother, Isabel, was also a famous player back then.
Bárbara Seixas de Freitas
Another hot Brazilian beach volleyball player on this list is Bárbara Seixas de Freitas.  She was named FIVB Rookie of the Year in 2012.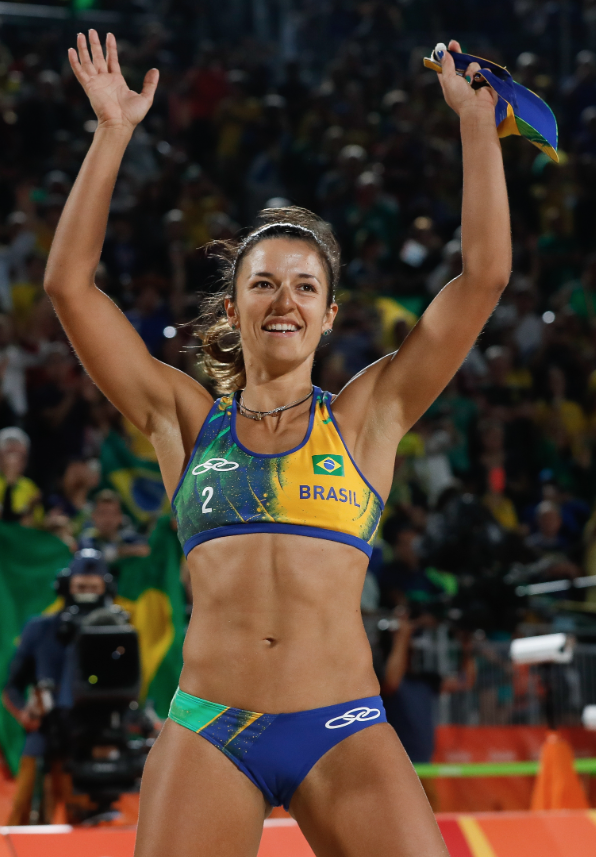 Barbara is a three-time young World Champion who has won a number of FIVB Beach Volleyball World Tour competitions.  She also earned a bronze medal with colleague Liliane Maestrini in the 2013 World Championships.
Brandie Wilkerson
Brandie is a right-side blocker for the Canadian beach volleyball team.  In November 2018, she and teammate Heather Bansley achieved a career-high world ranking of No. 1.  She was named the FIVB's Best Blocker in 2018. She has also participated in the AVP.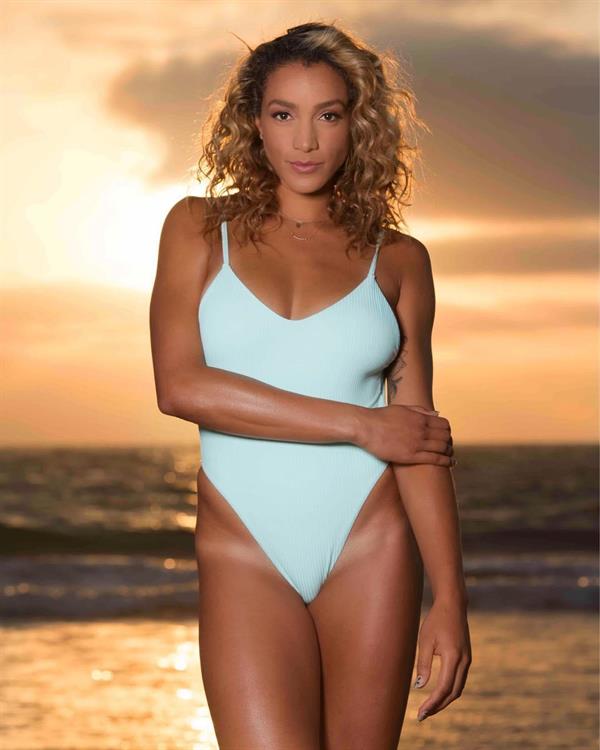 Brandie Wilkerson was born to a Swiss mother and a Texan father in Switzerland.  She was, however, raised in Toronto.
Tina Graudiņa
Tina Graudia is a beach volleyball player from Latvia.  She will compete for Latvia in the Summer Olympics in 2020.
Graudina won the 2019 European Championship and gold with partner Anastasija Kravenoka at the 2016 U22 European Championship.  She also won silver at the U22 European Championships in 2018 and was named the FIVB Rookie of the Year.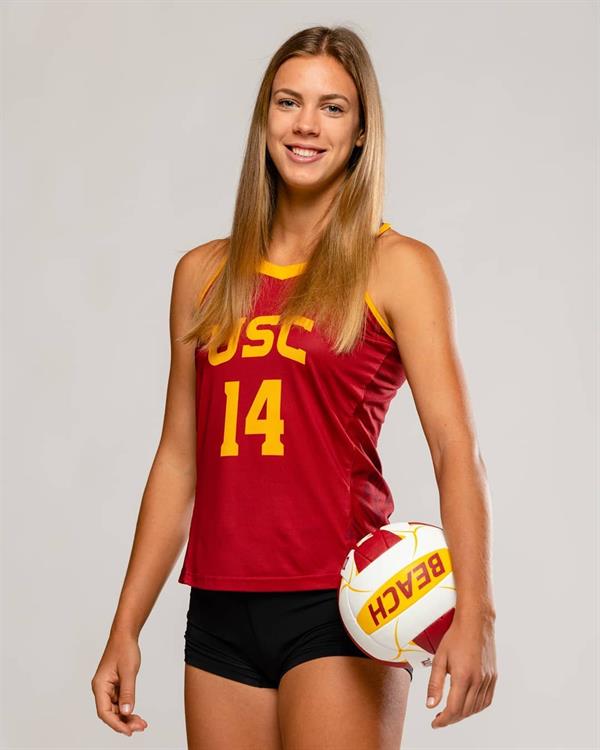 She now plays for the University of Southern California and was named National Player of the Year in 2019.
Nina Betschart
Nina Betschart is a professional beach volleyball player from Switzerland who teams up with Tanja Hüberli as a right-side defender.  She won the European Championship in 2021 and silver medals in 2018 and 2022.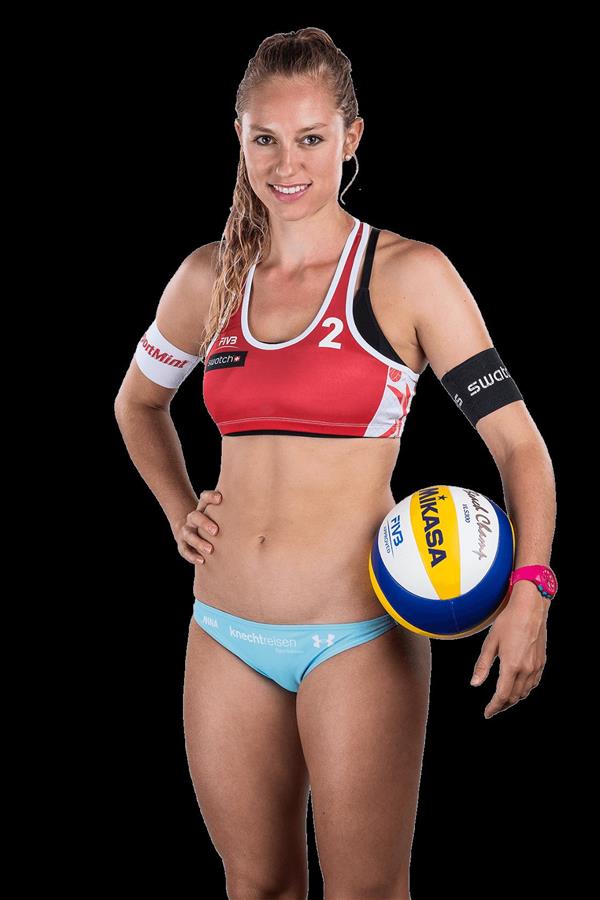 She has also had a lot of success at the junior level, having been a U21 World Champion twice and a four-time gold medalist in European Underage Championships, once in U20 and once in U22.
Anastasija Kravčenoka
Anastasija Kravenoka is a Latvian professional beach volleyball player.  She debuted on the FIVB World Tour in 2012, and her best results came with her partner Tna Graudia.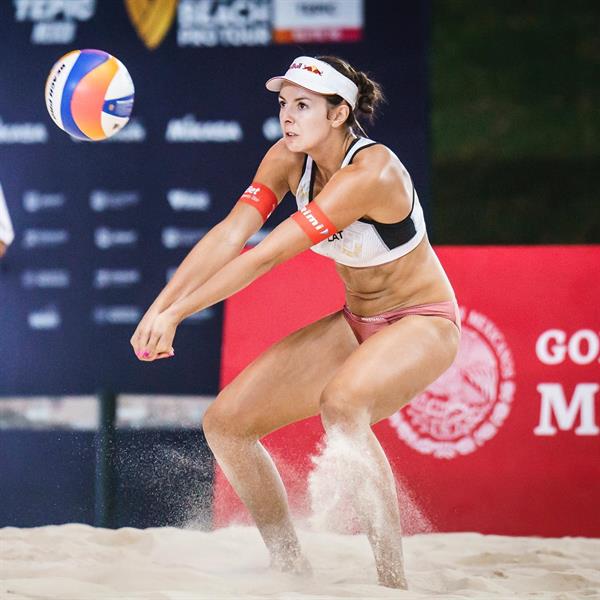 At the 2019 European Beach Volleyball Championships, Anastasija Kravenoka and Tina Graudina took bronze.  She is still competing on the World Tour and is a key member of the Latvian national team.
Sanne Keizer
Sanne Keizer is a Dutch beach volleyball player who teams up with Madelein Meppelink as a right-side defender. Her FIVB World Tour accomplishments include two gold, two silver, and four bronze medals.  She is a two-time European Champion who competed for the Netherlands in the Summer Olympics in 2012, finishing ninth with Marleen van Iersel.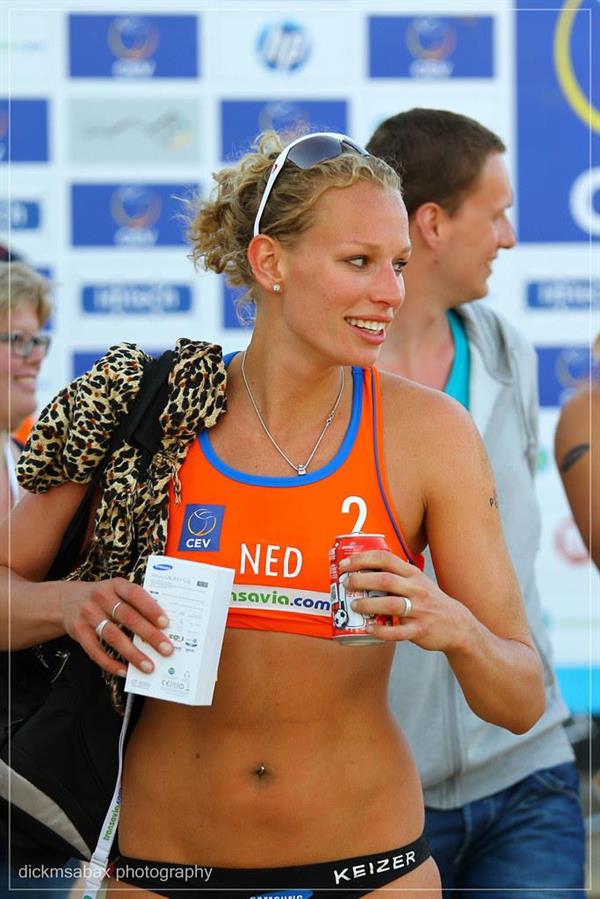 Keizer returned to full-time competition with Meppelink after a four-year hiatus.  She was a blocker in her previous career, but she returned as a defender.  Keizer and Meppelink achieved quick success, winning the 2018 European Championships and medaling twice on the World Tour in their first season together.
Misty May-Treanor
Misty May-Treanor is a former professional beach volleyball player from the United States.  She is a three-time Olympic gold medalist and the most successful female beach volleyball player, having won 112 tournaments in domestic and international competitions as of August 2012.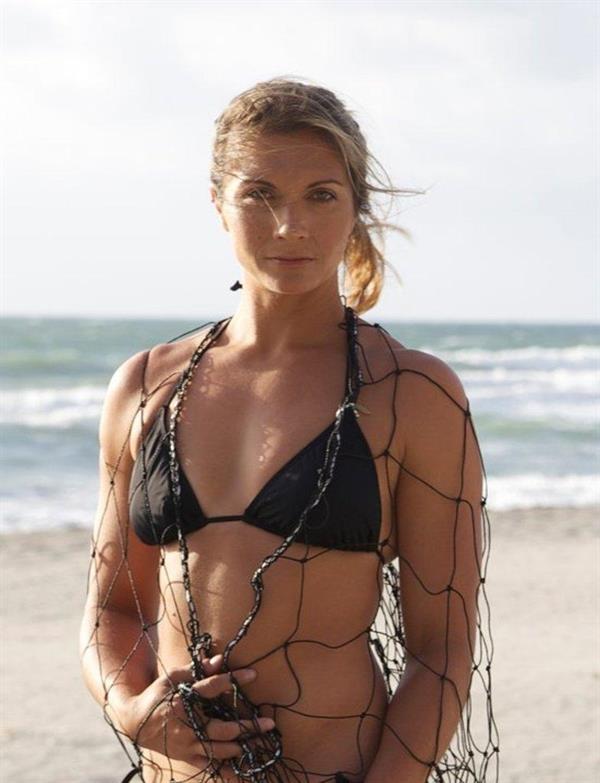 Misty retired from competitive play on August 8, 2012, after winning gold with Walsh Jennings at the 2012 Summer Olympics.  In 2016, she was inducted into the Volleyball Hall of Fame.
Marta Menegatti
Marta Menegatti is an Italian defender who plays alongside Viktoria Orsi Toth on the left side.  In August 2012, she shared a career-high world ranking of No. 4 with former teammate Greta Cicolari.  Her FIVB World Tour accomplishments include two gold, seven silver, and seven bronze medals.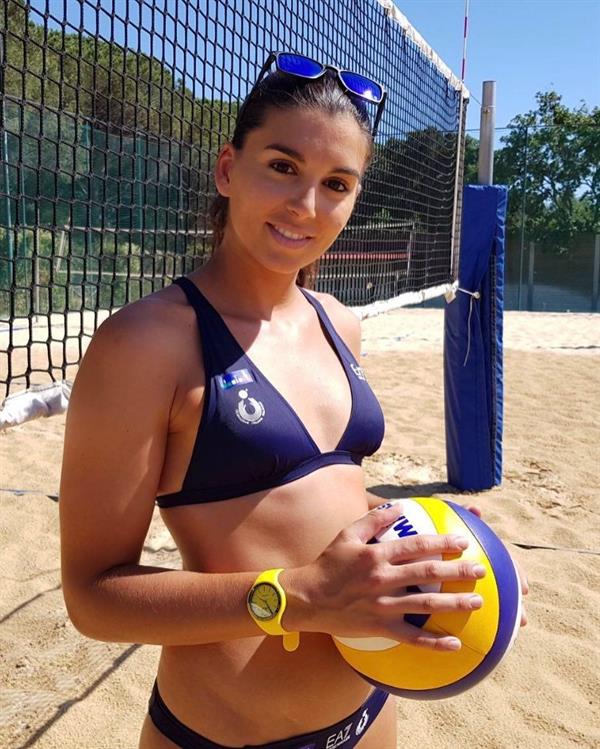 Marta has been described as a complete player who can make an impact on defense.  She was named the FIVB's Most Improved Player in 2011.
Elsa Baquerizo
Elsa Baquerizo is a beach volleyball player from Spain.  She is currently partnered with Liliana Fernández.  The pair competed in the 2012 Summer Olympics and again in the 2016 Summer Olympics.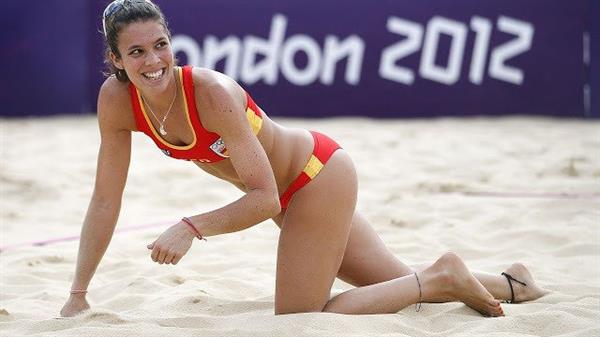 Elsa Baquerizo is well-known for her defensive abilities and ability to perform well under duress.
Alix Klineman
Alix is an American beach volleyball player, and she is regarded as one of the best in the country.
She has had a successful career since 2018, winning multiple international titles and the FIVB Beach Volleyball World Championships in 2021.  She is well-known for her strong attacking abilities, consistency, and aggressive playing style.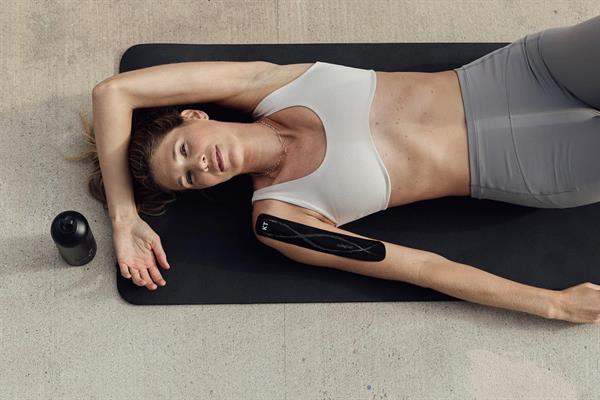 Alix Klineman was also a four-time All-American volleyball player at Stanford.
Sabina Altynbekova
And this one is a bonus as she is not a beach volleyball athlete. But hey, her title is what made her be included in this list…
Sabina is a member of Kazakhstan's women's national volleyball team.  She was born in 1996 and has already had the opportunity to represent her country as a junior.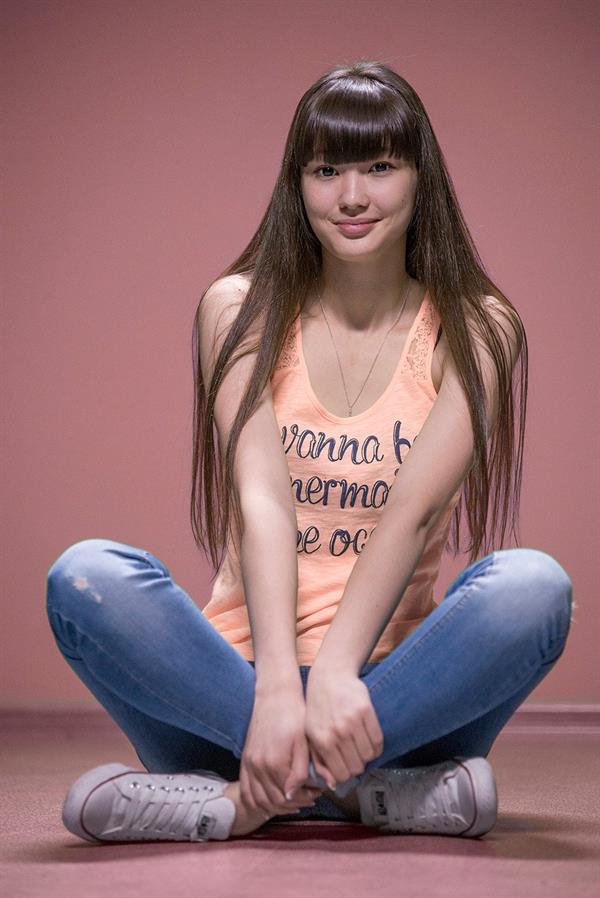 Sabina drew media attention during the 2014 Asian Junior Women's Volleyball Championship in Taiwan.  GSS Sunbeams, a professional Japanese volleyball team, signed her and she was dubbed "The World's Most Beautiful Volleyball Player."
This list will maybe get you into the sport…