Playboy magazine has a history of releasing provocative photos of women. Since its first edition featuring Marilyn Monroe in 1953, Playboy Magazine left little to the imagination and portrayed the female form in all its naked glory. The gentlemen's magazine was always considered more tasteful than its competition, like Hustler, but in more recent years lost reader subscriptions to fans of magazines with no nude pictures, like Maxim and GQ. In an effort to appeal to the current generation with safe-for-work material and increase readership, Playboy announced in October 2015, it would be covering up its bunnies. Worry not, there will still be lots of sexy women showing tons of skin, but with no more nude photos.
Playboy gave a sneak peak of its redesign and non-nude first magazine issue on Thursday, with its March 2016 issue, featuring Instagram famous model, Sarah McDaniel. Sarah is featured in a Snapchat style selfie with the caption , "heyyyy ;)", giving the audience a seductive look wearing skimpy undergarments showing lots of creamy skin. According to her, the idea was to post a picture using a "boyfriend perspective". We think she is spot on.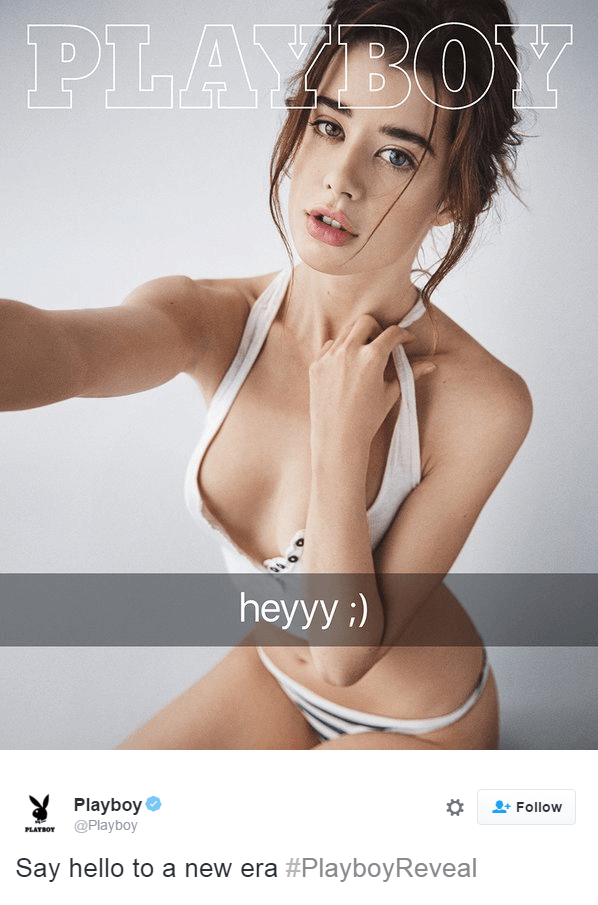 Playboy sent the sneak peak of McDaniel's shot from Twitter with a caption, "Say hello to a new era."
The redesign eliminated the lewd comics and racy ads, but will still offer Playmate of the Month centerfolds, but rated not appropriate for anyone under the age of 13. The March edition centerfold features model Dree Hemingway, daughter of actress Mariel Hemingway, and great-granddaughter of novelist Ernest Hemingway. A distinct difference from the previously standard template of nude Playboy is with the pictorials themselves. The new pictures are expected to include more natural and unretouched images.
Only time will tell if the new formula will make Playboy more competitive again, but if history is any measure of success, the magazine will continue to delight millions of readers for years to come.