You might hate Kim Kardashian… and that is understandable. After all, she doesn't really offer the world much, she's married to possibly one of the biggest douches on the planet, and I'm not sure if she has any talent but yet she seems to be everywhere. Although her ass usually gets all the attention for being so huge, we have to admit, she does have pretty decent cleavage which she is more than willing to share with the world.
Kim Kardashian could not let the celebration of the National Selfie Day pass without giving supporters a glam and sexy selfie.
The reality model shared an Instagram post on June 21 showcasing her stunning photo and revealed some serious amount of cleavage with a caption: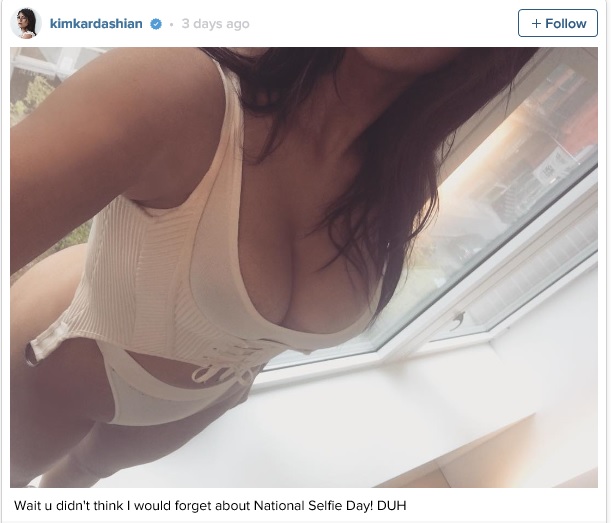 "Wait u didn't think I would forget about National Selfie Day! DUH."
Looking better than ever in a skimpy G-string, the 35 year old selfie queen sizzles in just a white bra and underclothing with her hair hanging down loose.
Kim has been a dominating force in taking sexy selfies. Not long ago, her self-taken nude snaps caused a wide Social Media commotion of which she defended, saying:
"I don't do drugs, I hardly drink, I've never committed a crime — and yet I'm a bad role model for being proud of my body?" the model questioned. "I am empowered by my body. I am empowered by my sexuality. I am empowered by feeling comfortable in my skin. I am empowered by showing the world my flaws and not being afraid of what anyone is going to say about me. And I hope that through this platform I have been given, I can encourage the same empowerment for girls and women all over the world."
Here are more shots showing off her cleavage: