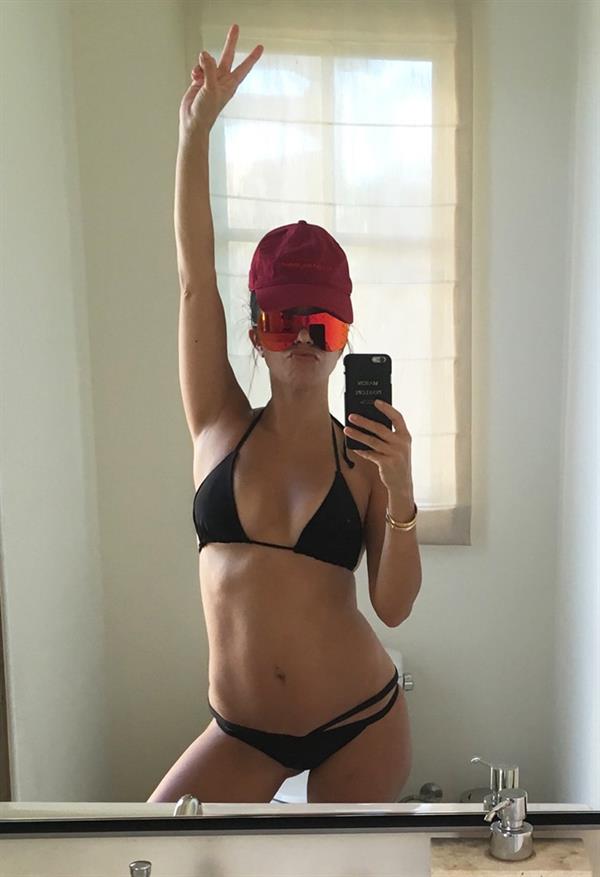 The Keeping Up With the Kardashians star flaunted her figure and undeniably, the hard work of hitting the gym is paying off.  Wearing huge sunglasses and matching cap, the 37 year-old reality star posed and flexed her muscled arm forming a peace sign.
Kourtney has been hitting the gym almost everyday, posting her routines on Snapchat.  Kourtney has been effectively working out in the attempt to get her body back in shape after 3 kids and a long term relationship soured.
If you want to look like Kourtney, she is willing to share all her tips and tricks on her app.
"Ghee is the first thing I put in my body every morning," Kourtney wrote. "I take one big teaspoon of ghee every morning and melt it on the stove in a pan and drink it out of a cute little ceramic white cup. After I take it, I don't eat anything for 20 minutes, and then I drink a glass of water before eating food."
With such a sizzling mirror selfie, she captivated the interest of her supporters.  One reacted on Social media writing: "Kourtney, you look so damn sexy and smoking hot here."
Another fan also commented: "You look absolutely amazing – so proud of you. I wish I looked half that good after my two kids."
This was Kourtney back in the day, modelling for Maxim before she had kids: