This ultra-hot babe will always remind you of your most beautiful summer.  Really.  Just take a long, good ogle at her and you'll reminisce away.  The cool sea-side breeze, the scorching sun, the cold drinks (and weed), and the hot kisses.  Yup, Kayla Rae Reid will remind you of all that…  She'll also remind you of your adolescent days when your junior just doesn't seem to soften.  That's right, as Kayla's hotness will make your member stand straight for hours on end.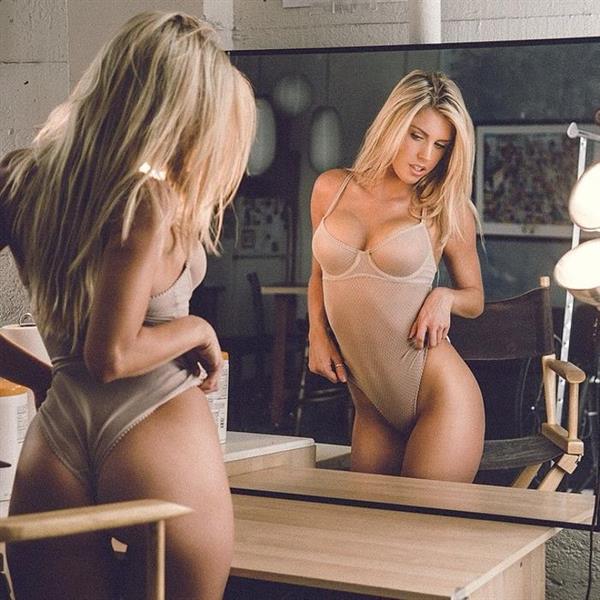 Who is Fine, Fine Hottie
Kayla Rae Reid is an American promotion and glamour model who is most famous for being Playboy Magazine's Playmate of the Month in July 2015.  In addition to being a model, Kayla here is also a "host" and "social media ambassador."  You see, before becoming a Playmate, she worked as a Monster Girl, modeling for the energy drink company Monster Energy, and doing in-person promotions.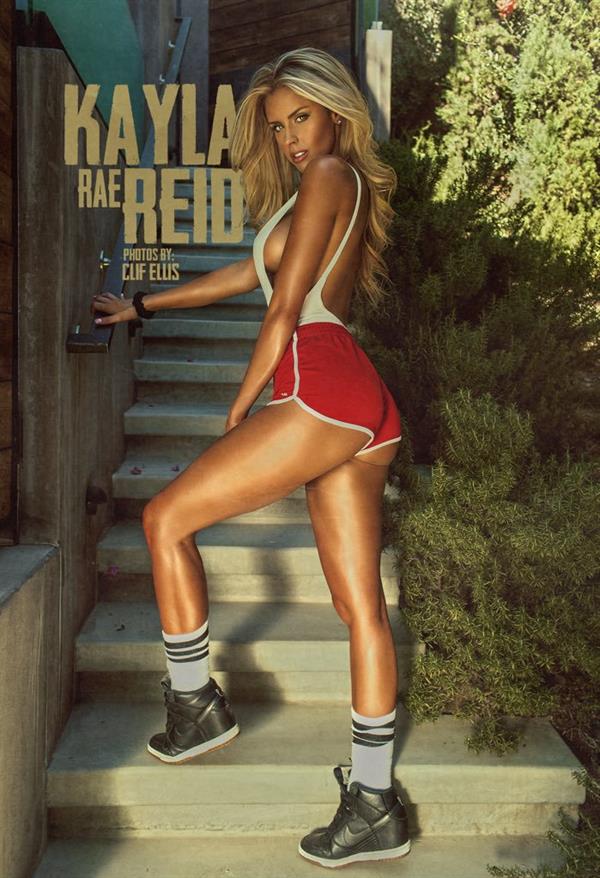 Her Early Life
Kayla Rae Reid was born on July 5, 1991, in Fairfax, Virginia.  She moved to Palm Springs, California when she was 10 years old.  Kayla considers herself "the sunshine chick" because of her love for warm, sunny, and humid weather.  She also has considered herself a troublemaker since an early age, trying to get attention and eventually hoping to find her way to the spotlight.  She intended to pursue cheerleading professionally before deciding upon modeling.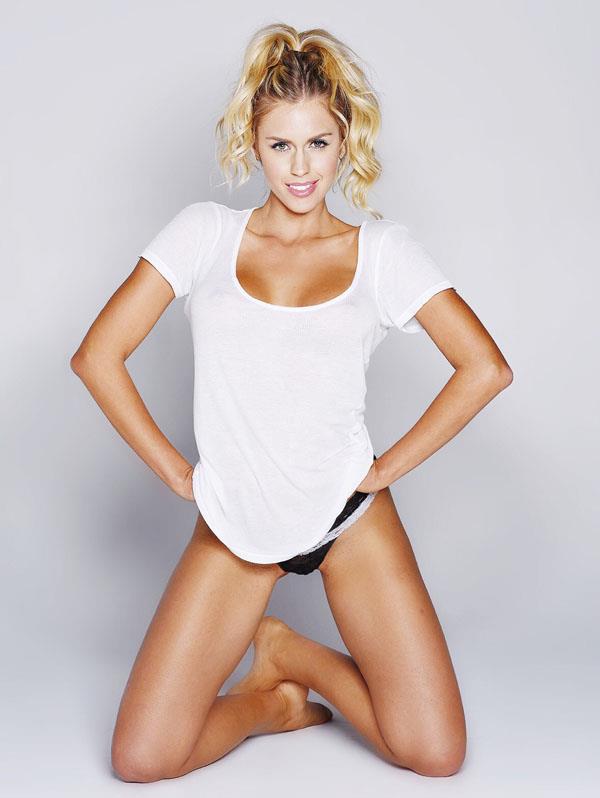 Career Journey
In 2014, when Kayla was 23, she began working as a Monster Girl for the energy drink brand Monster Energy on their motorsports circuit.  It was during that time when she landed a test shoot with Playboy.  Despite her enthusiasm for attention and modeling, the idea of posing nude threw her for a loop.  But fellow Playmate, model, and dear friend Gemma Lee Farrell convinced her how exhilarating the Playmate lifestyle was.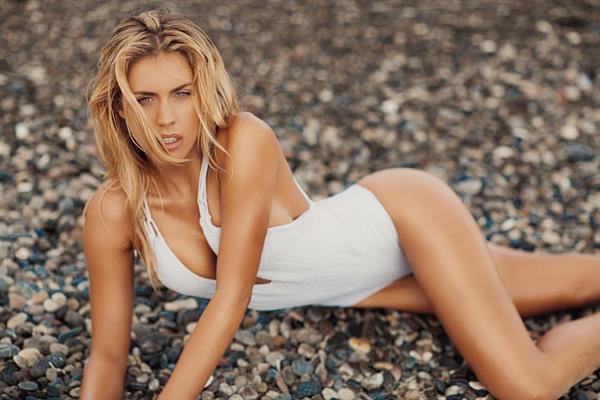 Facts and Trivia
On October 9, 2016, Kayla Reid got engaged to her boyfriend, American competitive swimmer, a 12-time Olympic medalist, Ryan Lochte after he proposed to her in the hills of Los Angeles, California.  Ryan announced the engagement by posting photos of him and Kayla kissing after the proposal on Instagram.
The couple first met on January 22, 2016, in the VIP section of Bootsy Bellows, a nightclub in Los Angeles.  After seeing Kayla, Ryan sent her a message on Instagram and their romance started three days later.
Kayla gave birth to their 1st child at age 25, a son named Caiden Zane Lochte was born on June 8, 2017.  On January 9, 2018, Kayla and Ryan exchanged their vows at Gainesville, Florida.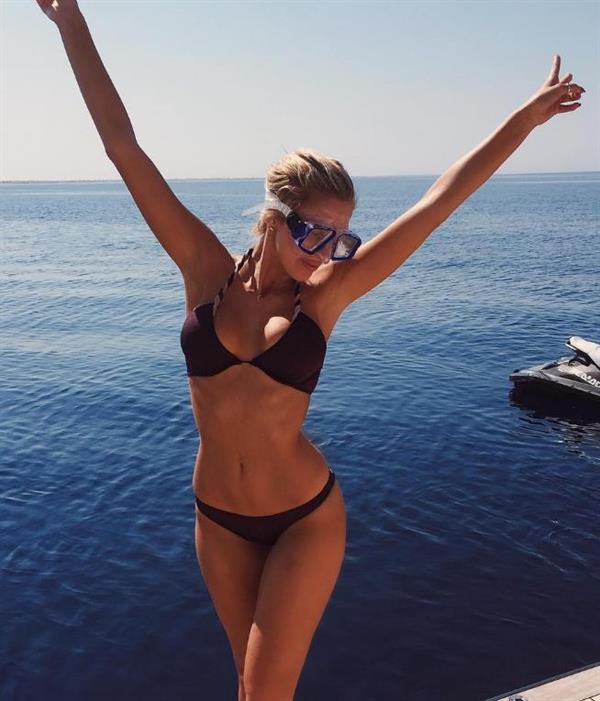 Kayla Rae Raid loves music festivals and tequila.
Her Body Measurements
This green-eyed blonde bombshell stands 5 feet, 7 inches and she rocks a 35-26-36 figure.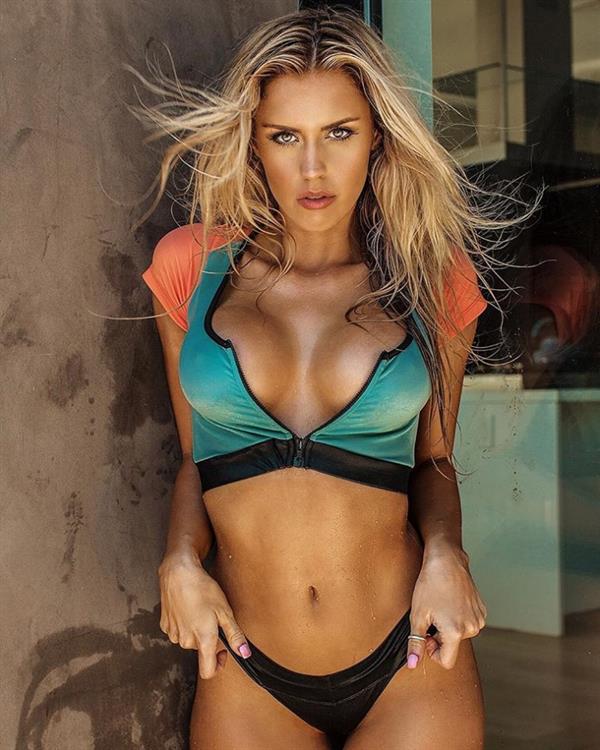 Kayla Rae Reid Photos
Check out this babe's Instagram.  Follow her and be on the loop about her latest.
Don't forget to visit our Kaya Rae Reid page for more of her titillating beauty.
And of course, how can we ever forget…  We got her nudes here, folks:  Kayla Rae Reid Nude  Enjoy!