Shortly after being discovered by the magazine,  Camille Kostek snagged a cover on the 2019 Sports Illustrated Swimsuit.  The 27 year-old posed for the magazine with beachy waves in her hair while she graced a green string bikini.  Looking absolutely gorgeous, the blond beauty showed off her awesome curves and showcased her natural pretty freckles.  Check out below some of her hottest photos and learn five things about this rising star.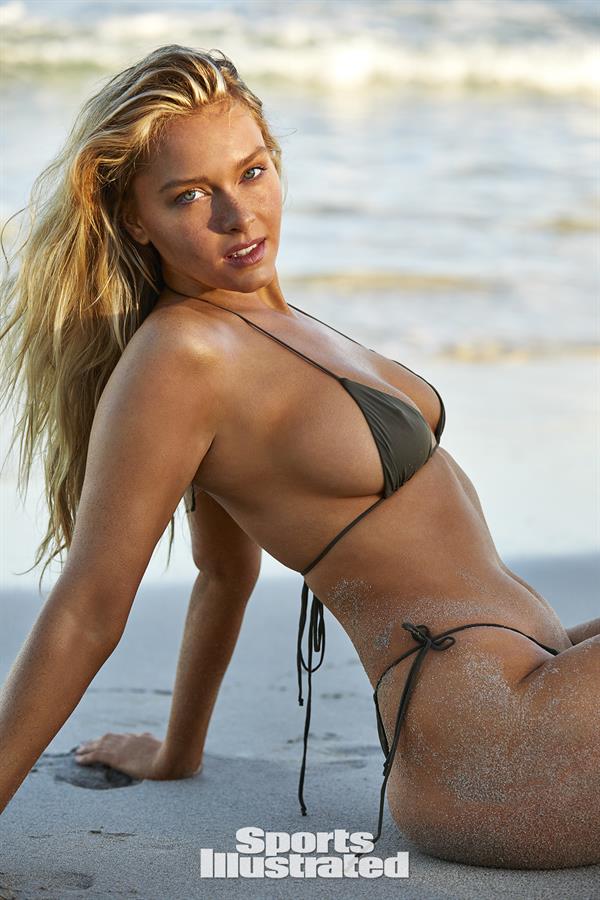 Kostek Was On The Sports Illustrated Swimsuit Cover!
Of course this comes first on our list!  Kostek is best known for her appearances in the Sports Illustrated Swimsuit Issue, including a solo cover this year.  She shared the honor of gracing a cover in a hot bikini with Alex Morgan and legendary Tyra Banks.  Each model had her own individual cover.
The young model said she could hardly come up with the words to comment to the honor.  "I'm one to be the biggest blabber mouths ever and this is one that's left me shaking in my shoes and speechless like I've never been before," she said on Good Morning America, via People.
Kostek hopes to be an ambassador for women of all sizes, noting that the model doesn't belong in the rail-thin modeling industry.  "In the past, I felt like I used to beat myself up a little more, just because it was hard to breakthrough," Kostek told People magazine. "I would be like: 'I want to drop 15 pounds in three weeks and lose an inch and a quarter off my thighs and my hips and my waist and do this and that.'  But that is so contradictory to why I wanted to be in Sports Illustrated.  I wanted to be signed in these measurements."
Sports Illustrated Swimsuit was not Kostek's first cover in her career.  Back in 2013, she also graced stunningly the New England Patriots Cheerleaders swimsuit calendar.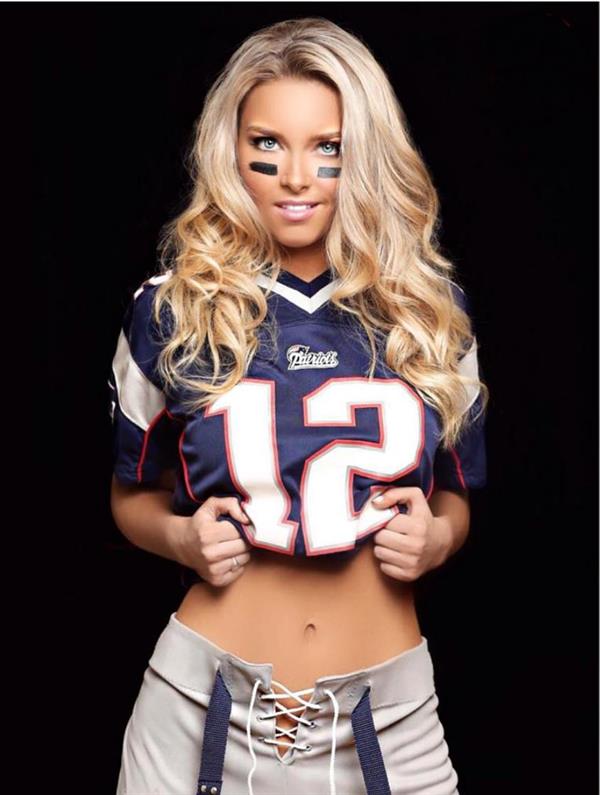 She Was A Relatively Unkown Talent A Year Ago
Kostek was discovered at the annual Sports Illustrated Swim Model Search casting. And just one year later, she's already on the cover.  Oh that's pretty fast.  And it's certainly an incredible success story.
Her fame has risen quickly from then on, drawing attention of fans and readers all over the world.  The young star once shared to People that Sports Illustrated Swimsuit has always been her dream. "I remember being a young girl and looking at these billboards, and you didn't really see that many curvy women as you do now.  There's been such a wave of inclusivity and Sports Illustrated is definitely leading that shift. They have always been that magazine that I've been able to relate to."
"It wasn't until I read SI Swim that I was like, 'Wow, I love my freckles, I like my thighs, I like my curves.'  They're showcasing these confident, sexy women in a way that I had never seen before.  This has been a lifetime dream.  I've always wanted it, but I just didn't know how to get it."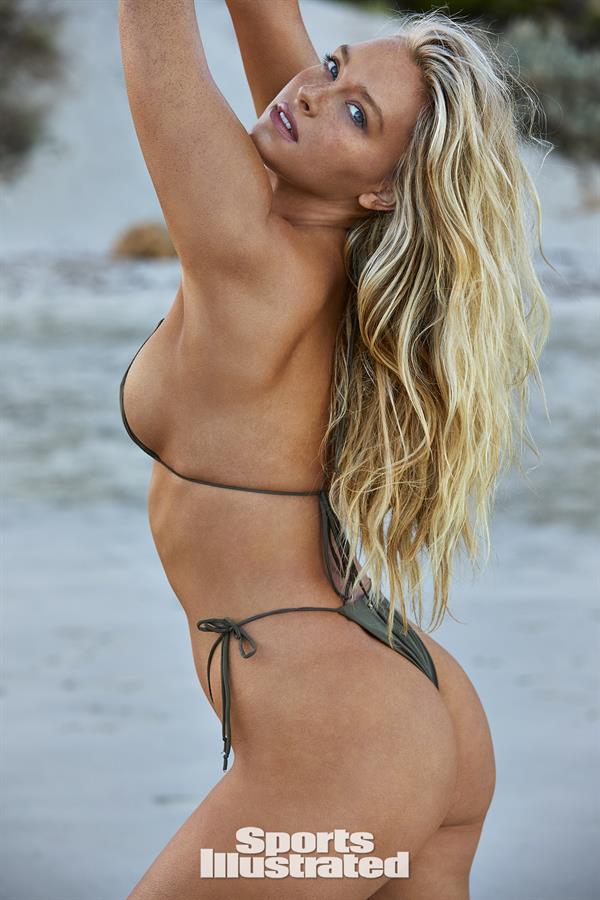 She Felt Insecure Over Her Curves
The blonde model faced major adversity before becoming Sports Illustrated Swimsuit's cover girl.  She admitted that she sometimes felt insecure about her now-famous figure.
"There's definitely been times when I've been on sets and I was the bigger model in the room, where they're casting girls," the bombshell told People magazine.  "It's discouraging, it's really, really hard to have thick skin through a lot of that stuff.  The looks. The questions you get."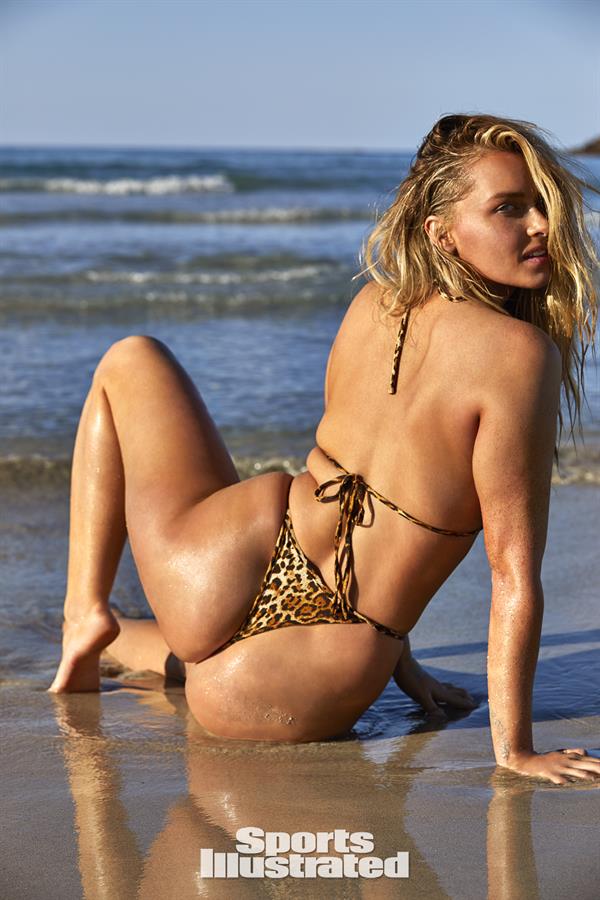 Kostek shared that after she learned to accept and embrace her body, her modeling career quickly started to rise along with her confidence.  "As soon as I changed my mind perception, my life literally changed," she further explained.  "My love life changed, my day-to-day life changed, my self-love with myself changed, my career started changing.  The dynamic when I would walk into a room, even if I wasn't the thinnest model in the room, changed.  Confidence is everything, and the way you carry yourself, your posture, eye contact, all of that is such a big role in impressions, regardless of your size."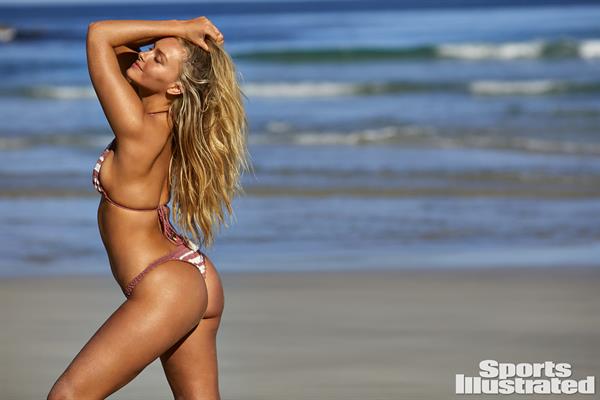 Before Modeling, Kostek Was Into Broadcasting and Cheerleading
Kostek has worked as a writer and anchor for her high school's broadcasting program HKTV and her univiersity's network show TV22.  She first began professionally as co-host of programs in local channels like ABC6, FOX CT, and WBZ.
The blonde beauty has also possessed a talent for cheerleading. While in her junior year of college in 2013, Kostek was part of the New England Patriots Cheerleaders roster.  She then landed the cover of its Swimsuit Calendar which was taken in Saint Lucia.  Kostek also became one of the four cheerleaders who joined as Patriors ambassador in the NFL Tour in China where they performed routines and taught young aspiring cheerleaders.
In the course of time, Kostek called it quits with her cheerleading job and broadcasting opportunities to begin a modeling career.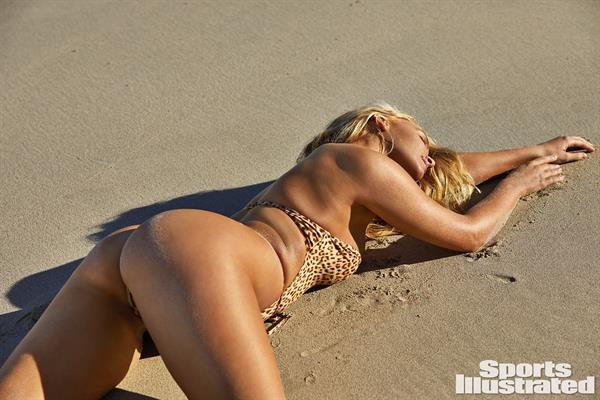 "Right out of college I was offered a job with Saturday Night Football and I ended up turning it down because I really wanted to travel. I wanted to get into the modeling world and I wanted to live in L.A.  That's like a dream job straight out of college, but I wanted to explore other options", the model once said.
It didn't turn out to be an easy transition for Kostek as she faced rejections from different modeling agencies.  But she is now making her own name and became a most-sought face in the modelling world. The future of this young star is as bright as how she shines on SI cover!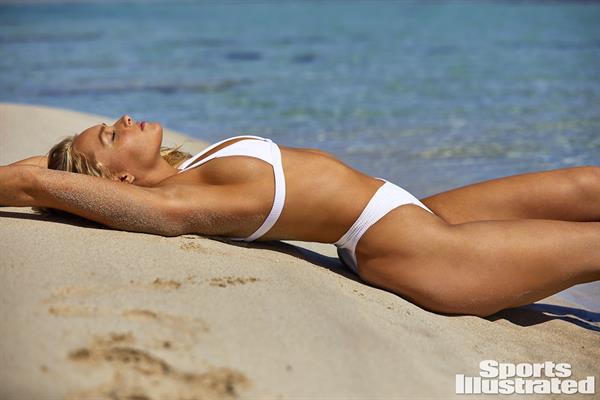 She Is In A Relationship With A Retired Football Player
Kostek is in a relationship with Rob "Gronk" Gronkowski. The duo started dating in 2015 and they have shared beautiful photos together on social media.  And many women will get envious to know that Gronk is certainly an 'Instagram Boyfriend'.  "I never thought he would do my photos.  I thought I would get a little uncomfortable in front of him when he has to take my shots.  But he does a good job.  It's easy, and he's so supportive", shared the model.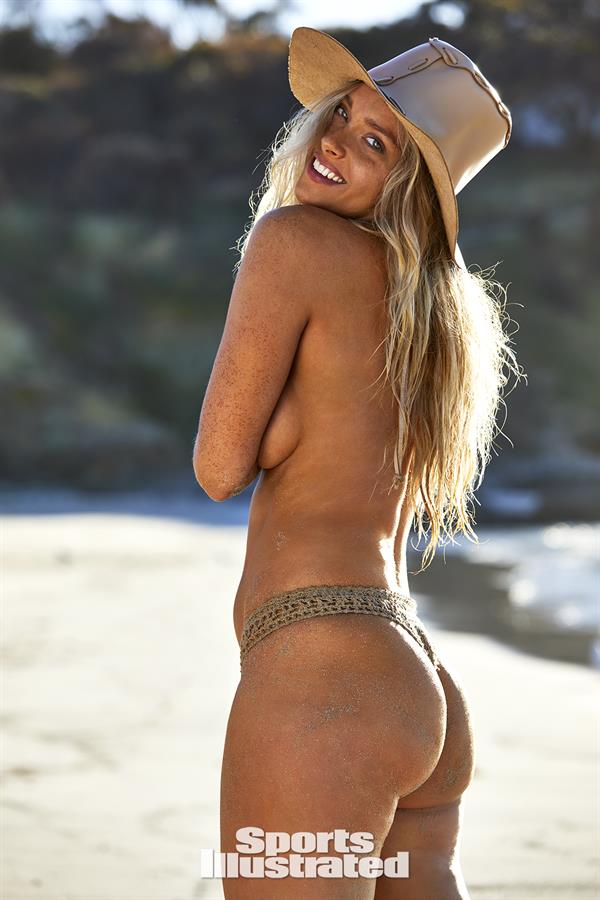 Gronk was on the same team that the model cheered for during his football career.  The pair have time to attend fun activities together like the Stagecoach Festival. They have also hit up the red carpet with one another, and they spent Easter together this year.
Checkout below more striking photos of Camille Kostek!