She is, to me, the hottest classically trained musician out there.  I mean, really.  Her Asian looks and how she makes love to her cello is just so awesome to watch.  And yes, cellos can make one sexy.  I know because I am one.  Though out of shape, I feel sexy with that instrument between my legs.  It makes me feel uhm endowed (with musical abilities, what else?).  But let's go back to the real Queen Bee here.  Tina Guo's petite frame, plus overly seductive face earned her a spot on our beloved website.  And man, after reading this article, you'd wish that you are a cello she's playing…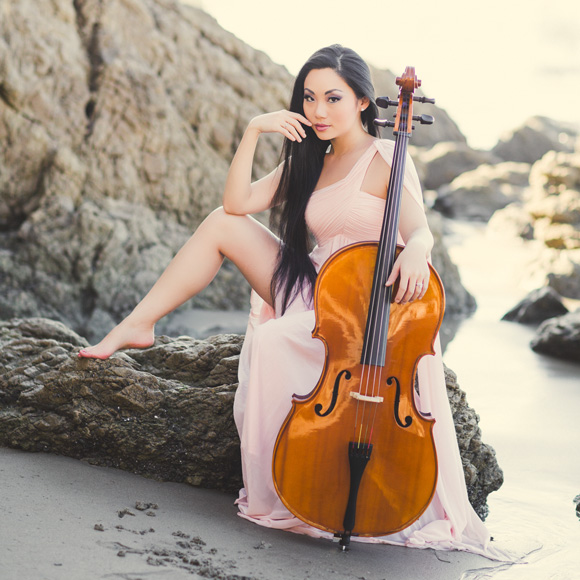 Who is Tina Guo
Tina is a Chinese-American cellist, electric cellist, erhuist, model, and composer from Shanghai.  She is famous for her unique genre-crossing style, she is one of the most recorded Solo Cellists of all time and can be heard on hundreds of Blockbuster Film, Television, and Game Soundtracks.  Tina is also a Grammy-nominated and BRIT Female Artist of the Year-nominated virtuoso.
Her Early Life
Tina Guo was born on October 28, 1985, in Shanghai, China to Lu-Yan Guo, a concert cellist, and his wife Fei-Fei Soong, a concert violinist.  Her parents are both artistic directors of California International Music and Art Festival, an annual event held in San Diego, California.  Tina began playing piano at the age of 3 in China. After coming to America at the age of 5, she began violin lessons with her mother and later began studying the cello under the instruction of her father, Lu-Yan Guo at the age of 7.  Her parents forced her to practice 6–8 hours a day.  Tina joined the Civic Youth Orchestra when she was 10.  After graduating from Poway High School, Tina continued her professional cello studies under Nathaniel Rosen and Eleonore Schoenfeld at the University of Southern California's Thornton School of Music on full scholarship and was also a Governor's Scholar for academic excellence.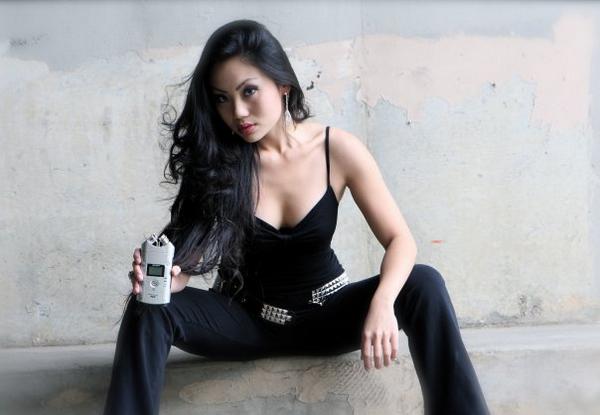 During her freshman year, Tina dated a guitarist with an 80s style classic metal band.  She went to one of their shows at The Whiskey in Hollywood, and it influenced her to try to adapt the cello to the heavy metal style.  Tina began experimenting with pedals and different techniques, trying to discover how to play the cello to sound like a guitar.  Tina left USC in her junior year, as she found it increasingly difficult to balance performing and attending classes.  Her parents were very angry and did not agree with her decision.
Career
As a classical soloist, Tina's engagements with orchestras around the world include the San Diego Symphony, the State of Mexico National Symphony, the Thessaloniki State Symphony in Greece, the Petrobras Symphony in Brazil, and the Vancouver Island Symphony in British Columbia.  She collaborated with violinist Midori Goto in Dvorak's American String Quartet at Walt Disney Concert Hall in Los Angeles and completed four national tours of Mexico and Italy performing the Shostakovich, Dvorak, Haydn, and Saint-Saëns Cello Concertos.
Tina was featured in commercials for Mazda and United Airlines, and a soloist in Cirque Du Soleil's Michael Jackson "The Immortal" World Tour from 2011-2013 performing in sold-out arenas around the world.  The tour performed to over 3.7 million people and is one of the highest-grossing tours of all time.  Tina is also featured on the Epic Records release "Immortal," replacing the original guitar solo in "Beat It" with an Electric Cello/Guitar Battle-style duet with guitarist Greg Howe.  She also performed with Skrillex, Dplo, and Justin Bieber at the 2016 Grammy Awards.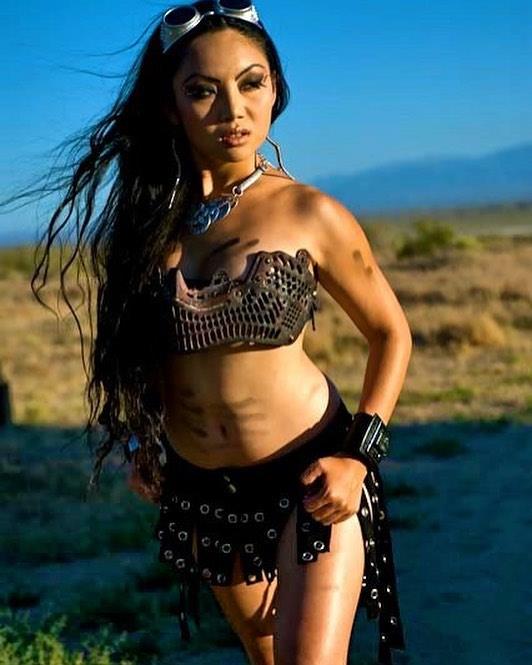 Tina performed alongside Hans Zimmer at the Premiere of Inception, and at a concert celebrating Kung Fu Panda 2 for Dreamworks with Hans and John Powell.  She was a featured performer at the League of Legends World Championship at a sold-out Staples Center in Los Angeles and an audience of 33 million streaming online.  Tina was featured on the Electric Cello with The Crystal Method, Wes Borland (Limp Bizkit), Danny Lohner (NIN), Joe Letz (Combichrist), and the Hollywood Scoring Orchestra.  She has also been a featured performer at Comic-Con, Blizzcon, and with Video Games Live.  Tina toured Europe with Guitar Virtuoso Al Di Meola, who is also one of the featured guests on her album "Cello Metal."
Film and Other Scores
Tina has been featured as a soloist on the scores of Wonder Woman, Dunkirk, Sherlock Holmes, The Lion King (2019), Inception, Iron Man 2, Batman vs Superman, Pirates of the Caribbean 5, Boss Baby, The Monkey King 2, Clash of the Titans, Red Riding Hood, X-Men: Dark Phoenix, Olympus Has Fallen, Escape Plan, CSI:NY, Vikings, The Borgias, Sleepy Hollow, Dominion, Iron Chef, My Little Pony: Friendship is Magic (as Octavia,) League of Legends, Blizzard's Diablo III and Hearthstone, Call of Duty: Black Ops II, III, and IV, Lego Marvel Super Heroes 2, Shadow of the Beast, Assassin's Creed Syndicate, Extinction, Revelation Online by Chinese game giant Netease, and Journey, which was nominated for a Grammy for Best Score Soundtrack.  Tina has also recorded for the soundtracks of Kung Fu Panda 3, Hancock, Battle: Los Angeles, The Hangover Part II, Predators, Fast Five, Arthur, No Strings Attached, Beginners, Public Enemies, Rango, The Rite, X-Men: First Class, Your Highness, Yogi Bear, The Mentalist, Family Guy, American Dad, The Cleveland Show, King of the Hill, commercials for Apple iPhone, Under Armour, and many others.
Tina contributed Electric Cello to the creation of elements that were used to create the sound of the Kaijus in Pacific Rim.  Her arrangement and performance of "The Flight of the Bumble-Bee" were featured in the end credits for The Heartbreak Kid.  Tina composed music for the feature film Persecuted and has many compositions licensed into TV and Film projects.
Facts and Trivia
Tina married music producer Ray Armando Morabito in 2013.
In 2018, Tina signed as an official brand partner with Bentley Motors, composing, performing, and producing the launch music for the luxury hybrid vehicle, Bentayga Hybrid.  In 2019, Tina partnered with The Ritz-Carlton to create a soundtrack to the endless possibilities and unforgettable moments experienced at The Ritz-Carlton.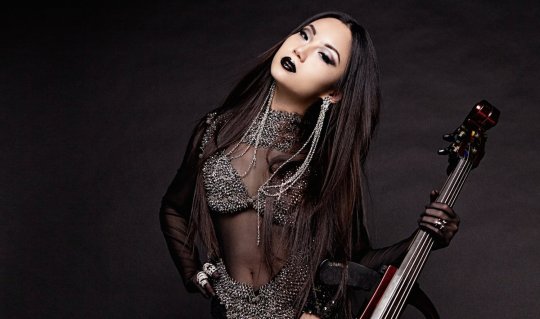 Tina is also an avid writer, her first published work is "Event Horizons of Yin and Yang," a collection of philosophical prose and poetry.
Tina also holds a Bachelor's in Metaphysical Theology with a focus on Eastern Philosophy.
She is also passionate about financial planning and also offers career consultation sessions through her company, Guo Industries. Inc.
Charity work
Tina is a passionate supporter of the Academy of Music for the Blind, Partners in Health, Animal Welfare Institute, Homes for our Troops, and Child Find of America.
In 2015, she released a Charity album with 13 film/TV/media composer friends called "Tina Guo & Composers for Charity."  100% of the proceeds from the album go directly to Mr. Holland's Opus Foundation in support of music education.
Her Body Measurements
Tina Guo stands 5 feet, 4 inches and possesses a 34-24-36 figure.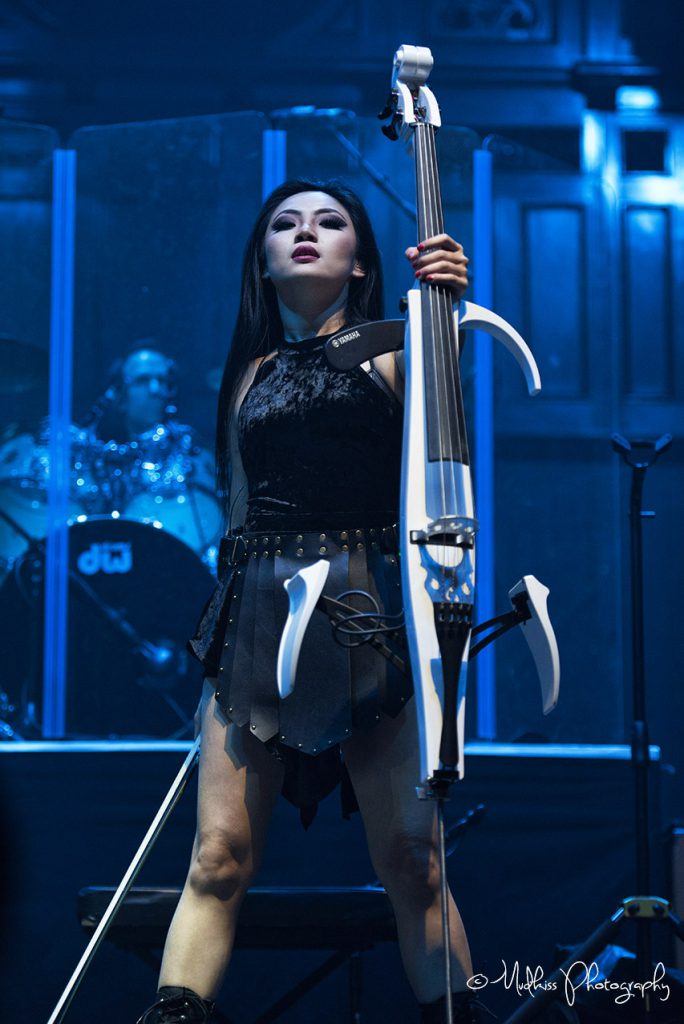 Tina Guo Photos
Follow Tina on Instagram for her latest gig schedule and other personal posts.
Also, do check out our Tina Guo page for more of her alluring pictures.