Oh, this Timeless Hottie is just so good to look at.  I mean, she soothes whatever mental fatigue we are going through right now.  And no, that is not an exaggeration. Just look at her.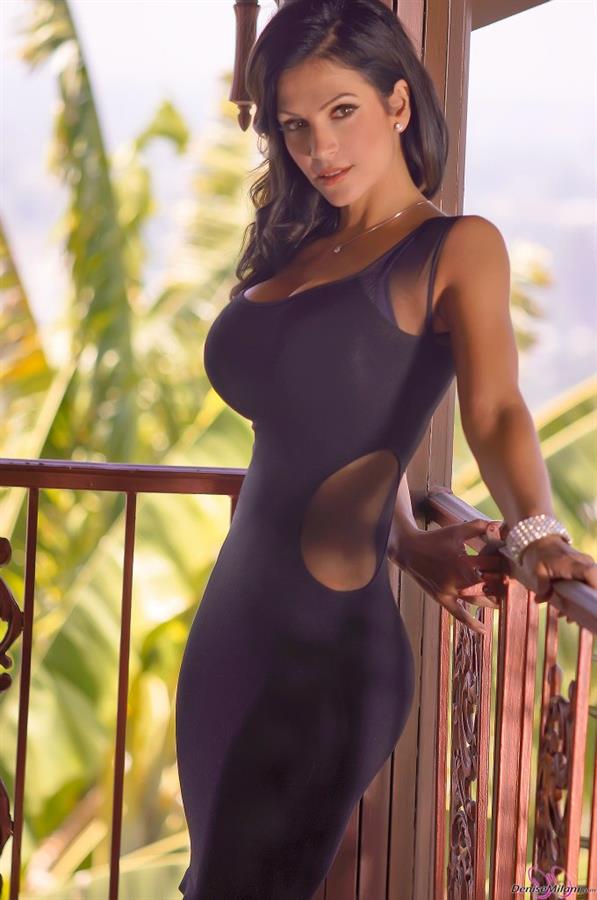 Denise Milani, at 45 years of age, is still as hot as ever.  Look at her physique!  It's like she doesn't seem to age.  That chest of hers is still marvelous.  And that waist to hip ratio of hers is, yes, just to die for.
Who is Denise Milani
Denise Milani is a Czech pinup and fitness model who is counted amongst the most searched women on the web.  At the peak of her career, she regularly outshone other internationally popular models.  Her outrageously curvy figure catapulted her to fame as a pinup model.  Known for her breast, she is undeniably one of the best-endowed women in the world of fashion.  Though it is often speculated that she has had breast augmentation surgery, Denise vehemently denies this and insists that her breasts are naturally this big.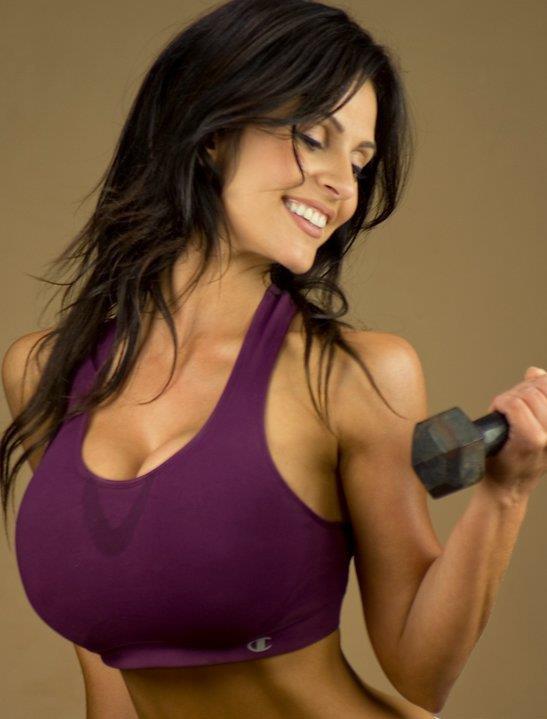 Her Early Life
Denise Milani was born on April 24, 1976, in Frýdek-Místek, Czech Republic.  She is the eldest child among the other two sisters in her family.  She moved to the USA when she was in her early twenties to pursue a career as a physiotherapist.
Career Journey
While still living in the Czech Republic, Denise Milani dreamed of making it big as a physiotherapist as she had always been interested in health and fitness.  She then moved to California in the USA to pursue her passion.  It was in the USA that she caught attention for her busty figure and started getting offers for modeling.  Convinced that she indeed had a chance to achieve success as a model, the sexy young lady became associated as a model with the sports and glamor site SPORTSbyBROOKS.  Posing in skimpy swimsuits, she scorched the website with her sultry figure and soon attracted millions of fans worldwide. She also participated in swimsuit competitions and was declared the winner of Miss Bikini World 2007.  From here, it did not take her long to become one of the most popular pinup models in the world.  However, she didn't let her modeling career distract her from her initial ambition and completed her fitness certification.  Yup Denise is a Certified Wellness Coach, NCSF Certified Personal Trainer, and Certified Spinning Instructor as well.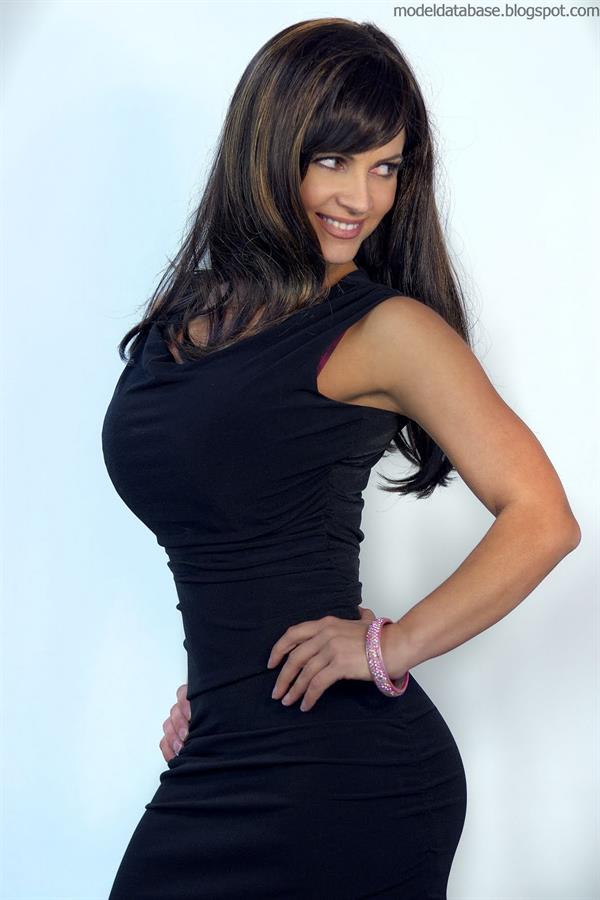 Facts and Trivia
Denise Milani became embroiled in a controversy when a gang of hackers and criminals used her identity to lure a physics professor into a well-planned drug-smuggling scandal.  While the professor was later arrested, Denise was able to prove her innocence.  While no legal action was taken against her, the incident left her shaken as she feared that the allegation might harm her reputation and lead her fans into thinking that she's involved in drug smuggling.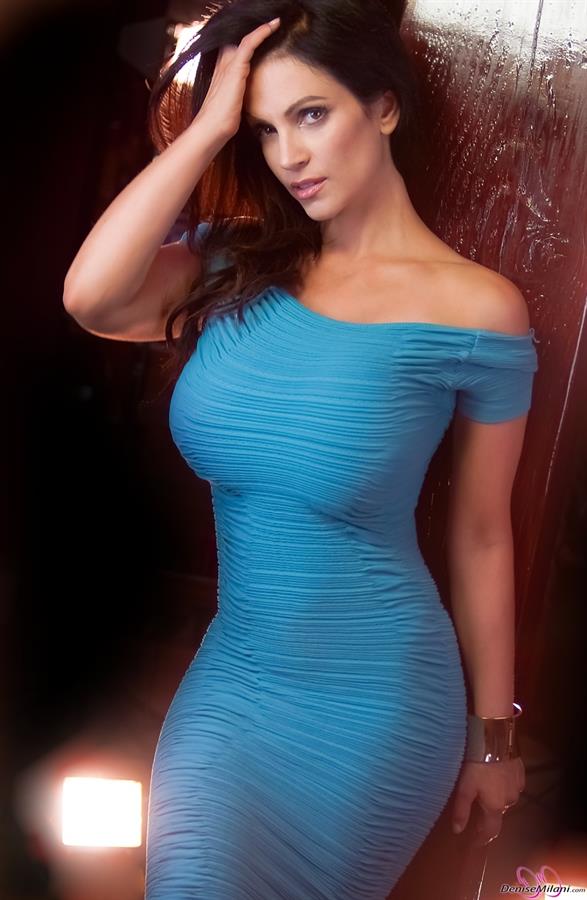 Her Body Measurements
Denise Milani stands 5 feet, 3 inches and she rocks a curvy 43-20-36 (34DDD bra size) figure.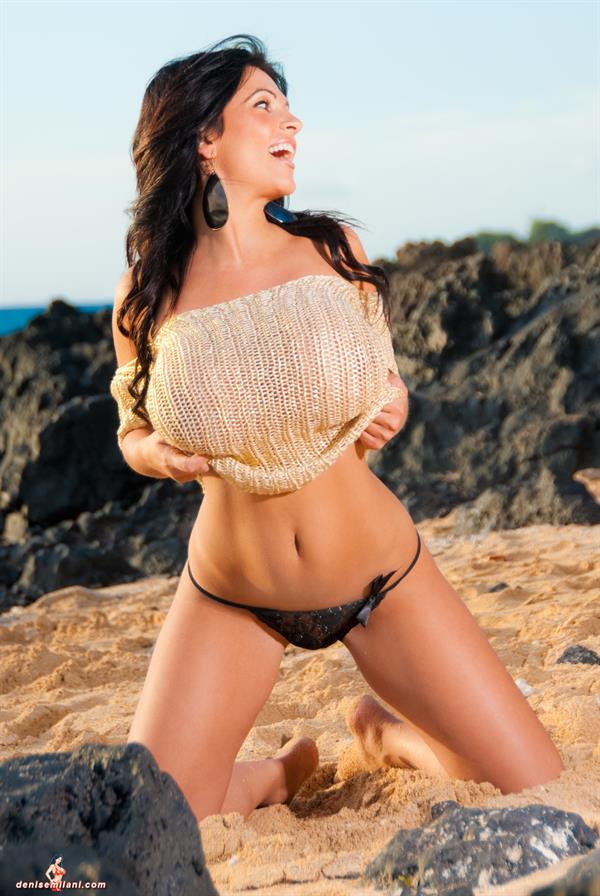 Denise Milani Photos
Follow Denise on Instagram for her latest super hot posts.
Also, for an almost unlimited amount of her hot pictures, do visit our Denise Milani page.