And you will totally feel the heat with Daphne Joy here.  Ah yes, she is just perfect for a Friday feature, don't you think?  Just take a good look at what this babe has got to offer…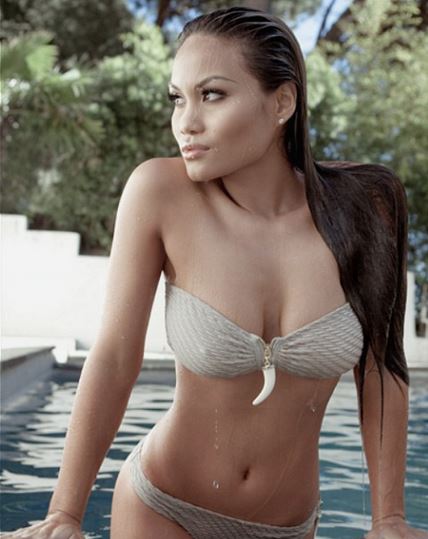 That hotness exceeds the inside of a mud oven.  You just want to be her clothes, right?  Just imagine being her masseur…  Or you know. Just a lucky guy whom she asked a hot a favor.  Put suntan lotion on her.
Who is Daphne Joy?
Daphne is a model, actress, host, and entrepreneur from the Philippines.   She became a swimsuit model for OMG Miami Swimwear and later released her own holiday collection named Daphne Joy for Abyss by Abby Collection.  Daphne has appeared on the covers of several magazines, including Smooth, BlackMen, and SHOW.  She has also appeared in the Ed Hardy Swim Campaign 2009 and King Magazine.  Her debut television appearance was in 2007 on the MTV show 'Nick Cannon Presents: Wild 'N Out.'  She then appeared in the television shows CSI: Las Vegas, Criminal Minds, and Curb Your Enthusiasm. Daphe also appeared in the TV movie 'Venice Heat,' as well as the comedic horror film 'Frankenhood.'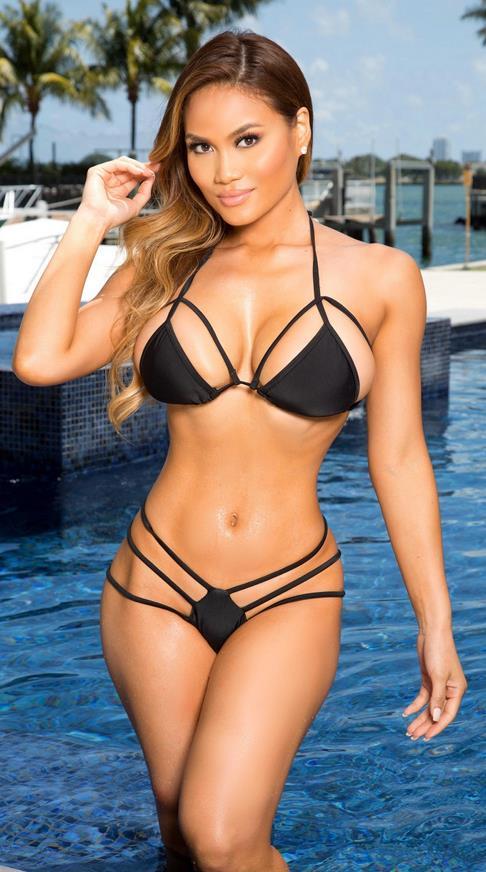 Among her film appearances, the most noted is 'Pirates of the Caribbean: On Stranger Tides' in which she played a mermaid.  She has appeared in a number of music videos including "What You Got" by Colby O'Donis featuring Akon and "Miss Independent" by Ne-Yo featuring Jamie Foxx.
She launched her own swimwear label, Daphne Joy Collection, in partnership with L'ANIMAL CO.
Her Early Life
Daphne Joy Cervantes Narvaez was born on February 8, 1987, in Olongapo, Philippines.  Her father was born in Puerto Rico, and her mother was born in the Philippines.  She spent much of her youth in the Philippines before moving to Los Angeles with her family when she was seven years old.  During her high school years, she was a member of the cheerleading team, dancing groups, choir productions, and talent shows.  She is currently a single mother.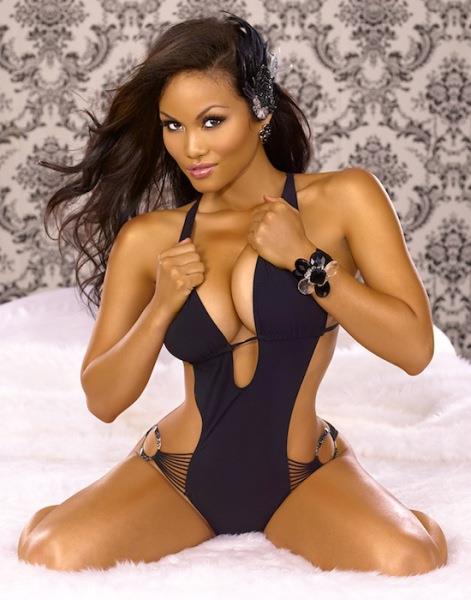 Career Journey
Daphne Joy stated that she has been approached by casting directors since she was in elementary school.  She participated in dance groups, plays, and theatre when she was in high school.  She started her career as a fashion model when she was 17 years old.  Daphne walked the ramp for top fashion designers, appeared in ads, and eventually became a cover girl for various men's magazines.  In 2007, she appeared as a VJ/Dancer in an episode of MTV's 'Nick Cannon Presents: Wild 'N Out'.  Since then, she has worked on a number of TV shows and movies, including playing the role of a mermaid in the 2011 fantasy drama 'Pirates of the Caribbean: On Stranger Tides'.  Her popularity rose significantly after she started dating rapper 50 Cent in 2011.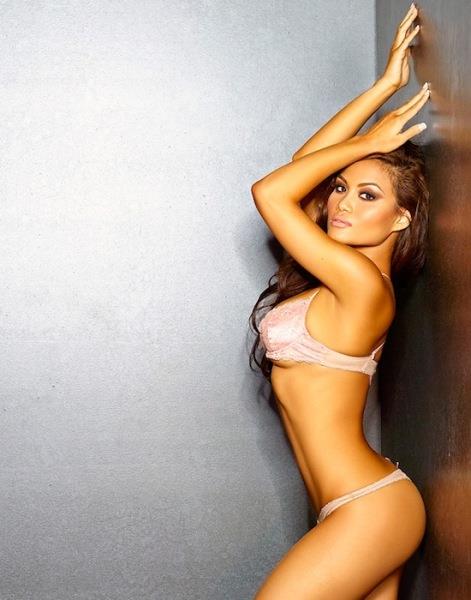 Daphne Joy has now become well-known as an actress for appearing in many television series and feature films.  She appeared in the 2009 film Frankenhood and the 2011 film Pirates of the Caribbean: On Stranger Tides.  She is also a business owner, having just established her own swimwear line.
Facts and Trivia
Growing up in the Philippines, she respects the culture and its values.  Despite her immense popularity, she likes to stay low-key.  She is a very good cook and loves Filipino food.  She also loves to travel; however, her fear of heights restricts her vacation destinations and keeps her from enjoying rollercoaster rides or skydiving.
Daphne Joy considers herself a foodie but thinks she is blessed to have a good metabolism which keeps her from gaining weight.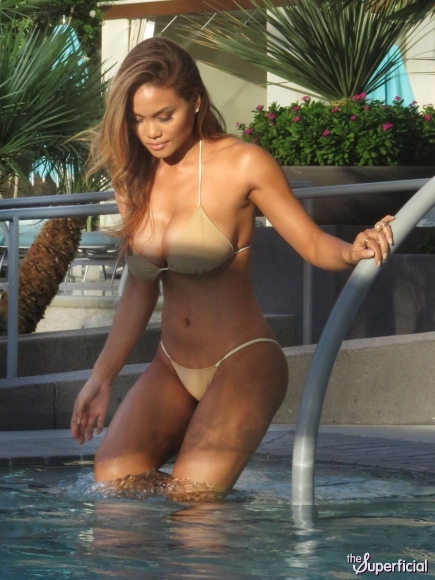 She appeared in the Colby O'Donis music video for his song "What u Got" featuring Akon.
Daphne Joy is infamous for her dating history and has been linked to a number of celebrities throughout the years.  One of her earliest hook-ups was with much older Finnish-Canadian businessman Peter J. Nygård. In 2011, she briefly dated American actor Tyrese Gibson. Soon after, she started dating rapper 50 Cent.  It was one of her longest relationships, which lasted for over one and half years.  She even had a child with the rapper, named Sire Jackson, who was born in 2013.  Their relationship took an unexpected turn when she accused him of domestic assault.  He allegedly physically abused her, breaking into her Toluca Lake condo on June 23, 2013, and also destroyed property worth $7,100 before he left.  The domestic violence charges were later dropped after he pleaded no contest to misdemeanor vandalism.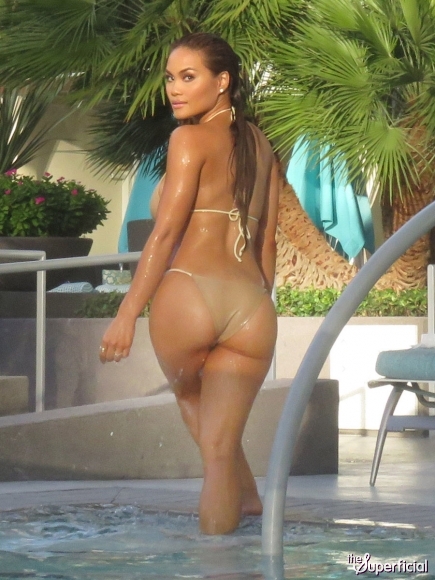 Daphne also dated singer Jason Derulo from November 2015 to May 2016.  They decided to break up with him on amicable terms.  She also reportedly dated reality TV star Rob Kardashian for a short period of time in late 2013.
Few people are aware that she enjoys throwing parties and has already hosted huge celebrity gatherings.  She has also modeled for philanthropic organizations such as the annual Celebrity Catwalk, which raises awareness for abused and neglected cats and dogs.
Her Body Measurements
Daphne stands 5 feet, 6 inches and she rocks a 37-22-35 (32DD bra size) figure.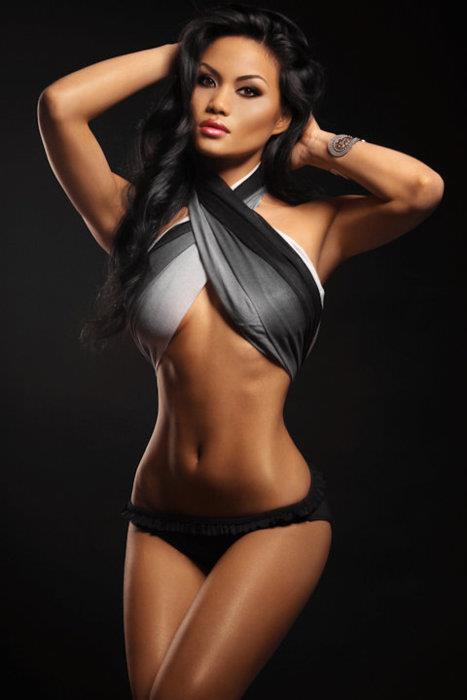 Daphne Joy Photos
Join her over 1.7 million followers on Instagram for her newest super sexy posts.
And don't forget to visit our Daphne Joy page for a good amount of her pictures.