A sun-kissed beauty that you just won't be able to shake off your mind.  Laila Blue is all about sending you to your hottest beach fantasy ever.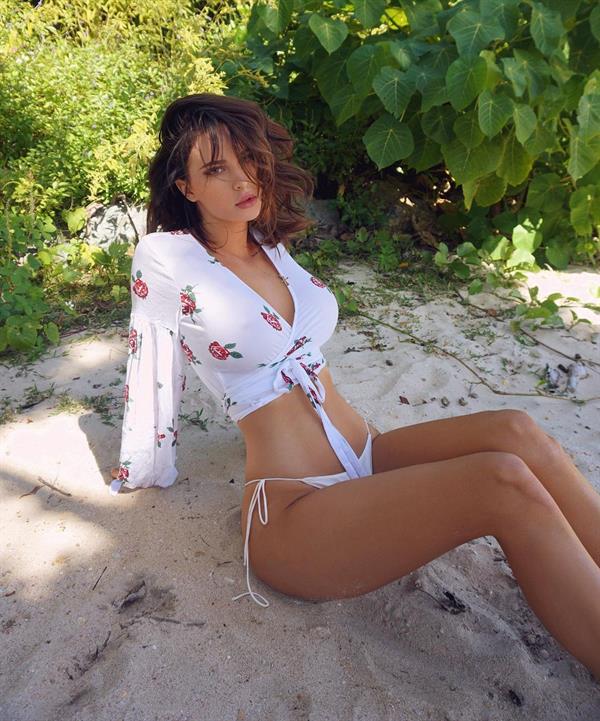 Oh, she just has got it.  The face, the body, the x-factor.  Everything physically sexy about a woman is in her.  And it is really so hard to look away.  Of course, we are only talking about photos.  Now, imagine if you are face to face with this beauty.
Who is Laila Blue?
Laila Blue is a South African social media influencer based in Sydney, Australia who is best known for her Instagram profile.  She was previously known as Rebecca Holly and began her career as a fitness model and coach before shifting her focus to modeling after becoming popular on Instagram for her posts showcasing her stunning figure.  Her agency, theright.fit, describes her specialty as "modeling and promoting clothing, jewelry, hair products, and beauty products."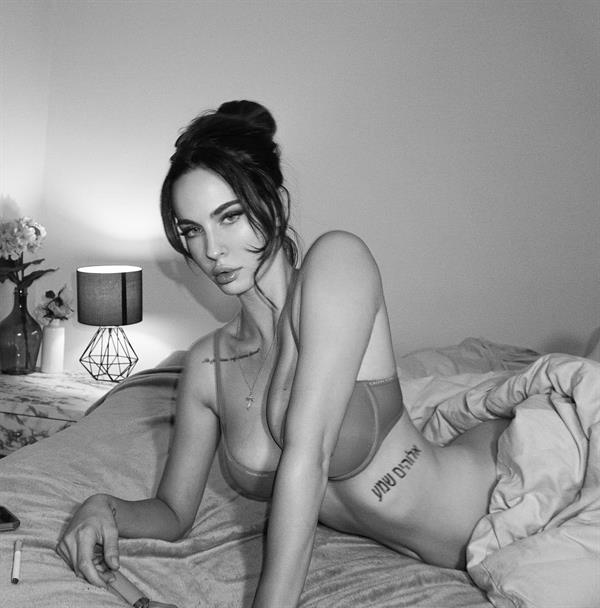 Laila Blue has collaborated with brands such as Oh Polly, Peppermayo, PrettyLittleThing, and Zala Hair Extensions, as well as fitness and supplement companies such as EHPlabs. Interestingly, another Instagram influencer with the same name, "Laila Blue," and the handle @chasing.laila, is not a real person but the "Middle East's first virtual influencer."
Her Early Life
Laila Blue was born Rebecca Holly on October 30, 1996, in Cape Town, South Africa.  She grew up with an older sister and two younger brothers.  While she has primarily been raised in South Africa, she moved to Sidney, Australia in 2011.  She studied fitness and worked as a fitness coach before her Instagram page blew up in early 2016.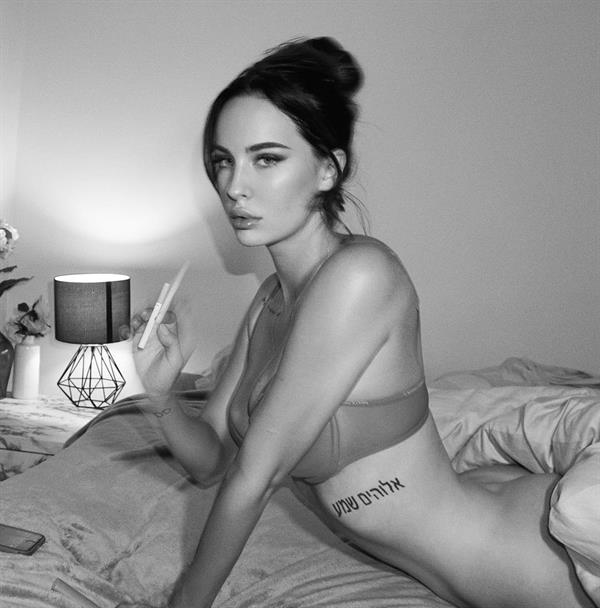 Career Journey
Laila Blue studied fitness and began her career as a fitness trainer.  She had, in fact, joined Instagram to share photos of her workout sessions.  She even had her own "8 Week Booty Program" available.  But it was popular American YouTuber Philip DeFranco, who mentioned her in one of his videos in April 2016, who helped her get noticed.  Her Instagram profile grew exponentially over the next few months, propelling her to the status of an Instagram star.  Despite the fact that she has since deleted her original Instagram profile and all references to her past as a fitness model, her first photo on her current profile was also taken in the gym.  She has not only deleted her previous profile, but also several pictures from her current profile, including some featuring her son.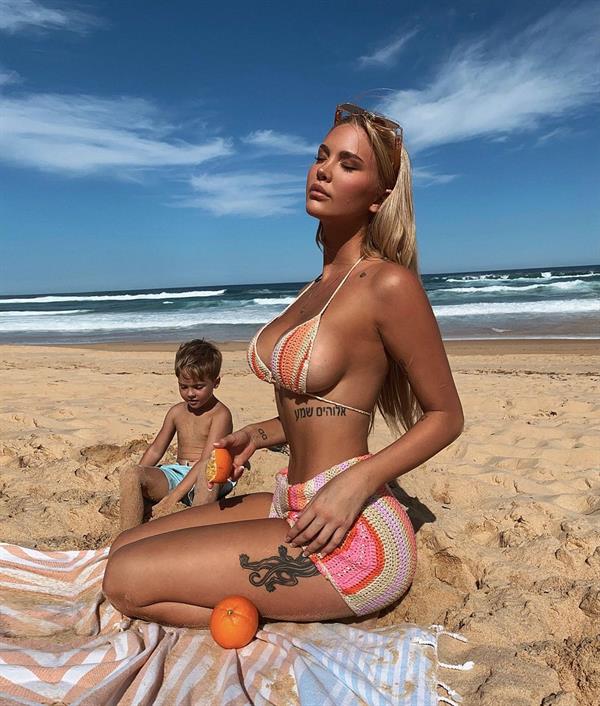 On her current profile, Laila frequently posts modeling photos in prestigious brand swimsuits and lingerie.  Oh Polly, MESHKI Swimwear, PrettyLittleThing, Zala Hair Extensions, SHEIN, Peppermayo, and Beginning Boutique are among the brands she has promoted.  She appears to have a close relationship with her devoted fan base and frequently seeks advice from them on her latest hairstyle, piercing, and tattoos.
Facts and Trivia
Throughout 2017, Laila Blue shared photos of herself at various stages of pregnancy to document the changes her body was undergoing.  In the first such post, she pondered how the "female body is truly such an amazing thing" and expressed excitement at the prospect of watching her baby bump grow.  Laila had made an emotional Instagram post in September 2017, just 33 weeks pregnant, about how pregnancy "has seriously been the most up and down experience" of her life.  She described the experience as "exhausting and stressful, but it can also feel like a pure miracle."
Laila discussed her struggles with weight loss and low appetite due to depression in a post nearly a year after giving birth to her son.  She also mentioned having difficulty motivating herself to exercise more and eat less.  She was no longer married to her son's father at the time.  Months later, she told her worried fans, "Guys, stop asking me to smile.  On the inside, I'm grinning. Promise."  In her next post, she shared a photo from her trip to Hamilton Island in Australia's Whitsundays and explained how it helped with her mental health issues, encouraging her to move forward.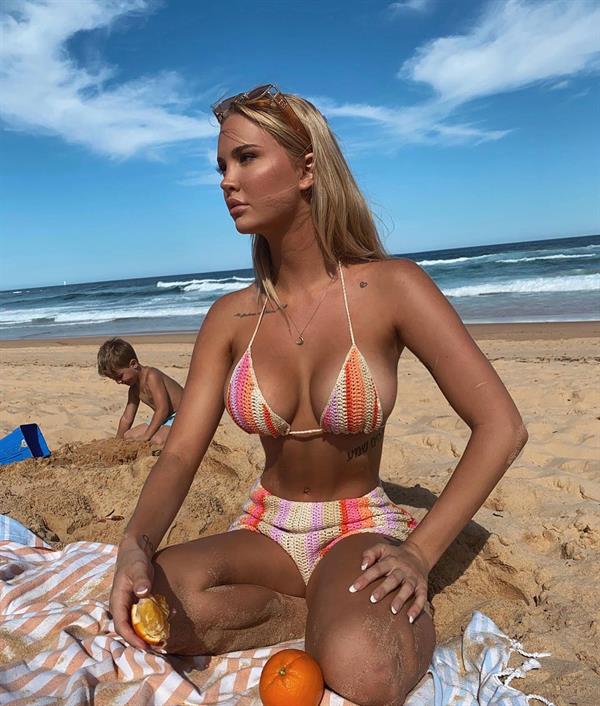 Despite following a strict diet as a fitness enthusiast, she doesn't mind occasional servings of her favourite cheat meal: pizza.
During the second half of the last decade, Laila Blue was in a relationship with a man named Jack White, and the two were even engaged.  On November 8, 2017, she gave birth to her first child, a boy named Samuel Hope Hall, at the age of 21.  However, the couple split up soon after in July 2018.
Her Body Measurements
Laila Blue stands 5 feet, 7 inches and she rocks a 34-26-39 figure.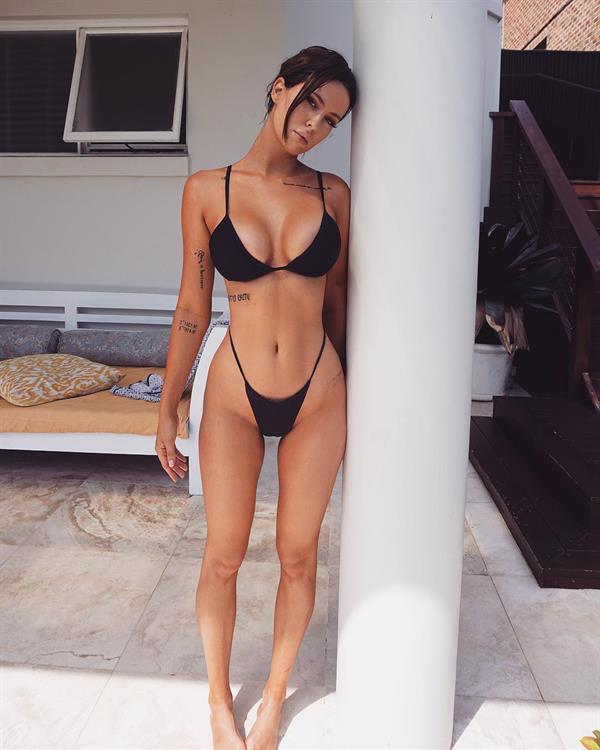 Laila Blue Photos
Follow this babe on Instagram for her latest lifestyle posts.
And don't forget to visit our Laila Blue page for more of her.