And for this week's Timeless Tuesday, we got the super hot and super intimidating Nikki Bella.  Yup, imagine saying or doing the wrong thing and she's gonna suplex you like you are in the ring…
But yeah, she deserves to be featured here on our website because look at her.  She was a fantasy to many, especially during her wrestling days.  But before you go back into fantasizing about her glorious body, how about you get to know her first?
Who is Nikki Bella?
Nikki is a former professional wrestler, fitness model, and actress from the United States.  Her most well-known appearances have been on WWE's Smackdown brand.  Apart from wrestling, Nikki was frequently seen on television and in brand endorsements.  Rolling Stone magazine named her "Diva of the Year" in December 2015.  She was ranked first on the 'Pro Wrestling Illustrated' (PWI) magazine's 'Female 50' list the same year. She won the Teen Choice Awards Choice Female Athlete award in 2016.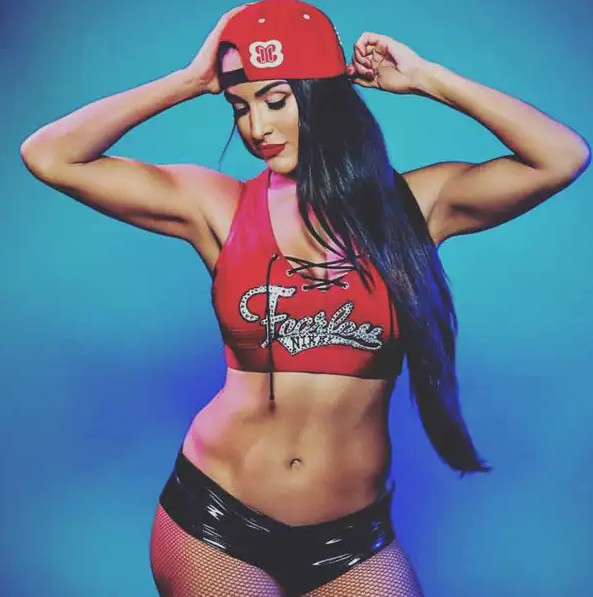 Despite her retirement, she remains an inspiration to women across the United States due to her dedication to fitness.
Her Early Life
Stephanie Nicole Garcia-Colace (Nikki Bella) was born on November 21, 1983, in San Diego, California, to Jon Garcia and Kathy Colace.  Brie, her twin sister, was born 16 seconds before her.  Nikki was raised on a farm in Arizona for the majority of her childhood.
Nikki was an avid football player as a child. She accompanied her sister to an elementary school in Scottsdale, where she lived.  They eventually became fitness enthusiasts and adopted a healthy lifestyle, which led them to a career in sports.
Her parents were of Mexican and Italian descent, respectively.  Nikki would later say that her parents were completely supportive of their daughters and that she had a happy childhood.
Nikki Bella completed her high school education at 'Chaparral High School.'  For further studies, she relocated to San Diego and enrolled at 'Grossmont College.'  She played football for her school team and quickly became the team's favorite.
Even though it appeared she would have a brilliant career in American football, she steered away from it.  She then relocated to Los Angeles, where she began working odd jobs while attempting to land modeling or acting jobs.
Career Journey
Nikki Bella began looking for modeling and acting opportunities.  She eventually appeared in a Fox TV show called 'Meet My Folks,' where she was noticed by agents and began receiving offers to appear in commercials.  She was eventually seen in a Budweiser commercial with her sister.
Nikki and her sister were unsuccessful in competitions such as the 'International Body Doubles Twins Search' and the 2006 'WWE Diva Search.'  However, 2007 proved fruitful for the sisters as they finally entered 'World Wrestling Entertainment' (WWE), the largest wrestling showdown in the United States.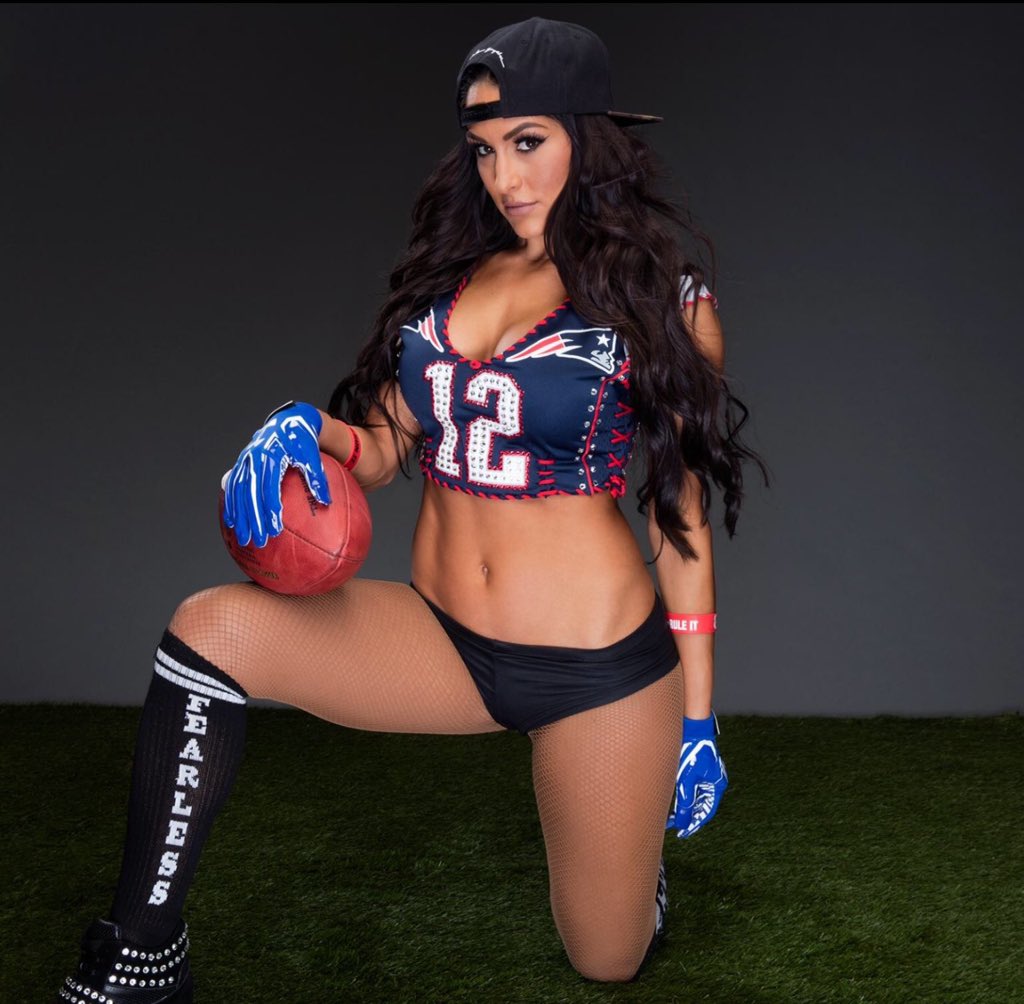 Nikki and her twin sister were signed to a development contract by WWE in June 2007, and they debuted in 'Florida Championship Wrestling' on September 15, 2007.  The sisters began with a victory and quickly became fan favorites due to their playful antics; they would frequently hide behind the referee and switch places, taking full advantage of their identical appearances.
The rest of the year was consumed by their rivalry with Nattie Neidhart and Victoria Crawford.  Meanwhile, Nikki competed in some mixed tag team matches with Kofi Kingston and Robert Anthony.
The sisters continued to fight in tag team matches for the next two years.  They were also well-known for their backstage antics.  After assaulting Gail Kim backstage in January 2011, the sisters turned on each other. As a result, the WWE universe (fans and audience) began booing them whenever they appeared.
Nikki won her first WWE Divas Championship title on April 23, 2012, when she defeated Beth Phoenix on Raw.  Her reign as champion, however, was brief, as she lost the title to Layla one week later.
The following night on Raw, she was given the opportunity to reclaim her championship in a triple-threat match against Layla and Brie.  She did, however, lose the match.  Later that night, the official WWE website revealed the news of her suspension.
'The Bella Twins' returned to Raw and began feuding with several wrestlers, but with no significant victory.  The sisters were mostly preoccupied with their crazy antics to keep the audience entertained.
Nikki was given another chance to win the 'WWE Diva championship' in 2014, and she won it by defeating AJ Lee in a Survivor Series match.  She went on to hold the title for nearly a year, breaking the record for the longest-reigning WWE Diva champion.  She defended the title against several opponents before losing it to Charlotte in a 'Night of Champions' match.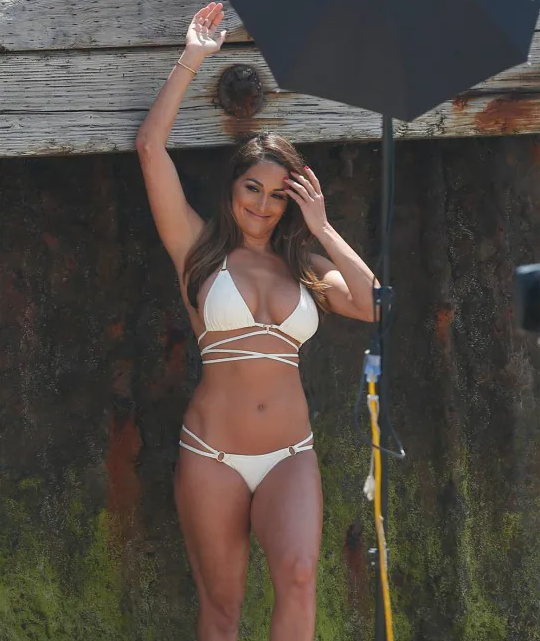 Nikki and her sister continued to fight against a variety of opponents.  She competed in singles matches in addition to tag team matches.  She began a romance with fellow wrestler John Cena.  Cena proposed to her after a mixed tag team matches at 'WrestleMania 33,' and she accepted.  However, they called off their engagement and canceled their wedding, which was scheduled for May 5, 2018.
The 'Bella Twins' made an appearance at Raw's 25th Anniversary on January 22, 2018.  The following year, it was revealed that a cyst on her brain had been discovered, effectively ending her ring career.  Nikki and Brie launched their beauty line, 'Nicole + Brizee,' in the same year.
Facts and Trivia
Nikki Bella had a brief relationship with WWE superstar Nick Nemeth.  They competed in several matches together, and their romance became the talk of the town.
John Cena and Nikki Bella began dating in 2012 and quickly became the most popular couple on and off the show.  On April 2, 2017, the couple announced their engagement.  Nikki announced her temporary retirement from professional wrestling two days later.  Her wedding to Cena was scheduled for May 5, 2018, but they canceled it.
She revealed in 2014 that she married her high school boyfriend when she was twenty, but the marriage was annulled three years later.  In an interview, Nikki also stated that if she wasn't a wrestler, she would have been a real estate agent because she is qualified.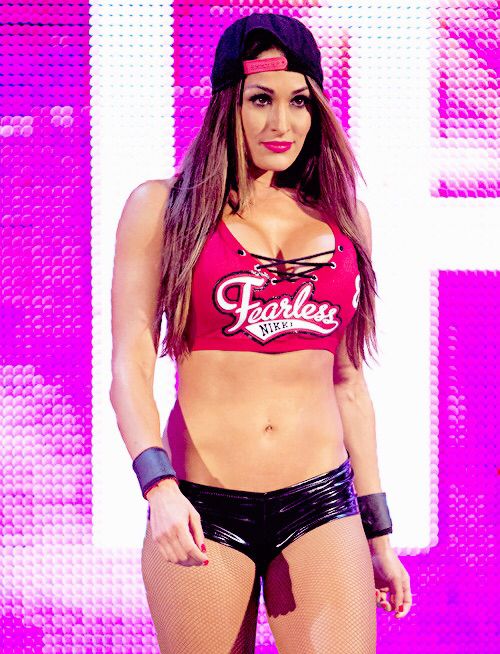 Nikki married Russian dancer Artem Chigvintsev on January 3, 2020.  She announced on January 29 that she is expecting her first child.  She announced on June 11 that she is expecting a boy.  Matteo Artemovich Chigvintsev, their son, was born in July 2020.  The couple married in September 2022.
Nikki has appeared in films and television shows such as 'Confessions of a Womanizer,' 'Ridiculousness,' 'Psyched,' and 'Total Divas.'
Nikki Bella was trained by Tom Prichard and developed a unique wrestling style, which several other female wrestlers are now attempting.
Her Body Measurements
Nikki stands 5 feet 6 inches and she rocks a curvy 39-27-38 (36C bra size) figure.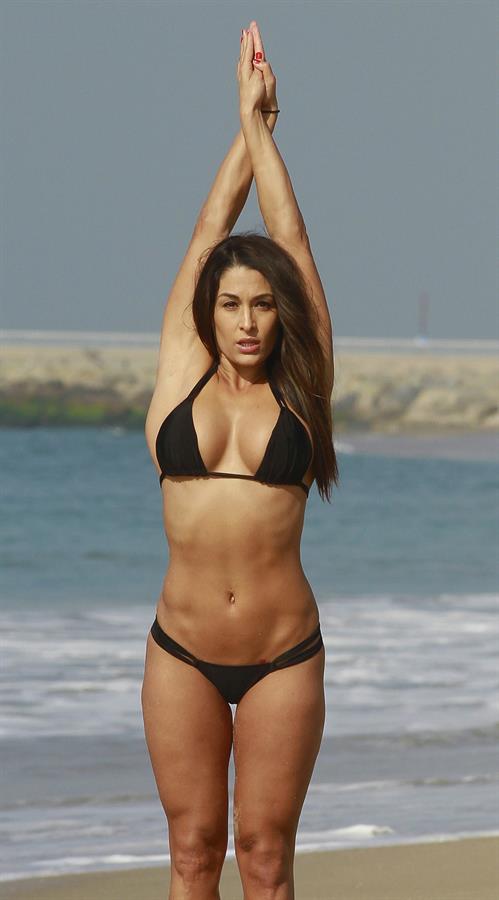 Nikki Bella Photos
For more of her stunning pictures, do check out our Nikki Bella page.