Oh, Hollywood actresses in bikinis are a wonder to look at. Yup, scenes with the lead actress (or anyone in the movie) sporting a swimsuit are the most paused, really.  And I think swimsuits in movies are also the reason why we love B-movies.  Well, aside from the gore and the "so bad, it's good" expectation.
Anyway, here are the most iconic swimsuits in cinema history.  From dress-like 'one piece' to skimpy two-pieces. Enjoy!
Brigitte Bardot in Girl in the Bikini (1952)
With a title like Girl in the Bikini, it was almost unavoidable that this film would include a memorable swimsuit moment, and Brigitte Bardot did not disappoint. Bardot's enchanting innocence captivated audiences worldwide in the 1952 French romantic comedy.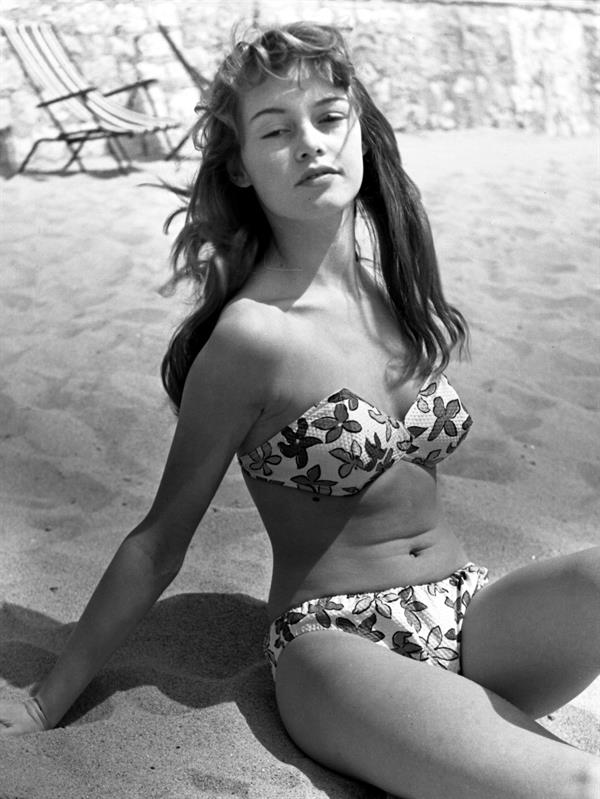 Bardot's character embraces the carefree spirit of youth and love as the film revolves around a summer romance by the seaside. Bardot wore a bikini, a daring choice for the time, and maintained an air of innocence and naivety that added to her magnetic charm.
Marilyn Monroe in How to Marry a Millionaire (1953)
Marilyn Monroe sizzles on screen in an iconic swimsuit moment that has stood the test of time in the classic comedy film How to Marry a Millionaire.  Monroe plays Pola Debevoise in the film, a charming and naive model aspiring to marry a wealthy man.
Monroe appears in a stunning one-piece swimsuit in the scene in question, which takes place at a luxurious poolside.  It's easy to see why a scene featuring this lady in a swimsuit will live on in people's minds forever.
Esther Williams in Easy to Love 1953)
Esther Williams, also known as the Million Dollar Mermaid, made a splash in the film Easy to Love (with her mesmerizing swimsuit moments) as Julie Hallerton, a swim star caught in a love triangle.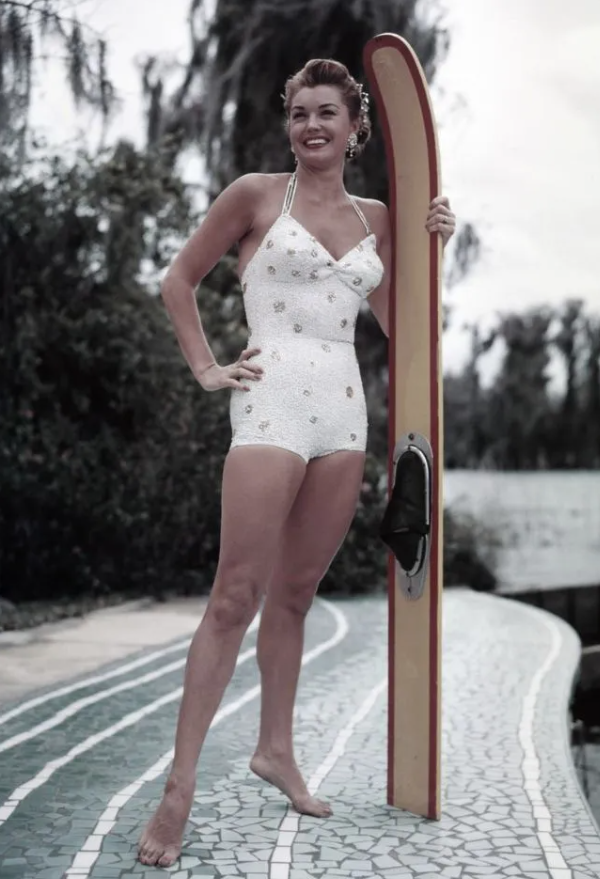 Williams performs a dazzling water ballet routine in a shimmering aquatic setting, clad in a vibrant and form-fitting swimsuit, effortlessly gliding through the water, executing intricate synchronized movements with her fellow swimmers.
Deborah Kerr in From Here to Eternity (1953)
Deborah Kerr made an indelible impression in the 1953 film From Here to Eternity.  Kerr plays Karen Holmes, a neglected wife who is still looking for love in this classic drama.  The scene in question takes place on a beautiful Hawaiian beach, and Kerr's character meets Burt Lancaster's character.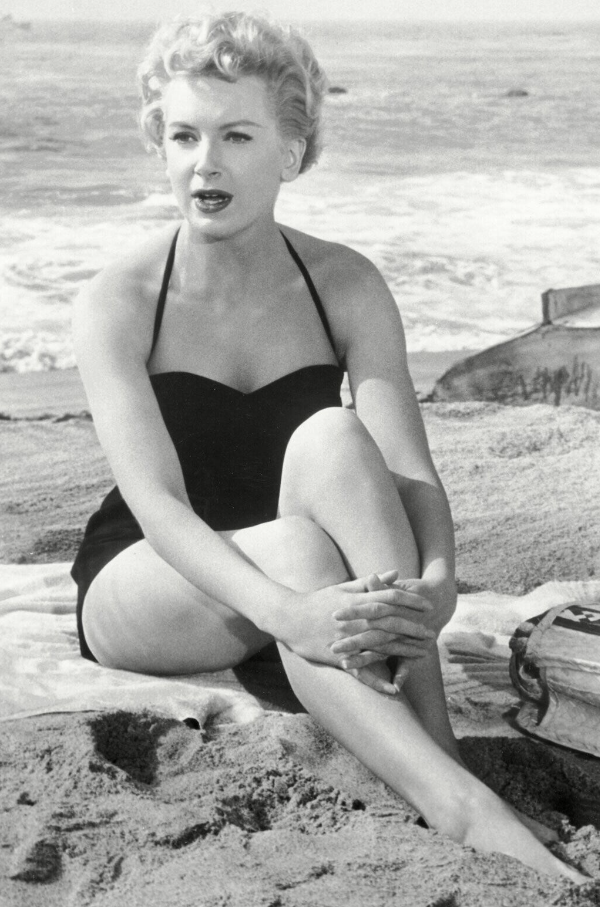 Surprisingly, the film's production encountered difficulties while filming the beach scene.  Kerr struggled to adjust to the tropical climate because the sand was scorching hot.  Despite the difficulties, Kerr's performance in the swimsuit scene helped to cement the film's legacy.
Jane Russell in The French Line (1953)
In the film The French Line, Jane Russell's swimsuit sets hearts racing.  Russell stars as Mary Carson, a wealthy heiress embarking on a European adventure, in this musical romantic comedy from 1953.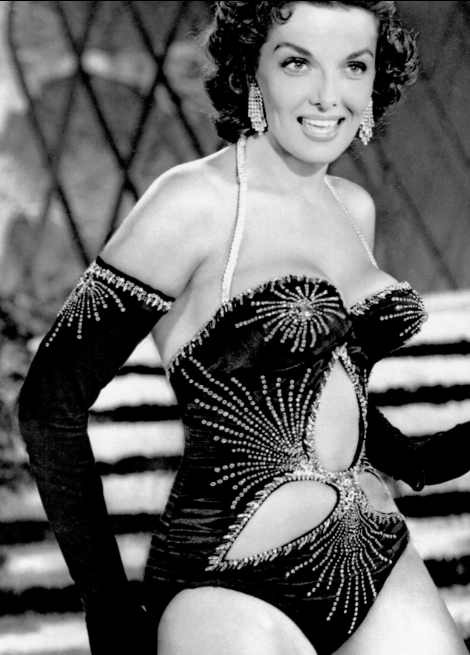 Russell appears in a stunning swimsuit scene, demonstrating her confidence and charm.  People couldn't stop talking about it, and as a result, the film became quite famous. It even made the news, which drew everyone's attention to the film.
Elizabeth Taylor in Suddenly, Last Summer (1959)
The themes of family secrets and societal expectations are explored in this thriller.  Elizabeth Taylor plays Catherine Holly, a young woman whose experiences at a seaside resort are revealed in the film.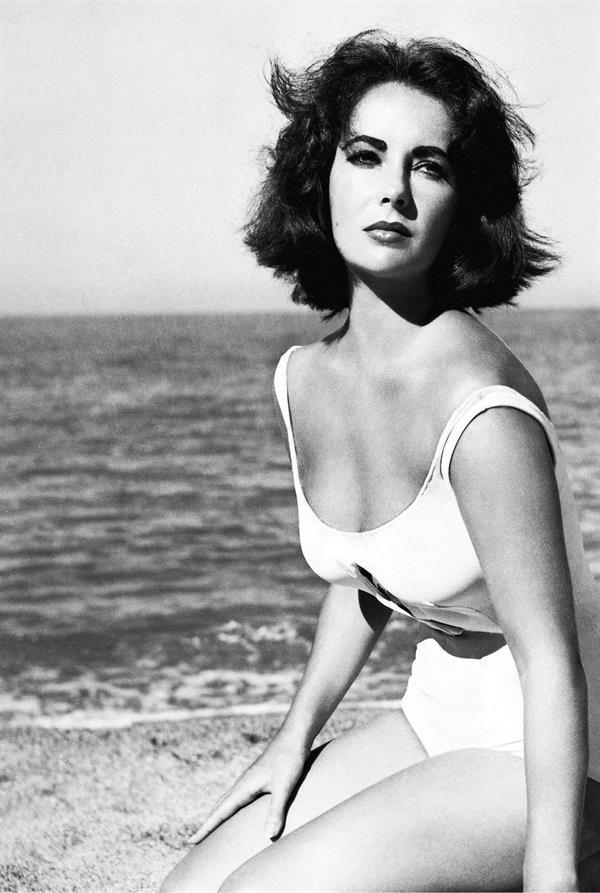 The swimsuit scene is a pivotal scene that highlights Taylor's exceptional acting abilities.  Catherine is seen wearing a white bathing suit as she recalls events from her past, symbolizing her vulnerability and innocence in the midst of a turbulent narrative, adding depth and intensity to the scene.
Paula Prentiss in Where the Boys Are (1960)
Paula Prentiss and a young George Hamilton transported viewers to Fort Lauderdale in the 1960s in the vivacious movie Where the Boys Are.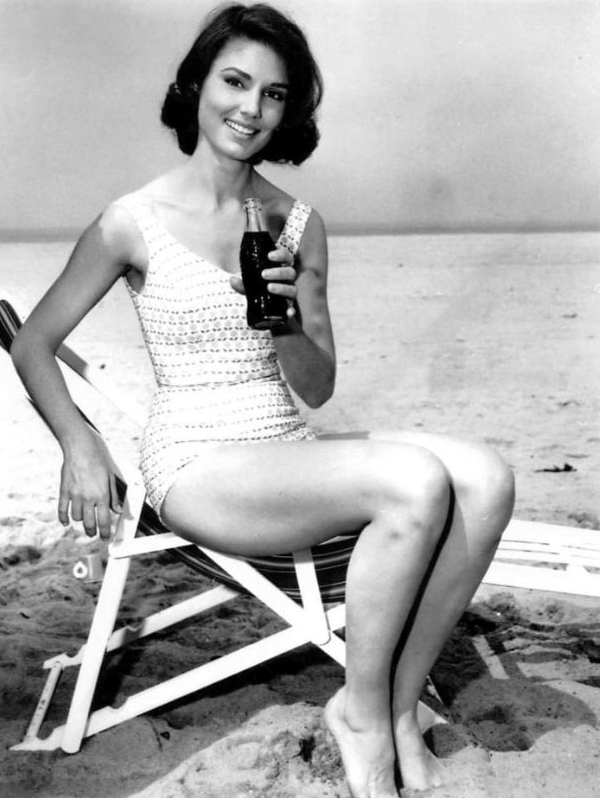 Paula Prentiss's character wore a one-piece swimsuit that perfectly encapsulated the fashion trends of the time, embodying youthful exuberance and carefree spirit.  With Prentiss and her chic swimsuit in town, Fort Lauderdale—the ultimate spring break destination—came alive.
Sophia Loren in Madame Sans Gene (1961)
Sophia Loren in a dark one-piece swimsuit in the film Madame Sans Gene in 1961 was an unforgettable moment, a vision destined to last forever.  Loren's swimsuit scene in the film, as Catherine Hubscher, the spirited laundress turned duchess, became an iconic symbol of allure and elegance.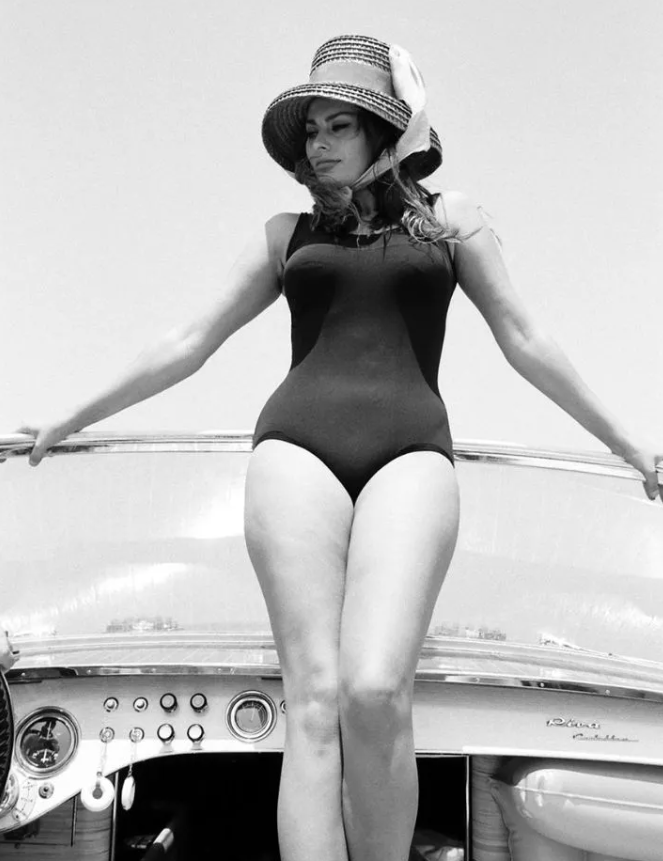 Sophia Loren's personal journey from humble beginnings to Hollywood stardom added an additional layer of inspiration to her iconic status.  Her meteoric rise symbolized bravery, determination, and the transformative power of dreams.
Ursula Andress in Dr. No. (1962)
Ursula Andress became an international sensation with her role as the stunning Bond girl, Honey Ryder, in the 1962 film Dr. No.  However, it was her breathtaking swimsuit moment in the movie that truly became a pop culture phenomenon.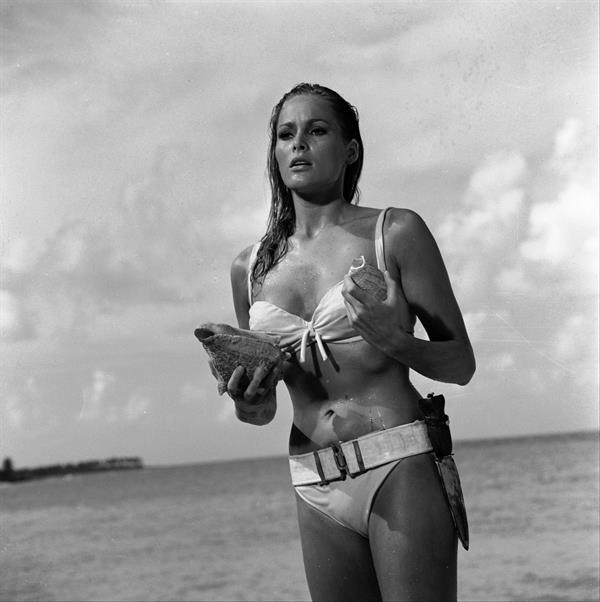 Andress, in collaboration with costume designer Tessa Prendergast, crafted the iconic two-piece and made movie history.  The white bikini top, featuring a center tie, was what every girl wanted to wear in 1962!
Sue Lyon in Lolita (1962)
Sue Lyon played the challenging role of the titular character in the 1962 film adaptation of Lolita.  The scenes in the film sparked heated debate and analysis.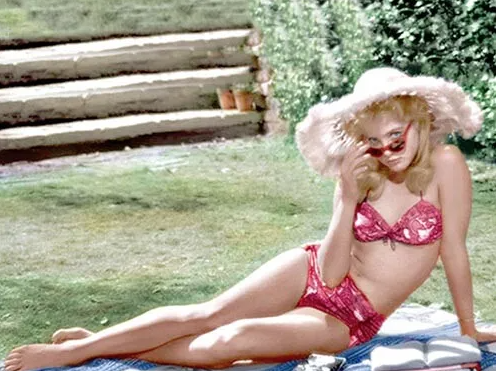 Sue Lyon's captivating presence in a swimsuit, on the other hand, drew audiences back time and time again.  The swimsuit scenes starring Sue Lyon as Lolita became a focal point of the film, adding some much-needed complexity to the plot.
Annette Funicello in Beach Party (1963)
Annette Funicello, known for her wholesome charm, brought her radiant presence to the 1963 film Beach Party.  This lighthearted beach-themed musical not only showcased Funicello's talent but also became a cultural phenomenon that solidified her status as America's sweetheart.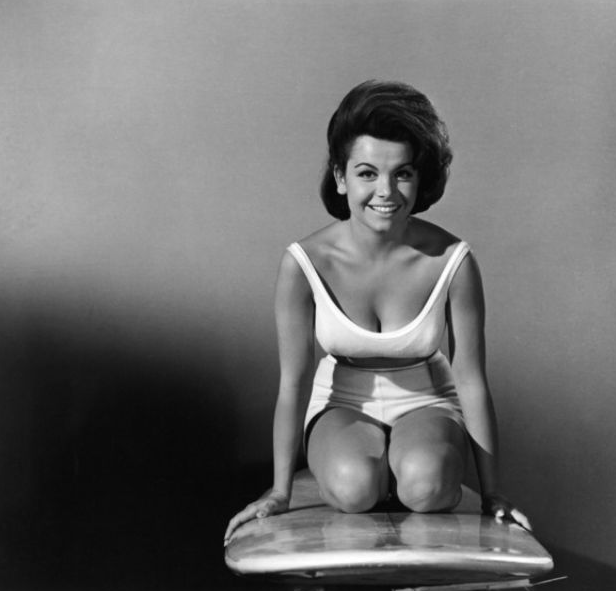 Funicello's swimsuit moments became an integral part of the film's appeal.  Her girl-next-door charm and natural beauty shone through as she donned stylish and modest swimsuits, capturing the essence of innocent allure.
Again, Annette Funicello in Beach Blanket Bingo (1965)
In the 1965 movie Beach Blanket Bingo, the beloved Mouseketeer Annette Funicello made a lasting impression on popular culture by wearing a high-waisted bikini.  The audience was taken on a wild ride by this beach-themed musical adventure, and Funicello's swimsuit came to represent fun, the sun, and carefree beach days.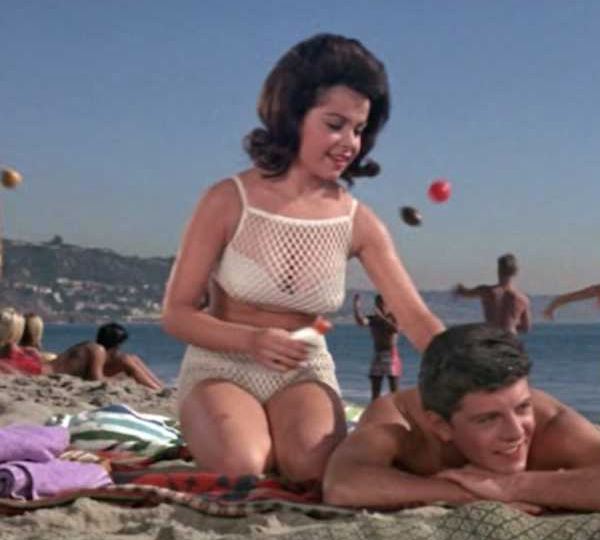 For its time, Funicello's decision to wear a high-waisted bikini was revolutionary, defying swimwear trends and igniting a sensation among fans.  The high-waisted bottoms of the bikini radiated a sense of vintage charm and modesty, while the lively hues and playful patterns added a dash of youthful exuberance.
Sally Field in Gidget (1965)
In the 1965 film Gidget, Sally Field made a charming and endearing debut.  A swimsuit scene occurs in the film during a beach outing with her friends. Gidget, dressed in a bright and playful swimsuit, embraces the sun, sand, and waves with infectious joy.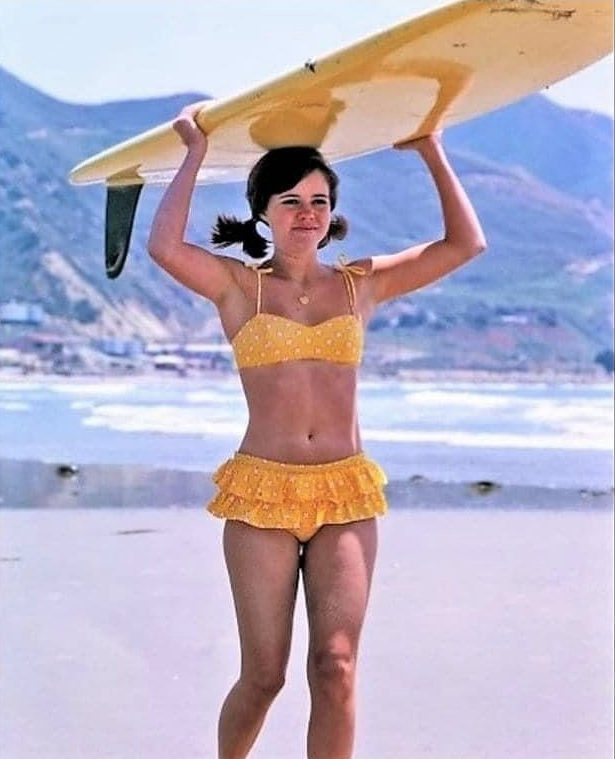 The scene captures her character's carefree spirit as she immerses herself in the world of surfing and summer fun.  The success of the film sparked a surge in interest in surfing and beach culture, particularly among teenage girls.
Raquel Welch in One Million Years B.C. (1966)
Raquel Welch made her screen debut in the 1966 film One Million Years B.C., captivating audiences with her stunning beauty and fierce portrayal of a prehistoric woman.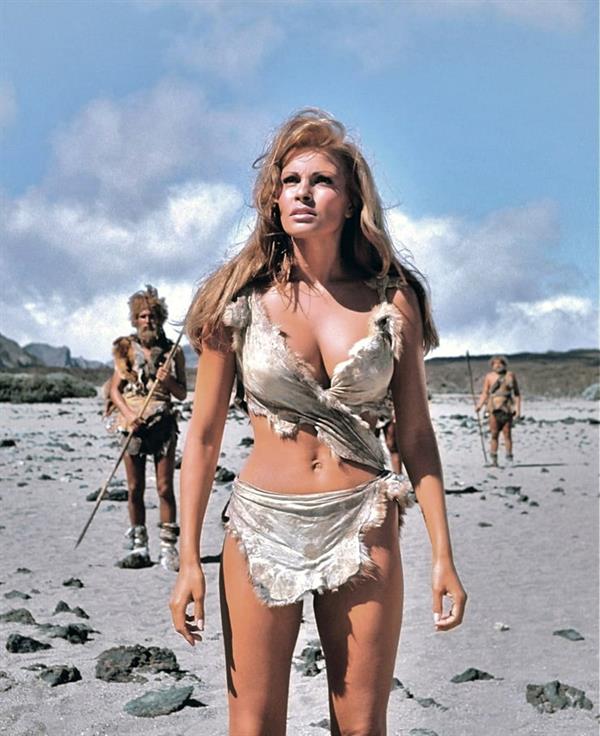 Welch's fur bikini in the film has become an iconic piece of movie memorabilia. It was created by costume designer Carl Toms and caused quite a stir among viewers, igniting a trend in the fashion world for animal print and fur-inspired swimwear.
Sharon Tate in Don't Make Waves (1967)
Sharon Tate's appearance in the 1967 film Don't Make Waves not only showcased her acting abilities but also provided an unforgettable image of the beauty in a swimsuit.  Surprisingly, Sharon Tate's character in this lighthearted comedy was originally intended to be a minor, non-speaking part.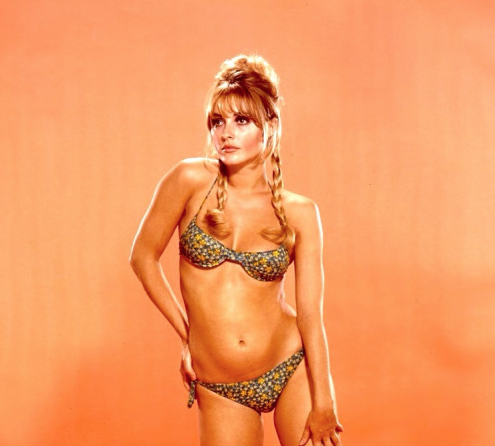 Director Alexander Mackendrick, on the other hand, was so taken with Tate's on-screen presence and charisma that he expanded her role, giving her more substantial screen time.  This decision proved wise, as Tate's charm and beauty became one of the film's highlights.
Jacqueline Bisset in The Sweet Ride (1968)
In the 1968 film The Sweet Ride, Jacqueline Bisset demonstrated her undeniable elegance and talent.  Jacqueline Bisset's swimsuit moments happen on beach trips with her friends. As she embraces the sun and surf, Bisset exudes effortless beauty and grace.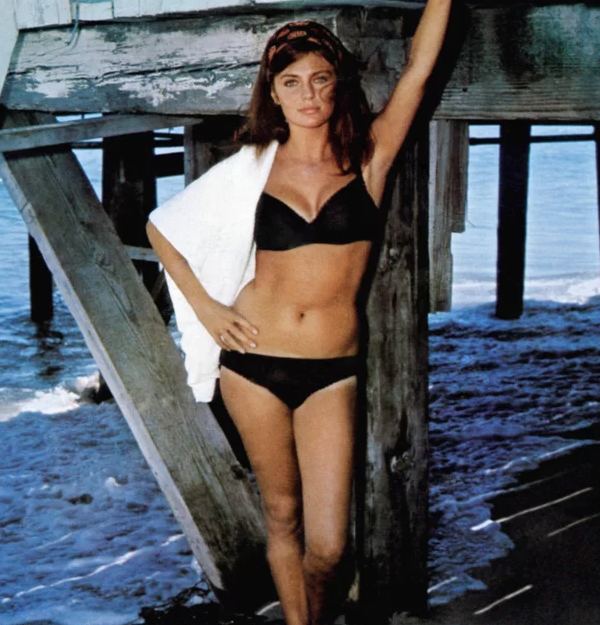 The scenes highlight her radiant presence while also capturing the carefree spirit of the time.  The Sweet Ride is a film that stands out in Jacqueline Bisset's career because it demonstrates her ability to play complex characters with grace and charm.
Trina Parks in Diamonds Are Forever (1971)
In the 1971 James Bond film Diamonds Are Forever, Trina Parks made a memorable appearance.  Parks played the acrobatic guard Thumper in this action-packed spy thriller, where he faced off against Sean Connery's iconic secret agent, James Bond.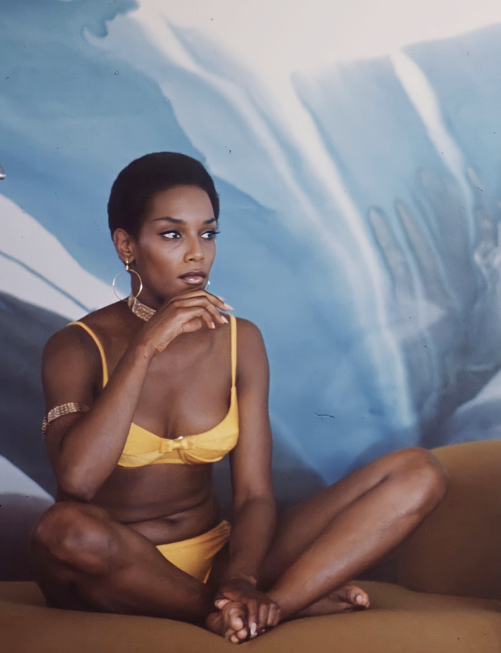 Parks wore a striking bright yellow bikini in the film, which immediately drew attention.  Parks' athletic physique, combined with the bold color choice, creates a visually striking presence on screen.  The Thumper's fierce and distinct appearance is completed by neck and armbands, a string around the waist, and hoop earrings.
Pam Grier in Coffy (1973)
Pam Grier, who played the titular character in the 1973 revenge film Coffy, made a fierce and unforgettable impression.  Grier's swimsuit moment takes place during a pivotal scene in which her character confronts her adversaries.  Grier exudes confidence, sensuality, and a no-nonsense attitude while dressed in a revealing and daring swimsuit.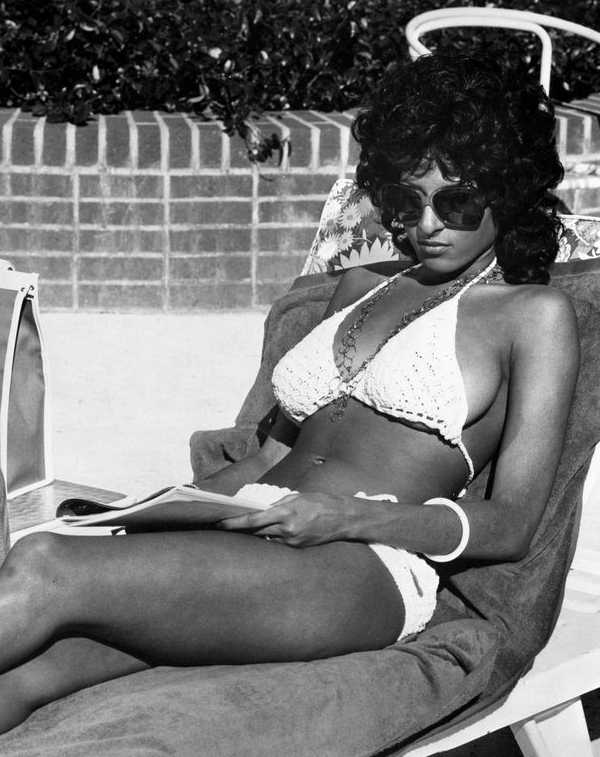 Pam Grier's career was defined by the swimsuit scene in Coffy.  In a genre dominated by male protagonists, it represented her embodiment of a strong, independent, and multifaceted female character.  Grier's portrayal of Coffy challenged gender stereotypes and served as an inspiration for future female action heroes.
Farrah Fawcett in Sunburn (1979)
Farrah Fawcett radiated undeniable charm and beauty in the sun-soaked landscape of the 1979 film Sunburn, creating an experience that was both tantalizing and thrilling.  Fawcett's presence in the film added an extra layer of excitement, drawing in fans who were eager to witness her magnetic allure on the big screen after her wildly popular role in Charlie's Angels.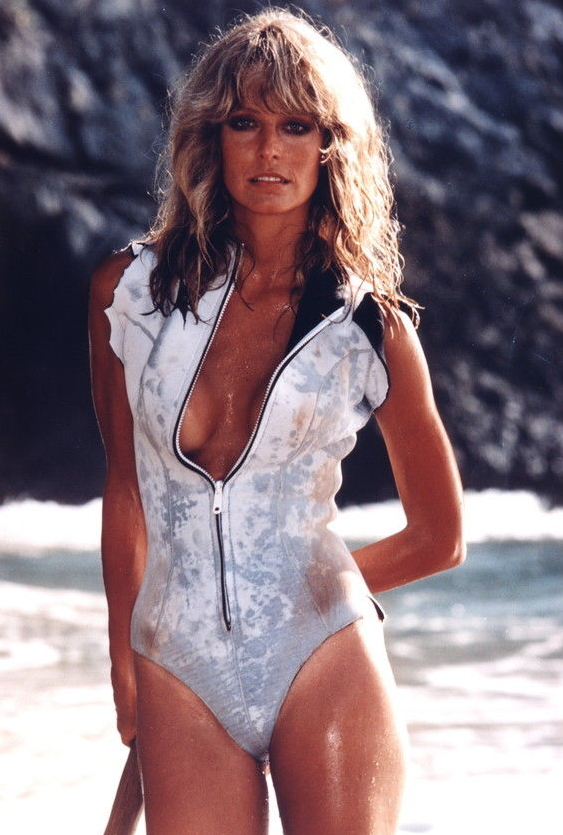 In this film, Fawcett's swimsuit moments are nothing short of mesmerizing.  Her iconic swimsuit became an instant sensation, earning its rightful place in pop culture whether she's lounging by the pool or strolling along the sandy shores.
Bo Derek in 10 (1979)
Bo Derek's iconic beach scene in the 1979 film 10 is undoubtedly one you really can't forget. In the movie, Bo Derek's entrance onto the sandy shores is nothing short of breathtaking.  Adorned in a flesh-colored swimsuit, her sun-kissed skin glistening, Derek gracefully emerges from the waves like a vision of Aphrodite herself.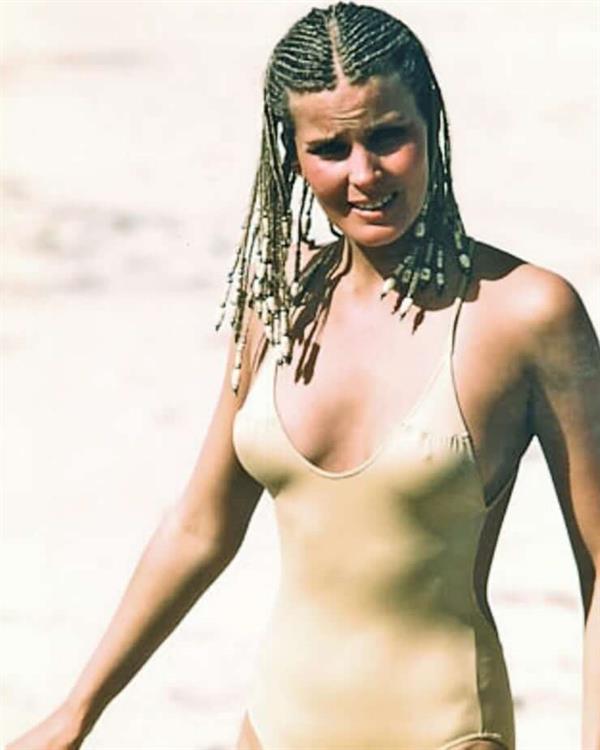 Her signature cornrow braids and captivating blue eyes further enhance her magnetism.  The film's title, 10, soon became synonymous with perfection, and Bo Derek became the embodiment of that ideal.
Carrie Fisher in Star Wars: Return of the Jedi (1983)
Few scenes in cinema history are as instantly recognizable and iconic as Carrie Fisher donning the legendary gold bikini in the Star Wars franchise.  Jabba the Hutt captures Fisher's character, Princess Leia Organa, at this critical juncture.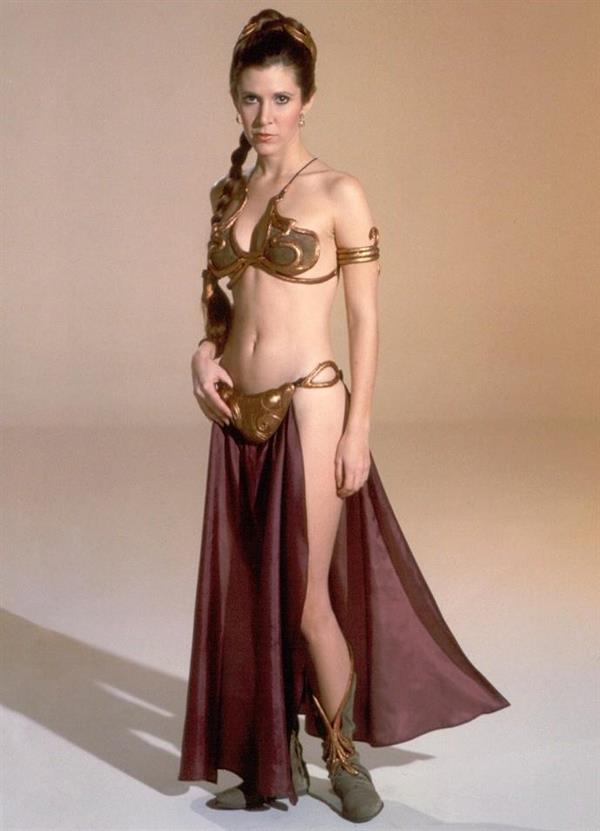 The gold bikini scene has evolved from its cinematic origins to become an iconic symbol of female empowerment and agency. The scene has been referenced, parodied, and celebrated in various forms of media, cementing its place as one of cinema's most iconic moments.
Pamela Anderson in Baywatch (1992-1997)
Pamela Anderson's portrayal of lifeguard C.J. is one of television's most iconic swimsuit moments.  C.J. Parker from the hit TV show Baywatch is legendary.  Anderson became a global sensation while wearing the now-famous red swimsuit, capturing the hearts and attention of viewers all over the world.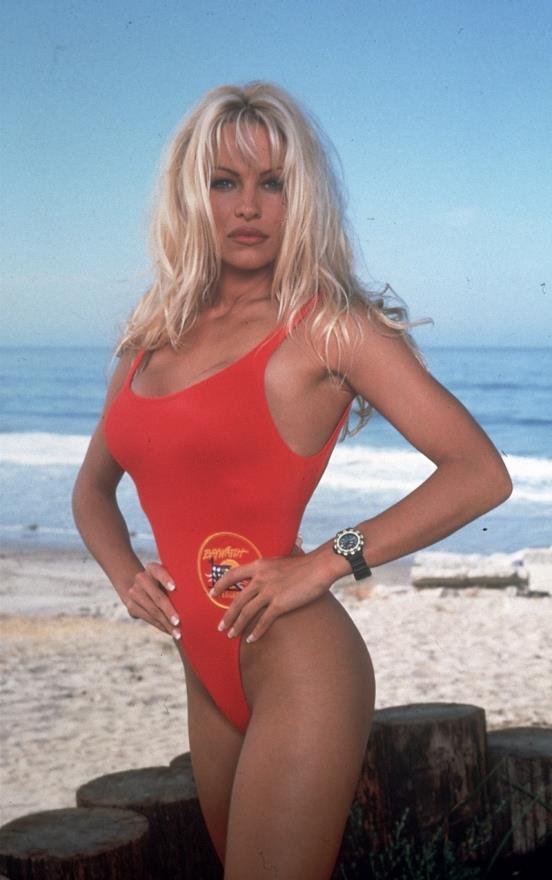 The significance of the red swimsuit and Anderson's portrayal of the character cannot be overstated.  Anderson drew C.J. in with her radiant beauty, blonde hair cascading in the ocean breeze, and undeniable confidence.  Parker was brought to life in a way that became synonymous with the show.
Izabella Scorupco in GoldenEye (1995)
Izabella Scorupco's appearance in the 1995 film GoldenEye made a splash that rippled through the franchise's history.  Scorupco, who played Natalya Simonova, not only captivated audiences with her intelligence and strength but also stunned them with her stunning swimsuit scene.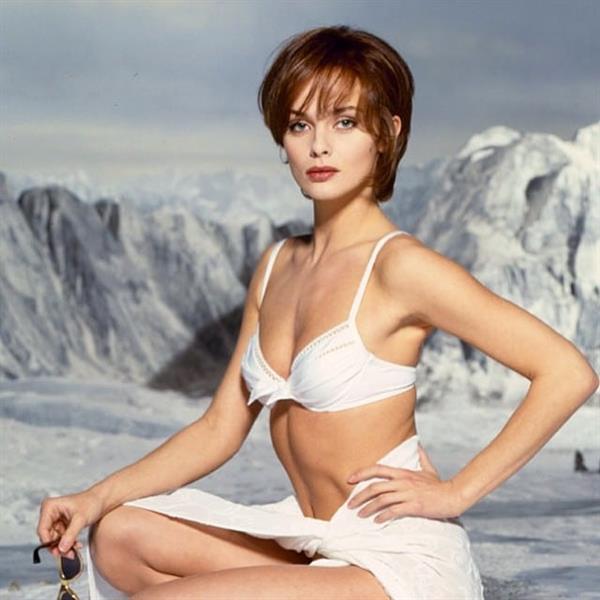 Scorupco's swimsuit scene in GoldenEye embodied the Bond girl mystique—an enticing mix of confidence and mystery.  The scene, set against a stunning backdrop, emphasized Scorupco's grace and poise, leaving an indelible impression on viewers all over the world.
Angela Bassett in How Stella Got Her Groove Back (1998)
Angela Bassett captivated hearts in a striking pink swimsuit before taking on the regal role of Queen Ramonda of Wakanda.  In the 1998 movie How Stella Got Her Groove Back, Bassett's commanding presence commanded attention and inspired awe in viewers.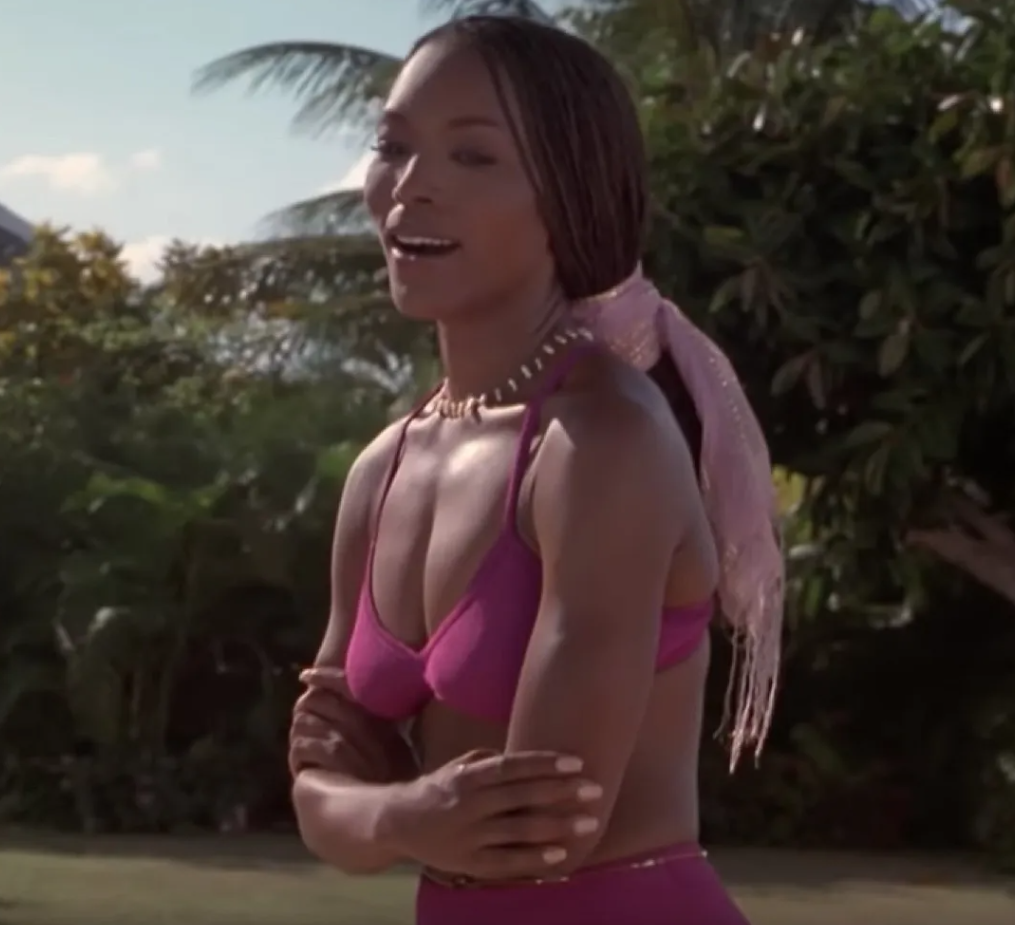 Stella is liberated from societal expectations in the pink swimsuit scene, which stands as a testament to accepting one's true self.  Bassett displayed her timeless beauty with poise and assurance, captivating the audience with her radiant charisma.
Denise Richards in Wild Things (1998)
The complex Kelly Van Ryan was portrayed by Denise Richards in the seductive and tense thriller Wild Things.  Richards delves into a world of trickery, subterfuge, and unanticipated turns.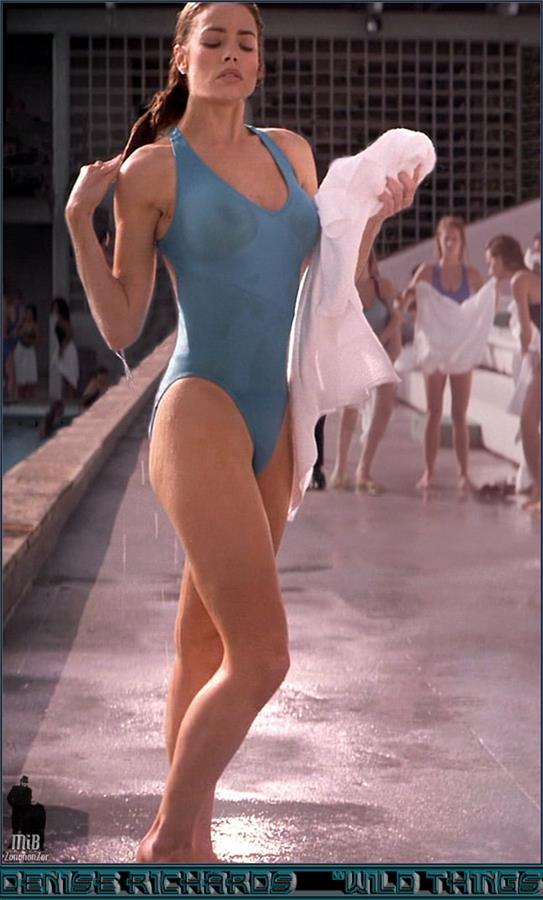 One of the most iconic moments from Wild Things features Richards in a skimpy bathing suit, adding a further layer of intrigue to the narrative.  This scene, which perfectly captures the film's edgy and provocative atmosphere, features Richards commanding attention with ease thanks to her stunning physique and captivating charisma.
Tara Reid in The Big Lebowski (1999)
The Big Lebowski is a surreal and offbeat comedy about the misadventures of The Dude, a slacker.  Tara Reid's Bunny added a burst of energy and chaos to the film's eccentric ensemble.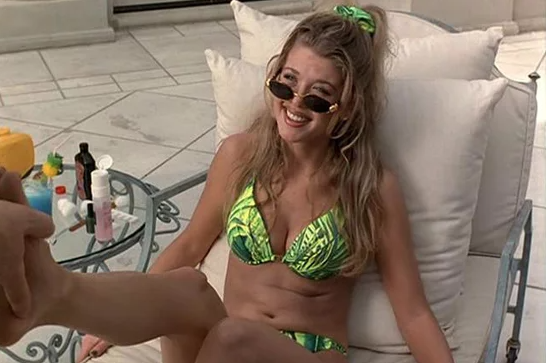 Bunny's scenes, which included a memorable poolside encounter in a stunning bikini, added to the film's overall absurdity.  Her character's antics and unpredictable nature added to the film's chaos and amusement, making it a memorable part of Reid's filmography.
Gwyneth Paltrow in The Talented Mr. Ripley (1999)
Gwyneth Paltrow graced the screen with elegance and sophistication in the riveting thriller The Talented Mr. Ripley, captivating audiences with her nuanced portrayal of Marge Sherwood.  While the film was full of suspense and intrigue, it was a simple swimsuit scene that stayed with me.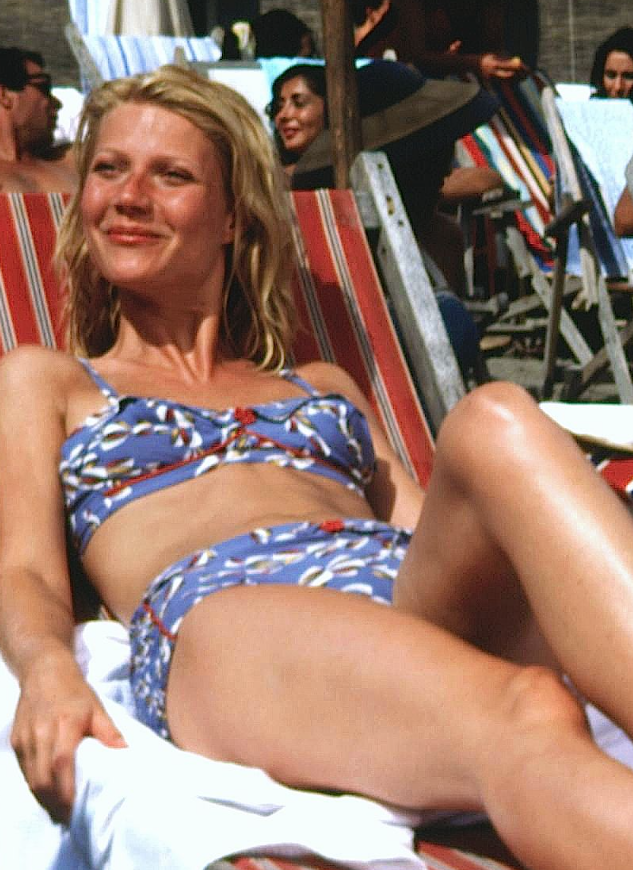 Marge, Paltrow's character, wears a stunning swimsuit that exudes timeless glamor during a pivotal scene on the sun-drenched Italian Riviera.  The scene highlights her radiant beauty while capturing the essence of 1950s sophistication.
Angelina Jolie in Tomb Raider (2001)
Angelina Jolie's portrayal of the fearless and adventurous Lara Croft in Tomb Raider is unquestionably one of the most iconic swimsuit moments in film history.  Jolie wears a sleek black swimsuit during a thrilling underwater scene, showcasing her stunning physique and further cementing her status as a cinematic icon.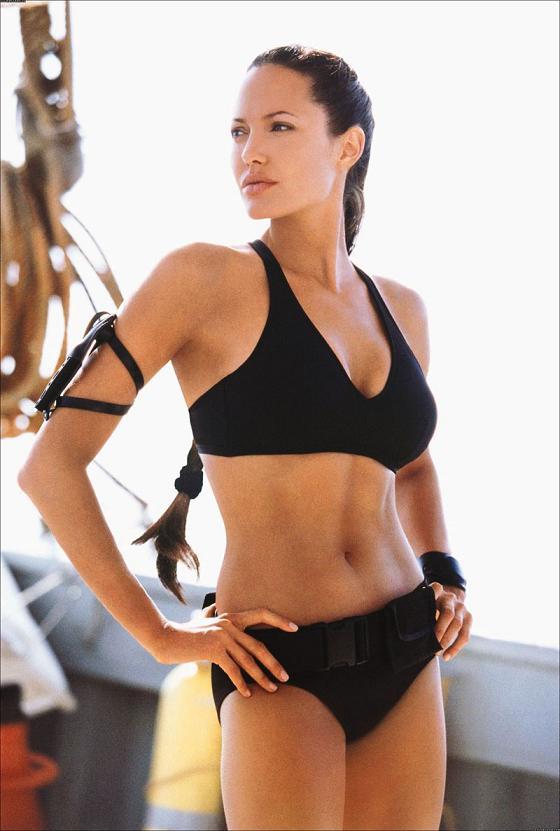 In Tomb Raider, Jolie's portrayal of Lara Croft became a cultural phenomenon, inspiring a generation of fans and establishing her as one of Hollywood's most iconic action heroines.
Reese Witherspoon in Legally Blonde (2001)
Every outfit in the classic film Legally Blonde is an experience in and of itself, and the swimsuit moment is no exception.  The portrayal of the bubbly and determined Elle Woods by Reese Witherspoon takes audiences on a delightful journey filled with pink hues, witty one-liners, and, of course, a memorable swimsuit scene.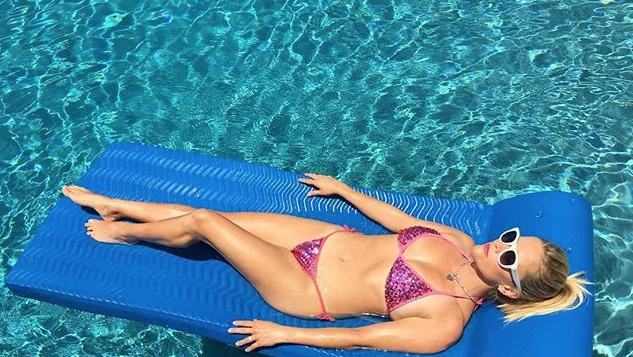 The gleaming swimsuit screams Elle.  We can only imagine how many replicas of that swimsuit float around the ocean each year now that the character is a Hollywood icon.
Halle Berry in Die Another Day (2002)
Halle Berry's portrayal of Jinx Johnson in Die Another Day stands out as a captivating and iconic addition to the James Bond franchise when it comes to modern-day Bond girls.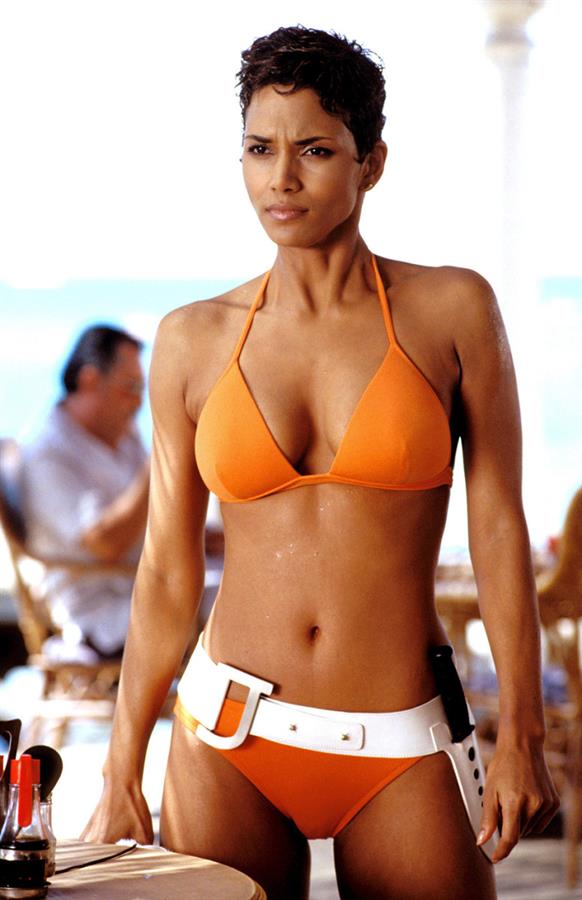 Berry's character in the film is a skilled secret agent with a flair for danger and a penchant for stunning swimsuit moments.  Jinx emerges from the ocean in a stunning orange bikini, effortlessly embodying the epitome of allure and confidence in one scene.
Cameron Diaz and Demi Moore in Charlie's Angels: Full Throttle (2003)
When it comes to high-octane action and stylish thrillers, Cameron Diaz and Demi Moore's dynamic duo of swimsuit moments in Charlie's Angels: Full Throttle brought the heat.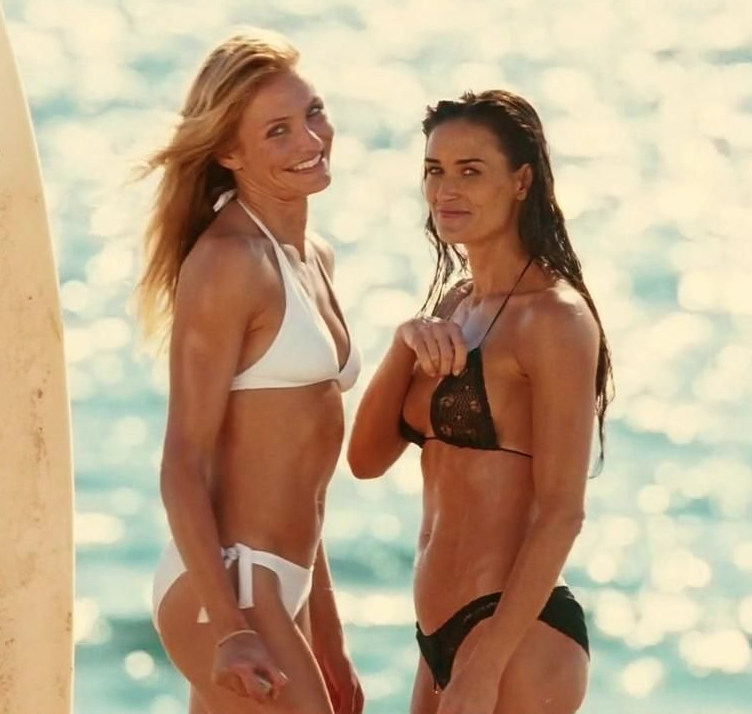 The two beauties, one in black and one in white turned up the heat on the beach with their confidence and charisma.  Their swimsuit sequences captured audiences' attention, elevating the film beyond its thrilling action sequences and demonstrating the power of confident, strong women.
Rachel McAdams in The Notebook (2004)
If there was ever a perfect summer relationship, it has to be Ryan Gosling and Rachel McAdams frolicking on the beach in the iconic film The Notebook.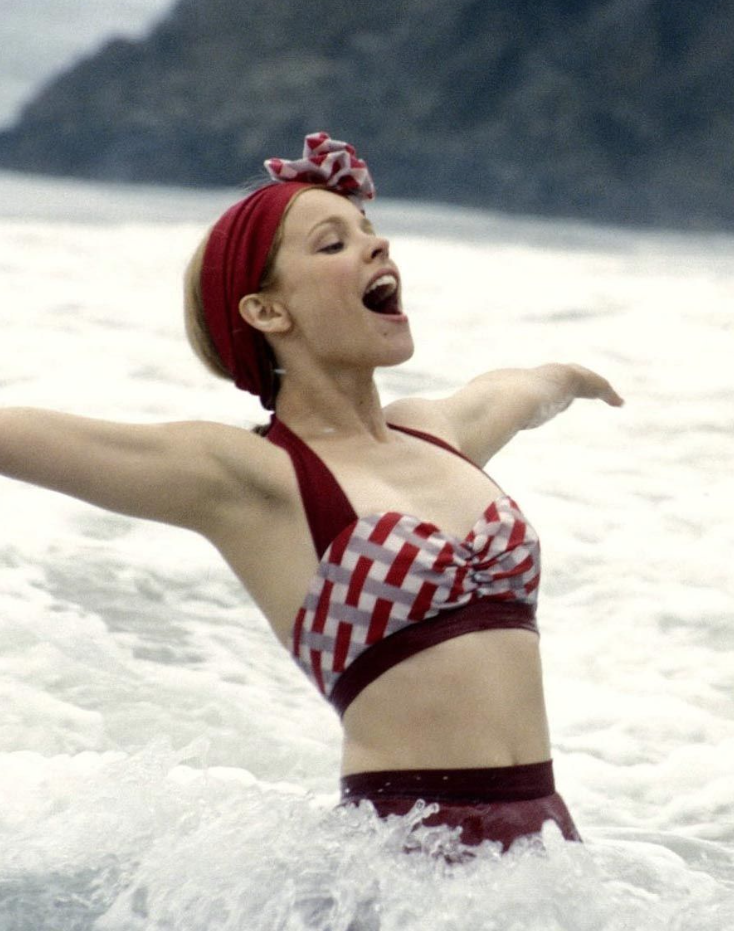 Among the sweeping romance and picturesque coastal setting, it's safe to say that Rachel McAdams' red swimsuit from that memorable scene will be remembered long after the film has ended.  Its eye-catching color reflects Allie's lively spirit and zest for life.
Jessica Alba in Into the Blue (2005)
Jessica Alba's beauty shone like a radiant gem in the mesmerizing depths of the ocean in the film Into the Blue.  Throughout the suspenseful plot, Jessica Alba's character, Sam, draws attention not only for her adventurous spirit but also for her stunning swimsuit scenes.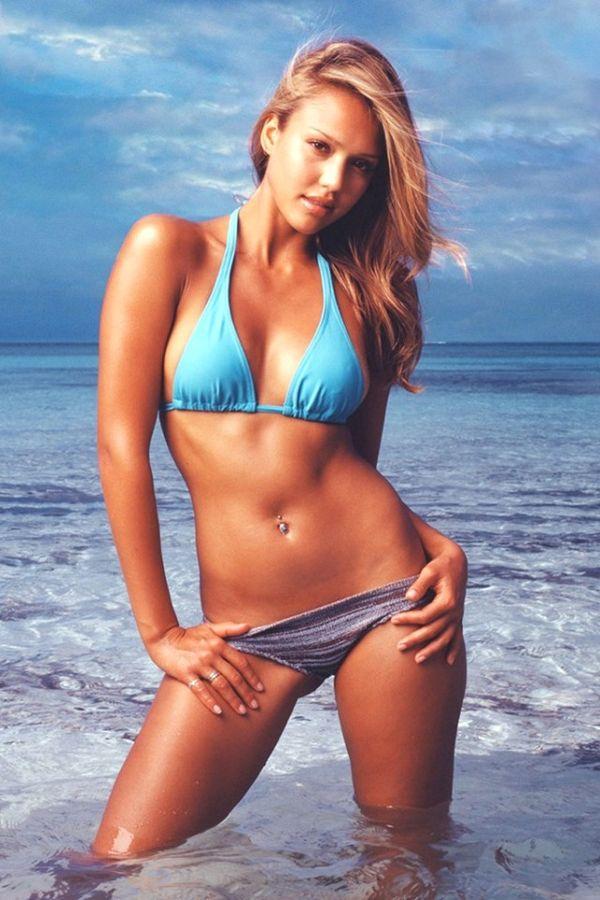 Her swimsuit scenes showcased her timeless beauty, whether she was gliding through the water or lounging on the sun-kissed beaches.
Ashley Tisdale in High School Musical 2 (2007)
High School Musical 2 swept the adolescent world by storm, igniting a wave of reinventions in high schools around the world.  Sharpay became the epitome of popularity and aspiration, with her perfectly coiffed hair, fashionable wardrobe, and unapologetic attitude.
Ashley Tisdale wears a white swimsuit while lounging at the pool in one of her carefully curated and selected outfits.  It's the ideal look for the ultimate IT girl.
Kristen Bell in Forgetting Sarah Marshall (2008)
In addition to showcasing her comedic skills in the 2008 comedy Forgetting Sarah Marshall, Kristen Bell also demonstrated her impeccable sense of fashion in a pink Dior string bikini.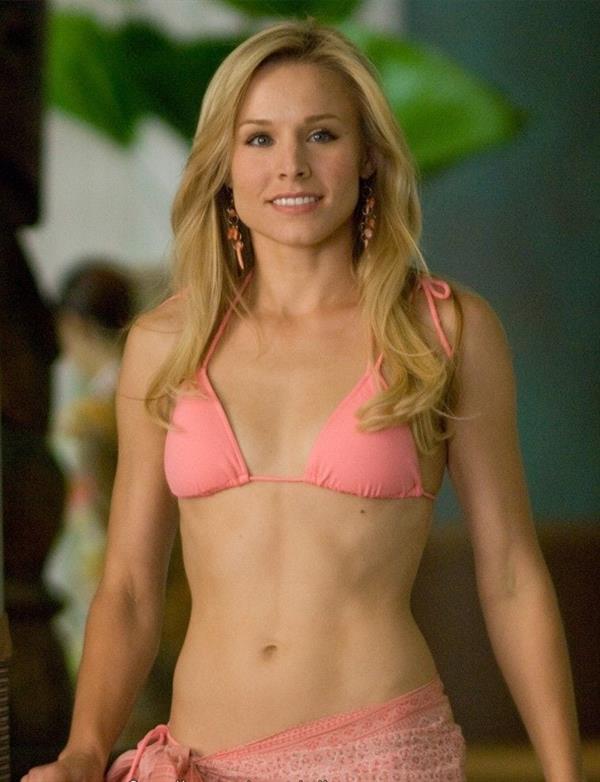 Bell's pink Dior string bikini, which portrayed her as a woman who knows how to make a statement even at the beach, became a symbol of femininity and self-assurance.
Keira Knightley in Atonement (2008)
Keira Knightley's swimsuit moment in Atonement stands out as a true one-of-a-kind gem among a sea of bikinis.  Atonement, based on Ian McEwan's novel, is a story about love, passion, and the consequences of a tragic misunderstanding. Cecilia Tallis, played by Keira Knightley, is entangled in a complex web of emotions and desires.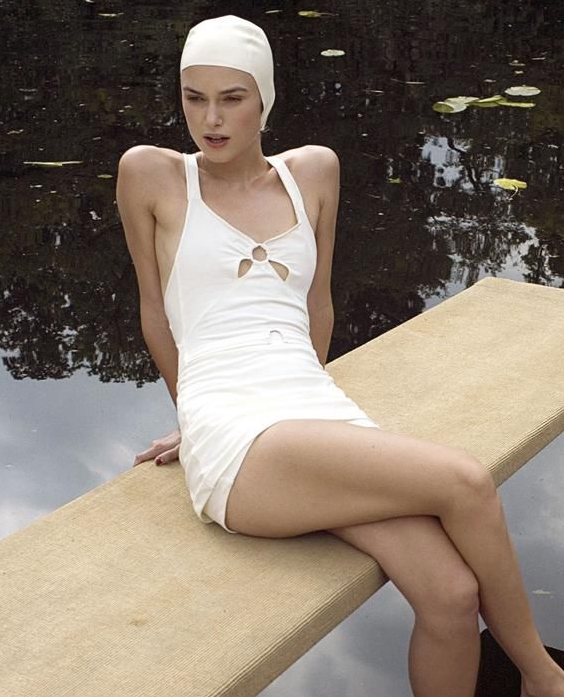 Knightley's swimsuit scene was a pivotal moment in the film, highlighting her beauty, vulnerability, and the character's internal conflict.  The scene cemented the white gown's place in Hollywood history.
Anna Faris in The House Bunny (2008)
The swimsuit scene during a carwash fundraiser is one of The House Bunny's most memorable moments.  Shelley (played by Anna Faris) leads the charge in a vibrant and eye-catching swimsuit as the girls turn the car wash into a playful and lively event.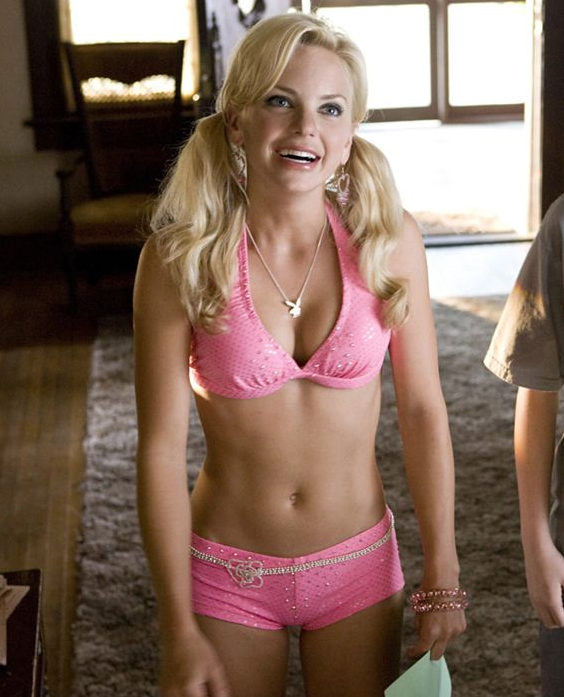 As she navigates the hilarious mishaps and misadventures that occur during the car wash, Anna Faris' impeccable comedic timing and infectious energy shine through.  It's a look that neither college students nor anyone else will soon forget.
Dakota Johnson in A Bigger Splash (2015)
Dakota Johnson delivers a swimsuit moment in the daring and captivating film A Bigger Splash that is sure to make Ms. Steele gasp!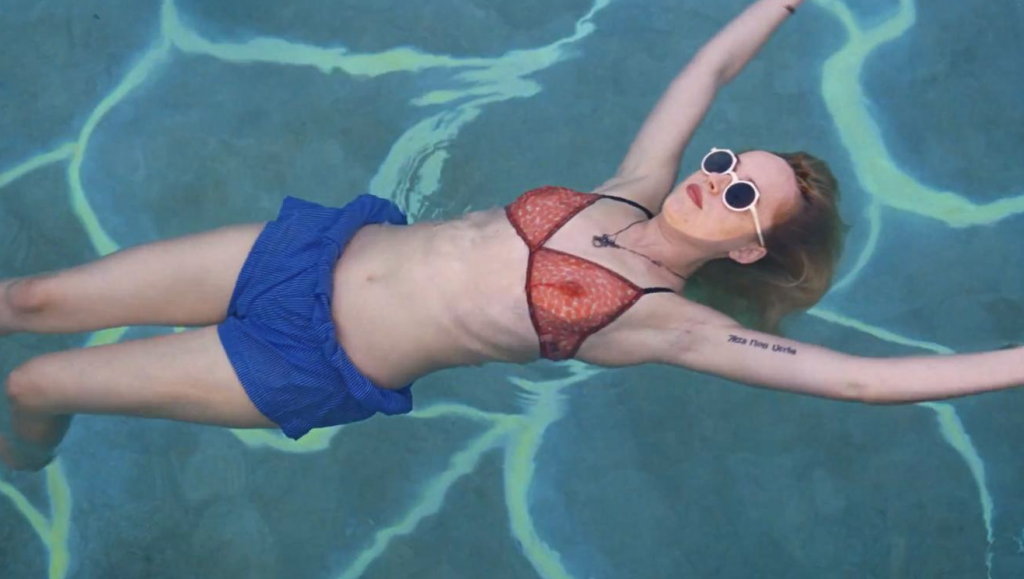 Johnson, dressed in a seductive swimsuit, embraces her character's uninhibited nature, basking in the freedom of self-expression and sensuality.  Her self-assurance and charisma shine through, making it impossible to look away. Mr. Grey would be overjoyed to see Anastasia in this!
Blake Lively in The Shallows (2016)
In the suspenseful movie The Shallows, Blake Lively took center stage and captivated audiences with her stunning swimsuit scenes.  We rooted for Lively's character, a stranded surfer battling a relentless great white shark for survival because she brought her to life.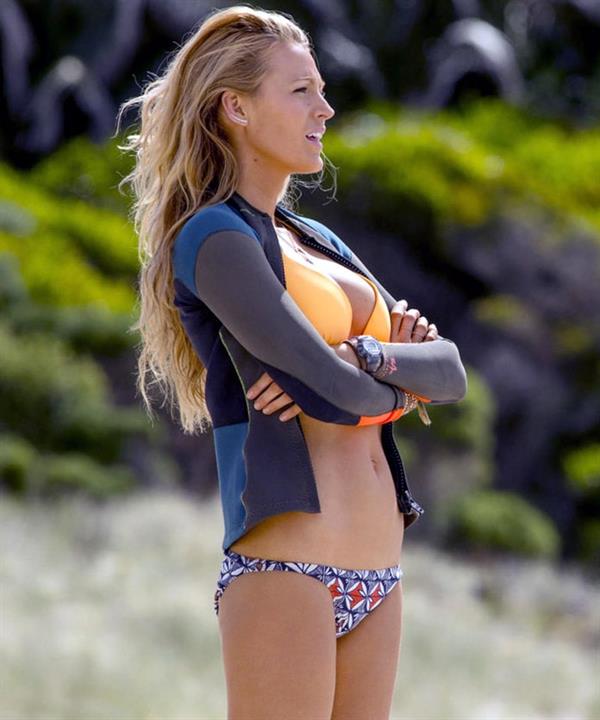 Lively displayed the ideal fusion of fashion and utility while wearing a stylish and colorful swimsuit that exuded both style and functionality.
And that's it, folks! Tell us in the comments if you think we forgot someone.