Chloe Khan may no longer be in the Celebrity Big Brother House, but she is getting busy in the centerfolds.
The X Factor star teased with her latest Playboy shoot, showing off a lot of skin.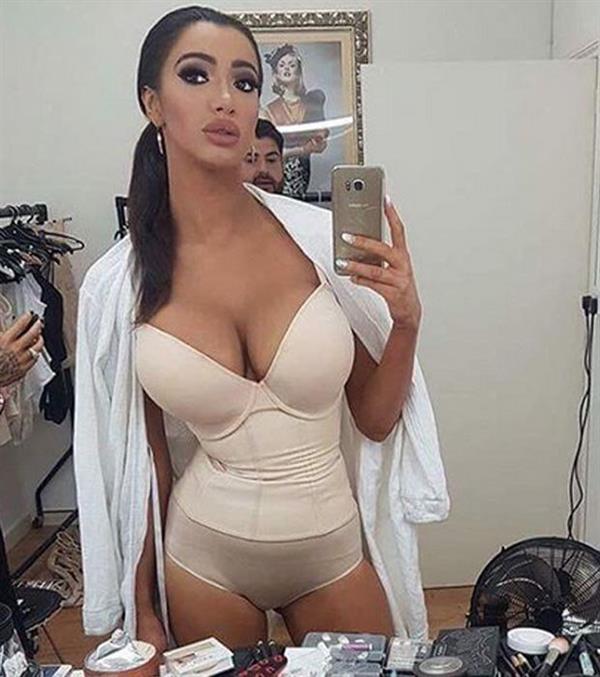 She gave fans on Twitter a sneak peek of the new Playboy treat and this is just the beginning as the fantasy girl waits for the next cover.
This 25-year-old bombshell posted a picture showing her kneeling and completely naked on the floor, except for a very scanty garter and clear-cut stilettos.
Miss Khan reclined on a silky throw cover on a black couch while smiling flirtatiously on the camera.
Chloe teased us even further when she fixed a heart emoji to cover her exposed breast. Yup, as much as we want to see her breast fully bare, the sexy star follows the social media post guidelines, leaving plenty of room for our imagination.
It makes us wonder what her costar Stephen Bear could be thinking after seeing the picture. The bad bear left his ex Lillie Lexie Gregg while sharing highly erotic scenes with Chloe.
After having her Instagram hacked and reinstated, Chloe is relishing the attention once again.
She was worried she might lose all of her pictures along and the 852,000 followers with it, but she told fans not to worry when she got her Instagram account back. And the means the boobylicious selfies are back as well. I'm sure her fans and followers are more than happy to know that.
If like her fans and followers, you want to see more Chloe beside the stunning lingerie pics, then you definitely can entertain yourself some more on this YouYube video where Chloe attempts to relive her X-Factor audition while singing Shakira's famous song "Underneath Your Clothes."