We have just witnessed the classic return of sexy singer Britney Spears at the MTV VMAs at New York City's Madison Square Garden on August 28. Her hot performance of "Make Me…" (the first single from Glory, her latest studio album) with a little teamwork from G-Eazy, was a slayer!
Kim Kardashian, who admitted she's obsessed with Spears, introduced the pop star by stating "It's Britney, bitch!"
Showing off her nice figure in a sparkling yellow, skin-showing bodysuit, the Princess of Pop amazed the celebrity-packed audience with a lively performance of her new song as she joined her backup dancers to perform some killer choreography.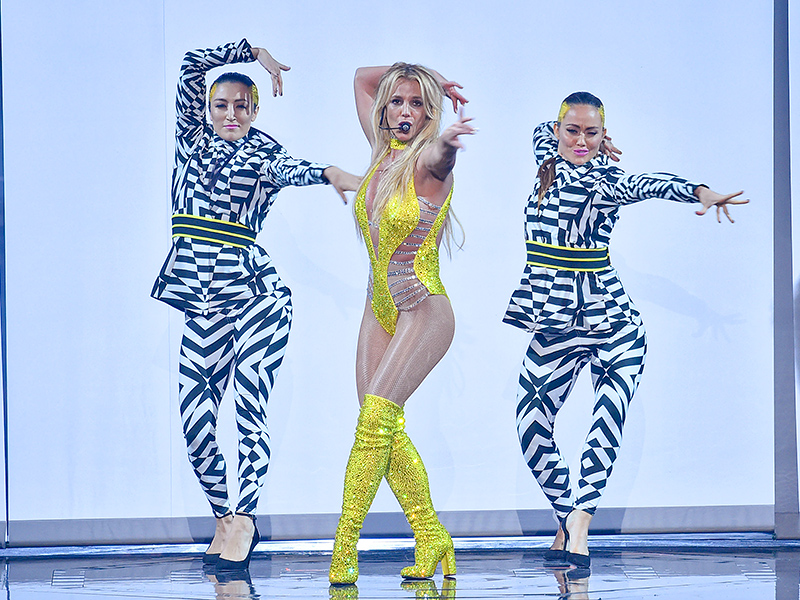 And when G-Eazy appeared to join Britney, they engaged in a coquettish moment when Britney appeared to grab the rapper's crotch. Then she launched into G-Easy's hit "Me, Myself & I," singing the part of Bebe Rexha. The two went back into "Make Me" and hugged each other before Britney gave G-Eazy a peck on the cheek.
The music magnate — whose feats have been a core at the show since Britney first fired the MTV VMAs stage in 1999 with her popular first hit song, "Baby One More Time" — did not dissatisfy as she gave everything again on Sunday night.
The last time Britney performed at the awards show was in 2007.  After a run of personal obstacles and a head-shaving breakdown that was highly publicized — she tried to make her comeback with "Gimme More," a single from her album Blackout that was critically acclaimed.  Despite the efforts, Britney, a mother of two, was criticized for her disoriented appearance and lack of enthusiasm.
On the other hand, the Grammy winner's performances before 2007 were widely celebrated.  A couple of years before she attracted attention by kissing Madonna.  She captivated the crowd in 2001 with a burning "I'm a Slave 4 U" performance when she notably and bravely danced with a yellow python.
Before the sensual snake performance, Spears treated her fans to a talk-of-the-town medley of her classic hits "Oops! … I Did It Again" and a The Rolling Stones cover of "(I Can't Get No) Satisfaction" at the 2000 pop culture event. Spears, who was only 18 years old at the time, provoked controversy for ripping off a somewhat conservative pantsuit in her number to reveal a glittering, near nude ensemble.
… and here are more pictures of Britney