The sexy pro golfer Paige Spiranac treated the internet with a hot warm up routine in a recent practice on the golf course.
As the sensational golfer posted the video on Instagram, she hypnotized 777,000 fans with the saucy routine, making it go viral.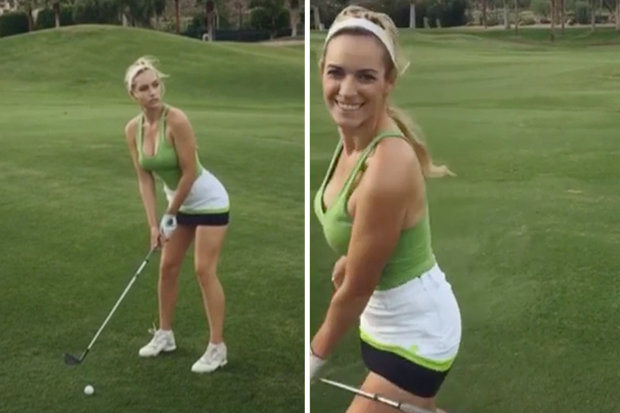 It's easy to see why the video got over 700,000 views.  It shows Paige getting ready to play the game, doing some wiggling, sexy bending over and stretching.  All the time she was laughing, smiling and clearly enjoying her day at the Phoenician in North Scottsdale, Arizona.
A very seductive move from the beautiful golfer – doing bends while making fun of herself only makes it more inviting.
While taking aim and setting into position, she gave us a quick peek of her desirable cleavage, making it difficult for us to focus on the ball.
What happens next is Paige swinging and sending the ball flying into the air before gazing into the far side of golf course.  As indicated in her hashtag, she made the fairway her runway.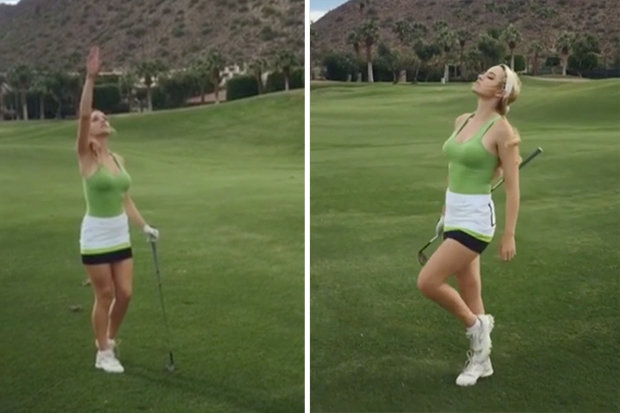 She got everyone's attention with the caption: "New pre-shot routine feels great #modelorgolfer #fairwayismyrunway."
Many of the Instagram users responded with great excitement but one follower named lionizmadam boldly wrote: "I would without hesitation, crawl over superheated broken glass, somersault over thumbtacks for a distance equalling a city block and watch The View to have an evening with you."
Her warm-up routines have been compared to those of Australian Hurdler Michelle Jenneke's.  Michelle does a sexy warm-up dance before running that you really must see if you haven't already:  Michelle Jenneke's warm-up dance  The big difference here is Paige is obviously just joking around and its not a real warm-up.
With shots up-close, it's difficult not to admire the stunner in different angles. There's no way that you would ever miss her curves when she's doing a warm up like that, and I'm sure that's the reason why people are only too excited to get a peek.
Speaking of taking a peek, here's a sizzling video of Paige Spiranac as she takes golf to the streets. You'll love it!
And of course we also have more pictures of her on Paige Spiranac's Infinite Scroll page