Gigi Hadid Bedazzles in Giambattista Valli SS17: Cleavage, Gams and Glutes-gallore!
On Monday (just moments after news broke about Kim Kardashian West's perilous ordeal in Paris), Gigi Hadid braved the runway in a series of saucy and strong game of glorious gams and décolletage-satisfying haute couture wear at Giambattista Valli's Paris Fashion Week SS17 Show – where Gigi decided that the show must indeed go on and she really shone!
The fair-speckled, blue-eyed beauty's face was lit in an over-all dramatic inspired look. Gigi wore brilliant red on her luscious lips and dark, metallic eye makeup on her creases, not to mention – lush, flirty lashes and neat brows that all in all resulted to a bewitching appeal.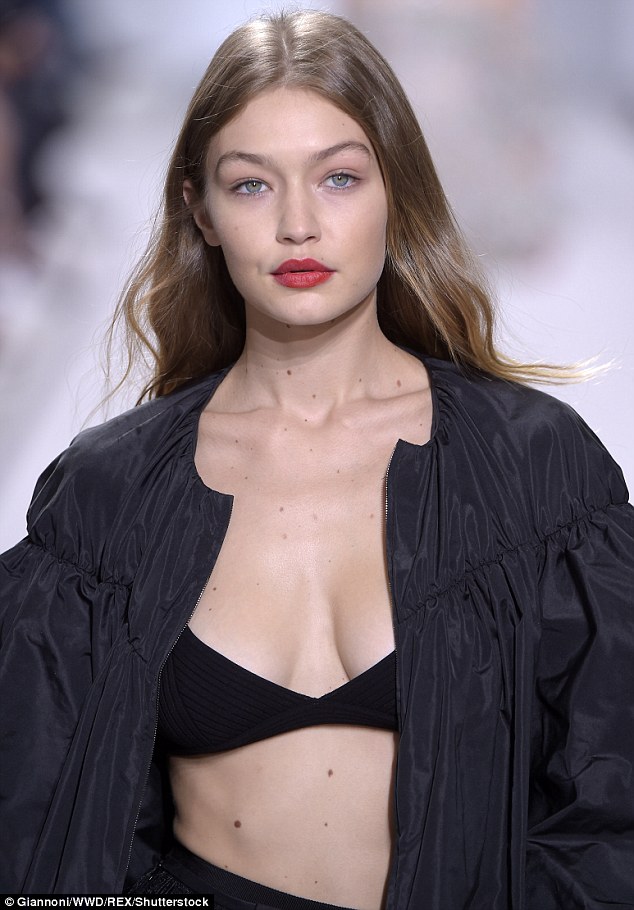 To complement her features, Gigi's glorious blonde tresses were styled in a seamless, classic, vogue-fetched attire – donning a center-parted locks set to mimic soft waves reminiscent of the 1920's era.
Standing at 5 ft 10 inch, the supermodel led the star-studded fashion event – sashaying the catwalk clad in a series of show-stopping masterpieces:
Gigi's first look consisted of skyscraper stilettos, ultra thigh-high slit and cuts that showcased a svelte but solid physique – talk about washboard, surfer abs! Strutting in and out the ramp with strong strides and gazelle-like movements Gigi's gracious long, lean legs didn't shy away from the limelight. Gigi's edgy combination of natural good looks, great shape and modeling skills prove her worthy of the spotlight.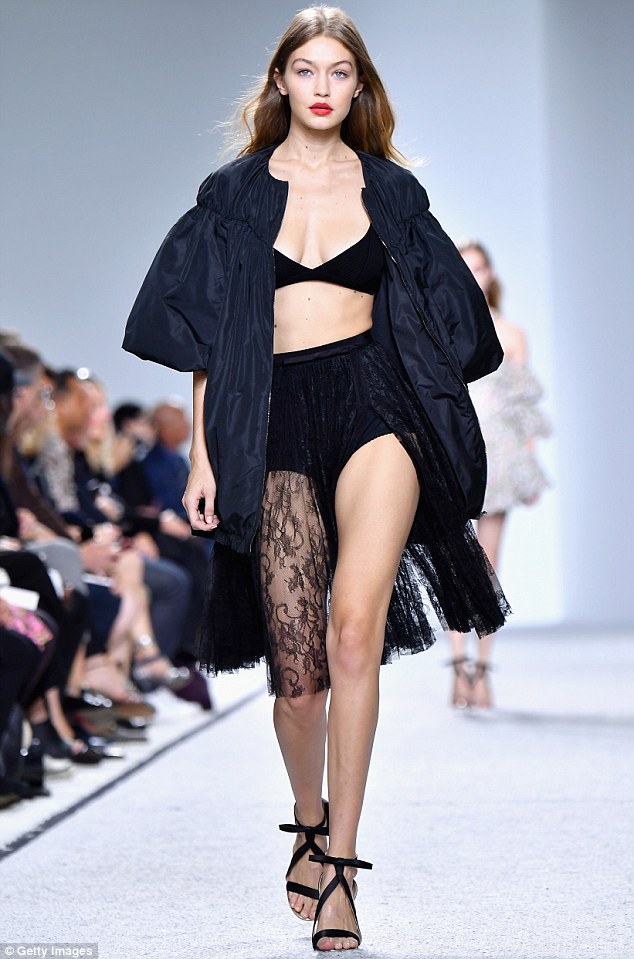 In her next set, the eldest sister of the Hadid royalty, grabbed gazes as she sashayed the ramp in a open flimsy, puff-sleeved, dress jacket thrown on top of a barely-there day dress offering onlookers a peek-a-boo into her intimately hidden privacy (only leaving a hint for the imagination) The see-through, floor length dress displayed Gigi's enviable body.
Strutting her 35-25-35 petite but poised frame, Gigi put on a spell-binding show wearing an uber chic and flirtatious number donning a deep, neckline that flaunted her voluptuous assets – oh, those side boobies! (as if her gams and glutes aren't game enough!)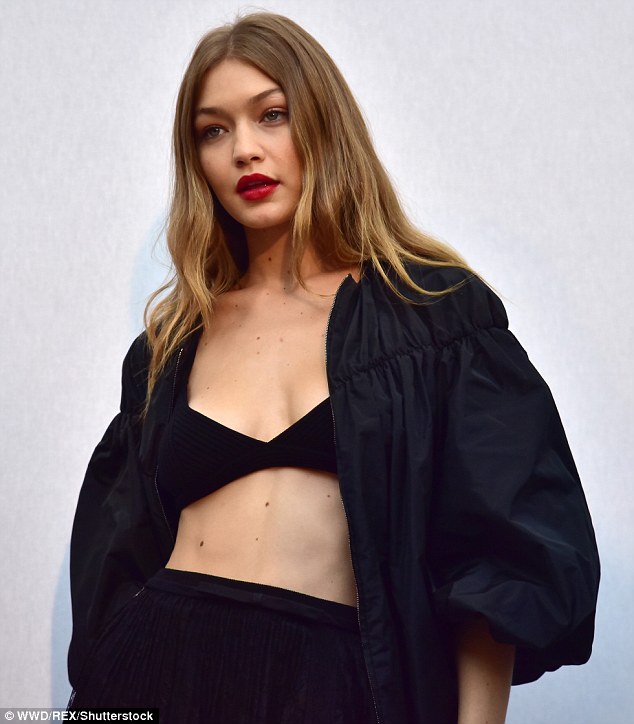 By the lyrics of John Meyer – Gigi, you're body is a wonderland, indeed.
Giambattista Valli, the genius behind the spectacular vogue collection seemed more than satisfied with his SS17 collective couture represented by only the best of Hollywood's buzz-worthy style icons, a-list celebrities and maverick models.
The Italian designer took to Instagram (@giambattistapr) a snapped selfie with muses, Gigi Hadid and fellow supermodel, Sara Sampaio.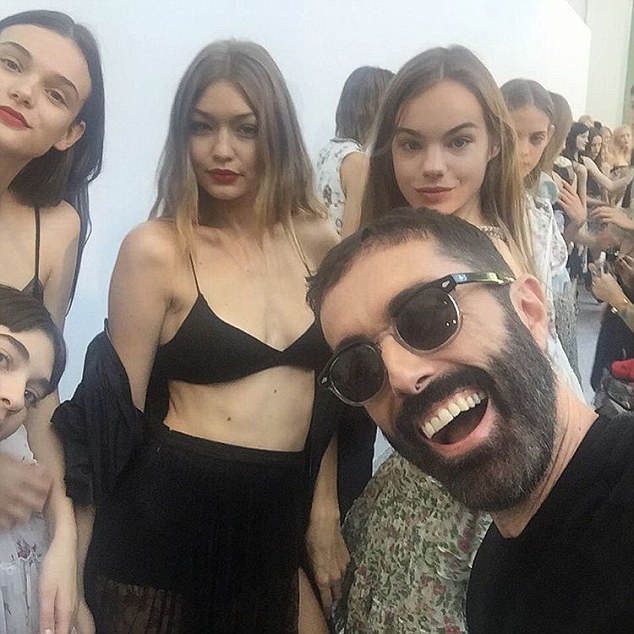 The 25 year old brazen beauty of the famed american lingerie label Victoria's Secret enterprise did not upset either: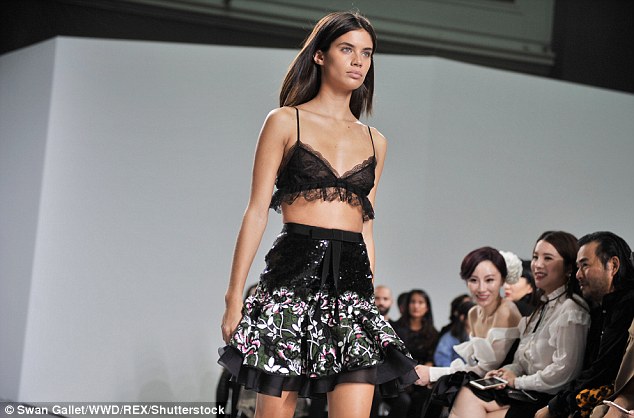 Sara was a loud and proud representation too of the haute Italian label – sizzling in a seductive set: wearing a pretty little lace-fringed bralette and a high-waisted mini skirt to match her meticulously toned body.
And as always, here are some more pictures of Gigi and you can find more on her infinite scroll:  Gigi Hadid Infinite Scroll