Emma Stone recently did Vogue's 73 questions challenge (video below) where she gets to answer random questions and she gave a tour of her apartment in downtown Los Angeles. The 27 years old actress was as usual, charming, sexy, and humorous, a perfect mix for a girlfriend. Judging from the video below, I bet there's no boring time whenever you're with her which makes us question every bit of Andrew Garfield's decision to cheat and ultimately cause their break-up. Good news as it means Emma or Emily as she liked to be called,  is now single and looking.  There is bad news though… she probably isn't looking for us.
A lot of small details and Emily and lots of funny banter can be seen from the video. Small stuff like she likes basketball, the color red, thinks Jesse Eisenberg is the funniest person on earth and she likes Spiderman, although we're thinking the latter is a little biased. She's also a huge fan of Tom Hanks, Lorne Michaels and Diane Keaton.  She worked as a baker for dog treats and she even showed her dog Reny or Remy, or whatever – she likes dogs and that melts our hearts.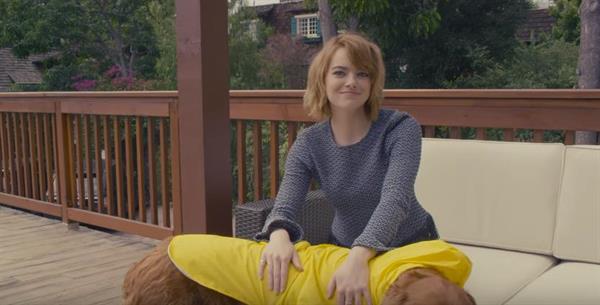 The talented actress also gave a perfect voice impersonation of Britney Spears.  So awesome.
Okay, so in all honesty I had to watch the video again as I was staring at her face and butt when, she's turned around, the whole time on first watch. But nonetheless, the video was funny, informative and though a little scripted, succeeded on its intention to showcase another side of Emma Stone beyond the lenses of the camera.
The interviewer asked "What's something most people don't know about you?" to which she replied, "there's a lot of things that people don't know about me, I guess that's the whole point of 73 questions, right?" God. She's so smart.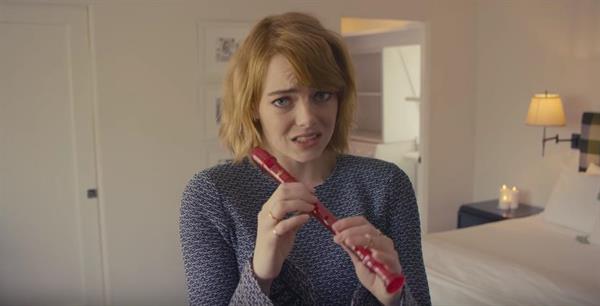 Emma Stone is set to appear in this year's most talked about movie from the Sundance Film Festival, "La La Land' opposite Ryan Gosling (their third time together) It is even gaining a lot of Oscar buzz. Check out the trailer below;
Watch the full Vogue's 73 Questions with Emma Stone here;
… and of course here are some more pictures of her and check out her infinite scroll:  Emma Stone Infinite Scroll