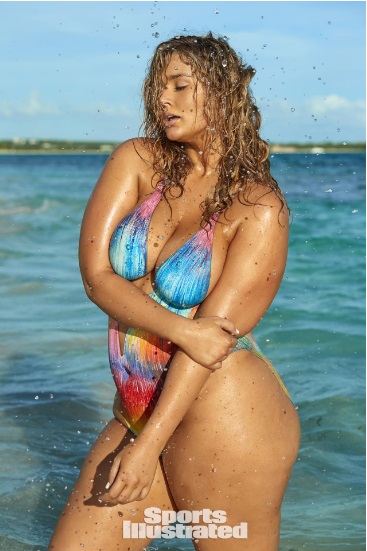 Sports Illustrated Swimsuit Issue for 2017 has probably one of the most diverse line-ups. Simone Biles, Aly Raisman, Serena Williams, Robyn Lawley and 63 year old Christie Brinkley (and her daughters) all star in the magazine. Plus, on the cover (actually all 3 covers) was Kate Upton.
We have to admit this is quite an interesting issue with all the different women of all shapes and sizes donning various swimsuits but one model has probably shocked the crowd because her size is larger than the rest.  Last year Sports Illustrated featured plus sized model Ashley Graham but this year they doubled down and not only had Ashley Graham they also included a second plus sized model Hunter McGrady.  If you want to see a battle of the between these two heavy weights (and really, why wouldn't you?), here it is:  Ashley Graham vs Hunter McGrady.
Technically there were 4 plus sized models this year.  Robyn Lawley and Myla Dalbesio are classified as 'plus sized' but they are a lot smaller than Ashley and Hunter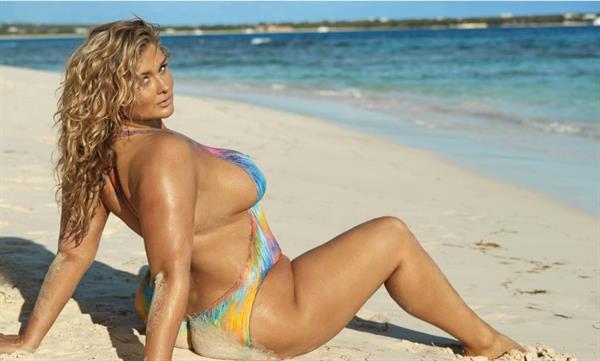 Hunter McGrady is bigger than the other women, especially those we have historically seen in the Sports Illustrated Swimsuit Edition. Like the most of us, McGrady was also shocked when she found out she's going to be part of this year's issue.
"I was shocked because this was a dream of mine. I don't even think it's hit me yet. I think that once it comes out I'll be like, 'Oh my God, it's really real!' You know what I mean? It still feels like a dream to me."
In case you can't tell, yes that is body paint so the only support she is getting is from photoshop.
With the diversity of the magazine's model line-up, it looks like the industry is now open to (or going to force feed us) plus size models like McGrady and other body shapes that aren't traditional Sports Illustrated body types.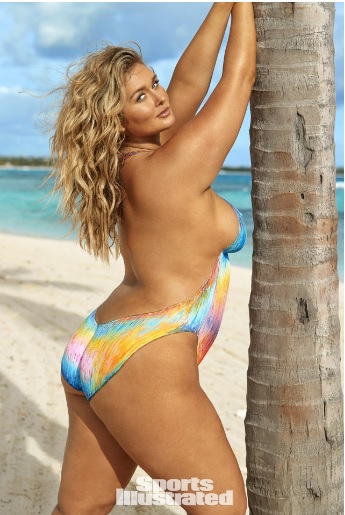 "My main goal is to get across to women that you are able to love your body at any size and that you're sexy and beautiful at any size, Beauty is not a size and I'm really happy that the industry is accepting body diversity," McGrady said.