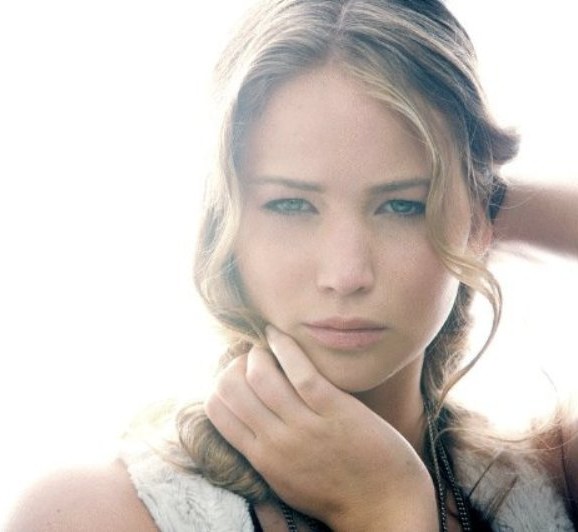 It's pretty easy to dismiss a pretty face in Hollywood as just another one of the horde because there are way too many pretty faces there in such a small place.  Standing out from the crowd is a pretty remarkable achievement if I do say so myself.
And then there's Jennifer Lawrence, a typical blonde with an angelic face, striking blue eyes and luscious lips.  On paper she doesn't seem much because that's basically the description given to every new and upcoming starlet in Hollywood. Those are the types of girls that usually disappear after a few short years in the limelight.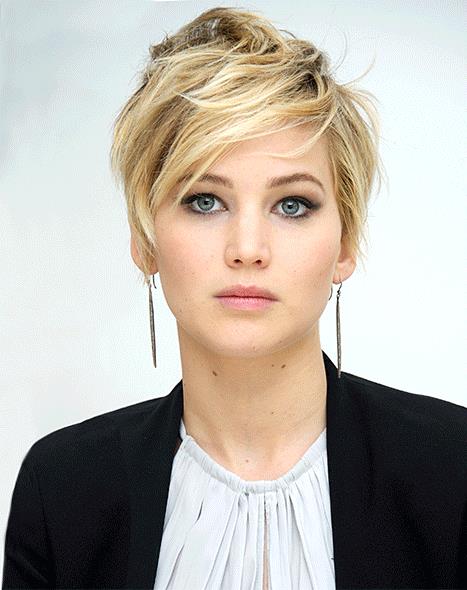 But then again, not everyone is Jennifer Lawrence.
She has managed to break the mold and made quite a name for herself.
Jennifer Lawrence is the highest paid actress in Hollywood as of 2016.  She already has a lot of successful movies including the X-Men franchise as Mystique, Silver Linings Playbook as Tiffany Maxwell and her most recent movie Passengers as Aurora Dunn.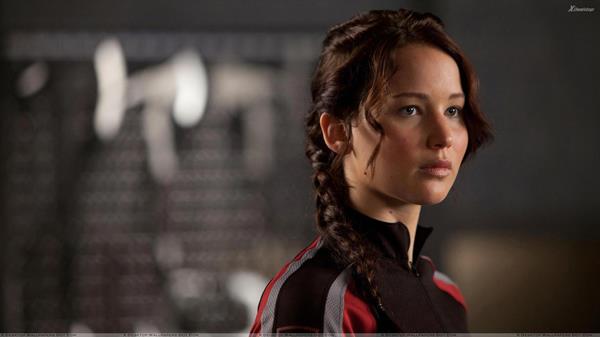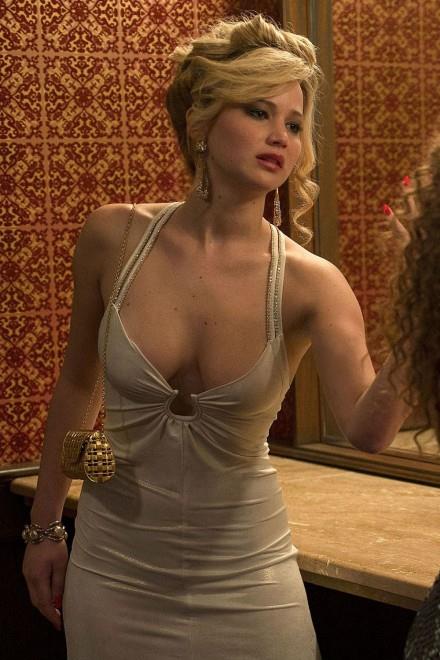 Aside from that, she has shown a variety of her physical combat skills and acting skills in her movies which helped make her a very successful action star in the Hunger Games series.  Her fame sky rocketed when she landed the role of Katniss Everdeen the main protagonist in the aforementioned series.  In that role we see her doing stunts most young starlets would shy away from because they might stub a toe or god forbid get a paper cut on their dainty little fingers.  Jennifer Lawrence on the other hand enjoys that role to the hilt.  She's even gotten pretty good at martial arts and wielding a bow and arrow.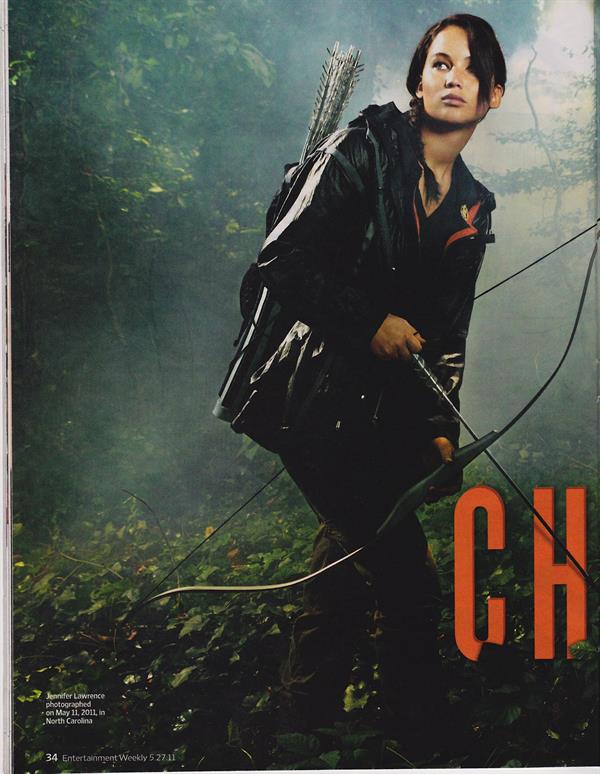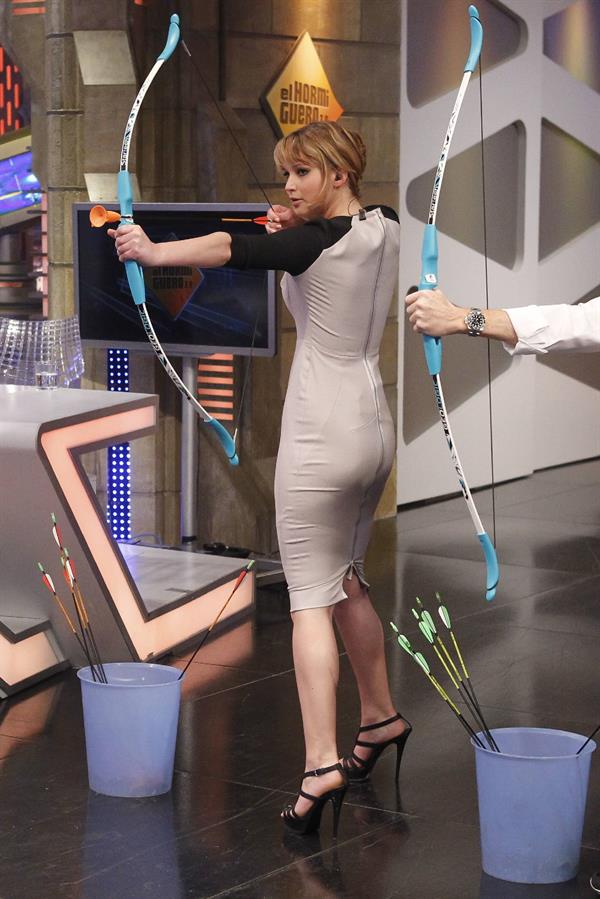 Oh and before anyone gets the idea that she's not supposed to be here because the general majority of her fan base are basically young girls, Jennifer Lawrence is in no way our common misconception of a tight buttoned up, prim and proper girl.  Nope, she's got a fantastic body and she knows she's sexy.
Jennifer Lawrence is equally comfortable in proper dresses and gowns as she is in bikinis and swim suits.  She shows a lot of skin for someone who basically is regarded as an actress with mainstream appeal.  Some would find it scandalous but not Jennifer Lawrence.  No sir.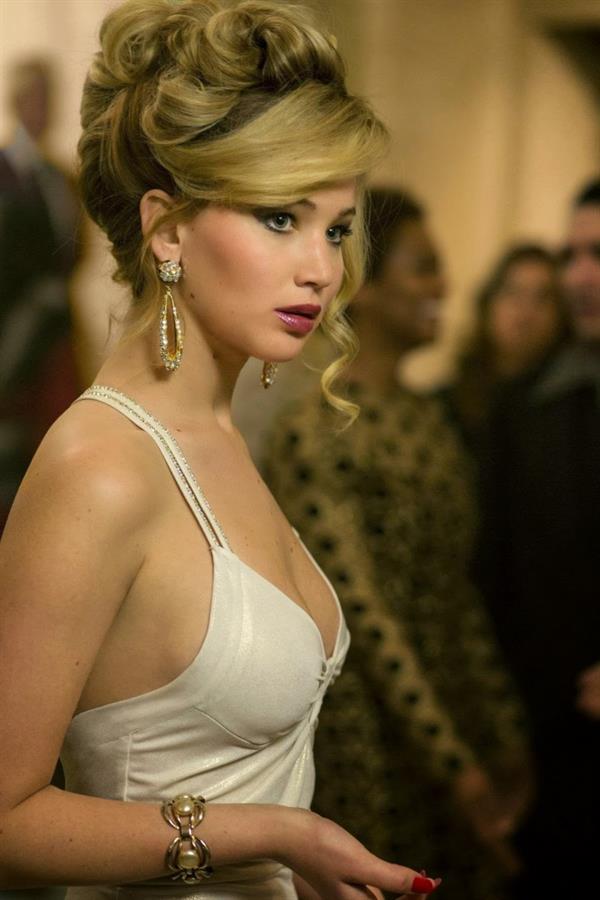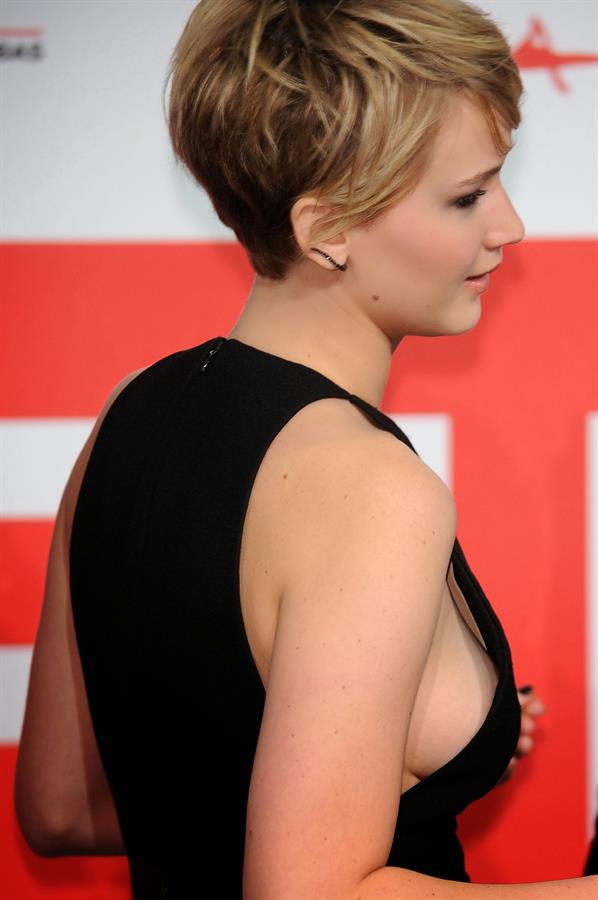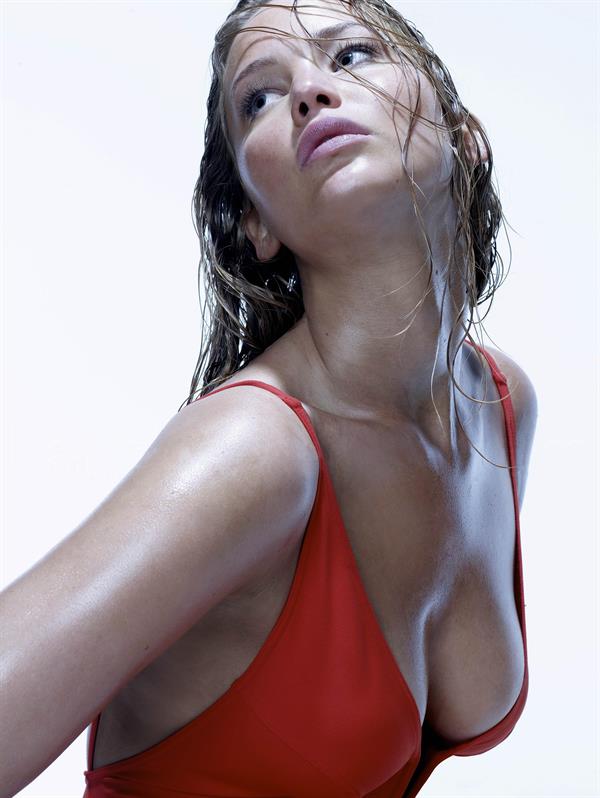 I don't think anyone really minds when she shows off her ample bosom and tempting cleavage though.  Right?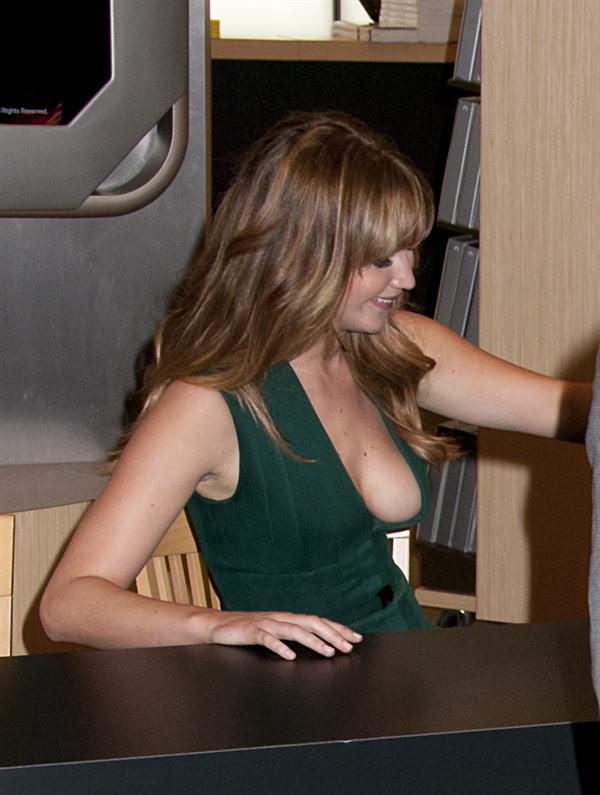 Her other physically demanding role as Mystique isn't doing so bad either.  So far she's been in 3 X-men films giving us a deeper understanding of her character each time with a fourth one coming up in 2018 which is something you should look out for.
She hasn't been stuck to fantasy roles though as she's played other roles which put her in real life situations like Silver Linings, American Hustle and Joy.  Her onscreen depiction of her characters show her depth as an actress with a wide range of acting talents other than just being a pretty face.
Being a big Hollywood Movie star doesn't mean she's become a TV snob as she's been a recurring guest on Saturday Night Live and has delighted the crowd with her comedic performances through that medium.
Last but not the least, and I believe the best proof that Jennifer Lawrence isn't just a pretty face, she's also lent her vocal talent to a documentary and rumor has it that she's going to be including that a lot more in her future projects as she finds it easier to read a script instead of memorizing it.  Her voice is so recognizable in the film A Beautiful Planet that even without reading the credits you'd know it's her.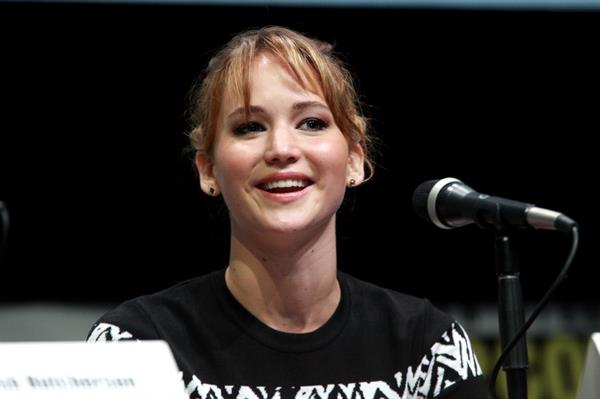 So as an awarded actress, she does deserve all the accolades she's received throughout the years she's been in the industry.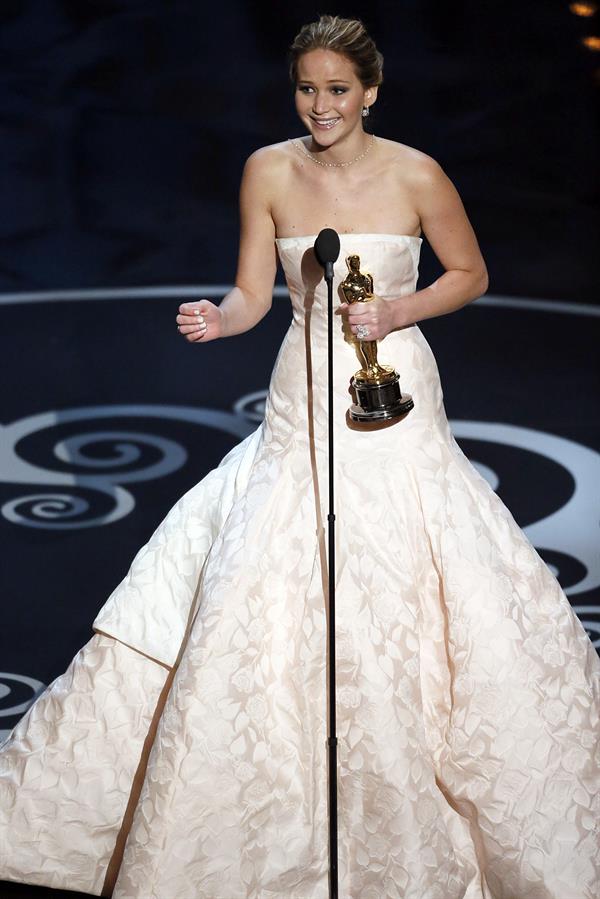 But is that all she is?  An actress?
Apparently, that's not enough for her.  Jennifer Lawrence knows her star power can influence the greater majority of the people out there and she has become a truly interesting person with her bold statements about society and feminism together with her quirky antics. Her ability to make fun of herself (and her co-stars) makes her that much more adorable and easy to relate to at the same time.
Maybe that's the secret to success… Don't take yourself too seriously.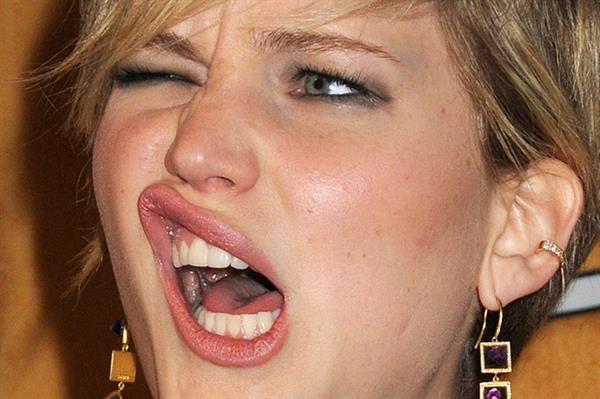 There are way too many uppity starlets in Hollywood that it basically gives one a bad taste in the mouth seeing or hearing about them and what they're up to.  Jennifer Lawrence on the other hand is always fun to follow because she's always clowning around.  If you see her on the red carpet, she's basically doing what most of us would do if they see their biggest idols.  Yep, she went up to them, gushed excitedly, basically turned into a wriggling mess of a fan girl and with her last shred of dignity removed, asked for a selfie.  She is the embodiment of who we want to be a big Hollywood star.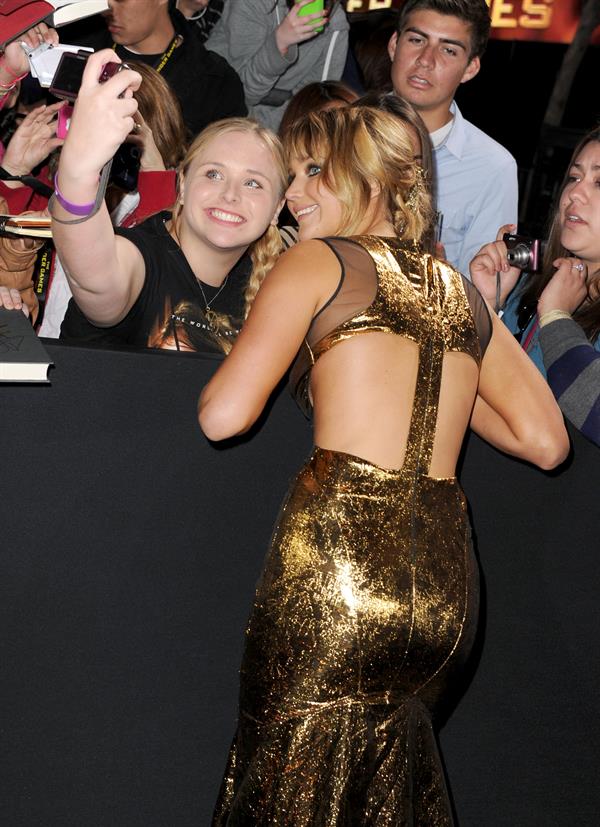 She's done it all but she never became too big for her own britches to admit that deep down inside she's still a fan of movies and she just happens to be a part of the industry, albeit, a big part of the industry with all her contributions.
In an interview, she said that she refused to lose weight for a role which lessened her chances of getting the job.  Although in this photo I don't really see the need for her to do so.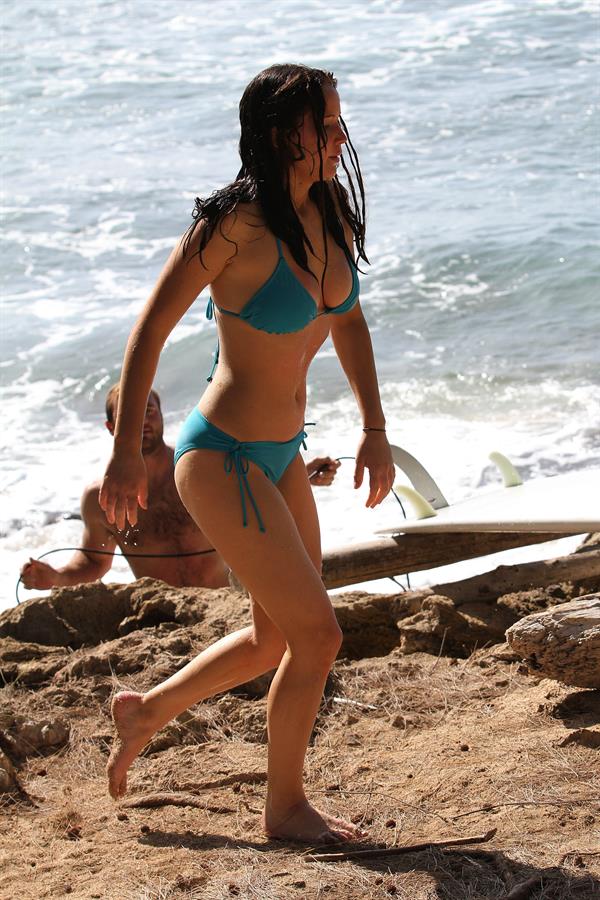 She takes care of her body by jogging and being healthy but she never deprives herself of food just because society or the film industry dictates her to do it.  You should see her stuff herself full at the caterer's table in between shoots.  That girl can eat!
It just seems like she can do no wrong.
However in 2014 she became a victim of a cyber hack when her nude pictures were leaked online.  For more of that, click here: Jennifer Lawrence The Fappening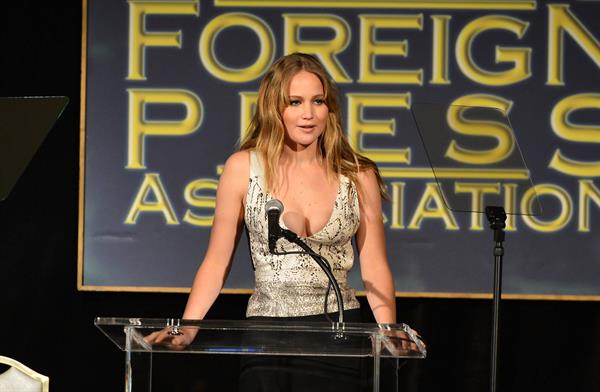 She is very vocal about women's rights, gender inequality and feminism.  Staying true to what she believes in is what makes her fans support her advocacy and forgive her from her mistakes.  Just like the time when Miley Cyrus got jealous of Lawrence's relationship with Liam Hemsworth or that time when Jennifer criticized a reporter, during a press conference, for reading through his phone. Because who cares when you're this hot right?
Jennifer Lawrence has managed to overcome one of the biggest trials a young starlet could face in Hollywood.  She has managed to survive a career ending scandal with dignity and poise intact.  It doesn't seem to have derailed her career in any way.  In fact, she has gone on to star in even bigger films and continues to shine brighter than the rest of her cohorts with every stellar performance she produces.
No doubt about it, Jennifer Lawrence is going to go down in history as one of the brightest stars in Hollywood and we are in the front seat watching all of these events unfold.