This babe we're featuring today is guaranteed to give you a bulge the very second you look at one of her pictures.  Don't get us wrong… We're not pervs (really, we're not), but this woman's stare (plus her hot body) is just so seductive.  Alessandra Sironi is someone you'd instantly marry (and proceed right away to the honeymoon).  She's that hot!  Oh, and aside from being that seductive, Alessandra is also a master of a lot of skills (nope, sorry…  we won't be talking about her bedroom skills as we've no way of finding that out).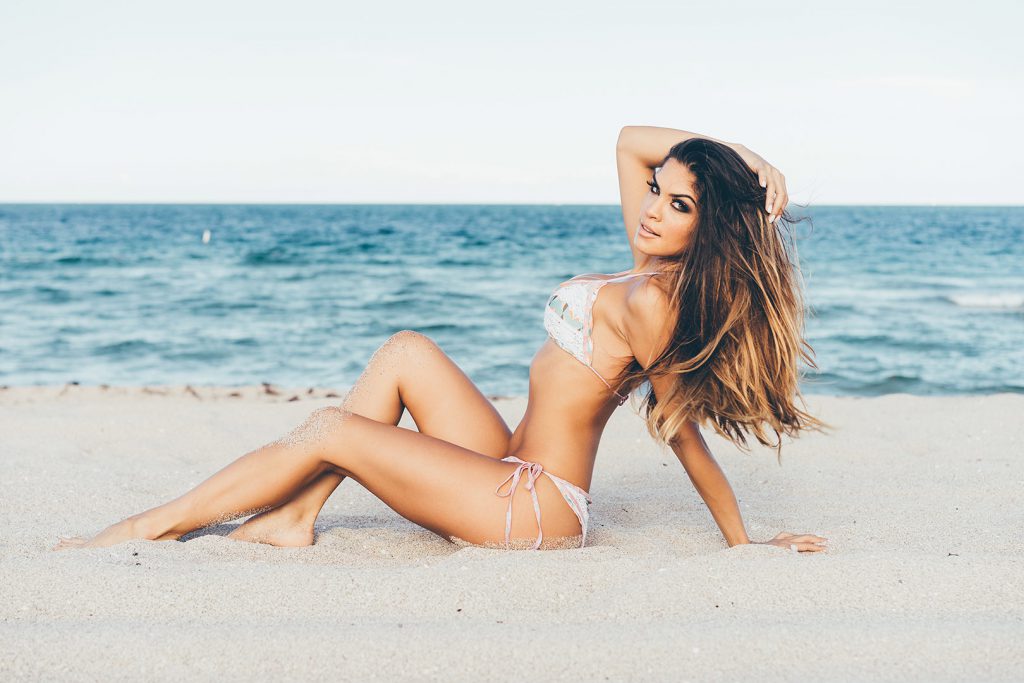 Who is Alessandra Sironi?
Alessandra Sironi is a Venezuelan model based in Miami, Florida.  She's got quite the experience (modeling and appearing) in print, infomercials, commercials, fashion, fitness, catalog, swimwear, and lingerie.  She has a degree in Communications and Mass Media Studios from Nova Southeastern University and she has experimented in areas ranging from radio hosting to being a brand ambassador, an event producer to a marketing creative and filmmaking.
Whew! See?! She really got skills!
Outside Modeling
Before becoming a full-time model, Alessandra was always behind the camera as an operator, video editor, and/or producer.  Video editing is her passion.
"I edit most of my behind the scenes that you will find on my website or Vimeo channel. Video-editing used to be my hobby, but it became a job. In fact, nowadays it's how I made most of my profit; editing videos for marketing companies and as a freelancer."
Aside from being a model and video editing, this gorgeous woman is also a dancer.  She dances Flamenco, hip-hop, and salsa.  Oh, and she speaks three languages; Spanish, English, and Italian.
Facts and Trivia
Alessandra here, if she's not working in front or behind the camera, likes to just chill out at home, have barbecues, have night walks at the beach, or watch movies.  Her favorite films are 500 Days of Summer, Holidays, and Vertigo.  She's also very much into music and some of her favorite bands are Party Next Door, Two Door Cinema Club & Regina Spektor ("One for different moods," according to her).
Her turn-ons are men who work out but don't show off and if that man is a musician, the better.  Her turn-offs, on the other hand, are men who smell bad (I think most of the women agree.  Except maybe those from the dark ages…  Musky smell turns them on), disrespectful, and as she puts it, 'Machista'.
Alessandra's favorite cheat meals are pizza and ice cream.
Alessandra Sironi Body Measurements
Alessandra stands 5 foot, 6 inches and she rocks a 32-23-33 body statistics.
Her Advice To Fans
"Chase your dreams! Don't worry about what others might think of you. There is only one life so live it as you desire it. When you become an Abuela (grandma in Spanish) you'll look back and say to yourself "I had the best life I could have"
Alessandra Sironi Pictures
Follow her on Instagram for more of her.
Also, check out our Alessandra Sironi page for more of her sizzling hotness.