This woman is perhaps the hottest country pop singer this decade has ever seen.  I mean, just look at this fine specimen…  Oh, and she's very good at playing with the G-string (from her guitar) or any other string, *teehee*.  (Editor note: at least you make yourself laugh)  Readers, meet Jessie James Decker.  She's beautiful, she's talented, and she's got a body that would instantly make you sweat!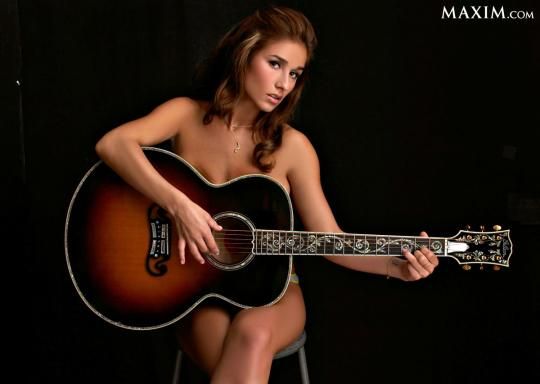 Naked and with only a guitar as a cover…
we have all dreamt of seeing a hot woman in this pose.
Who is Jessie James Decker?
This fine hottie is an American country pop singer-songwriter and a reality TV personality.  Her debut album, "Jessie James" was released in August 2009, debuting at 23 on the Billboard 200.  The music was a fusion of country and pop music.  The album's first single, "Wanted" (which was later U.S. gold-certified) peaked at 40 on the Billboard Hot 100.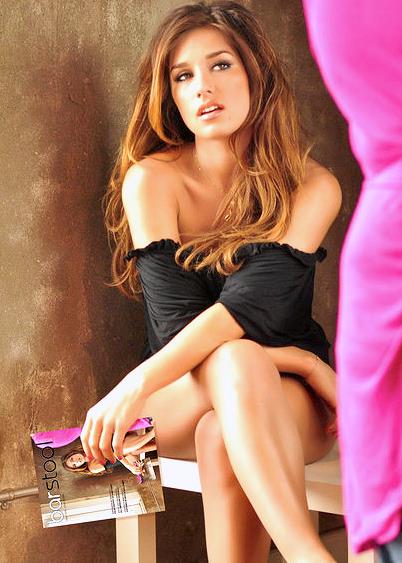 4 years after her music debut, in 2013, Jessie starred with her husband Eric Decker in the reality show titled 'Eric & Jessie: Game On'. The following year, in 2014, Jessie released through iTunes an EP entitled 'Comin' Home'.
Early Life
Jessie was born Jessica Rose James on 12 April 1988, in Vicenza, Italy, in a military family.  She was born to Steve and Karen Parker and she is of English descent.  Her father served in the U.S. Air Force making Jessie live in a number of places such as Germany, Iowa, Kentucky, Texas, and Louisiana.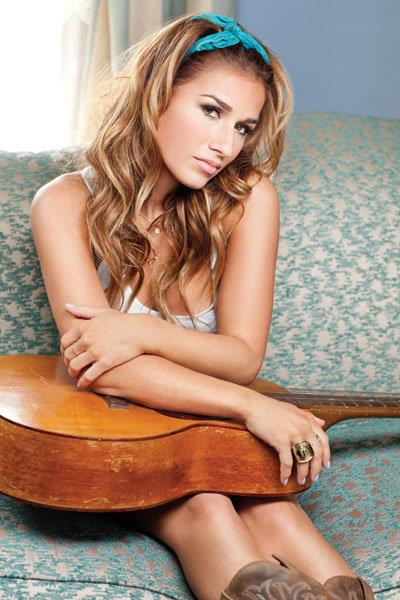 Jessie started singing when she was two years old and began writing songs at an early age (with a plastic guitar).  She won her first talent contest in Baker, Louisiana at 9.  At 15, she made weekly trips to Nashville to further develop her songwriting skills.  Jessie also had her fair share of rejections and was turned down by almost all the country labels in Nashville.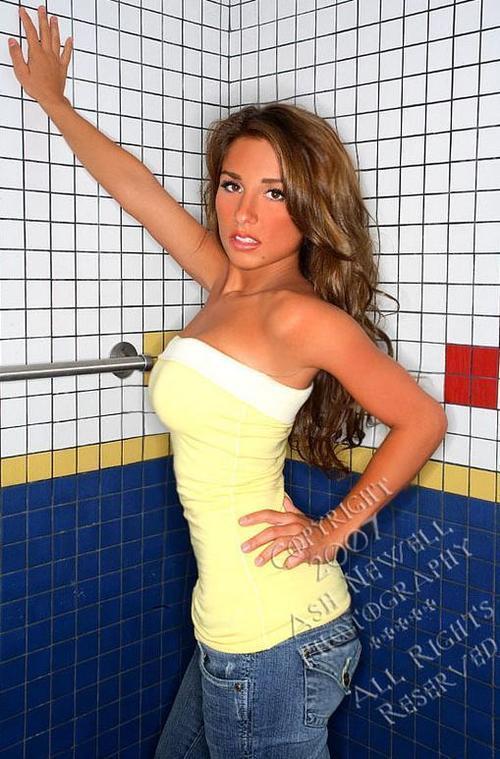 When Jessie was 17, she was introduced to Carla Wallace of independent label Big Yellow Dog Music, who helped hone her songwriting and singing more.  Jessie soon landed a contract with Mercury Records.
Facts and Trivia
Jessie married NFL receiver Eric Decker in 2013.  In March of 2014, they welcomed a daughter named Vivianne and a son named Eric II in September 2015.  In October last year (2017), the couple announced that they were expecting a third child together.
Jessie stirred up controversy posting a selfie while breastfeeding her son, Eric Decker Jr.  Here's the picture (yeah, so what right?):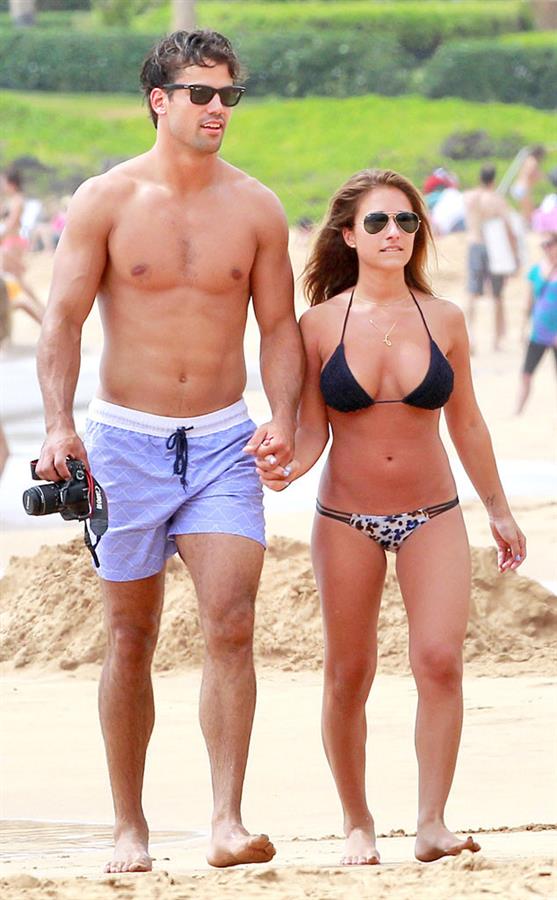 Before dating Eric Decker, Jessie was also romantically linked to former NFL running back Reggie Bush in 2010.
In 2009, Jessie performed with Kid Rock on a concert for the U.S. troops in the Middle East.
Jessie appeared as a co-host (with wrestling icon Steve Austin) of Redneck Island in 2014.
In June 2015, Jessie teamed with Connecticut-based clothing designer Kora Rae to create her own clothing line, Kittenish.  The collection ranges from formal to everyday wear and has continued to produce new lines each season. During the Summer of 2015, Jessie also collaborated with Amore & Sorvete on a line of bandanas and swimwear, which included bikinis for infants, moms-to-be, and everyone in between.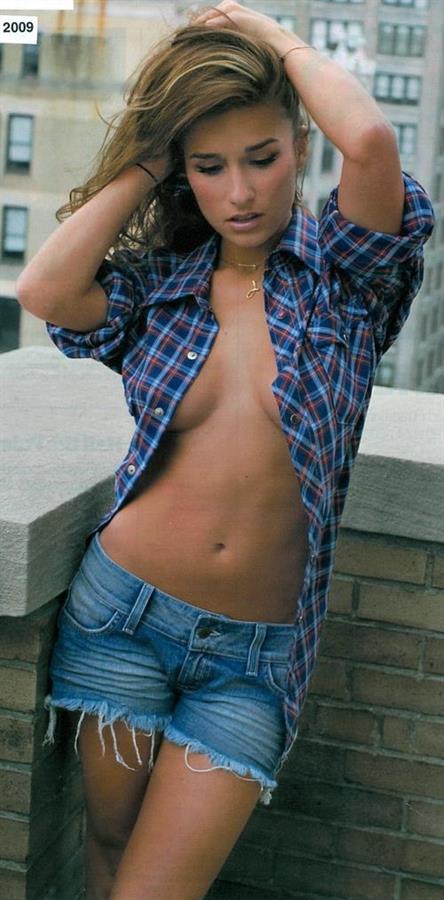 On May 23, 2017, Jessie appeared as a guest judge on Chopped Junior, a show from the Food Network.
Body Measurements
This petite beauty stands 5 feet, 1 inch, and her body measurement is 36-25-34 inches (with a bra size of 34B).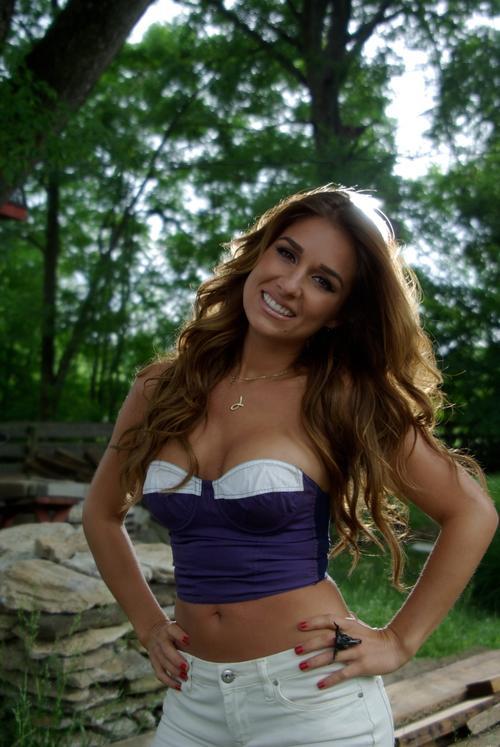 Jessie James Decker Photos
Join Jessie's 2.8 million followers on Instagram for the latest about her.
Also, please do check out our Jessie James Decker page for more of her country goodness.