Oh, this babe is just begging for you to come smother her with all your lovin'.  So hot and huggable you'd never want to step away from her.  Yup, Joselyn Cano has that effect.  And it's not just because of her uber gorgeous body.  It's also the way she stares.  Just imagine her looking at you with those expressive eyes.  She could probably ask for you anything and you wouldn't object even if it involves robbing a bank in your undies.
Oh, her sizzling curves and hazel gaze has won the hearts of millions around the globe.
Who is Joselyn Cano?
Joselyn is a Hispanic American model and social media sensation.  She has modeled for 'Wheels And Heels Magazine', 'Low Rider Magazine' and 'Hot Bike'.  She has also appeared in 'Import Tuner' and 'Animate Magazine' and is a popular face of the brand 'Swancoast'.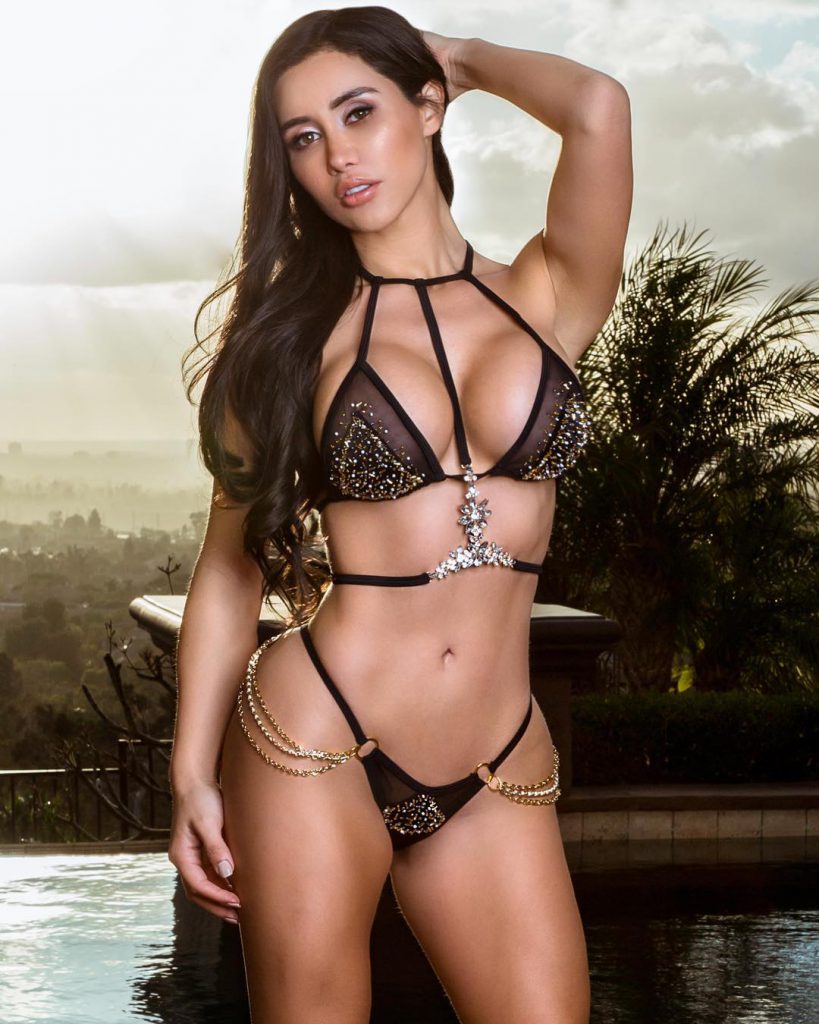 Her Early Life
Joselyn Cano was born on March 14, 1991, in Orange County, California.  She moved with her family to Lake Elsinore, California when she was four.  She has two brothers.
Career Start
When Joselyn completed her high school, she immediately signed three contracts for photo-shoots.  It was only a hobby for her then but when she turned 20, she became an established model.
Soon after, she began posting pictures on 'Instagram' and to her delight her account became famous overnight, she earned over a million followers and the count kept increasing with passing years.  Sponsors came pouring in and she started using the site as a platform to influence her followers on the latest fashion trends and promote Bikini brands.
Facts and Trivia
In order to maintain her voluptuous body with her slim waistline, Joselyn has to work out for several hours and maintain a strict vegetarian diet (cooked Italian style).  She does drink alcohol but dislikes beer.
Joselyn is full of adventure, her bucket list consists of skydiving, dangerous rides in amusement parks, swimming with an orca and visiting Egypt.
Her favorite music is trance and gangster rap while her favorite TV shows are 'Keeping Up With The Kardashians' and 'Jersey Shore'.
She has three tattoo stars on each foot, but she had them removed.  She's had her lips, as well as her nipples, pierced.  According to her, the nipple piercings were the "most painful piercing" she's had done.
"No more piercings or tattoos; it's just not for me."
She currently resides in California and owns a BMW 3-Series Coup with pink brake calipers.  She loves visiting Mexico and hopes to someday settle down in Cancun.
Joselyn is attracted to guys who are motivated and guys who take care of themselves.  Her turn-offs are cheap guys.  "Can't stand them."  And while she's made out with girls before, she is strictly only into guys.
Her Body Measurements
Joselyn Cano's measurements are 34-24-34 with a D cup. Oh, and she stands 5 feet, 3 inches.
Joselyn Cano Photos
Join her over 10.8 million followers on Instagram for her latest hot, hot uploads.
Also, be sure to check out our Joselyn Cano page for more of her steamy pictures.