Check out this all-American beauty…  She's hot and she's got a whole Hulkamania inside her.  Oh, and an awful lot of you know who Brooke Hogan is as, like her dad, she's also really famous.  Plus we've also featured her in this listicle of ours.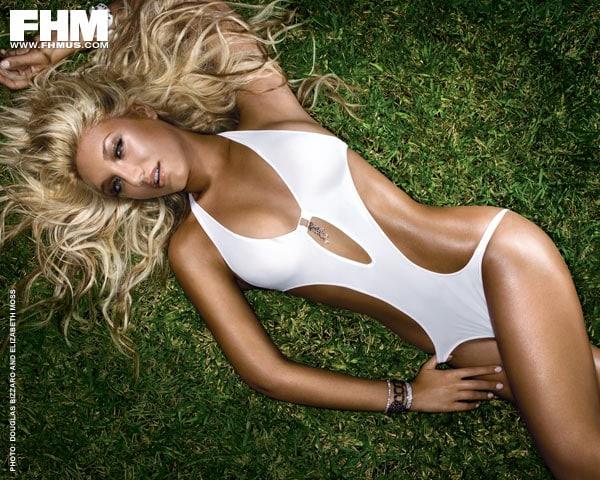 Intimidating yeah, but so bangable.  She's the type who you'd just look at from afar but is already sleeping with her in your dirty mind. Yup, the type you're too scared shitless to approach and talk to.
Who is Brooke Hogan?
Brooke Hogan is an American actress, musician, model, reality star, and pro wrestler. She is the daughter of wrestling superstar (back in the 80s and early 90s), Hulk Hogan. Yup, she's got a lot to her name and career but she is most famous for being the star of Hogan Knows Best and its spin-off, Brooke Knows Best.  She has also appeared in shows such as Sand Sharks (2012), Devour (2012), School of the Dead and GLOW (2017).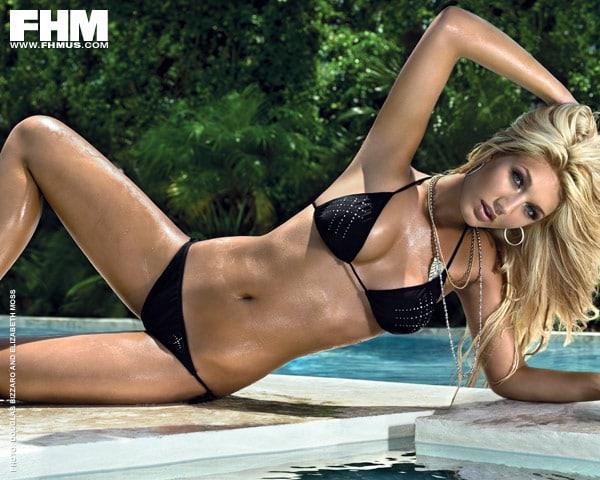 Oh, and she's also a singer and she has released in an album titled Undiscovered in 2006.
Her Early Life
Brooke Hogan was born as Brooke Ellen Bollea on May 5, 1988, in Tampa, Florida, USA.  She is the daughter of (again) Hulk and Linda Hogan.  She is of Italian, Irish, English, Scottish, French, German, and Swedish ancestry.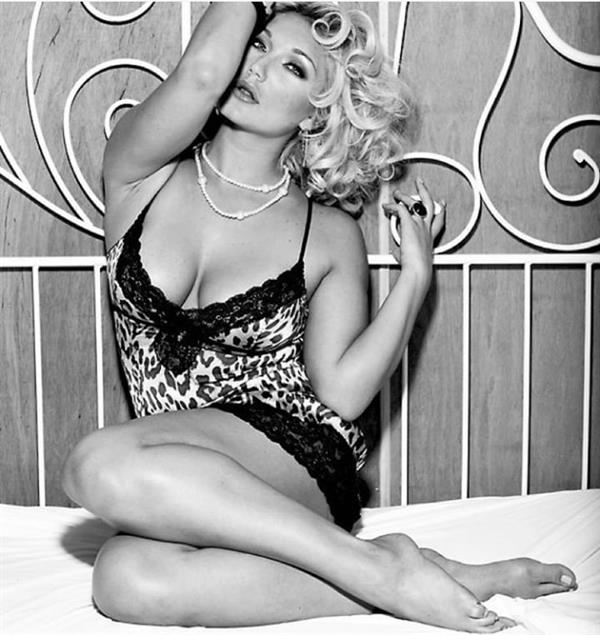 Right from an early age, she was inclined towards music and dance.  While she was in high school, she went for dance classes and piano lessons. She also learned gymnastics and became a member of her high school's cheerleading squad.
Acting Career
Brooke Hogan has been working in the entertainment industry for almost 20 years.  She's also considered as a pioneer in the reality television industry.  The Hogan Knows Best spinoff, Brooke Knows Best ran for six years, reaching viewers in over 110 countries around the world through syndication with Viacom networks.
Brooke made her film debut in late 2009 with a low-budget movie, 'Little Hercules in 3D'.  Her other major television ventures include 'Scare Tactics' (2012), 'China, IL' (2012), and 'Impact Wrestling' (2012-2013).
Throughout Brooke's career, she has managed to keep a foot in her family's business of professional wrestling.  She also stood as an executive of the "Knockouts" division at TNA Wrestling on Spike TV and is now co-owner of a new female wrestling league crafted by herself, and the original creators of the highly-successful 80's female wrestling league and television show G.L.O.W.
Brooke now produces television projects out of Los Angeles, as well as stays in front of the camera hosting her new competition format show "The Fashion Hero."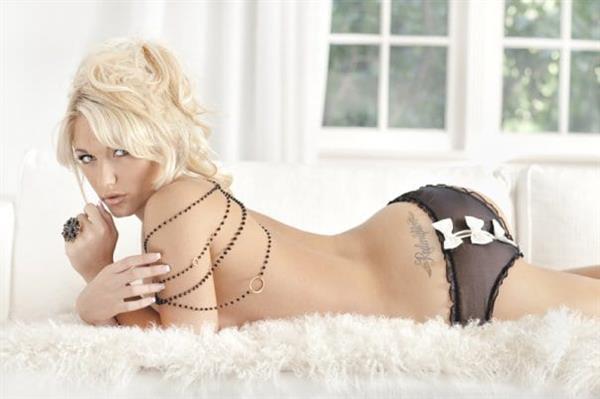 In the mid-2018, she also starred in MTV's 'The Challenge: Champs vs Stars'.
Music Career
Brooker began her music career in 2002 (at the age of 13) when she was signed to infamous music manager Lou Pearlman's Transcontinental Records.  The album's song 'Everything to Me', released in July 2004, was an instant hit.  It ranked in the top position on the Hot Singles Sales chart in the United States.  It also secured a 97th slot on the Billboard Hot 100.
From mid to late 2004, she partnered with Hilary Duff for 'Most Wanted Tour' and toured throughout the United States.  During the same period, she also toured with the Backstreet Boys on their Up Close & Personal Tour.  Her 2006 album, Undiscovered, reached number one on the U.S. indie chart.
In 2006, Brook parted ways in Transcontinental Records and became the first artist to sign with the Scott Storch's label, Storch Music Company (SMC).  In November of the same year, she appeared on the cover page of FHM to promote her album.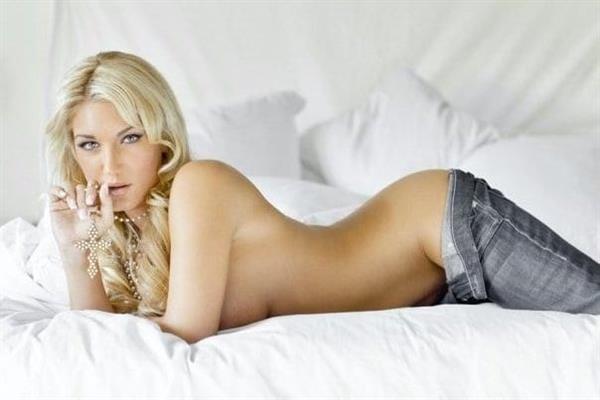 Her second studio album, 'The Redemption' (released in 2009) did not have the same success as its predecessor.  But since she's trained extensively in songwriting, classical piano, vocal technique, and music production, Brooke has secured a catalog of hundreds of musical works spanning many genres, including urban, pop, and country.
Her third album, 'I Wana Be Your Girlfriend', was released on September 4, 2015.  She also released a non-album single, 'Taste Like Summer' in 2017.
Facts and Trivia
Brooke is the niece of Christie Claridge and is the stepdaughter of Jennifer McDaniel.
In 2006, she auditioned for the role of "Ruby" in The Hills Have Eyes.
Also in 2006, Brooke was in a relationship with rapper Yannique Barker.  The relationship ended because Hulk Hogan made a racist remark against Barker.
In June 2013, Brooke revealed that she was engaged to Phil Costa, a former American football center; but the engagement was called off in November 2013.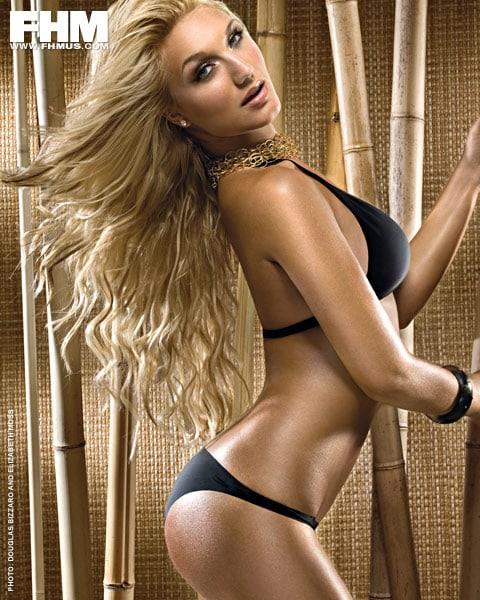 Her Body Measurements
Brooke Hogan stands 5 feet, 10 inches and she rocks a 38-26-37 (34D cup size) figure.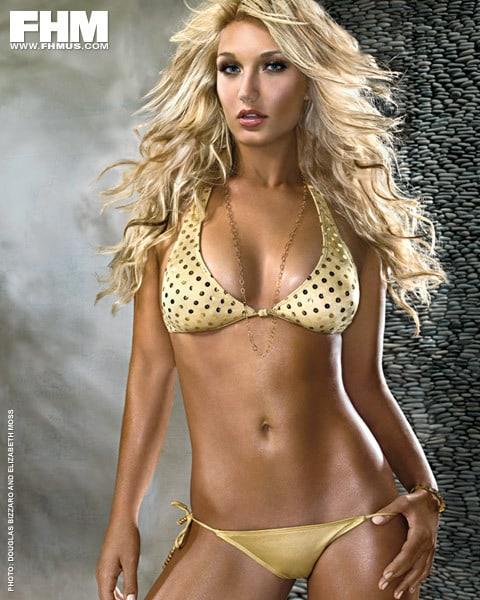 Brooke Hogan Photos
Check her out on Instagram for her newest personal uploads.
Also, do check out our Brooke Hogan page for more of her.