Now, this woman is not your usual babe.  She is extra special.  (Editor Note: Really?  She does nothing for me)  Yup, like a multi-flavored sundae with extra cherries on top.  Ah, yes, she is one of the women I've been crushing on since…  Oh, I don't know.  Since her America's Next Top Model.  I was fascinated by her looks.  Her unique skin, her eyes, and of course…  Her shape.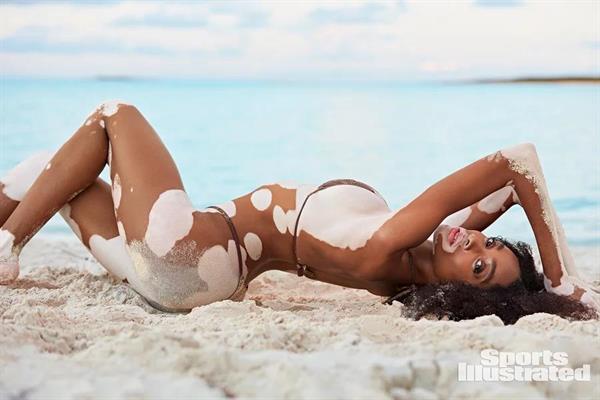 She is one of the sexiest out there.  The most beautiful, actually.  And I think I will be crushing on this woman for a very long time.
Who is Winnie Harlow?
Also known as Chantelle Winnie, she is a Canadian fashion model and television personality who is most famous for being a contestant on the 21st season of The CW's America's Next Top Model.  She has a chronic skin condition called vitiligo that has resulted in the depigmentation of portions of her skin.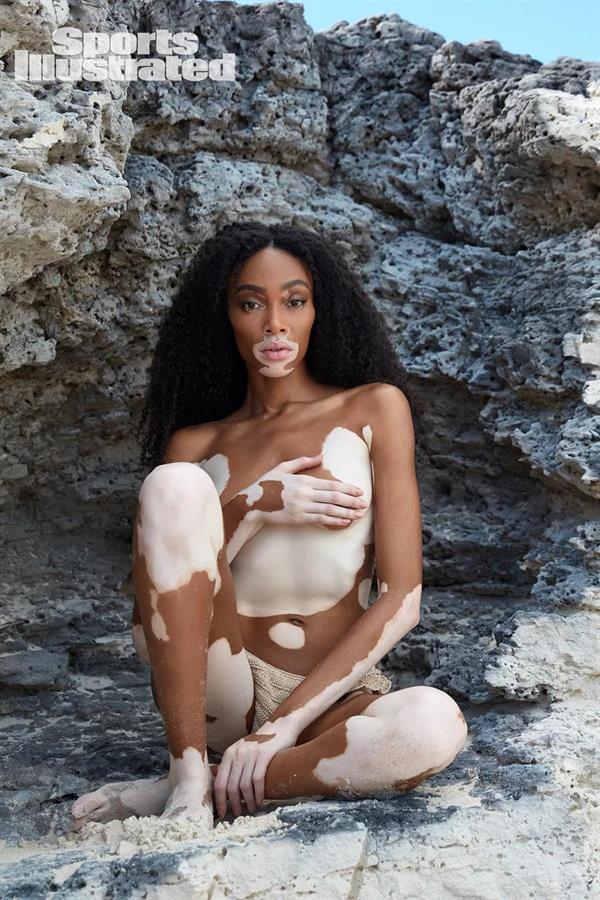 Winnie Harlow appearances in multiple music videos, including the ones for JMSN's 'The One' (2014), Eminem's 'Guts Over Fear' (2014), and The Black Eyed Peas' '#WHERESTHELOVE' (2016).  She has also made a cameo appearance in Beyoncé's "visual album" 'Lemonade'.
Her Early Life
Winnie Harlow was born as Chantelle Brown-Young on July 27, 1994, in Toronto.  She is of Jamaican descent.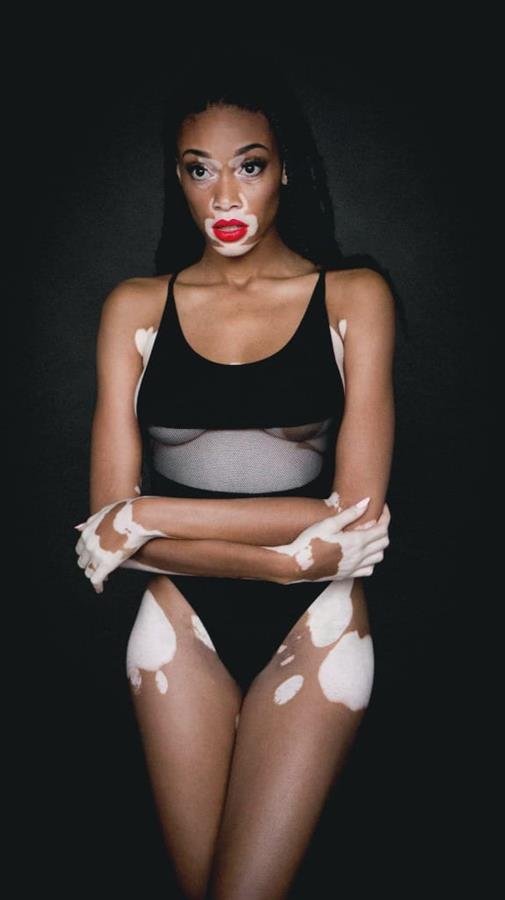 When she was was four years of age, she was diagnosed with the skin condition vitiligo.  She was bullied at school as a child and had to change schools several times.  Her mother used to put makeup on her spots to hide them until Harlow told her that she hated the process.  She eventually dropped out and at one point, even contemplated suicide.
Career Start
She was asked by Shannon Boodram to be a part of Shannon's YouTube music video "Natural Me" in 2013, opening the door for her career in modeling.  But it was through her Instagram where she was discovered by Tyra Banks who recruited her to be one of the contestants for the 2014 season of 'America's Next Top Model'.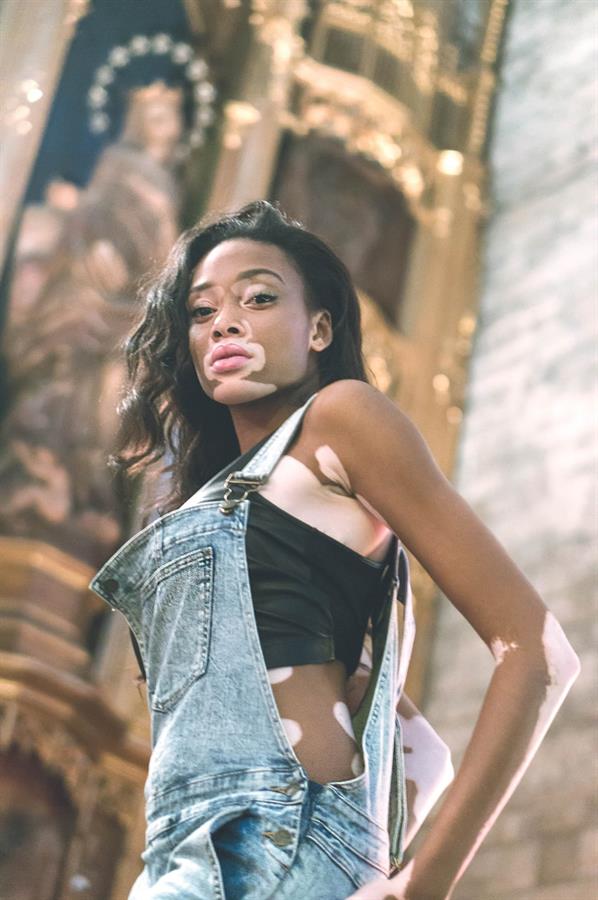 Winnie was successful in becoming one of the 14 finalists on 'America's Next Top Model' and is the first and only Canadian to ever appear on the show as a contestant.  Despite being eliminated in the second week of the finals, she appeared in a separate competition called the "comeback series".  After completing the series and receiving the most number of votes, she was brought back to 'America's Next Top Model'.  Despite not winning the show, she had received enough exposure to enable her to continue the pursuit of success in the fashion industry.  She signed with the Spanish clothing brand Desigual to be their official brand ambassador.
After America's Next Top Model
Following America's Next Top Model, Winnie modeled for the Spanish clothing brand Desigual and became their official brand representative.  In September 2014, she walked and closed for the clothing brand Ashish for their spring/summer 2015 collection in London Fashion Week.  he has also modeled for fashion magazines such as i-D and Dazed, and for the fashion website Showstudio.com.  In 2015, Harlow modeled for the Italian clothing brand Diesel for its spring/summer 2015 campaign, which was shot by British fashion photographer Nick Knight.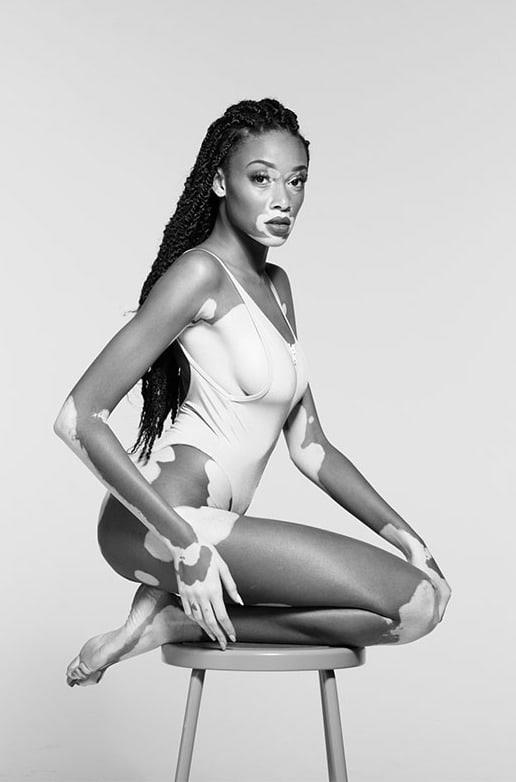 Winnie Harlow also became a regular feature for top fashion magazines such as Glamour, Complex, and Cosmopolitan.  She was also featured on Vogue Italia's website in an interview and accompanying photo shoot.  In August 2015, Harlow shot the cover of and an accompanying editorial spread in the September issue of Ebony magazine.  In 2016, Winnie was in a commercial for Sprite and was featured in a campaign for Swarovski.
Facts and Trivia
According to her, when she was attending high school, she came up with a nickname for herself: "Harlow", as a tribute to her childhood idol, Jeanne Harlow, Marilyn Monroe's icon.  She does not remember where the name "Winnie" came from.  However, after she began modeling, she wanted her real name to be commonly known as well.  Hence, she also goes by Chantelle Winnie.
Having lived the major part of her life with vitiligo and being part of an industry that is all about a person's appearance.  She is in a unique position to raise awareness about the condition.  In July 2011, she uploaded a video about her condition on YouTube, titled 'Vitiligo: A Skin Condition, not a Life Changer'.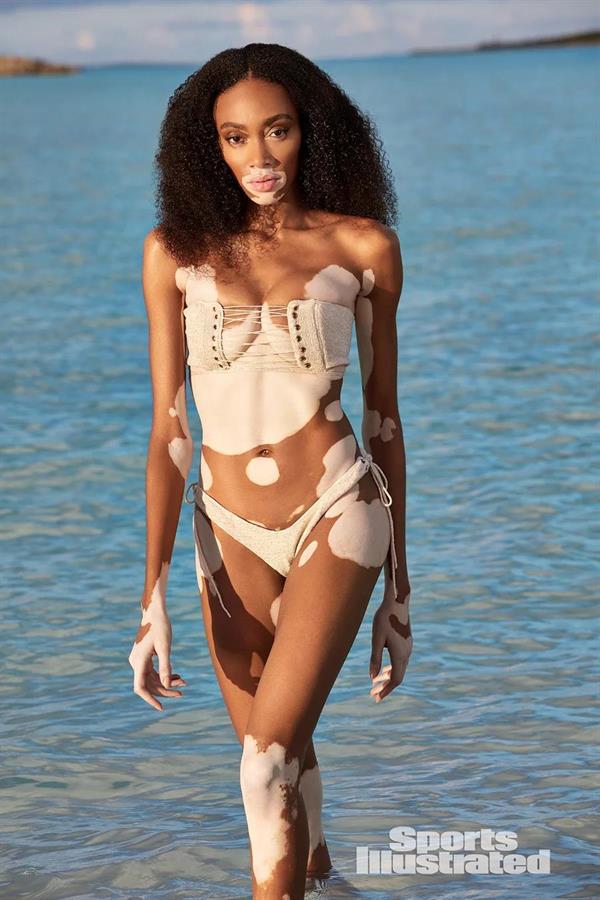 She had an appearance in the music video for Eminem's song "Guts Over Fear" in 2014.  In November of the same year, she gave a speech at a TED event about her experience with vitiligo.
In 2015, she received the 'Role Model' award at the Portuguese GQ Men of The Year event.  She was also given the Beauty Idol award at the Gala Spa Awards.
Winnie had nominations for the Teen Choice Award for Choice Model in 2016 and 2017.  She won the Glamour's Editor's Award in 2017.
F1 Racing Stint
In 2018, Winnie was to wave the chequered flag at the Canadian Grand Prix to signal the end of the race.  She mistook the penultimate lap as the final one and waved the flag, ending the race prematurely.  Certain Formula One sporting regulations came into effect because of this and the final result was announced on the basis of the positions at the end of lap 68.  While this error did not drastically affect the overall result, it put the drivers and the marshals around the track at serious risk.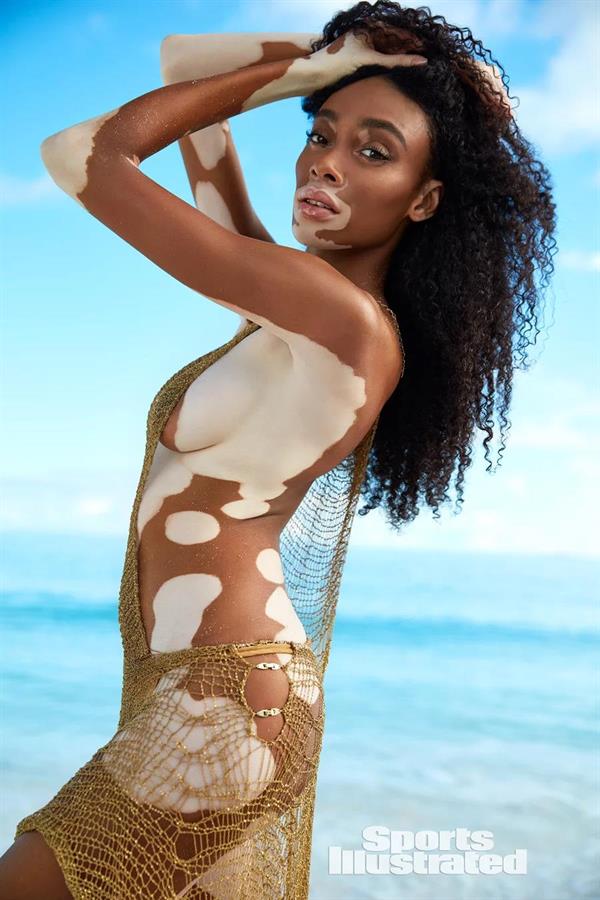 Winnie dated British F1 racer, Lewis Hamilton.  She was with him celebrating his victory in The British Grand Prix 2017.  The pair first spotted at the GQ awards on September 2016.  In July 2018, American singer-songwriter, Wiz Khalifa made his relationship with Winnie Instagram official.  They were seen as a couple publicly for the first time at Victoria's Secret Fashion Show 2018 in November 2018.
Her Body Measurements
Winnie Harlow stands 5 feet, 9 inches and she rocks a 34-25-36 figure.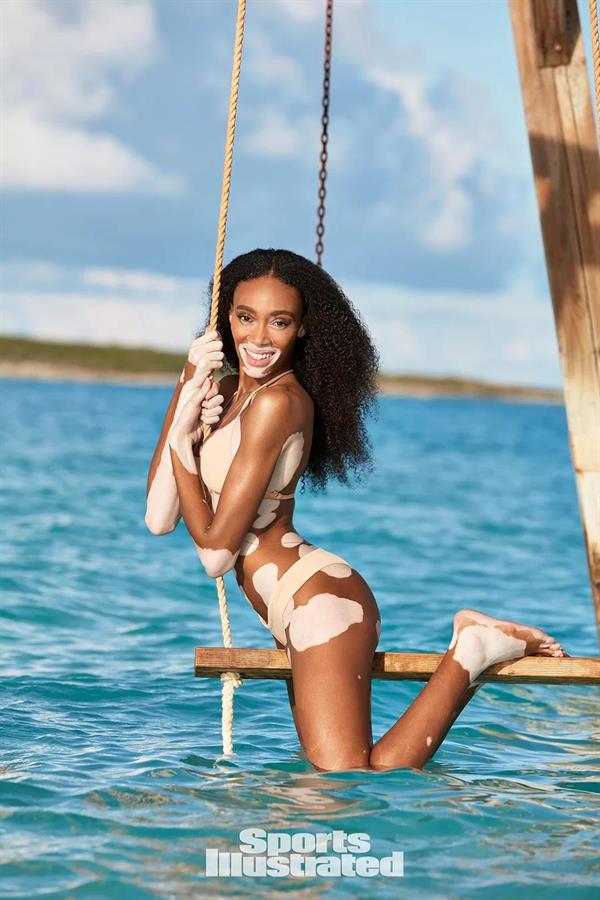 Winnie Harlow Photos
Join her over 6.2 million followers on Instagram for her latest posts.
Also, do check out Winnie Harlow page for more of her awesome pictures.