We've got another name to add to your favorite list of young supermodels –  Rachel Hilbert. She's strikingly beautiful and sexy and she is the next Alessandra Ambrosio! We know you will want to know all about this bombshell before the rest of the world slowly catches on. Discover all the facts that no one tells you about this blond beauty below! We've also got gorgeous pictures of her for your weary eyes!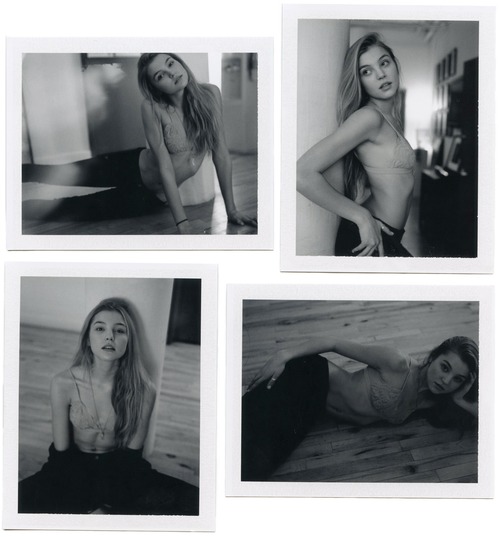 She's All Over Victoria's Secret World
We're not surprised! She deserves to dominate the glam brand. In 2015, she became the official spokesperson for the Victoria Secret's pink line and since then, she has joined the likes of Behati Prinsloo and Adriana Lima in stomping runway stages.
"I got into modeling when I was about 15 years old", she told teen vogue.
"As a kid growing up in Rochester, New York, I was always really awkwardly tall, and everyone was like, "You should try modeling!" So I went down to New York City for open calls at agencies. One agency really liked me when I was 16, and I signed with them. I started working with VS PINK when I was about 19, and organically it progressed from there… and here I am!"
She Was A Former Competitive Skier
Hilbert was a competitive skier and not so many people know about it. "I used to be a downhill alpine racer competitively in high school and for my home mountain in Rochester", she once shared.

She Has A Very Active Lifestyle
Aside from being a competitive skier, Hilbert was also a dancer. Impressive isn't she?
"I grew up wanting to be a professional dancer", revealed the model to teen vogue.
"I took every class — from jazz to ballet, to tap"
The blonde model has many hobbies and has always kept a very active lifestyle.
"I actually used to dance for 14 years before I started modeling, so dance is a really big one… It was my passion. I also enjoy reading books, drawing, riding my bike, working out, Pilates, and kickboxing."
And when she's super busy she still finds time to tone her physique.
"Let's say I'm in a hotel room — I try to do some squats, some abs, and some leg lifts. Those are great for toning your butt!"
She may be very active, but the model has other hobbies that are not so physical. That is, reading books – particularly about astrology.
I read about astrology a lot!  I'm not an everyday looking up my horoscope kind of girl, but I'm really into how the zodiac plays into relationships.  Let's say I meet a guy — one of my first questions is, "What's your sign?" It's so weird, but certain signs always seem to go to certain people."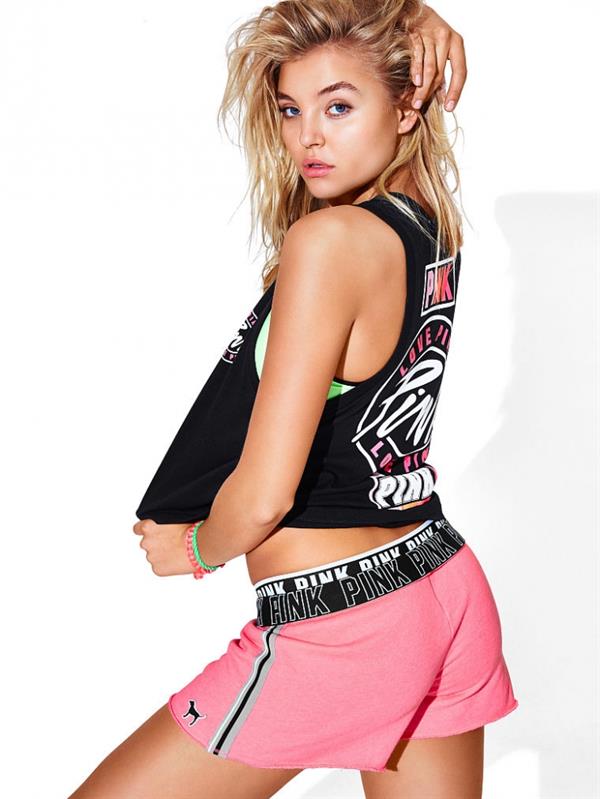 One Of Her Beauty Tips Is To Drink A Lot of Water
"That's one of my beauty tricks," shared the model to byrdie.com referring to drinking water all day.
"I always have a 1.5-liter bottle of Fiji water with me wherever I go. My key to getting through it is always having it nearby—I even keep it next to my bed. I always choose water instead of any other drink."
Well, we know drinking water may not be enough to achieve her near-perfect beauty. There must be genetics involved in there. But if as beautiful as Hilbert is doing it, then we should also follow this beauty tip.
Aside from hydrating herself, she also has another beauty secret for her hair.
"I try not to wash my hair every day because it strips [the] natural oils, which is what keeps it healthy. Instead, I try to wash every other day. I've also learned to enhance the natural texture of my hair by spritzing some sea-salt spray on it."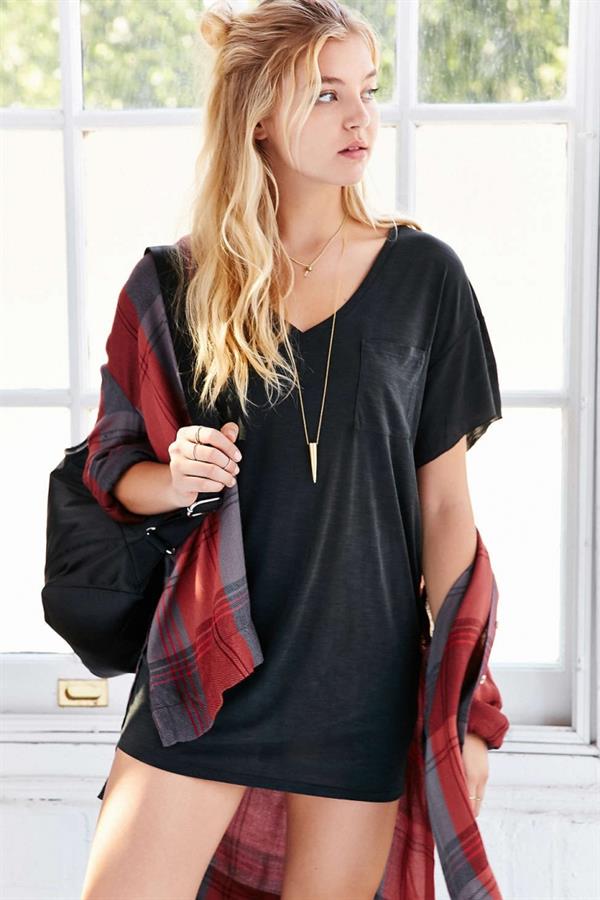 She's Obsessed With Wegmans
Wegmans is an American supermarket chain headquartered in Rochester and the young model is so obsessed with it.
"Let's get real about Wegmans here. Growing up with Wegmans is the best thing in the world. It's a magical place! Something I'd definitely have: a turkey submarine sandwich," she revealed.
"Then, they have a nice organic section, so I'd browse through all the things there, ponder about it, and put a bunch of things in my cart. Also, I really like all the Wegmans brand stuff — any of that would be good. Even their sushi is really good!"
If you're a supermodel, then you get to travel a lot around the world. And aside from missing her family, Hilbert also misses the supermarket – so much.
"I'm obsessed with Wegmans. I miss Wegmans so much. Of course, I miss my family too, but definitely Wegmans as well. And I love Abbott's Custard and going to the lake in Webster. Also, I really love Hedges (Restaurant.)"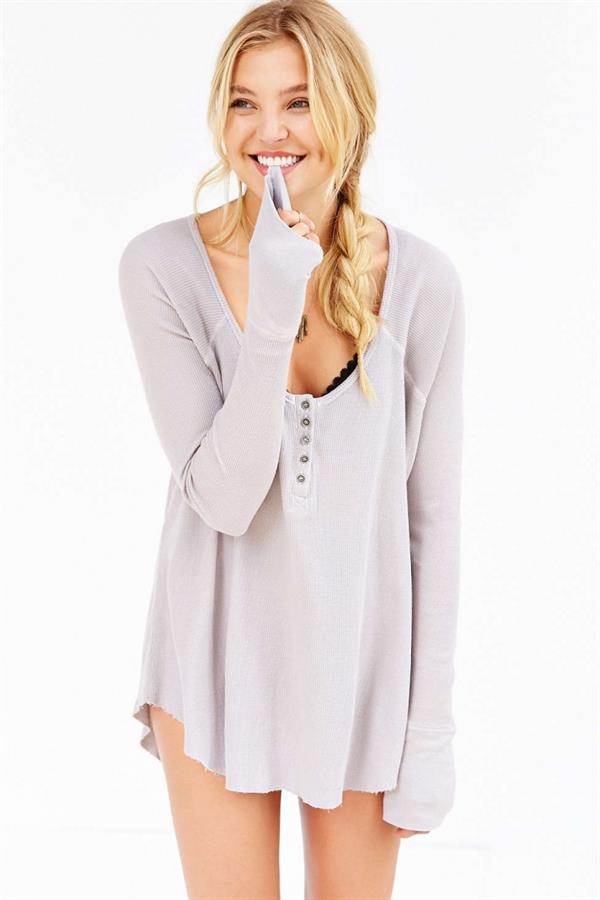 She Prepared For The Show By "Resting Well and Eating Well"
Aside from ensuring the fittings for every outfit and making sure everything looks right, Hilbert tried to prepare the show by resting and eating well. When we say eating well, that means avoiding carbs and maybe deferring pizza a day after the big event.
Mental preparation is also as important. The model revealed to 'democrat and chronicle' the importance of being mentally prepared on the show, she said: "Directly before the show, you have a lot of interviews, we get our spray tans done, facials, and we're just trying to work out and get mentally prepared for the show."
Although she knew it very well the importance of resting well, the model barely slept with all the emotions and adrenaline happening.
"I try to be in bed at an early time and get as much sleep as possible, but I barely slept before the show. Everyone was saying they only got about six hours of sleep. There's so much adrenaline that you don't really feel tired, until about two weeks afterward."

Like All of Us, She Loves Food
The model told Yahoo lifestyle her love for food.
"I love food. I wish I could say I was a super healthy person, but I can't lie, I'm not the most healthy person, foodwise, but I love green juices. I haven't really been eating meat; I've been trying to lay off it just because I don't want to put that much in my body. I love a salad from Sweetgreen. That's my go-to place. Or, I make a nice fish dinner. I love sushi, avocado."
We do not actually worry if she's not eating healthy 100% of the time. We bet she's more physically active than most of us.
Check out more sizzling photos of Hilbert below!