Hayden Panettiere.  What else can I say?  She's been a fantasy for so many for so long.  Yup, from the mid-2000's Heroes up until today.  She's been ranked so many times in men's magazines that it's quite hard to keep count (and track).  But yeah, she most definitely deserves a spot here because…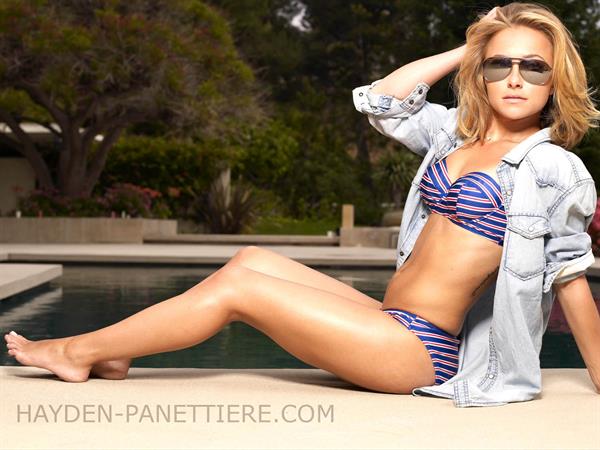 Her face alone could stop time and send you to a hot fantasy.  Now, with her petite body sporting a bikini…  Damn!  That is just too much for a mortal man to handle.  It's impossible not to imagine what it's like making sweet love to her.
Who is Hayden Panettiere?
Okay, for those who don't know (which are very few), Hayden is an American actress and model who rose to fame when she starred as the cheerleader Claire Bennet on NBC's Heroes from 2006 to 2010.  But before that iconic role, she also played the role of Sarah Robers in One Life to Live.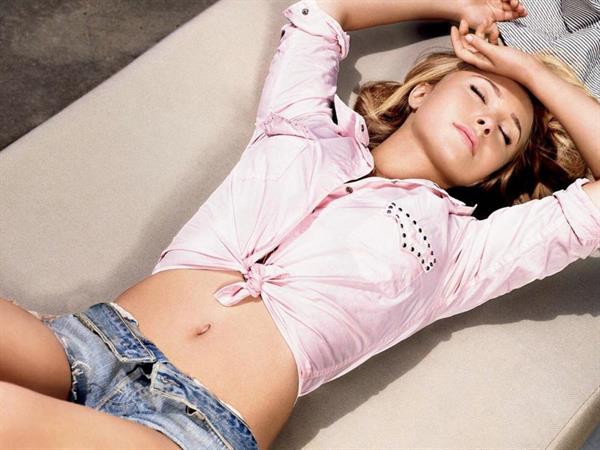 In 2012, she was cast in one of the lead roles in Nashville.
Her Early Life
Hayden Lesley Panettiere was born on August 21, 1989, in Palisades, New York, to actress Lesley Vogel and fire department captain Skip Panettiere.  She is of Italian, German, and English ancestry.  Her younger brother, Jansen Panettiere, is also an actor.  Her parents are both of half Italian descent, along with German and English.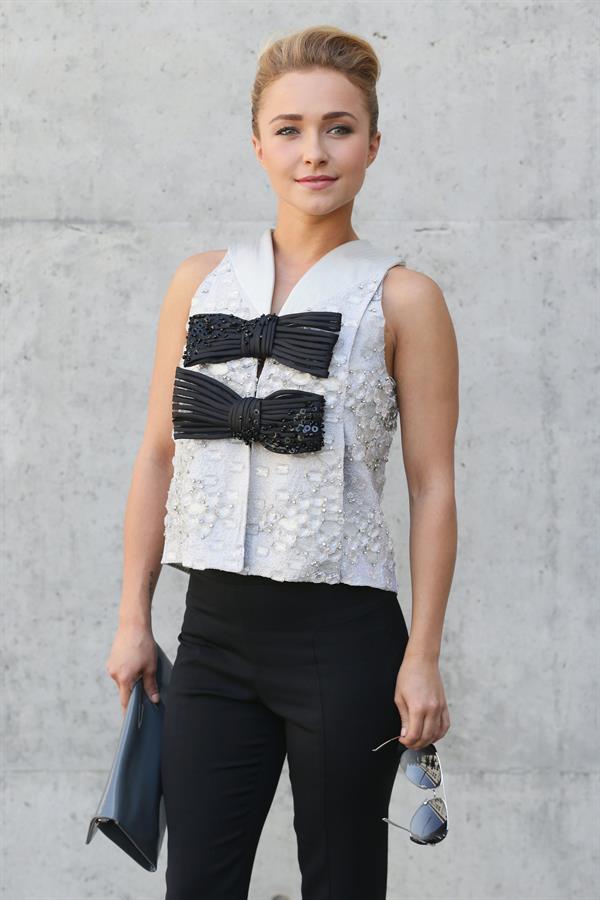 Career Journey
Having a mother as an actress, it was only natural for Hayden Panettiere to follow suit.  A month before turning one, she appeared in her first TV commercial for Playskool Toy Trains.  Her stints in advertisements continued as she featured as an infant and toddler for McDonald's, Hershey's and Nix Lice Shampoo.  By the age of four, she had become a pro-model for advertising agencies.  Then, at only 4 1/2, she was cast on the soap opera One Life to Live (1968), where she remained until 1997. Since then, she has gone on to appear in many feature films and TV movies.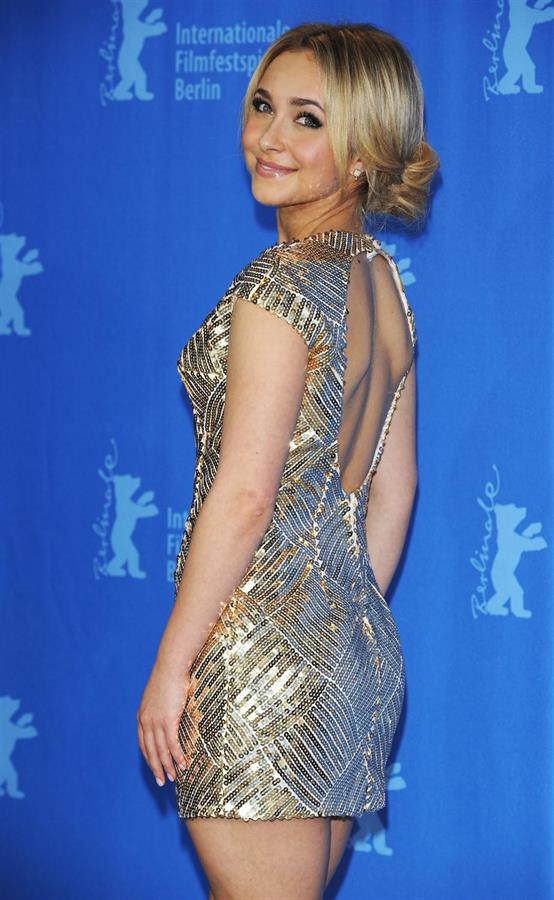 Hayden's big break in television came with the role of Sarah Roberts in the ABC soap opera 'One Life to Live' in 1994.  In 1996, she took up the role of Lizzie Spaulding on the CBS soap opera 'Guiding Light' (1997 to 2000).  In 1999, Hayden was cast in the television movie 'If You Believe' which earned her a nomination at the prestigious Young Artist Awards.  Around the same time, her career in films also started.
Her Film and Play
Hayden has been involved with many animated movies, beginning with A Bug's Life (1998) as "Dot", later to follow was Dinosaur (2000), the video game Kingdom Hearts (2002), and The Mark of Kri (2002).  Her next movie is Racing Stripes (2005), a partly animated film, which includes the voices of Whoopi Goldberg, Dustin Hoffman, Joshua Jackson, and Mandy Moore.  In 2003, she joined the likes of Jessica Lange, Tom Wilkinson, and Clancy Brown in Jane Anderson's Normal (2003).  In July of the same year, she appeared in a John Guare play, "Landscape of the Body", for the Williamstown theater festival in Williamstown, Massachusetts.
From 2005 to 2010, Hayden did several films including 'Raising Helen' as Kate Hudson's title character's adolescent niece, 'Racing Stripes' where she played the main human role, 'Bring It On: All or Nothing' as a cheerleader, and 'Shanghai Kiss' as Adelaide Bourbon.  She also did voice roles in 'Scooby Dooby Doo and the Goblin King', 'Alpha and Omega' and 'Hoodwinked Too!'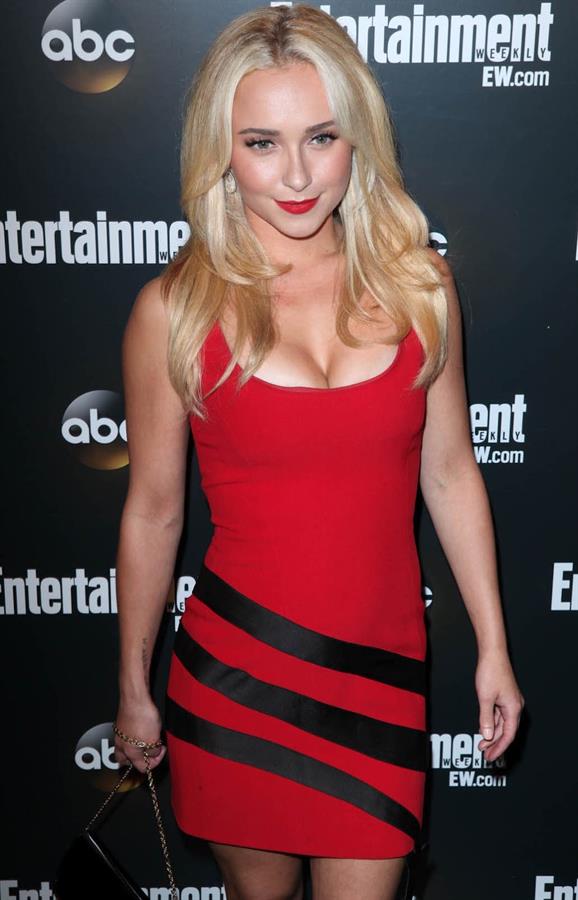 In the early 2010s, Hayden appeared in the 'Scream' sequel, 'Scream 4'. In it, she played the role of Kirby Reed.  She also gave voice in the animated sequel of 'Hoodwinked Too!' for the character of Red during this period.  In 2016, Hayden was featured in the film 'Custody,' alongside Viola Davis.  The pair had previously shot together for 'The Architect'.  She then reprised her role in the video game sequel 'Kingdom Hearts: Birth by Sleep' and also gave her voice for Xion in 'Kingdom Hearts 3D: Dream Drop Distance.'
Outside Acting
Hayden Panettiere has also pursued singing.  She sang a couple of songs for various films including 'A Bug's Life', 'Tiger Cruise', 'The Dust Factory', 'Ice Princess' and so on.  One of her songs even received a Grammy nomination.  Her first single, 'Wake Up Call' was released in 2008.  Additionally, she recorded several songs for 'Nashville,' which were released as singles and included on the show's soundtrack albums as well.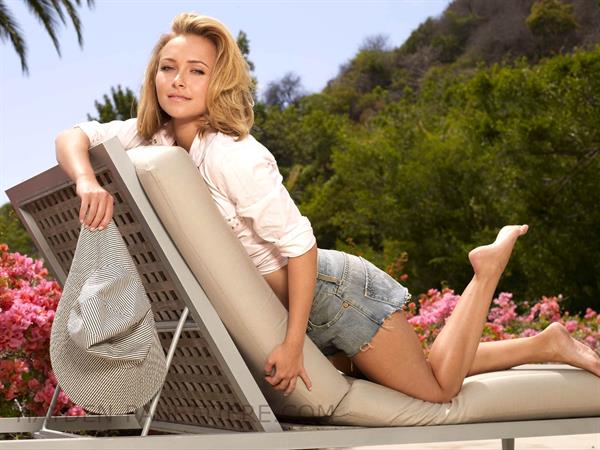 Philanthropy and Advocacies
Hayden is an avid supporter of Ronald McDonald House Charities and joined The Whaleman Foundation to help preserve whales and bring an end to whale hunting.  She was awarded PETA's Compassion in Action Award for her efforts.
Over the years, Hayden has also worked for the prevention of teen pregnancy.  She was one of the leading figures at the Euromaidan protests in Kiev.
Had a partnership with United States Postal Inspection Service and the National Center For Missing And Exploited Children in a campaign against online predators, called 2 SMRT 4U.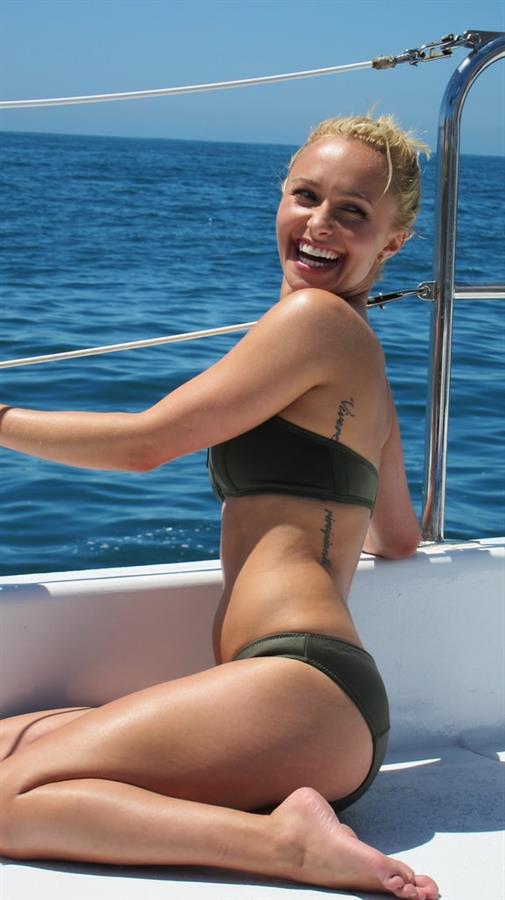 Hayden is also the second-ever recipient of The Wyler Award (which honors a celebrity who has raised awareness of animal issues) for her on-the-ground work to expose Japan's slaughter of dolphins.  Along with other protesters including Isabel Lucas, Hayden paddled out on surfboards to a pod of dolphins off the coast of Taiji/Japan to protest the killing of dolphins.  This action is mentioned in the documentary The Cove (2009).
Facts and Trivia
In 2000, Panettiere received the Young Artists Award for Best Supporting Actress for 'Remember the Titans'.
While making Racing Stripes (2005) in South Africa, she was bucked off a zebra and ended up in the hospital with a concussion, whiplash, and two compressed vertebrae in her neck.
She was the cover girl of Neutrogena and also appeared in the Heroes-themed 'Got Milk?' ad.  She even wore the hat of a designer for the handbag brand 'Dooney & Bourke' from 2007 to 2008, designing limited-edition handbags.
In 2009, Hayden met former heavyweight world champion boxer Wladimir Klitschko.  The two began dating but split after two years. In April 2013, they got back together and on October 2013, they were officially engaged.  Their daughter, Kaya Evdokia Klitschko, was on December 2014.
In August 2018, Hayden and Vladimir split and then she began dating Brian Hickerson.  She was also previously in a relationship with NFL receiver Scotty McKnight and her Heroes co-star Milo Ventimiglia.
Her last name was printed wrong in an issue of the "Discovery Girls" magazine where she was considered an "Exceptional Tween".
Her last name is pronounced "Pan-Hey-Tee-Air" and is the Italian translation of "Baker".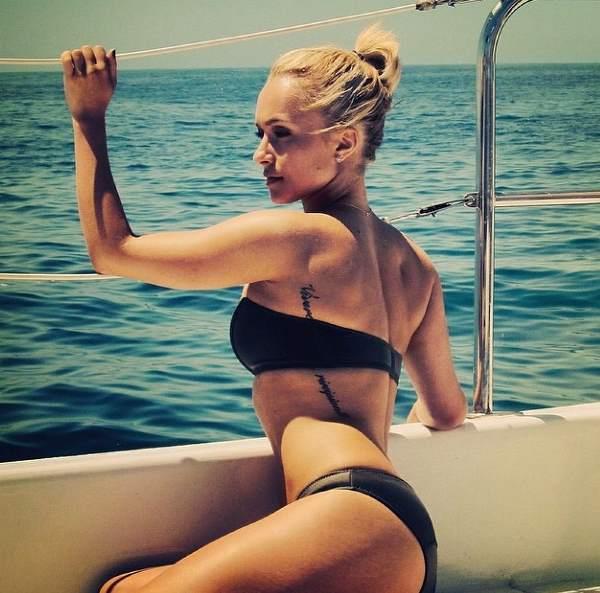 Hayden Is best friends with Daniella Morris.
She was number 6 in FHM 100 Sexiest 2007 and number 5 the following year.  She was also in the number 13 spot on Maxim's Hot 100 of 2008 and got number 1 in Wizard Magazine's Sexiest Women on TV list.
Hayden got the 21st spot on FHM's 100 Sexiest in 2011 and number 12 of FHM UK's 100 Sexiest.  She was also number 26 on Maxim's "Hot 100" of 2014 list.
Her role in 'Heroes' got her several awards including the Saturn Award for Best Supporting Actor, Teen Choice Best Actress Drama, Teen Choice Breakout Actress, Teen Choice TV Actress for Action-Adventure and Young Artists Award for Best Actor in a Leading Role.
Rumors and Controversies
Hayden's split with husband Vladimir Klitschko ignited quite a controversy.  You see, her daughter, Kaya, has been living with the boxer Vladimir in his home country of Ukraine.  Following her breakup with her ex-husband, Hayden quickly moved on with Brian Hickerson.  In the months since, though, speculation has mounted around the health and dynamics of Hayden's relationship with Brian.  You see, an altercation arose and sources said that they were "worried" for the actress and that she was "drinking too much" with her new boyfriend.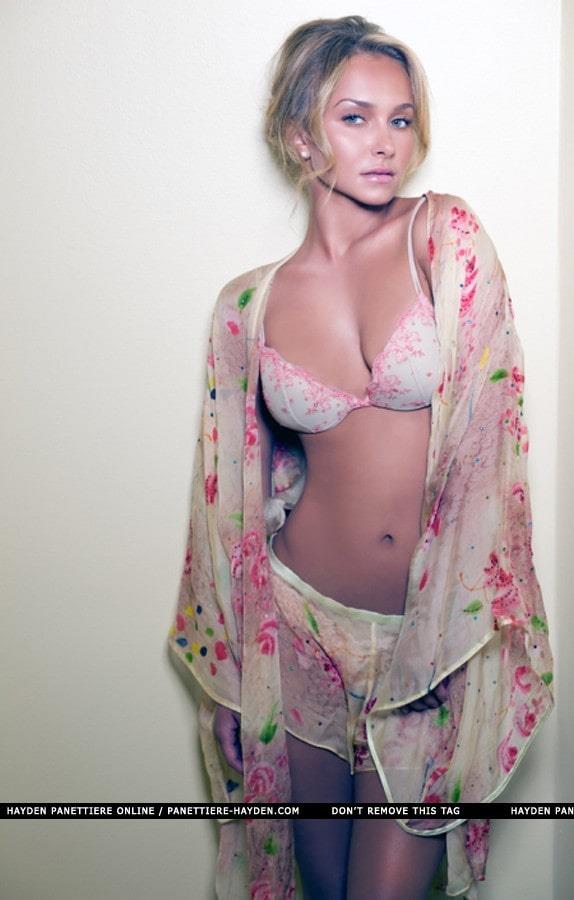 Her Body Measurements
Hayden Panettiere stands 5 feet, 1 inch and she possesses a 36-26-34 figure.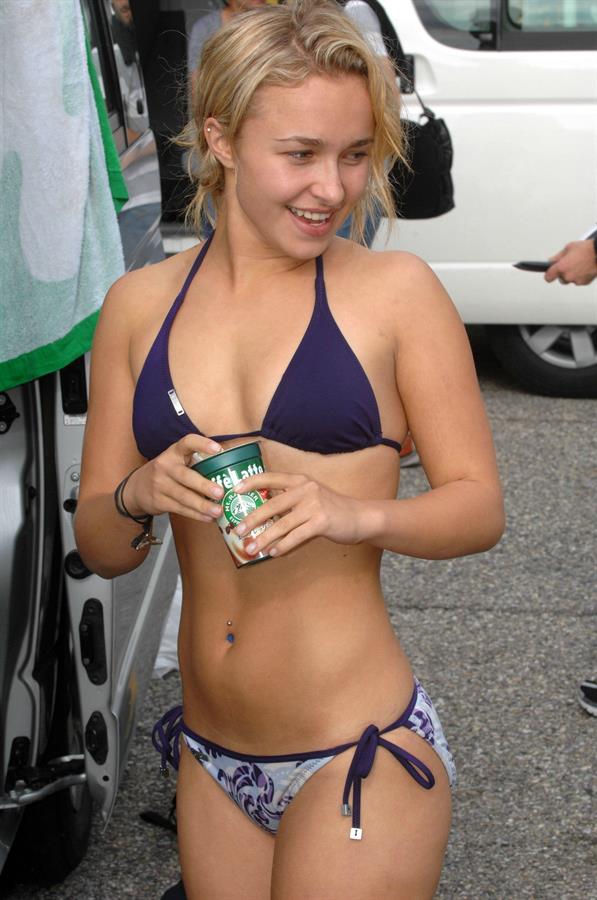 Hayden Panettiere Photos
There's a lot of Hayden Panettiere Instagram account and we don't know which is real. But here…
That looks like it's the most official.
Also, do visit our Hayden Panettiere page for oodles of her pictures.