Of course, we got to feature Tatjana Patitz.  She's one of the classics and what would be the point in naming our beloved website Hotness Rater if she's not featured here?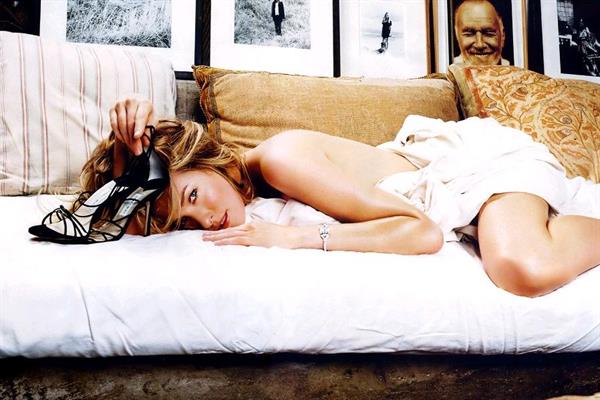 This woman possesses everything that is desirable to a man (and yeah, also to a woman).  She is nothing short of a 'desire goddess'.  And she knows that…  That's why she projects like she owns one's attention.  Oh, and she will totally own attention if you know what I mean…
Who is Tatjana Patitz?
Tatjana is a German model who has achieved international prominence in the 1980s and 1990s representing fashion designers on runways and in magazines such as Elle, Harper's Bazaar, and Vogue.  She is one of the "big five" supermodels who appeared in the 1990 music video "Freedom! '90" by George Michael, and is associated with the editorial, advertising, and fine-art works of photographers Herb Ritts and Peter Lindbergh.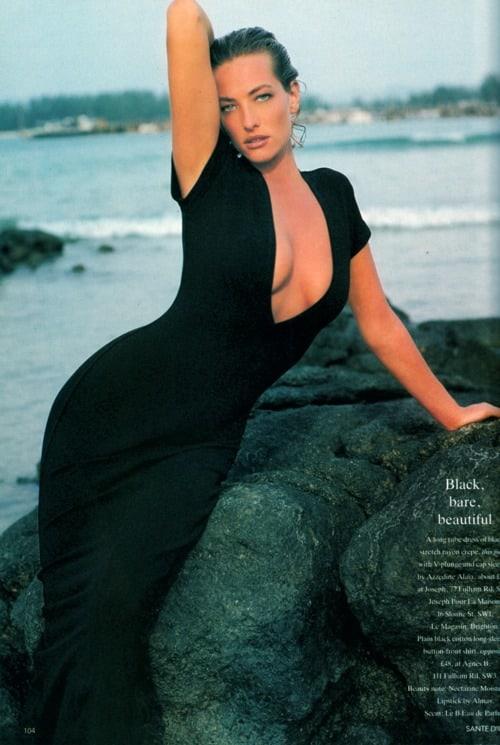 Tatjana is also an actress who is known for Rising Sun (1993), The Larry Sanders Show (1992), and Ready to Wear (1994).
Her Early Life
Tatjana Patitz was born on March 25, 1966, in Hamburg, Germany, and raised in Skanör, Sweden.  She learned to ride horses at the age of seven.  During the summers, she found respite at her family's summer vacation home in Mallorca, where she participated in horse camps.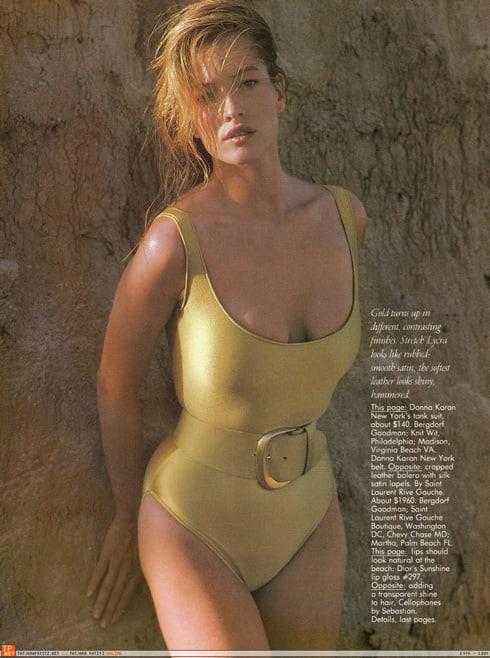 Modeling Career Start
In 1983 at the age of 17, Tatjana entered and became a finalist in the Elite Model Look (formerly known as Elite Models' "Look of the Year" contest), and based on a Polaroid, she was placed third by Elite Model Management founder John Casablancas.  Tatjana won a contract and moved to Paris to begin working as a model.  Though not an immediate success, by 1985, she worked regularly and at the end of that year, she modeled for the cover of British Vogue, her first major cover.
Tatjana's work in Europe led her to New York where she worked for Vogue and Cosmopolitan.  The December 1985 issue of Vogue featured Irving Penn's photograph, "Colored Contact Lenses", showing Tatjana wearing contact lenses over closed eyelids. The image would later be featured in the 1992 book "On The Edge: Images from 100 Years of Vogue" as one of the iconic photographs of the era.
In 1986, Tatjana appeared on two covers of the Italian edition of Vogue and continued to be featured in editorials in the American and British editions of Vogue.  She appeared in campaigns for Calvin Klein and in 1987 for Revlon's "The Most Unforgettable Women in the World" campaign. Vogue began regularly including Patitz's name on the pages of fashion editorials as early as 1987, familiarizing readers not only with her face but also with her personality.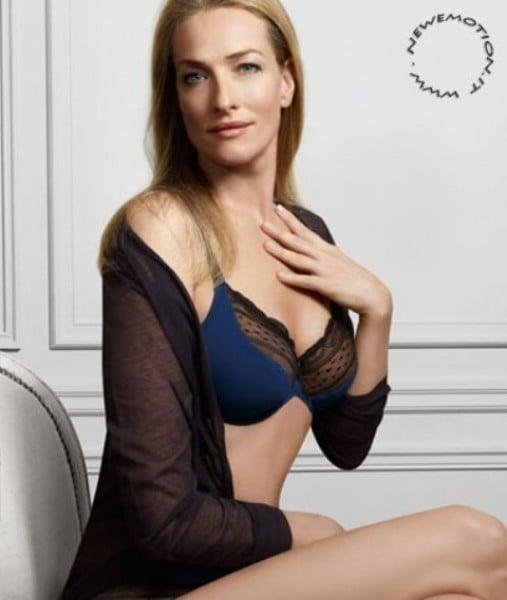 During this period, Tatjana met Los Angeles-based photographer Herb Ritts, with whom she shared another significant and enduring collaboration in fashion, fine art, and commercial work.  Her versatility was exemplified by the changing of her hair color and style with each passing year during the late 1980s, from short-haired brunette to tawny mane to long and blond.  For an April 1989 editorial titled "Earthly Powers" in British Vogue, hairstylist Didier Malige cut and restyled Patitz's foot-long blonde hair into a cropped shag just above her shoulders. That move won Tatjana covers of British and French editions of Vogue featuring her new look.  The pinnacle of that year came in July and August when Tatjanawas awarded with consecutive covers of US Vogue – two months in a row.  This period was the zenith of Tatjana's career, known as "the era of Tatjana" in the fashion industry – a whirlwind time when she seemed destined to walk away with the title of supermodel herself.
During this period, in an effort to live a healthier and more balanced lifestyle, Tatjanabegan slowing down her modeling career to focus on other creative pursuits such as writing, acting, and meditation.
In the final months of 1989, Tatjana was photographed with other top models in two portraits that would become key images of the supermodel era of the 1990s: "Stephanie, Cindy, Christy, Tatjana, Naomi, Hollywood, 1989" by Herb Ritts; and Peter Lindbergh's cover of the January 1990 issue of British Vogue.
The 1990s
The decade began with Tatjana on the January covers of both the American and British editions of Vogue.  She shared the British Vogue cover with Naomi Campbell, Cindy Crawford, Linda Evangelista, and Christy Turlington.  The cover inspired pop star George Michael to cast Tatjana, Crawford, Evangelista, Turlington, and Campbell in his music video for the song "Freedom! '90" which was directed by David Fincher.  Michael did not appear in the video; instead, each woman would lip-synch the song in Michael's place. In MTV, going on to transcend the worlds of pop culture, music, and fashion in the 1990s and remaining influential and iconic in the decades to come.
Tatjana continued to manage her modeling career while studying acting.  As the decade progressed, Tatjana continued to work in advertising campaigns and on runways for such top fashion houses as Chanel, Versace, Salvatore Ferragamo, Valentino (fashion designer), Karl Lagerfeld, Helmut Lang (fashion brand), Donna Karan, Jean-Paul Gaultier, and Vivienne Westwood.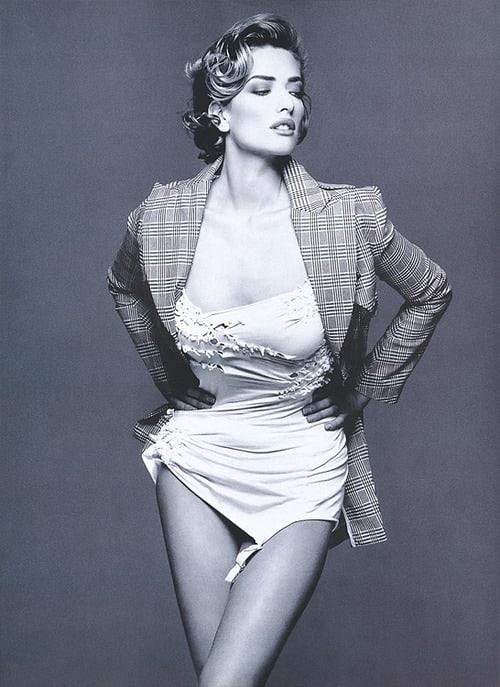 Tatjana appeared on over 200 magazine covers worldwide, including seven covers of American Vogue and thirteen covers of British Vogue.  French, Italian, German, Spanish, and Australian editions of Vogue. In advertising, Patitz won an exclusive cosmetic contract with Germaine Monteil makeup and perfumes.
Tatjana has also appeared in international television commercials for Cartier, L'Oréal, Revlon, Levi (jeans), Corsa, Dupont, Pantene, Dockers, and Ralph Lauren.
Acting Career
In 1987, Tatjana appeared in the Duran Duran music video for the song "Skin Trade".  She then moved to California to begin a career as an actress.  In 1988 she appeared in the Nick Kamen music video for "Tell Me".  Her first appearance was a brief one as a murder victim in Rising Sun (1993).  Following this, Tatjana made several appearances on television series, music videos, and films.  Her largest role was in the 1999 thriller Restraining Order.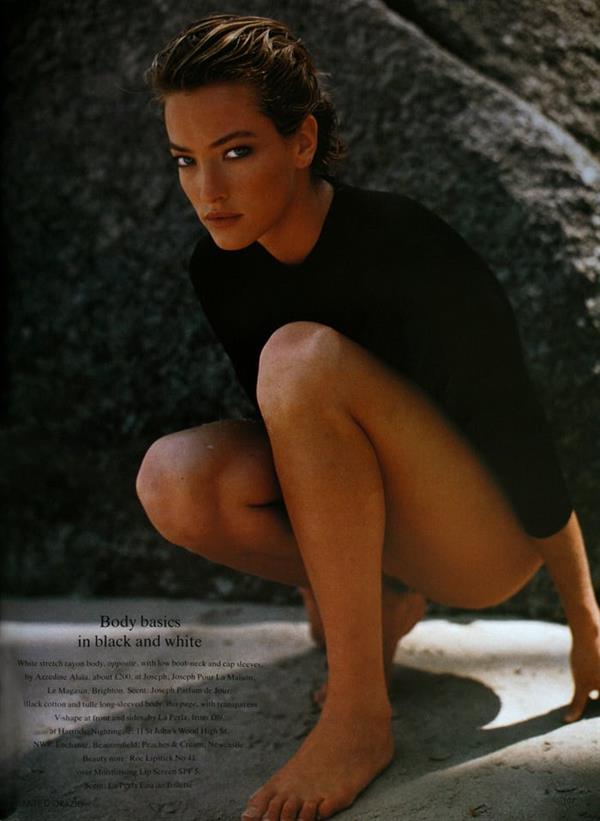 In 2000, she appeared in the Korn music video for the song "Make Me Bad".
Facts and Trivia
Tatjana here had a long time relationship with singer Seal
In 1989, Patitz went to live on a ranch in Malibu, California where in 2009 she was reported to have four horses, four dogs, and two cats, commenting "I needed nature around me".
She has a son, Jonah, who was born in 2004, and is separated from his father, a marketing executive.
Along with Michael J. Fox, she appears in the 2011 Carl Zeiss AG calendar, photographed by Bryan Adams in New York City in the summer of 2010.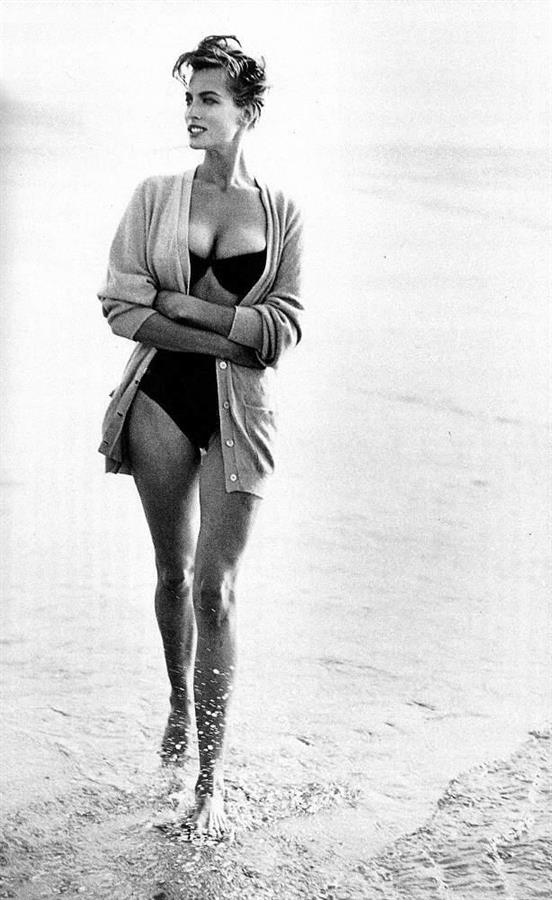 Tatjana Patitz is vegetarian.
Her Body Measurements
Tatjana Patitz stands 5 feet, 11 inches and at her prime, she rocked a 36-26-37 figure.
Tatjana Patitz Photos
Follow Tatjana on Instagram for a daily dose of her lovely personal posts.
Also, don't forget to visit our Tatjana Patitz page for more of her gorgeous shots.