This bombshell will totally heat up your day.  Yup, your fun, fun Saturday.  I mean, just look at the heat she's packing.  Nope, not guns for you Call of Duty-loving boys.  I mean, how hot she is…  Just look…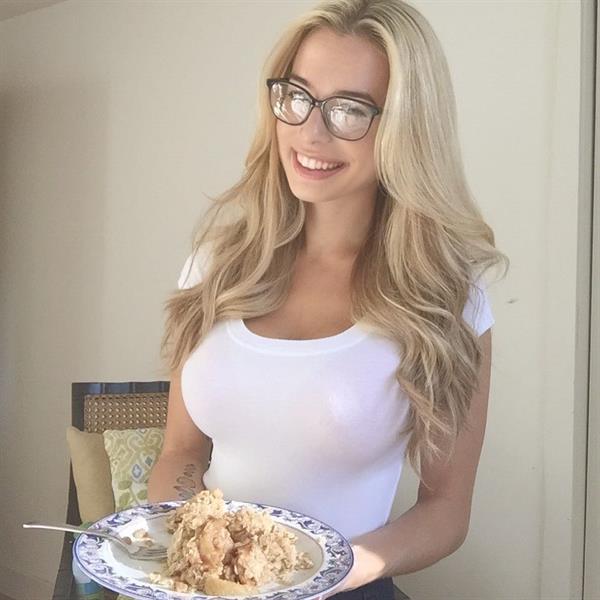 Look at that rack.  Yup, that huge goodness on that lithe body.  She's like a blood elf from World of Warcraft and Sophia Phalen Bertolami is the type that would make you boys (me included) sweat with excitement.  Yup, totally a hottie.
Who is Sophia Phalen Bertolami?
Sophia is an American Instagram star who recently earned media attention for her current relationship with professional golfer Bryson DeChambeau.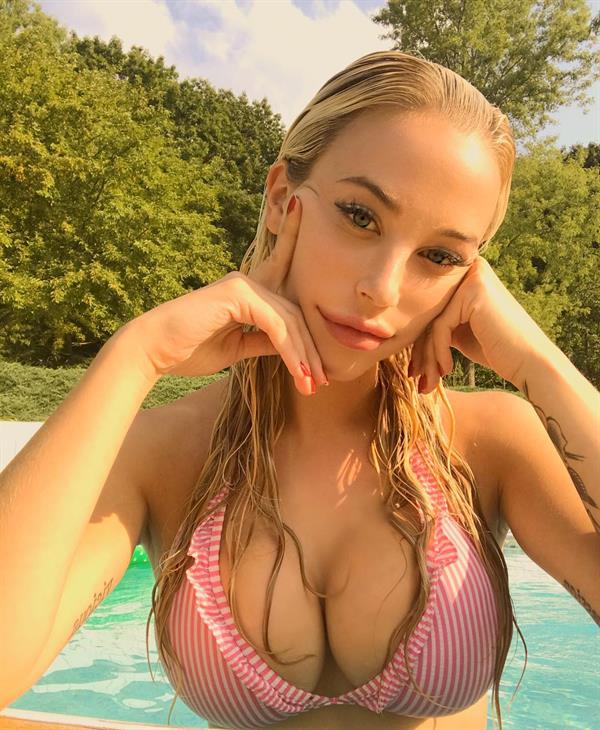 Her Early Life
Sophia Phalen Bertolami was born on December 11, 1991, in the United States.  Her father, John Bertolami, is the CEO of Boston Pharmacy Management, while her mother, Margaret 'Meg' Bertolami, has a degree in nursing.  She is one of two daughters of her parents and has an older sister named, Isabelle Bertolami (Payton), who is 30 years old.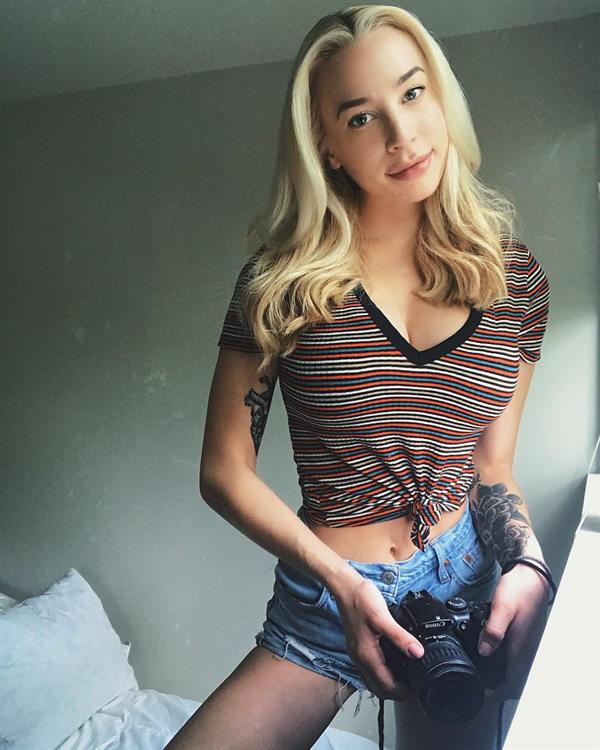 Sophia graduated with a degree in Kinesiology and Nutrition from Chapman University in Orange in 2014. Following in her mother's footsteps, she is currently pursuing a nursing course at Belmont University in Nashville, Tennessee, for which she relocated to the city back in 2015.
Career Journey
Sophia Phalen Bertolami began working as a baby sitter since she was 15 years old.  However, after she completed her graduation from Chapman University and moved to Nashville, Tennessee to study nursing at Belmont University in 2015, she started gaining public attention both due to her modeling work and her personal relationships.  She began posting pictures on her Instagram profile in March 2015.
While she soon grabbed eyeballs for her bikini-clad pictures, she also started featuring on tabloids the same year for her romantic involvement with the then Mets utility player, Danny Muno.  Since then, she has graced news headlines for being involved with a number of sportsmen.
She specifically created a bikini collection in August of 2018 for women like her who have larger cup sizes, but smaller frames called La Isla.
Facts and Trivia
Sophia Phalen Bertolami has made news headlines time and again for her romantic involvements with a number of sportsmen.  Soon after moving to Nashville to study at Belmont University in 2015, she began dating Danny Muno, who was a professional baseball infielder for New York Mets at the time.  About a year later, she moved from the minor league player to another baseball player, Mike Napoli, the first baseman and designated hitter for the Cleveland Indians.  The relationship was confirmed via her Facebook page in early 2017, following which he began to appear on her Instagram feed.
While it is not known what went wrong between the two, she began shifting from baseball to golf by April 2018, when she posted a picture of herself with a bed full of merchandise from the Golf Masters Tournament at Augusta National Golf Club.  In June, she made her relationship with professional golfer, Bryson DeChambeau, public by posting pictures and videos of him on her Instagram.
Sophia Phalen is also a philanthropist and according to her, a good portion of her profit goes to some selected non-profit organizations like Woods Humane Society, Jean-Michel Cousteau's Ocean Futures Society, and the LA Youth Network.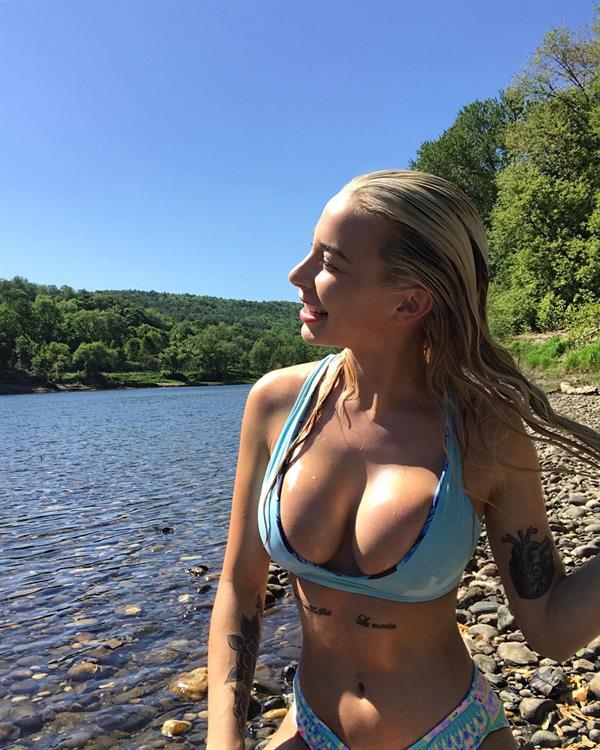 She and her family are animal lovers as they are always pictured with dogs, pigs, as well as horses. Sophia adopted a pig as a pet and named her Stella.  She also has a few more pigs, a pet dog, as well as horses in her family barn where she goes for visits from time to time.  Sophia is also an experienced horseback rider and loves to ride on country roads.
She can play the guitar and got a huge tattoo on her right arm in December 2016.
Her Body Measurements
Sophia stands 5 feet, 7 inches and rocks a 33-23-34 figure.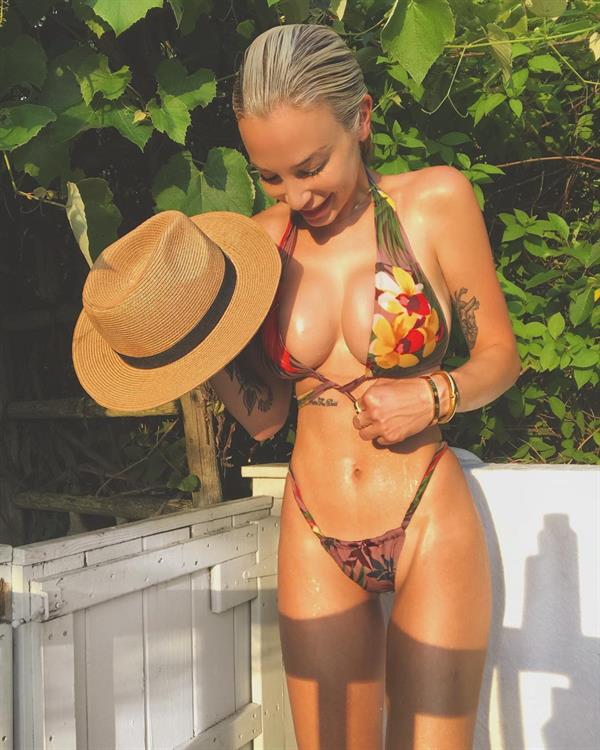 Sophia Phalen Bertolami Photos
Follow Sophia on Instagram for a daily dose of her uber hotness.
Also, don't forget to check out our Sophia Phalen Bertolami page for more.