Robin Gallant is a fitness hottie who doesn't sport an intimidating look.  Yup, as she can also be called a cutie.  Look at her…  Hot and cute at the same time and yes.  Her face has that all-natural beauty that you might find anywhere from the local grocery to the park.  But that body of hers…  Man!!!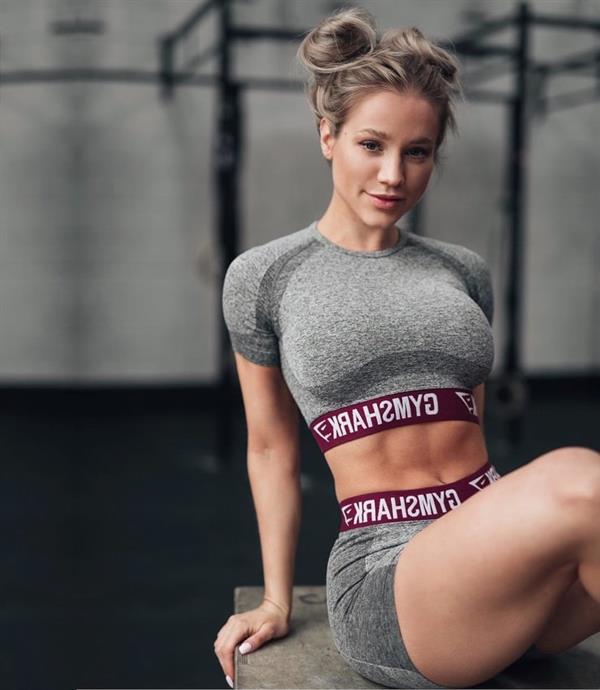 She will be a favorite here and probably win a lot of BOTD.  Yup, because she deserves it and she looks like she was born for it.
Who is Robin Gallant?
Robin Gallant is a Canadian YouTuber who is best-known for uploading fitness tips and tutorials, travel vlogs, diet plans, beauty hacks, and workout plan videos in her channel, Robin Gallant.  She is also a bikini competitor and IPF powerlifter.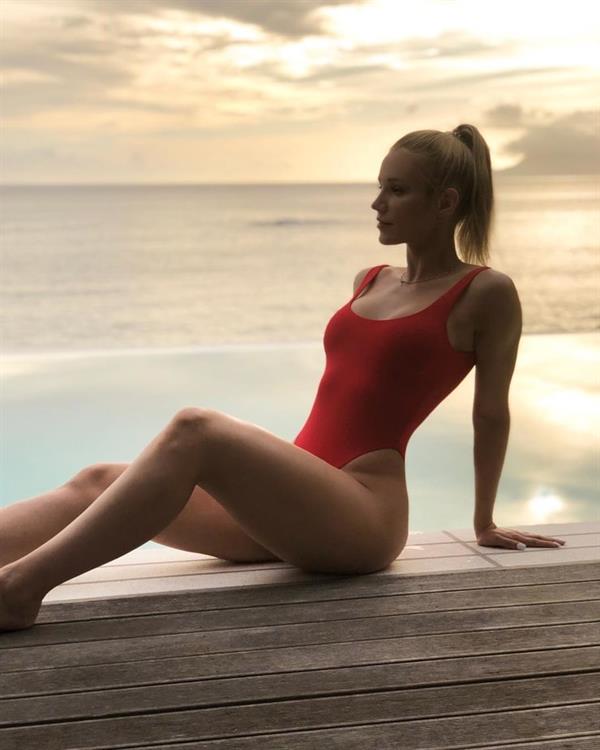 Her Early Life
Robin Gallant was born on May 3, 1991, in Nova Scotia, Canada. She grew up with a keen interest in fitness after seeing fitness models online.  Robin studied engineering and mechanics while pursuing a Bachelor of Science degree, helping her learn about biomechanics and lifting technique analysis for her bodybuilding and strength coaching.
In 2012, Robin decided to pursue a degree in Biochemistry & Molecular Biology.  During her time at college, she gained an expansive knowledge on nutrition and human metabolism.
"I graduated with my Bachelor's of Science in 2015 from Dalhousie University.  I began my undergraduate degree in Microbiology & Biochemistry and switched to a Bachelor's of Engineering (Mechanical) in my third year, earning a 4.0 GPA.  After time off, I decided to finish my science degree in Biochemistry & Molecular Biology.  Through Biochemistry I learned Human Metabolism, Nutrition, and Anatomy.  I learned how to understand the scientific method and to properly read/interpret published science.  Engineering taught me to analyze mechanical systems, which gave me the fundamental knowledge for Human Kinetics (Kinesiology) and Biomechanics.  I have studied Human Nutrition, Exercise Science, and Strength & Conditioning through textbooks (NSCA-CSCS), published scientific articles, and trusted online authors."
Career Journey
Robin Gallant started her YouTube channel on September 30, 2014, and uploaded her first video on March 24, 2015, titled "Lower Body Warm Up Routine, Opener Practice, Low Carb Meals."  Since then she has been uploading various fitness tips and tutorials, travel vlogs, diet plans, beauty hacks, and workout plan videos.
"I started my fitness journey while in university – I struggled with stacking extracurricular responsibilities on top of demanding courseloads.  Being a perfectionist, I put myself under immense pressure to overachieve.  I started to neglect my physical and mental health, barely sleeping or eating so I would have more time for schoolwork…  this compounded and my anxiety disorder became debilitating.  For the first time, in January 2013, I allowed myself to take time away from school to regain my health."
Not long after starting her preparations as a powerlifter and figure competitor; Robin began posting pictures and videos of her journey on Instagram.  She impressed the fitness community with her incredible transformation photos and gained masses of followers as a result.  After documenting her early success in competitions, Robin had gained even more exposure and fans.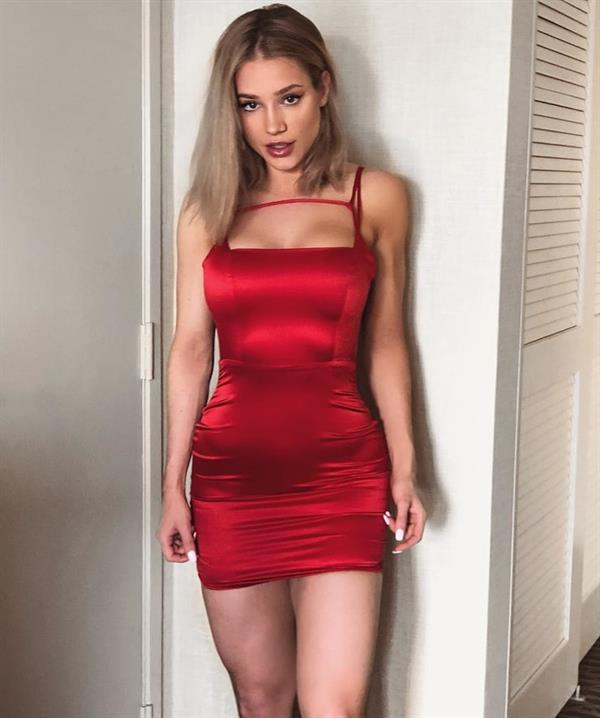 By 2017, this Canadian had become an online fitness icon.
Facts and Trivia
She began a relationship with Gymshark founder Ben Francis.  She previously dated Jeff Nippard, with whom she co-owned STRCNG Coaching with.
Robin is a big advocate of girls being 'strong not skinny'; she showcases this as a competitive powerlifter.  As a result, she always trains using compound movements – especially the big three lifts, squat, bench press, and deadlifts.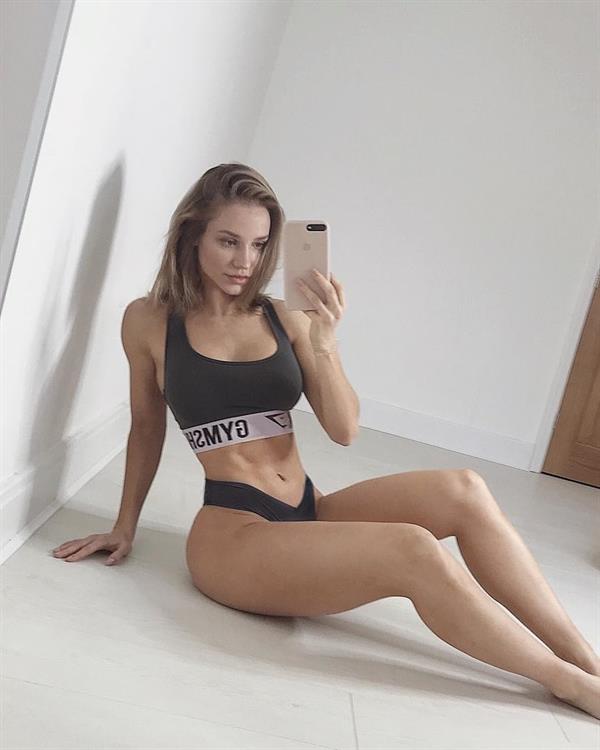 Her favorite training routine is her 'leg day'.
Her Body Measurements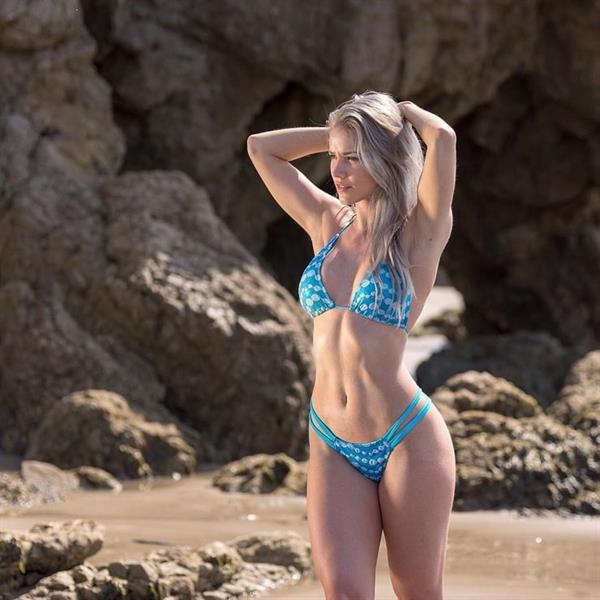 Robin stands 5 feet, 2 inches and she rocks a 32-23-34 figure.
Robin Gallant Photos
Follow Robin on Instagram for her latest workout tips and sexy poses.
Also, do visit our Robin Gallant page for more of her fit, fit pictures.