There are an awful lot of attractive…  no…  beautiful in KPop.  But this lady is perhaps the hottest (if not one of them).  Yup, Lee Hyori is not just overly cute.  She's got the body, the stance, and the stare to prove that she belongs here.  Okay, but first thing's first.  I am not a fan of KPop.  It's just that it's hard to look away when you see a video of a KPop girl group dancing (and singing).  It's almost impossible. Really.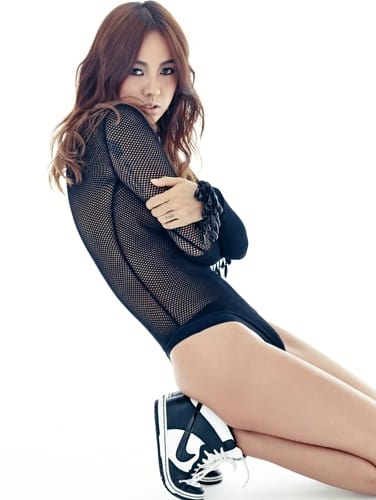 Who is Lee Hyori?
Lee Hyori is a Korean pop singer, actress, television presenter, and activist.  She has worked under the banners DSP Entertainment, Mnet Media, and B2M Entertainment.  She was a part of the K-Pop Girls group 'Fin.K.L.', the group is known for songs like "Blue Rain" and whose solo album Stylish won multiple Daesang Awards.
Her solo song album 'Stylish' was her greatest creation and it won her many awards.  While being a part of 'Family Outing', a South Korean comedy variety show, she was nicknamed 'Nation's Fairy'.  She was also once the highest-paid singer in South Korea.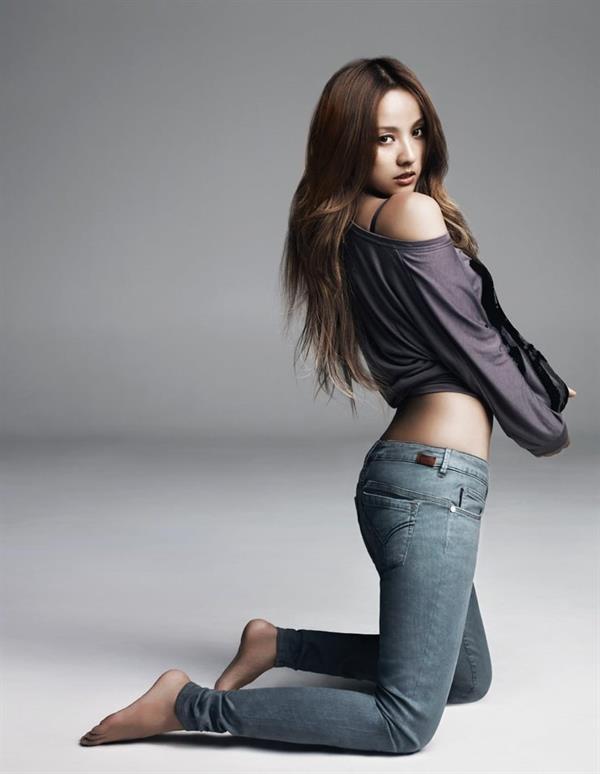 She has co-hosted TV programs like 'Happy Together', 'Sang Sang Plus', 'Change', and 'Time Machine' and was a model for Calvin Klein Jeans, modeling for the "Pure Calvin" Collection.
Her Early Life
Lee Hyori was born Lee Hyo-ri on May 10, 1979, in Changwon, South Korea.  She is the youngest daughter in her family.  As a child, she wanted to become a police officer.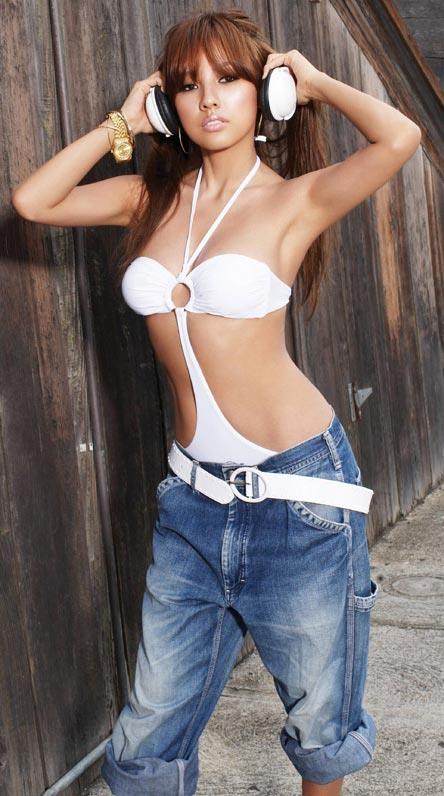 Hyori developed her love for acting and drawing at a very young age and took up acting seriously later.  She studied at the Gook Min University.  She was also then trained at Daesung Entertainment.
Music Career
After getting discovered by Daesung Entertainment and her subsequent training, Hyori joined the K-Pop Girl Group 'Fin K. L.' as the eldest and the last member.  Just after she joined the group, they officially made their on May 12, 1998, with their first single, 'Blue Rain'. It was the second song from their album, 'To My Boyfriend'.  They later became very popular in South Korea giving a tough competition to their rivals, the S.E.S. group.
Fin K.L. released around four studio albums in the following year.  Just after that, Lee debuted as a solo singer in 2003 with her first solo album 'Stylish' which became very popular and earned her many accolades. The lead single '10 Minutes' from the album became her signature song.
After her contract with DSP Entertainment ended, she entered into another one with Mnet Entertainment, which is currently known as Mnet Media.  It was a 3-year contract worth ₩2.2 billion.  She was then the highest-paid female singer in South Korea.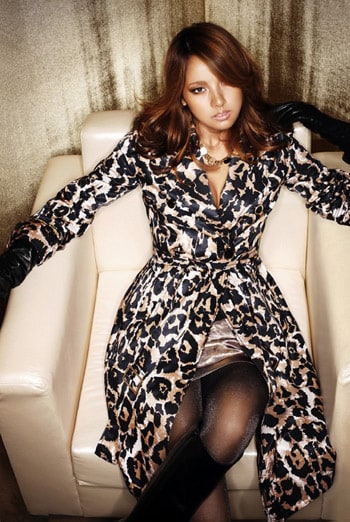 In 2008, she launched her third album 'It's Hyorish'.  After that, she released her 4th album in 2010, called 'H – Logic'. It was the last one under Mnet Media.
Her fifth studio album, 'Monochrome' was launched on May, 21, 2013.  In February 2015, after some minor failures in TV hosting and shows, she decided to take a hiatus from the industry.  She stopped all activities, shut down her blog, and removed her Twitter account.
In October 2016, it was hinted that she had resumed her music activities and had signed a contract with the Kiwi Media Group.  In 2017, she made a return by posting on Instagram.  On July 4, 2017, her fourth album 'Black' was released along with the rustic-themed official music video for the title track.  She has written eight and composed nine out of the ten songs and is an executive producer for Black.
Acting Career
She then made her acting debut in the 16-episode drama series, 'Three Leaf Clover'.  However, the series received low ratings and she was criticized as a misplaced character and viewers claimed that she was no match for a character so downtrodden.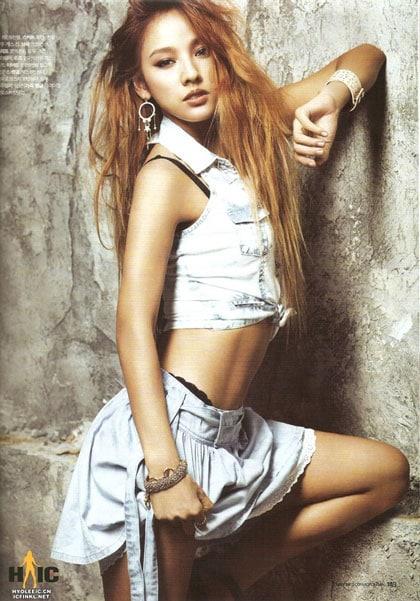 Hyori has also appeared in TV shows like 'Take Care of My Dad', 'Korea's Next Top Model', 'Jung Jae-Hyung & Lee Hyo-ri's You and I', 'The Generation of Sensibility', and many others.  She has been a part of films like 'Emergency Act 19', 'Dancing Queen', and 'Duke'.
Modeling Career
Hyori has done many endorsements for various companies, and in 2005 she was chosen in a consumer survey as the female entertainer with the strongest brand power.  In late 2003, Lee signed an advertising contract with Samsung, for which she would make three musical commercials and songs for their Anycall cell phones, which became some of her most prominent commercials.  The first commercial and song, "Anymotion", was released in early 2005.  In early 2006, the follow-up commercial "Anyclub" was released in two parts; the music video.  The song "Anyclub" featured Teddy Park from 1TYM.  The songs from the commercials served as singles for Lee in between her albums.  The final commercial was released in December 2006, titled "Anystar" and differed from the first two in that it featured mostly dialogue.
For five years, Hyori was the model for Lotte Liquor, making her its longest-serving endorser.  According to Lotte, the market share of the company's soju brand rose from 11 to 15 percent while Lee modeled for it.  Her contract ended in November 2012.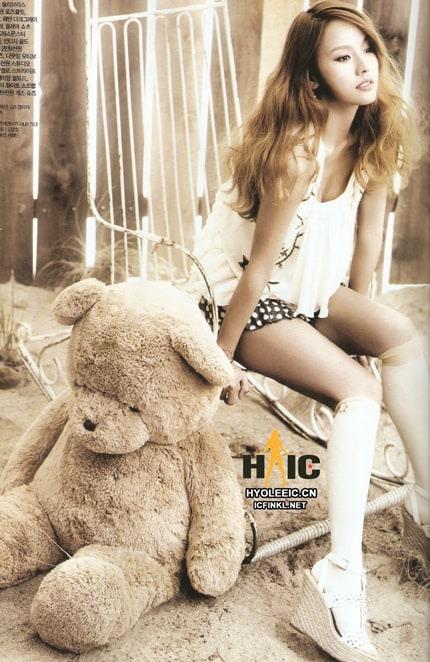 In 2007, she starred in a commercial with Jessica Alba for South Korean cosmetics company Ĭsa Knox, which was shot in Vancouver.  Hyori also modeled for cosmetics company Biotherm (her contract ended in February 2007), and Black Bean Therapy, a health drink.  She then signed with KB Card and has starred in commercials along with fellow K-pop sensation Rain.  She was also briefly featured in a 2010 commercial for the clothing company Adidas.
Facts and Trivia
Mariah Carey and Brandy inspire her as an artist.  According to her, doing the best we can in every little way of life is the key to living in satisfaction and happiness.
Her first solo album, Stylish', lead single, '10 Minutes', won seven Daesangs (The most prestigious South Korean Awards for Music), out of which four were the most prestigious of the Daesangs.
The year 2003 was called 'The Year Of Hyori' by the South Korean industry as she was rarely out of the spotlight throughout the year.  The first single of her second album was 'Get Ya!' It got caught up in controversies for its lyrics as the songwriters of Britney Spears' 'Do Somethin' accused it of plagiarism.
She co-hosted the Korean Music Festival for two successive years in 2004 and 2005.
She won the Mutizen song Award for her lead single 'Chitty Chitty Bang Bang'.
Eight of her sixteen songs from her 5th album 'Monochrome' topped the Top 10 list of Bugs, Olley, and Naver Music.  She has won the Golden Disk, SBS, Seoul and KBS Music Awards.  She won the KMTV Music Award as the 'Best Artist of the Year' in 2003.  Along with that, she has also won the Mnet Asian Music Award for numerous categories in the years 2003, 2008, and 2013.
Hyori has several other style icon awards, Hot Multitainer awards, Hot Body awards, and Voice awards.  Mnet ran a documentary series on Lee's life called 'Off the Record: Lee Hyori'.
In 2010, 7 out of 14 songs from her 4th album, H-Logic, were accused of plagiarism.  Later, she admitted the accusation, saying that she had been deceived.  She stopped all musical activities and television appearances for some time then.  However, during this time, she started writing newspaper columns describing her thoughts on life and career.  Her writing was known for simplicity, humor, and intelligence.
In 2012, she published 'Closer', a photo-essay book that featured her everyday life with her dog Soonshim Whom Lee adopted from an animal shelter.  Hyori released two charity songs on animal welfare.  They were 'Please Stay Behind' and 'Remember'.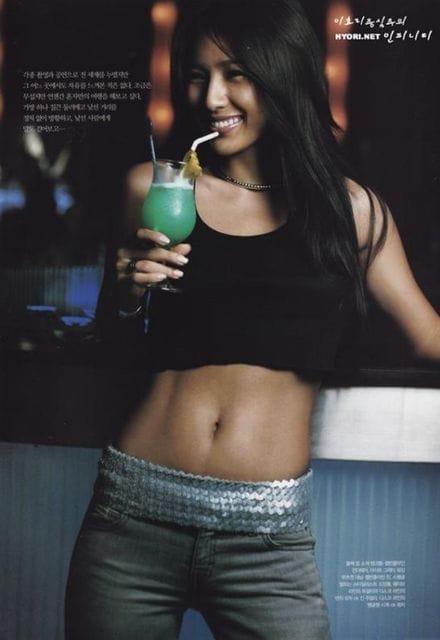 On September 1, 2013, she married Lee Sang Soon, guitarist of the rock band, Roller Coaster.  The wedding took place at their vacation home on Mt. Halla on Jeju Island.
Lee adheres to a vegetarian diet according to her personal ethics and health beliefs and is an advocate for animal welfare and animal rights.  In 2012 she published Closer, a photo-essay book that focuses on her everyday life with her dog Soonshim whom Lee adopted from an animal shelter.  In the book, Lee wrote her thoughts on animal rights and animal shelters as well as her sentiments toward wearing animal fur.
She married musician Lee Sang-soon, guitarist of the rock band "Roller Coaster," on September 1, 2013, at their vacation home on Mt. Halla in Jeju Island.  Both of them are members of an animal rights group and began dating after they collaborated in July 2011 on a song that Lee Hyori recorded to support animal shelters.
Her Body Measurements
This hot woman stands 5 feet, 4 inches and she rocks a 33-25-34 figure.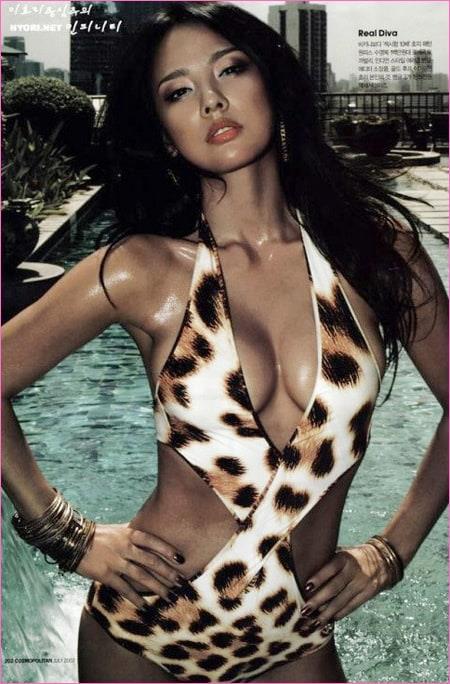 Lee Hyori Photos
Follow her on Instagram for her latest stunning poses and other lifestyle posts.
And don't forget to check out our Lee Hyori page for a good amount of her pictures.