Jordan Carver is a babe that you'd totally lust after.  The size of her rack is enough to grab your entire attention and make your mind wander into a beautiful place.  Yup, and you would think thoughts like she's a milkmaid in beautiful Switzerland who has the hots for you.  Ah, yes, she is a magnet for fantasies.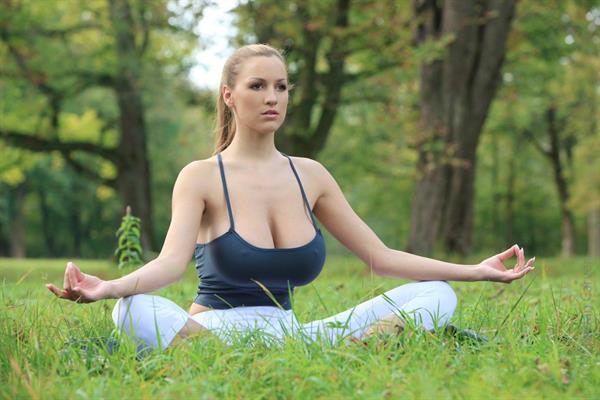 That banging body of hers is as desirable as the air you breathe, don't you think?  Oh, and maybe more…
Who is Jordan Carver?
Jordan is a German glamour model who is famous for her appearance in Zoo Weekly in Britain and Alula in Italy.  She released her own set of workout DVDs and was known as Yoga-Jordan for her yoga workouts.  In addition to her DVDs, she also appeared on the big screen in the Euro-trash comedy Who Killed Johnny.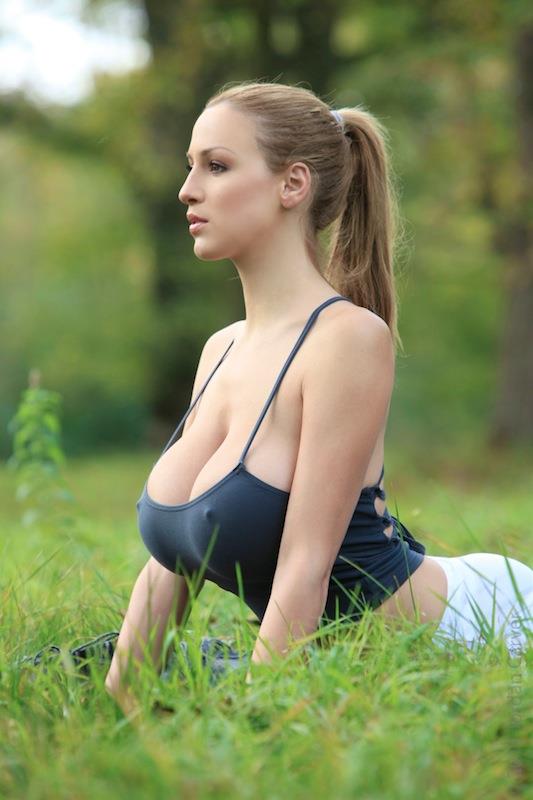 The passionate and hardworking German model and successful entrepreneur, Jordan was also a spokesperson for the gigantic German consumer electronics company 'Redcoon'.
Her Early Life
Jordan Carver was born on January 30, 1986, in Trier, Germany.  She grew up like a tomboy, playing mostly with her brother and his friends and they used to build treehouses and play soccer.  After graduating from high school she worked as a hotel manager before deciding to enter the modeling world.  She also worked as a beautician and makeup artist.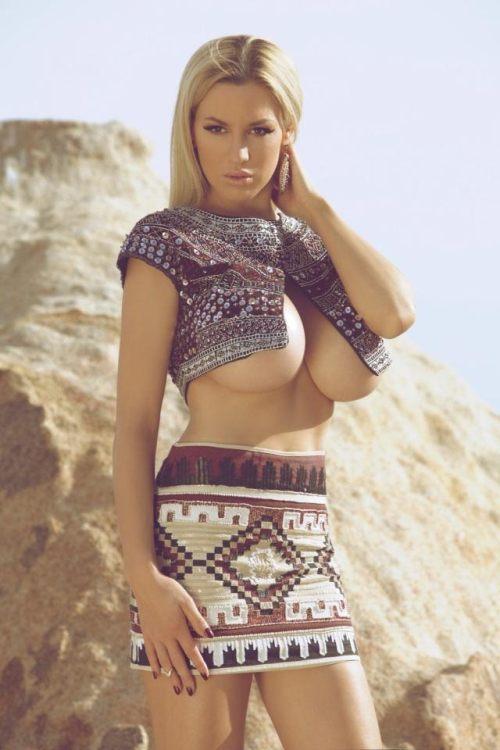 Career Journey
Jordan's first professional experience was an apprenticeship as a hotel manager-but feeling uninspired, she switched gears and entered the modeling world behind the scenes as a beautician and make-up artist, first with a large French company and later on her own.  The international sensation sparked by Sebastian's photos of her prompted them to create Jordan's multi-faceted website early in 2010-which served to increase her popularity and global intrigue.  Once she realized that most of her fans and potential clients were located in the U.S., she decided to move to the States, where she secured her first major modeling job for Haute Shop LA and signed her first significant contract.
After booking her first appearance on U.S. television on the WGN Morning News, she began scoring more TV appearances and photo shoots for various magazines and web pages.  At the end of 2010, Jordan won the contest for the racing sport seat production company COBRA and became their spokes model-a position she held till recently.  She later won second place on the Top 100 Internet Model Newcomer of the Year list after being nominated by Break Media.
In 2011, Jordan started traveling and producing multiple photoshoots for her web page and magazines worldwide, including Blueprint in the U.S. and others in Sweden, Denmark, and Germany.  She received international recognition when she appeared in ZOO Magazine; her six cover appearances have helped make her one of the world's most popular glamour models.  During a TV production for a German magazine she was caught by the paparazzi of TMZ and was featured on the next day's show.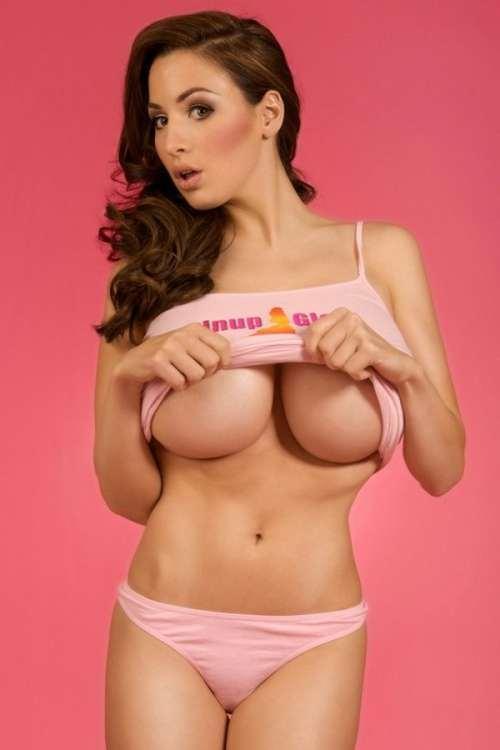 While gearing up to launch her JOCA brand in the U.S., she broke through further in Germany early in 2012, airing a reality pilot in June; being featured on the cover and interviewing and filming at the editor's desk at the newspaper BILD, and doing her first cover shoot for German magazine TV Digital, and making many talk show appearances on shows such as NachtCafe.
In October 2012, she did her first major layout in a North American men's magazine.  Her appearance in Maxim Mexico expands a burgeoning career as a cover girl, which includes being the first German model to appear on the cover of Great Britain's popular weekly ZOO Magazine.  In 2103, Jordan's first calendar for The "Shop" was published.
Facts and Trivia
Jordan has been in quite a few relationships, but none have lasted very long.  Thus, rumors were rife that she was a lesbian.  However, she shunned such rumors and stated that it was difficult for men to be comfortable with skin-show and the male attention that she received owing to her profession, is the reason she hasn't tied the knot yet.
In 2016, Jordan announced that she was going to be a mother and in 2017 she uploaded a picture of her gorgeous son on 'Instagram' with the caption "Being a new mom to my little angel".
Jordan is a workaholic; she loves working and keeping herself busy, but when it comes to relaxing, she spends the day off with her son.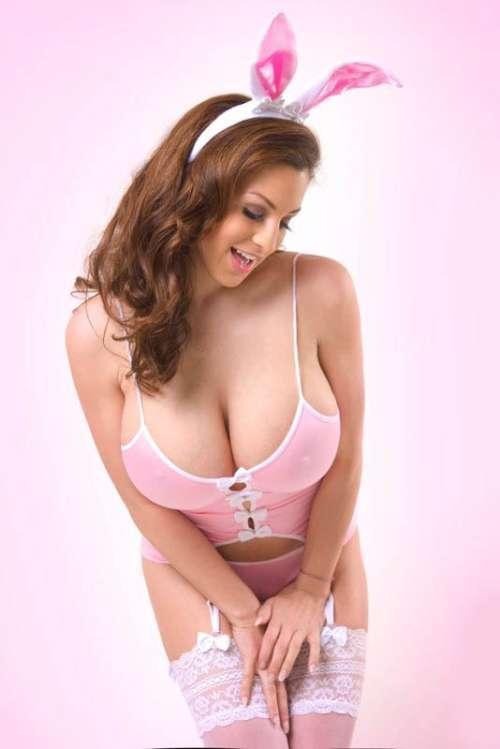 She usually hangs out with her designer and model friends.  She is a music lover and hopes to make a mark in the entertainment and film industry soon.
Jordan enjoys yoga and has published a video called Yoga For Beginners shot on a rocky shore in Mallorca, Spain.
Her Body Measurements
Jordan stands 5 feet, 6 inches and she rocks a 43-24-35 (32HH bra size) figure.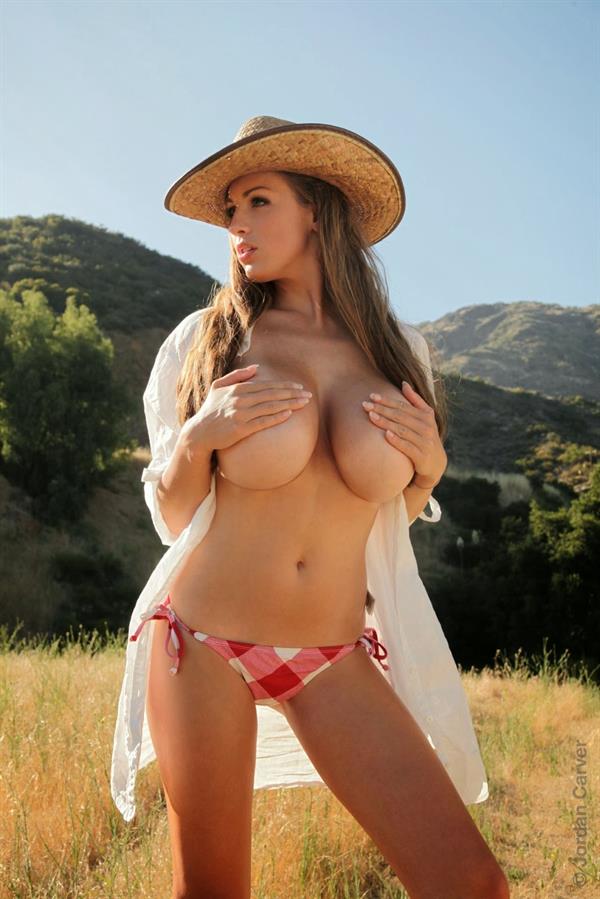 Jordan Carver Photos
Follow her on Instagram for her personal posts.
Also, do check out our Jordan Carver page for more of her.