Ah yes, swimmers.  And why not?  And since we've featured a lot of surfers, why the hell not for these lovely ladies.  These athletes surely belong on our beloved website.  And yes, some of them, you are quite familiar with.  And the rest you would want to know more about.
So yeah, it seems we're lacking swimmers here.  I mean we got golfers, tennis players, surfers, runners but no swimmers…  until now. so here they are folks, in no particular order…
Amanda Beard
Also known by her married name Amanda Brown, is an American swimmer and a seven-time Olympic medalist (two gold, four silver, one bronze).  She is a former world record holder in the 200-meter breaststroke (long course).
Beard's success has earned her the American Swimmer of the Year Award twice.  She has won a total of twenty-one medals in major international competitions, five gold, thirteen silver, and three bronze spanning the Olympics, the World Championships, the Pan Pacific Championships, and the Summer Universiade.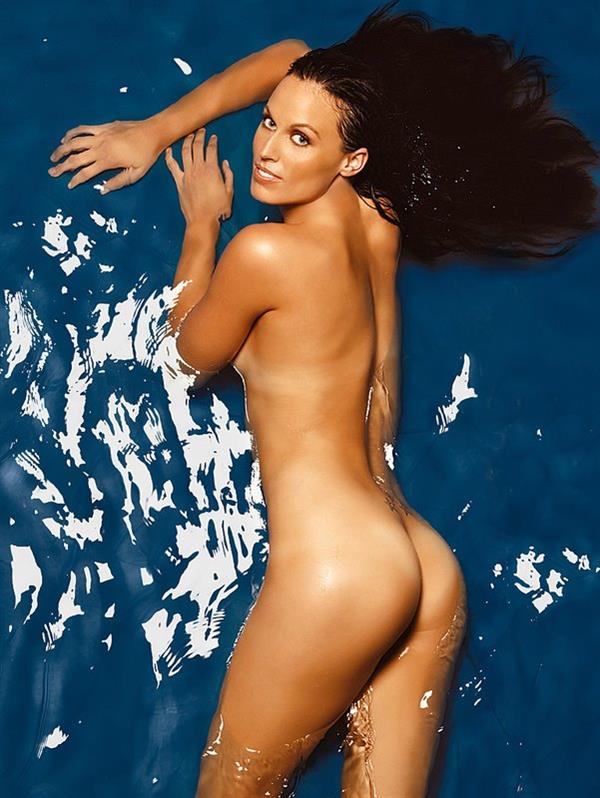 Amanda Beard was just 14 years old the first time she made an appearance in the Olympic Games and walked away as the second-youngest swimmer in history to medal with one gold and two silvers.  Over the course of the next twelve years she would be the recipient of eight USA Swimming National Titles, hold the FINA World Record and World Champion title for the 200-meter breaststroke, make three more appearances in the Olympic Games–accumulating another gold, two more silvers and a bronze–and serve as the USA Olympic Swimming Team Captain twice, thus carving her name deeply into the face of sports history.
Amanda became a first-time co-author in 2012 with the release of the autobiographical New York Times Bestseller In the Water They Can't See You Cry.
Keri-Anne Payne
Also known by her married name Keri-Anne Carry, is a South African-born British swimmer.  She is a two-time 10-kilometer open water world champion and an Olympic silver medallist.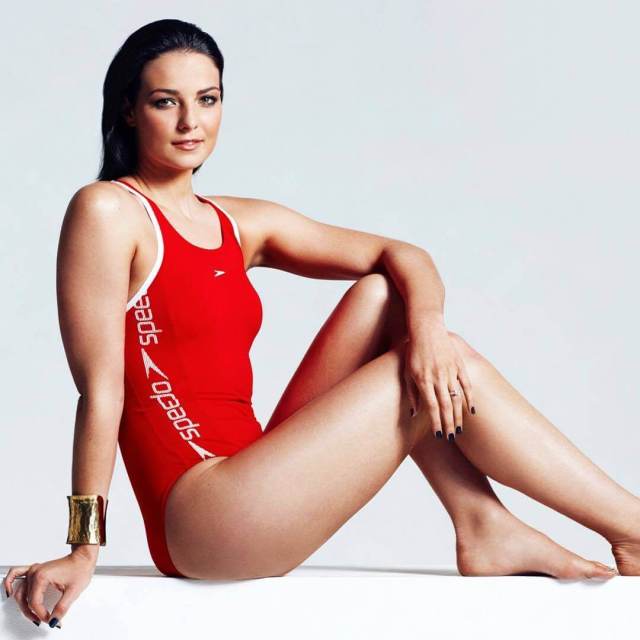 Keri has won five swimming medals including a silver medal in the 10 km marathon during the 2008 Beijing Olympics.  The marathon seems to be her specialty as she also won two gold medals while competing in Rome and Shanghai in 2009 and 2011 respectively.  Keri started swimming when she was four years old and her last swimming win was the LEN European Open Water Swimming Cup Super Final in Castellabate, Italy in 2014.
Zsuzsanna Jakabos
Zsuzsanna has 15 medals to her credit but has yet to win an Olympic medal.  However, she did compete at the 2004, 2008, and 2012 Olympics in seven events in total, with the best achievement of sixth place in the 4 × 200 m freestyle relay in 2008.  During her youth, she is almost certain to compete at the upcoming Olympics in Rio de Janeiro.  She is also over six feet tall and modeling could be another career of hers if not for her competitive nature.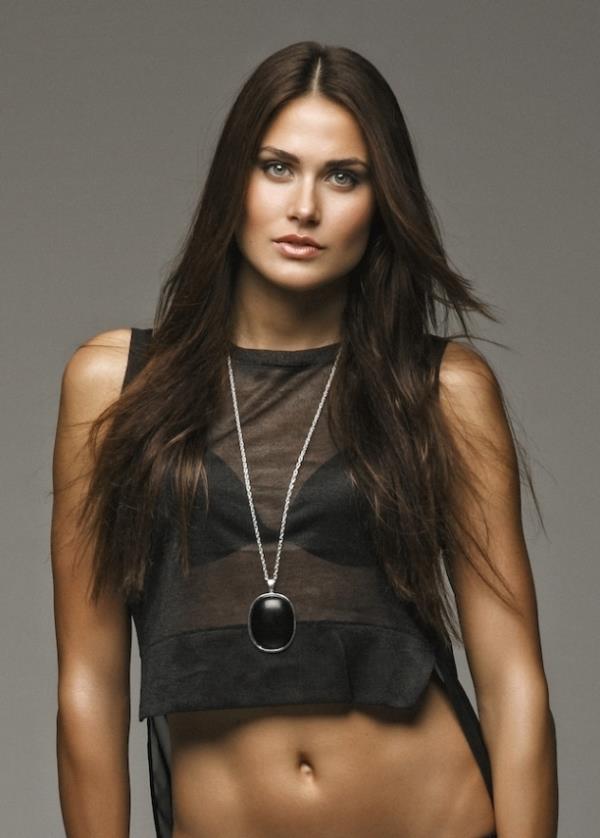 Chloe Sutton
Chloe Sutton was a two-time Olympian and was the first swimmer in US History to qualify for the Olympics as an open water swimmer and in the pool.  In 2006, she won her first international medal by winning the open water 10k at the Pan Pacific Championships as a 14-year-old.  She was one of the few American swimmers that bypassed her college eligibility by going pro in 2009.  She officially announced her retirement on February 3rd, 2015 after a very successful career.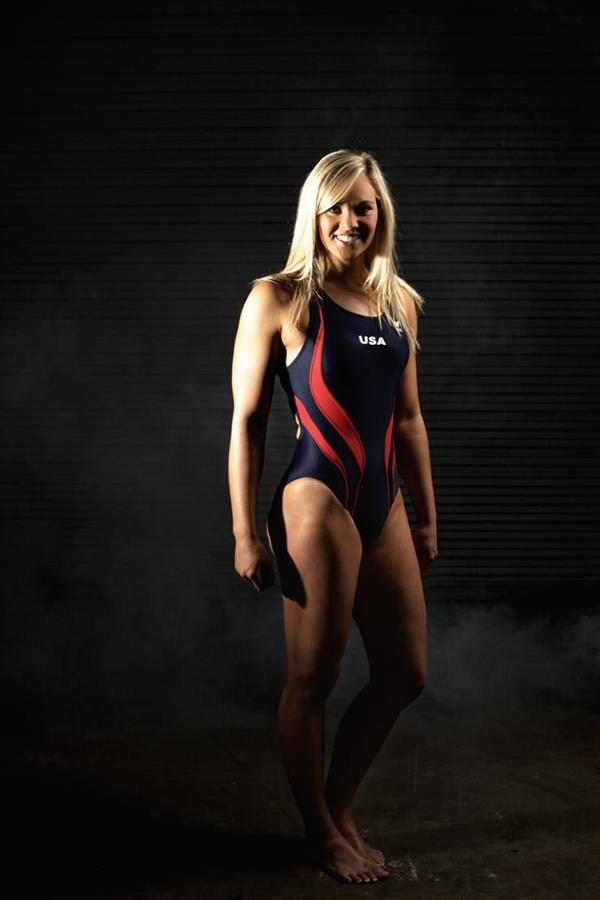 Sutton started swimming at the age of 6 and instantly fell in love with the sport.  She did an independent study program through the University of Nebraska and graduated from high school in 2010.  Unfortunately, she has been unable to win an Olympic medal in her swimming career.
Flavia Delaroli
This Brazilian beauty has won seven medals as well in her swimming career.  She competed in the 2004 and 2008 Olympics with very modest results in her events.  However, on December 17, 2009, Flavia Delaroli broke the Brazilian record in the 50-meter freestyle Olympic pool with a time of 24.98 seconds and was also part of the Brazilian team that set the relay record for the 4x50m freestyle relay in September 2009.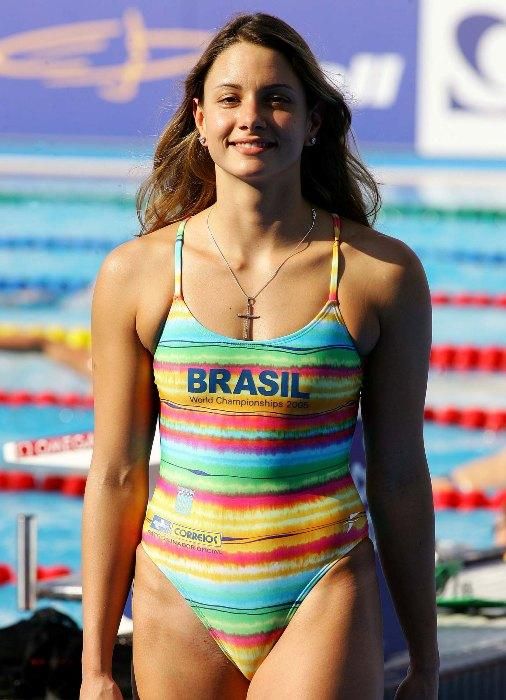 Flavia competed for the last time at the 2012 FINA World Swimming Championships (25 m) in Istanbul, where she made the 50-metre freestyle final, finishing in 8th place, and the 4×100-metre freestyle final, finishing in 6th place.
Kristina Lum
Kristina Lum is a synchronized swimmer and has won two medals for the USA. She won the duet event at the 1998 US national championships.  She then won a silver medal in the same event at the 1998 Goodwill Games.  Kristina also competed for the USA in the woman's team event during the 2000 Summer Olympics finishing in 5th place.  In 2012 she was inducted into the United States Synchronized Swimming Hall of Fame.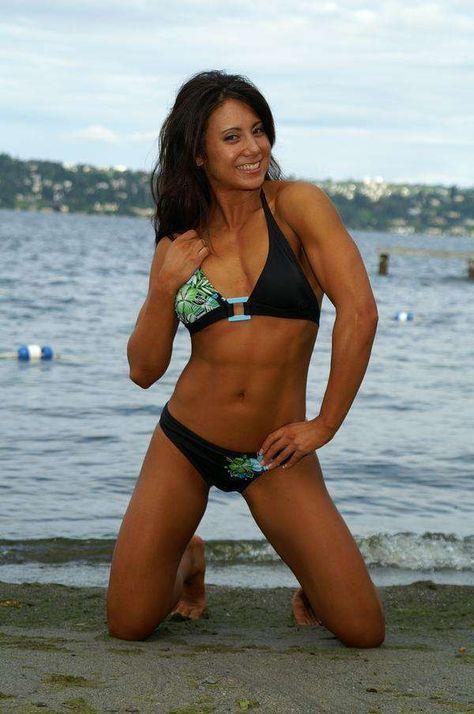 Aleksandra Gerasimenya
Aleksandra Gerasimenya is one of the more accomplished swimmers on this list.  She has a very impressive 31 medals to be proud of including two Olympic silver medals from the 2012 Summer Games in London.  Of her 31 total medals, she has won 9 gold medals with her most recent being in 2013 for the 50 m butterfly.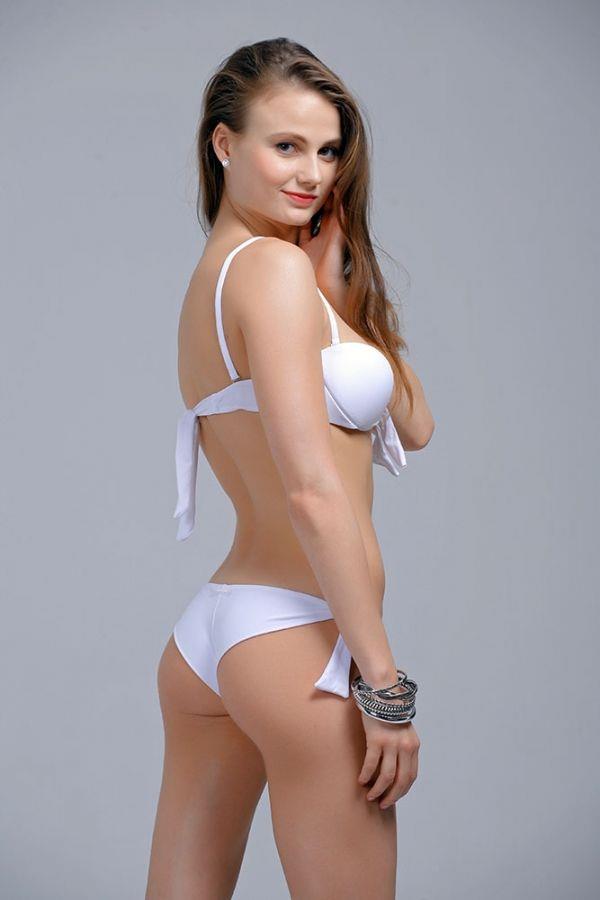 Despite a two-year ban for a positive test for norandrosterone in 2003, Aleksandra returned to win gold medals at both, the European and World Championships.
Franziska Van Almsick
This German beauty has won 42 medals including 10 at the Olympics and a total of 24 gold medals.  Franziska Van Almsick won her first Olympic medals at the Barcelona Games in 1992 at the age of 14.  She ended her swimming career at the Athens Olympic Games in 2004.  In 1993 she was named by Swimming World Magazine as the Female World Swimmer of the Year.  She has two sons, born in 2006 and 2013.  The family's residence in Heidelberg.  She also has the distinction of having the most career Olympic medals, 10, without ever winning a gold medal.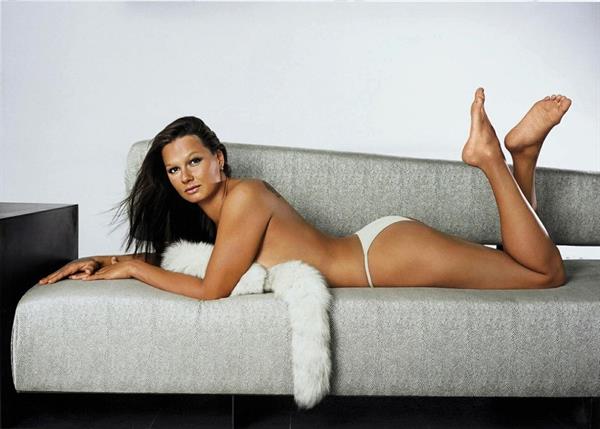 Natalie Coughlin
Natalie was born in Vallejo, California, and has the most medals with 60 of anyone on this list.  Of these medals, 12 were Olympic medals and 25 were gold.  At the 2008 Summer Olympics, she became the first U.S. female athlete in modern Olympic history to win six medals in one Olympiad and the first woman ever to win a 100-meter backstroke gold in two consecutive Olympics.  Her total of 12 Olympic medals also ties her with Jenny Thompson and Dara Torres for the most all-time medals by a female swimmer.  Impressive!  She is also a brand ambassador for Luvo, a frozen food company.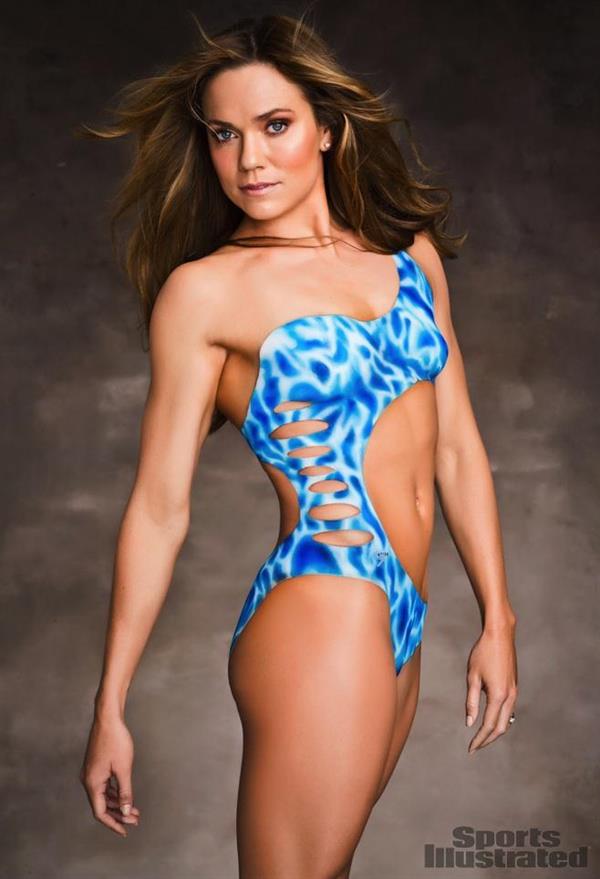 Natalie Coughlin's success has earned her the World Swimmer of the Year Award once and the American Swimmer of the Year Award three times.  She has won a total of sixty medals in major international competitions, twenty-five gold, twenty-two silver, and thirteen bronze spanning the Olympics, the World, the Pan Pacific Championships, and the Pan American Games.
Jenna Randall
Jenna Randall was born in Ascot, Berkshire, England and educated at Hurst Lodge School, Ascot.  She is the older sister of synchronized swimmer Asha Randall.  She represented Great Britain at the Olympic Games in Beijing in 2008 and again in London in 2012.  Her best result was a 6th place finish in a team event.  She has also done some modeling on the side most recently in December 2011 when she posed for a charity calendar and likes to play rugby, basketball and dance in her spare time.  She retired from synchronized swimming in 2013.
Kaitlin Sandeno
Kaitlin is an American former competition swimmer who is an Olympic gold medalist, world champion, and former world record-holder.  At the 2000 Summer Olympics in Sydney, Australia, Sandeno won the bronze medal in the 800-meter freestyle event along with fourth place in the 400-meter individual medley and sixth place in the 200-meter butterfly. Her success continued at the 2004 Summer Olympics in Athens, Greece and Kaitlin won three more Olympic medals: a silver medal in the 400-meter individual medley, a bronze medal in the 400-meter freestyle, and a gold medal in the 4×200-meter freestyle relay.  After failing to qualify for the 2008 U.S Olympics she announced her retirement and is currently looking to start a new career in sports broadcasting.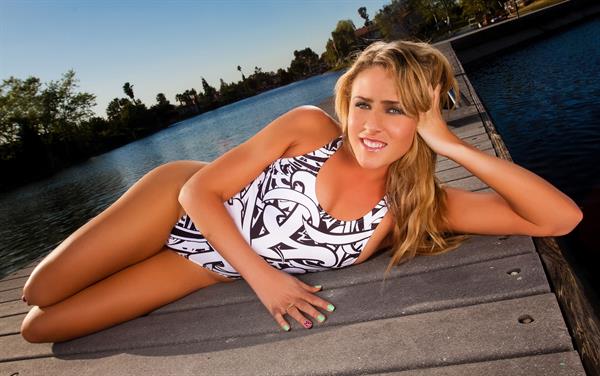 Charlene, Princess Of Monaco
Aside from being a princess, she also won three gold medals for South Africa!  She won these medals and a silver while competing at the 1999 All-Africa Games in Johannesburg.  Charlene also was a member of the South African women's 4×100 m medley team at the 2000 Summer Olympics which finished 5th.  As the Princess of Monaco, Charlene attends the principality's national day celebrations, the Monaco Grand Prix, the Rose Ball which is held to raise funds for the Princess Grace Foundation, and the annual Red Cross Ball.
Charlene is also known for her elegant fashion and style and wore an exclusive Giorgio Armani Privé dress at her wedding and is mother to twins Gabriella and Jacques.
Haley Cope
Who is also known by her married name Haley Clark, is an American former competition swimmer, Olympic medalist, and former world record-holder.  She has won a total of 12 medals including a silver medal at the 2004 Athens Games in the 4 x 100 m medley relay.  Of her 12 medals, five are gold, four are silver and two are bronze.  Haley Cope has not competed since October of 2004 and has focused her life on her family and four children.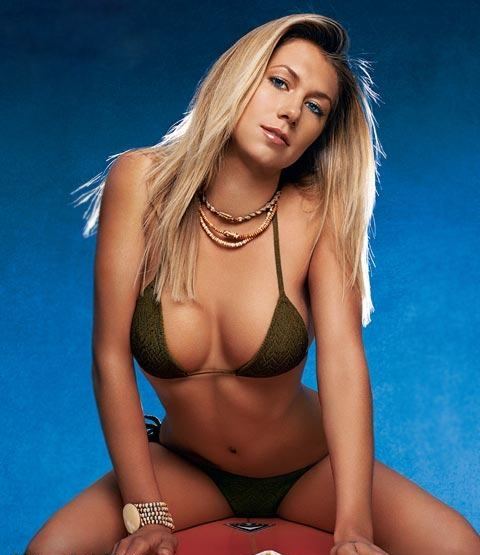 Haley is currently operating a swimming school in Chico called Water Sprites Swim School.  Oh, and she also posed nude for the September 2004 issue of Playboy magazine.
Bia And Branca Feres
The Feres sisters started practicing swimming and gymnastics at the age of three and began synchronized swimming at the age of seven.  They were champions of Brazil in both juvenile and adult categories and reached second place in the 2005 Pan American Junior Games in Orlando.  The Feres sisters also competed for Brazil in the 2007 Pan American Games in synchronized swimming, but they have not participated in any swimming competitions since then.  The two sisters spend their time modeling and acting and have appeared in numerous photoshoots including one for the Brazilian magazine VIP in July of 2008 in which they appeared on the cover.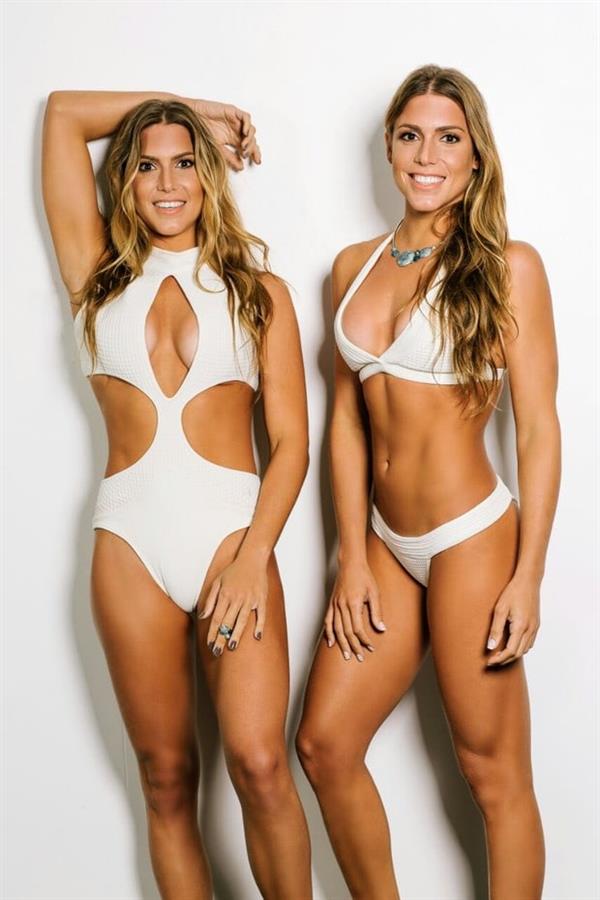 Stephanie Rice
This Australian beauty from Brisbane is a 14-time medal winner including a 3-time gold medal winner at the Olympic Games.  Her specialties are the 200 and 400 m medley.  In 2008 she was named the Telstra Australian Swimmer of the Year and Swimming World Magazine named Rice as (female) 2008 World Swimmer of the Year as well as Pacific Rim Swimmer of the Year.  In 2013, Stephanie Rice also won season 3 of The Celebrity Apprentice Australia.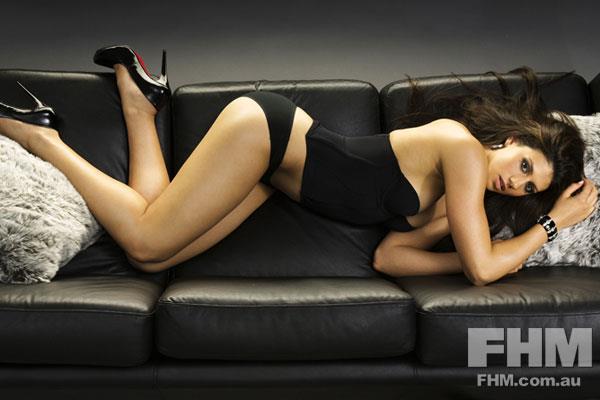 Stephanie also has her own website where she shares health and wellness tips, a stellar biography, and the latest press about her accomplishments.  She has already inspired countless female swimmers, athletes, and everyday citizens.  Stephanie is number one on my list not only because she looks good but because she is the one athlete on this list that presented a human element and seems to be an all-around good person. Can't beat a girl's beauty and an excellent personality right?
So what do you think? If you think we've left out someone, please leave a comment and tell us who it is that we should add.