Don't you just love her funny yet sexy role in Zombieland: Double Tap?  Zoey Deutch is such a turn-on, don't you think?  Because even if she plays a bimbo that's kind of annoying, her hot looks can overshadow that.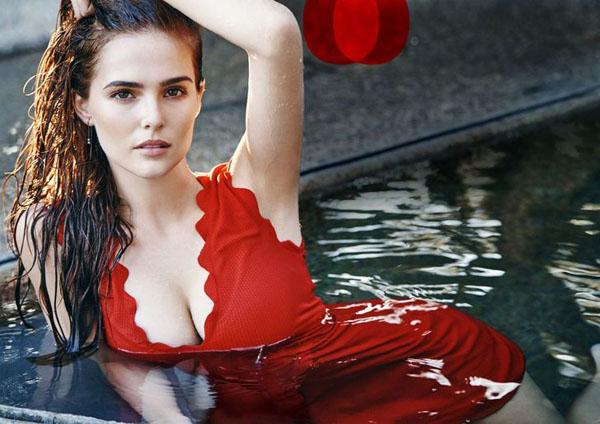 Oh, just look at her.  She looks like she belongs on every billboard around New York City.  And you just won't complain if you see her everywhere.  We just wish we'd see more of her on the big screen.
Who is Zoey Deutch
Zoey is an American actress as well as a fashion model.  She is perhaps best known for playing Juliet Martin on Ringer and for playing Maya Bennett on The Suite Life on Deck.  She also appeared in the films Beautiful Creatures, Vampire Academy, Dirty Grandpa, and Set It Up.  Zoey also starred in the comedy film Vampire Academy as Rosemarie Hathaway and she portrays Infinity Jackson on the Netflix series The Politician.
Zoey has featured in many popular fashion magazines including the likes of 'Harper's Bazaar', 'Vogue', 'Vanity Fair' 'Flaunt', 'Cosmopolitan', and 'Rogue magazine'.
Her Early Life
Zoey Francis Thompson Deutch was born on November 10, 1994, to director Howard Deutch and actress Lea Thompson.  Her father is of Russian Jewish and Polish Jewish descent.  Her mother has Irish, English, Scots-Irish, German, and distant Dutch, ancestry.  She was raised alongside her sister Madelyn and grew up with many pets around the house, including 6 dogs, a cat, an African Grey parrot, several horses, and a pond full of koi fish.
She went to the Oakwood School and Los Angeles County High School for the Arts where she did a double-major in theater and visual arts.
Acting Career
Zoey started her acting career at the age of 15 when she first appeared on the Disney Channel original series 'The Suite Life on Deck'. She played the role of 'Maya', the love interest of the show's protagonist Zack Martin.  The next year she signed for the recurring role of 'Juliet Martin' in the thriller series 'Ringer'.
Between 2011 and 2013, she appeared in the episode 'One Last Score' of 'NCIS´ and in 'The Girl in the Blue Mask' episode of 'Criminal Minds: Suspect Behavior' before appearing in eighteen episodes of 'Ringer' as 'Juliet Martin'.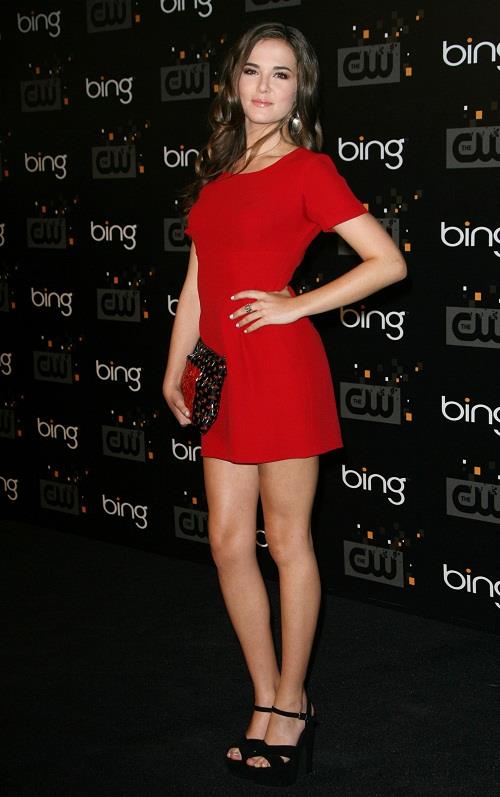 Her big break in the movie industry came in 2013; she was signed for the romantic fantasy movie 'Beautiful Creatures'.  The film was based on the original novel with the same title by authors Kami Garcia and Margaret Stohl and was the first installment of the Caster Chronicles series.  She played a significant part in the movie alongside top actors like Thomas Mann, Emma Thompson, and Alden Ehrenreich. After 'Beautiful Creatures', she was signed for the film 'Vampire Academy' and played the character of 'Rosemarie Hathaway'.  The film was a huge commercial success and her work was critically acclaimed.
Following the success of 'Vampire Academy', Zoey appeared alongside many popular actors in several hit films.  She appeared alongside Robert De Niro and Zac Efron in the adult-comedy 'Dirty Grandpa' and later appeared alongside James Franco, Bryan Cranston and Megan Mullally in 'Why Him?'  In 2017, she appeared in five films playing the roles of 'Samantha Kingston' in 'Before I Fall', 'Oona O'Neil' in 'Rebel in the Rye´, 'Bobbi' in 'The Disaster Artist', 'Erica Vandross' in 'Flower,' and 'Sabrina Klein' in 'The Year Of Spectacular Men'.  'The Year Of Spectacular Men' also marked her debut as a producer in the industry.
Modeling Career
Zoey's growing popularity made her the cover girl for many fashion magazines starting with 'Justine' magazine's February 2013 issue, 'Miabella' magazine's April issue, 'Afterglow' magazine's December 2013.  She then appeared on the cover of 'Bello' magazine's March 2014 issue.  A year after she appeared on the cover of 'Bello', she featured as the cover girl for some big names including 'Cosmopolitan', 'Rogue magazine', and 'Harper's Bazaar'.
Zoey did a photoshoot for the February 2014 issue of 'Seventeen', Nylon's December 2015 issue, December 2016 issue of 'Allure', twice for 'W Magazine' in 2016 and 2017, and March 2017 issue of 'Vanity Fair Italia' as well as May 2017 issue of 'Vanity Fair Spain'.  She also did a photoshoot for the April 2017 issue of 'Vogue Russia' and 'Vogue Turkey'.
She is frequently included in best dressed lists for her various appearances and also seen in front rows of Milan Fashion Week, Paris Fashion Week, Diane von Furstenberg, Cushnie et Ochs, DKNY, New York Fashion Week, Fendi's Haute couture show.  In 2013, Glamour included her among their list of "Hollywood's Next Big Things".  Deutch was among the Yahoo! Breakout Stars for the year 2014.  In 2014, Vanity Fair listed her among their "Hollywood's Next Wave Lineup".  In the same year, Variety also included her in their list of "'It' Girls (And Boys): Young Hollywood's Rising Stars".  The Hollywood Reporter listed her among their "Next-Gen Talent 2016: Hollywood's Rising Stars 35 and Under" list.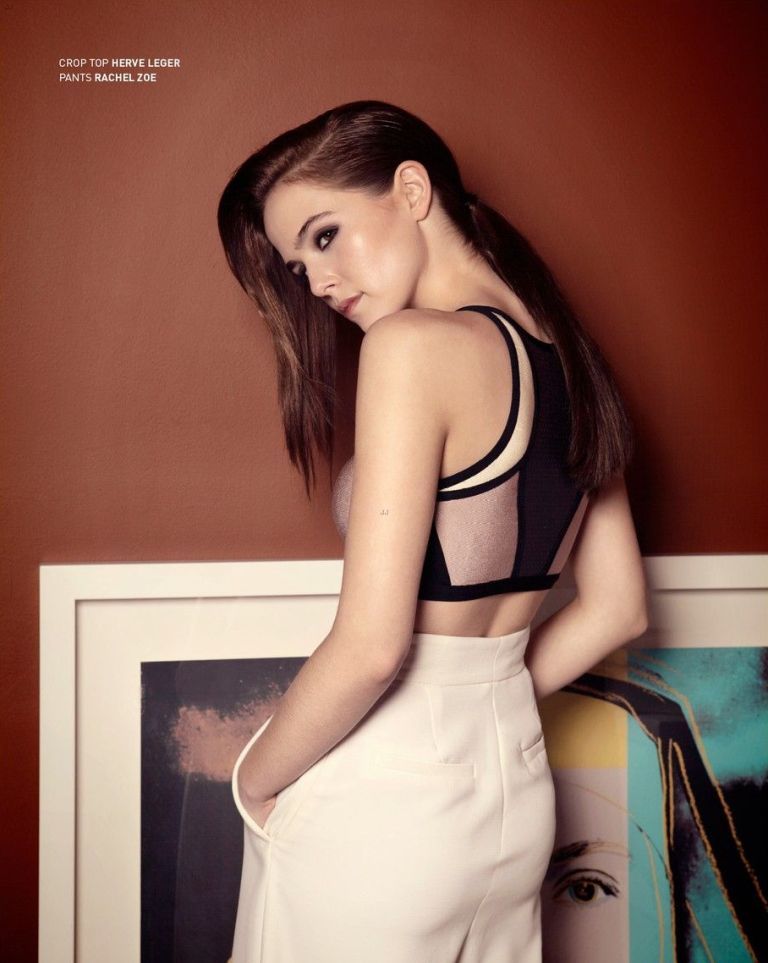 Harper's Bazaar described her as "quickly becoming Young Hollywood's most valuable player".  In 2017, British GQ described her as "Hollywood's hottest newcomer" and Grazia Italy described her as the symbol of the "new generation of actresses-activists".  In a 2018 Indie Wire critics survey, she was listed among "The Best American Actors Under 30".  She was included in the 'Forbes 30 under 30' class of 2020 in the field of Hollywood and entertainment.
Facts and Trivia
Zoey began dating actor Avan Jogia in 2011 but the couple split in 2016.  She began dating Dylan Hayes in 2018.
She appeared with her mother, Lea Thompson, and sister, Madelyn Deutch, in Mayor Cupcake (2011).  The mother, daughter, sister relationships of their roles are the same ones they have in real life.
And again, she stars in the film The Year of Spectacular Men (2017) with her real-life mother, Lea Thompson, and sister Madelyn Deutch.  The film was directed by her mother and the screenplay was written by her sister.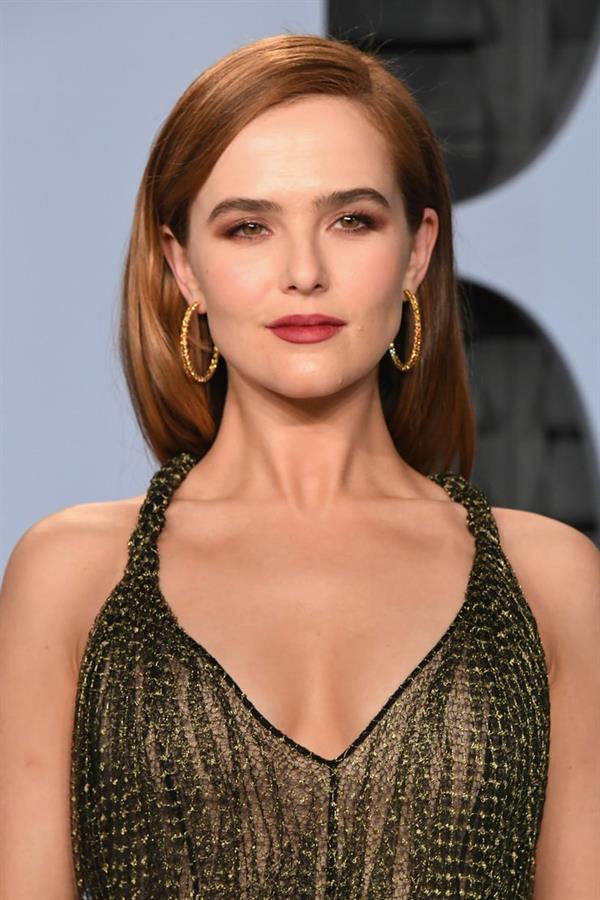 Her scene in The Amazing Spider-Man (2012) was cut from the theatrical release but is available on the DVD as a deleted scene in the Special Features.
Zoey Deutch won the 'Chandon Rising Star' award at the 'Napa Valley Film Festival´ in 2016, the 'MAXMARA Face of the Future' award at the 'Women in Film Crystal + Lucy Awards' in 2017, the 'Diff Shining Star Award' at the 'Dallas International Film Festival' in 2017, and the 'Rising Star Award´ award at the 'SCAD Savannah Film Festival' in the same year.
Zoey Deutch was among four selected people who performed a live reading of selected scenes from five winning scripts at the 2017 Academy Nicholl Fellowships in Screenwriting Awards Presentation & Live Read.
She was included by 'Glamour' magazine in the list of Hollywood's Next Big Things in 2013.
In 2016, she was listed by 'The Hollywood Reporter' as one of the 'Next Gen Talent 2016: Hollywood's Rising Stars 35 and Under'.
She was described as 'Hollywood's hottest newcomer' in 2017 by the British 'GQ'.
Zoey is also a very good dancer; she can perform various dance styles including ballet, jazz, tap, modern, and hip-hop.
Activism and Philanthropy
Zoey supports Planned Parenthood and was part of its rally with pro-choice advocates and leaders celebrating the 45th anniversary of Roe v. Wade in Sacramento, California.  She has performed for the benefit of Alzheimer's Association and "What a pair!" Org with her mother Lea Thompson and sister Madelyn Deutch.  With her family, she has worked for more than a decade with Corazón de Vida, which supports orphanages in Baja California, Mexico.  She participated in the 2017 Women's March and 2018. She is also a part of the Embrace Ambition campaign of the Tory Burch Foundation.  She was one of the celebrity ambassadors for the 7th annual "Shop for Success" charity designer shopping event that supports the efforts of Dress For Success.  She has also shown her support for the anti-sexual harassment movement Time's Up. She has been a part of several fundraising campaigns for charity and in support of various causes.
In 2018, Zoey took the stage as a host for welcoming the founder of non-profit, non-governmental organization Vital Voices, Hillary Clinton at Global Leadership Awards 2018.  She joined as one of the speakers in first ever "Embrace Ambition Summit" held at Lincoln Center in New York.
She has been very active with various water crisis-related works.  She has worked with 'Water.org' for their 'Give.Water.org' campaign as well as performed for the benefit of Alzheimer's Association. She is also an active supporter of 'Planned Parenthood'.
Her Body Measurements
Zoey stands 5 feet, 4 inches and she rocks a 34-25-35 figure.
Zoey Deutch Photos
Follow her over 2.6 million followers on Instagram for her latest pro modeling shots and lifestyle posts.
Also, do check out our Zoey Deutch page for a good amount of her gorgeous photos.