Our Timeless Tuesday for this week is Karina Smirnoff.  And I know that to some of you she is quite familiar (though her surname is a household name to all of you)…  That is because she is a very famous professional dancer.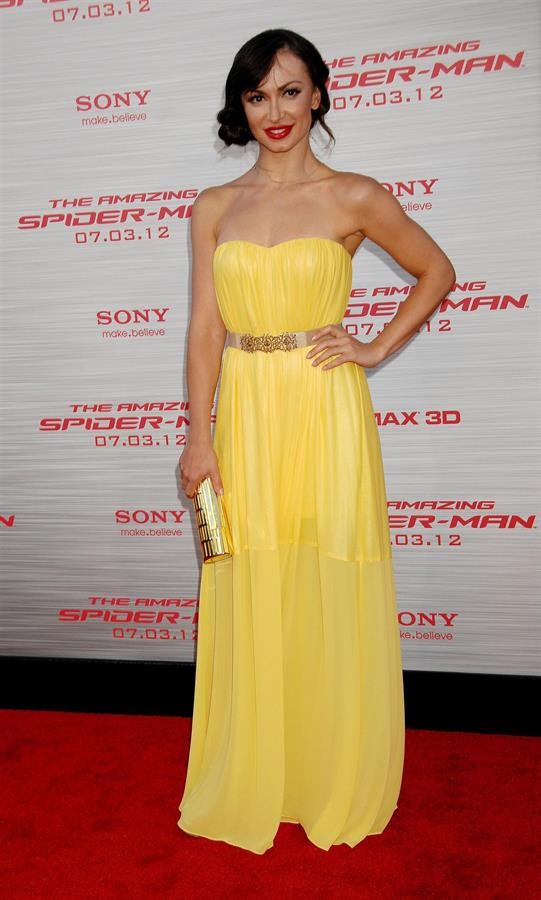 And maybe that is the reason for her superb physique.  Even now that she's in her early 40s, she still looks fantabulously hot.  And boy, she can even compete with those 20 something Instagram models.
Who is Karina Smirnoff?
Karina is a Ukrainian-born American professional ballroom dancer who won the 13th season of Dancing with the Stars.  She is a five-time U.S. National Champion, World Trophy Champion, and Asian Open Champion.  Karina has also won the title at the UK Open, is a three-time champion at the US Open, two-time champion at the Asian Open, five-time champion at the Dutch Open, and five-time US National Professional Champion.  She has taken second at the British Open Blackpool Dance Festival and she is the first woman to also ever make the "British Professional Final" with three different partners.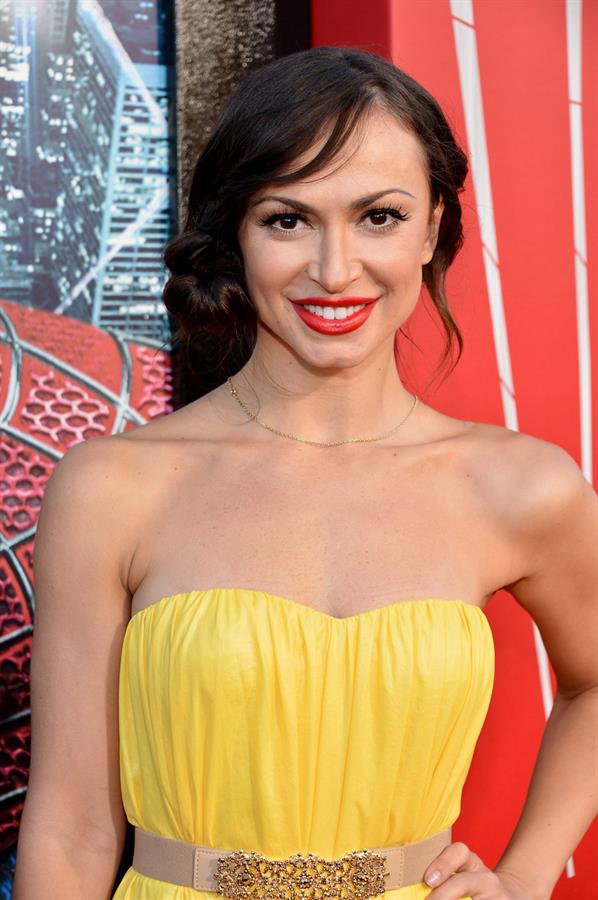 Karina was on the covers of the May 2011 issue of Playboy magazine.
Her Early Life
Karina Smirnoff was born on January 2, 1978, in Kharkiv, Ukraine and is of half-Greek and half-Russian Jewish descent.  She began dancing at the age of five as well as practicing gymnastics, aerobics, figure skating, ballroom dancing, and piano.
In 1992, Karina moved to the United States and eventually became a U.S. citizen.  In her early years in America, she stopped dancing in order to concentrate on her education.  Karina attended multiple schools, including Nerinx Hall High School in St. Louis and Christopher Columbus High School in The Bronx.  She finally graduated from the Bronx High School of Science.  Karina graduated from New York City's Fordham University with a double major in economics and information system programming.  It was during this time that dancing became a focus in her life again. As she began dancing again, dancing slowly took over more and more of her daily life.  The rest, as they say, is history.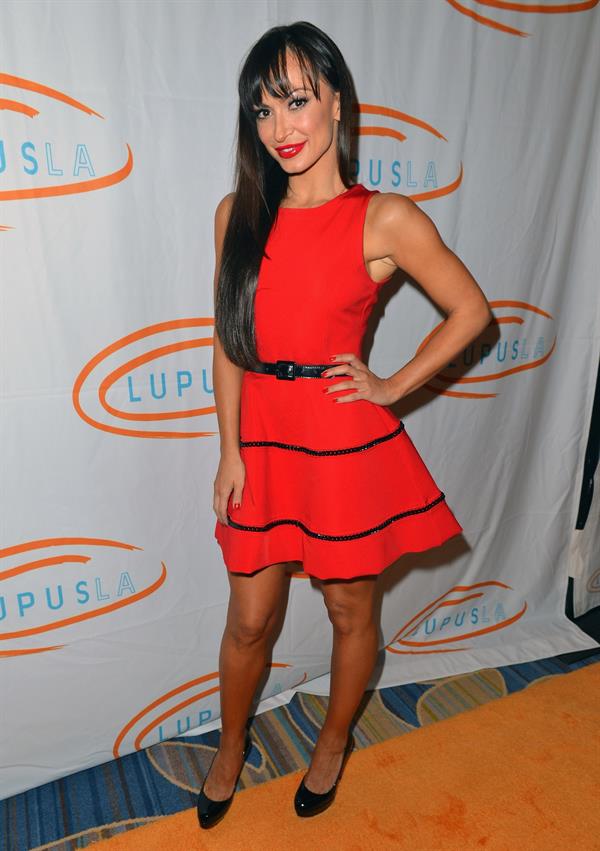 Karina Smirnoff was born in Kharkiv, Ukrainian SSR, Soviet Union, At 11, she began competing in ballroom dancing.  She chose to pursue ballroom dancing.  In 1993, Smirnoff immigrated to the United States.
Career Start
Early in Karina's dancing career, she and Roman Nabatov competed as an amateur couple for USA.  They ended their dance partnership in January 1997.  Karina soon after started dancing with Paul Killick in October 1998 as a professional couple for England; this partnership ended in July 1999. Immediately, Louis Van Amstel and Karina Smirnoff, in July 1999, entered a professional dance partnership, representing the U.S.A; the partnership ended in December 2000. From January 2001 to September 2005, Karina was in a dance partnership with Slavik Kryklyvyy and they represented the U.S.A; this partnership thus far is her most successful one.  Kryklyvyy and Karina earned numerous top titles and high ratings together.
Karina appeared in the 2004 film Shall We Dance? as a dance instructor and was Stanley Tucci's dance partner.  She also released a fitness DVD, Shape Up With Karina Smirnoff.
Her last professional partner recorded in competitions was Dmitri Timokhin representing Russia in October 2005.  They won first place at the 2006 Grand-Prix Dynamo in Moscow.  They finished dancing together in June 2006. Karina was the project manager/director of a dancing event entitled "Day & Night", held on November 18, 2006, at the Hollywood & Highlands Grand Ballroom.
Karina was a performer on the third season of the ABC series Dancing with the Stars with celebrity partner Mario López.  They finished in second place, losing to the team of Emmitt Smith and Cheryl Burke.  Karina returned to the show on March 19, 2007 for Season 4, this time partnered with Billy Ray Cyrusl.  The pair was the seventh to be eliminated from the competition on May 8, 2007.  Her partner for Season 5 of the show was current five-division world champion boxer, Floyd Mayweather, Jr.  On October 16, 2007, Karina and Floyd were the fourth couple eliminated from competition and came in 9th place.  She returned for Season 6, partnered with singer Mario and finished in 5th place.  In Season 7, she was partnered with chef Rocco DiSpirito and they were the fourth pair to be eliminated with a finish of 9th place for the second time.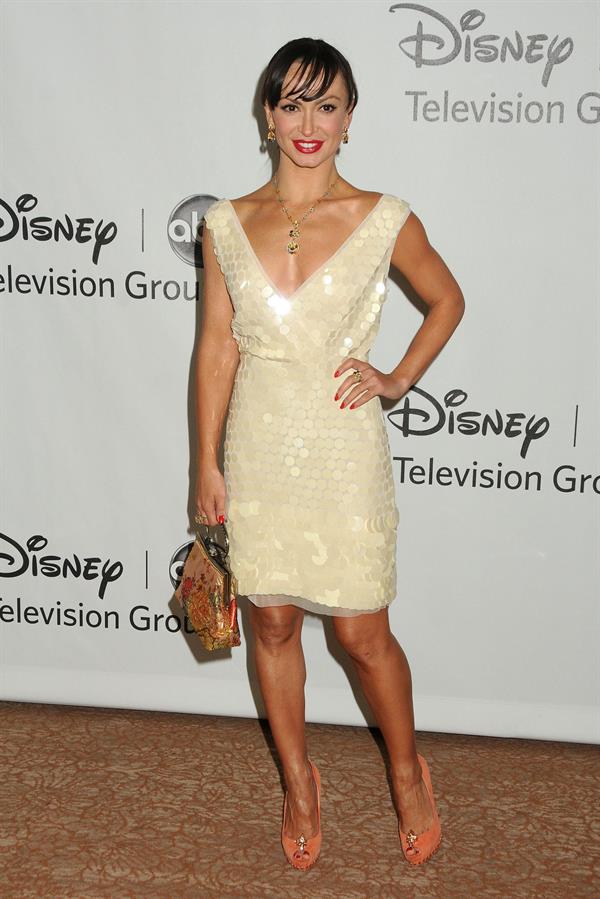 For the eighth season, Smirnoff's partner was Apple Inc. co-founder Steve Wozniak.  They were eliminated in the fourth round on March 31, 2009, along with Holly Madison and her partner Dmitry Chaplin.  For the ninth season, she was partnered with singer Aaron Carter.  They were eliminated on November 10, 2009, placing fifth. In the eleventh season, she was partnered with The Situation from MTV's reality TV show Jersey Shore.  They were eliminated in the fourth week.  In the twelfth season of Dancing with the Stars, she was partnered with movie star Ralph Macchio.  They were eliminated in the semi-finals.
In May 2011, Karina is featured in a nude pictorial in the American issue of Playboy magazine.  In November 2016, it was announced that Smirnoff would be joining the cast of E! reality series Famously Single for its second season.
Facts and Trivia
Karina dated Mario Lopez for two years, then the couple split in 2008. She later became engaged to Maksim Chmerkovskiy, but they split in 2009.  Karina was then engaged to Brad Penny until 2011 and later to Jason Adelman until 2015.
Her success on Dancing with the Stars has made Karina a household name and a sought-after beauty, health, fitness, and fashion icon.  She has been the most Googled professional dancer on the show.
Karina is also a talented fashion designer and choreographer. She choreographed all of her own partnered routines on Dancing with the Stars and designed all of the costumes for both herself and her partners since day one.
Karina released her first successful dance fitness DVD called Shape Up with Karina and will be releasing a series of workout DVD's called DanceFITNESS.  She also opened a successful dance studio in Woodland Hills, CA called Karina Smirnoff Dance.  The studio incorporates competitive, social dance classes, and fitness dance classes, as well as a scholarship program for at-risk youth directly related to her charity Dance Intervention, a division of Alternative Intervention Models.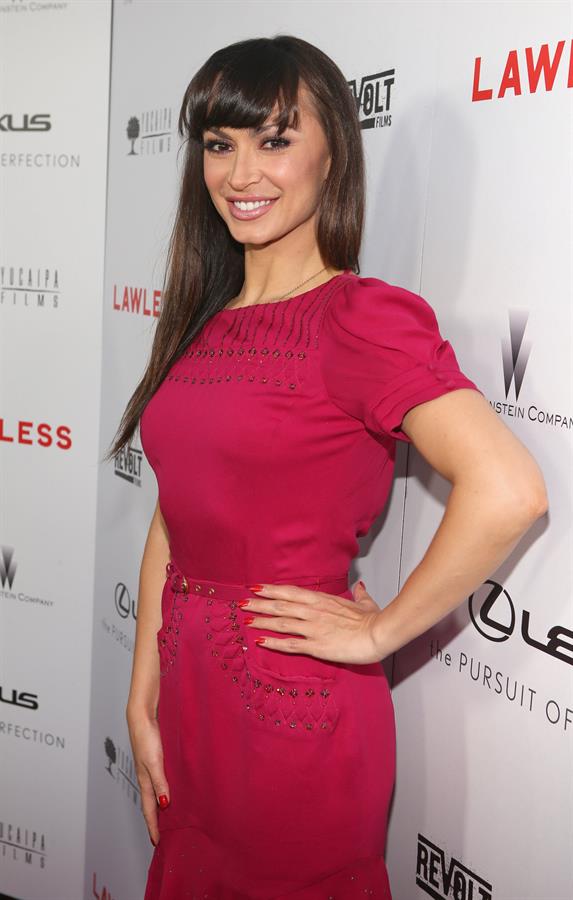 Karina has a passion for environmental causes and her dance studio is the first eco-friendly LEED certified studio of its kind.  In addition, Karina has led a celebrity consortium to activate the Wildlife Champions initiative with Procter & Gamble.  She is also a PETA spokeswoman for the "I'd rather dance naked than wear fur" billboard and print campaign.
Karina guest-starred as Madame Escajeda in an episode of Hannah Montana.
She is considered "one of the most stylish and fit stars in Hollywood" and has been featured in numerous publications: FitnessRx for Women, FHM, Fitness Magazine, LA Confidential, Muscle & Fitness, TV Guide, and Woman's World.  She is a regular on the pages of People Magazine, Life & Style, US Weekly, OK! Magazine, and In Touch.
Her accomplishments include starring roles in Broadway hit sold-out shows Forever Tango and Burn the Floor and a performance at the 61st annual Primetime Emmy Awards.  Karina has hosted segments for E! News, TV Guide, EXTRA, and has appeared in specials on Bravo, ABC, and Lifetime.  She has appeared on Good Morning America, The View, Jimmy Kimmel Live, among others.  She has also appeared in the films Across Grace Alley and Shall We Dance.
Her Body Measurements
Karina stands 5 feet, 4 inches and she rocks a 34-28-40 figure.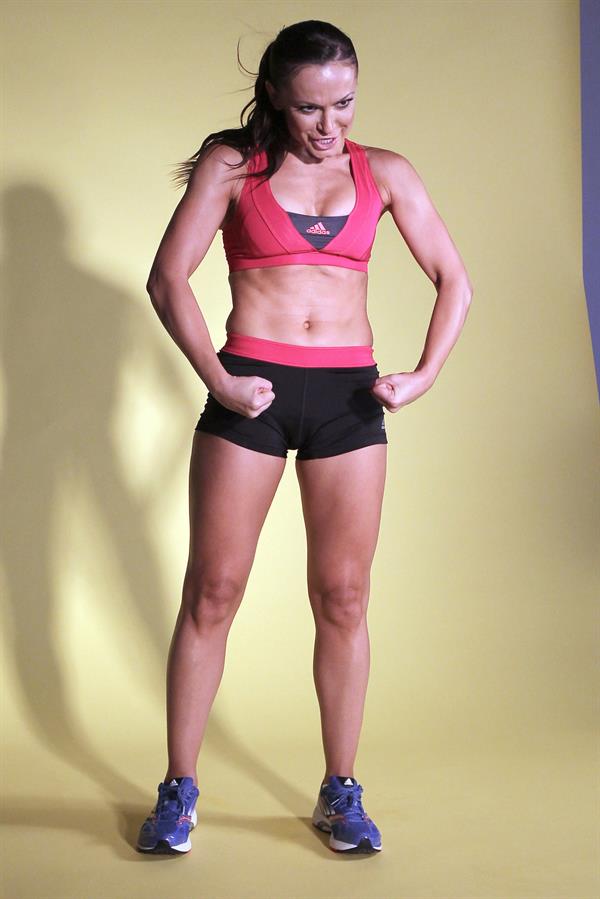 Karina Smirnoff Photos
Follow Karina on Instagram for her latest lifestyle and personal posts.
And don't forget to visit our Karina Smirnoff page for more of her pictures.