This bombshell of a cosplayer is just so hard not to ignore.  And yes, if you are at work, then your whole day will become unproductive.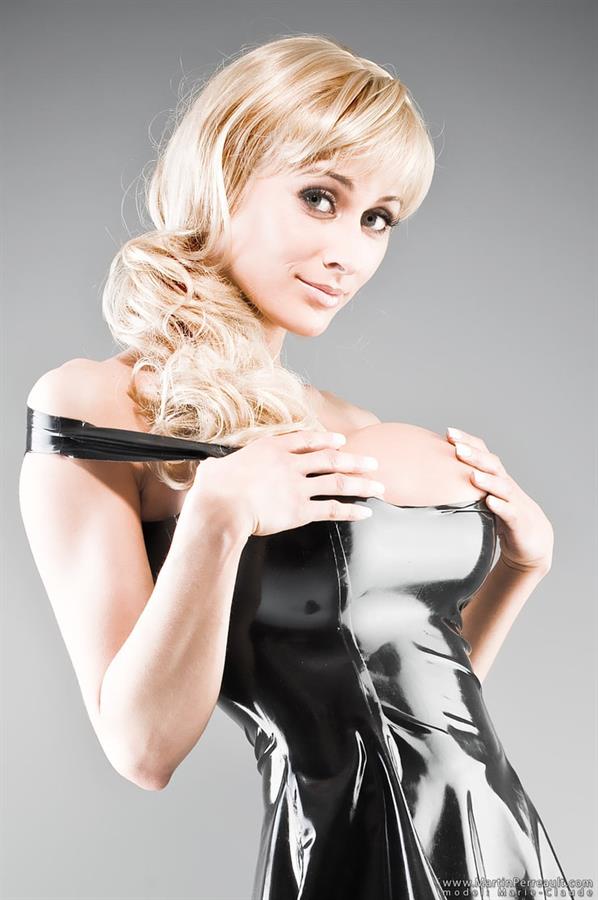 Marie-Claude Bourbonnais has the body that would turn heads and cause accidents.  Just imagine seeing her on one of her outdoor photoshoots and you are riding your bicycle.  Poor bicycle and poor you. And yes, poor lamp post.  But hey, it's still a lucky day as you got to see her in action.
Who is Marie-Claude Bourbonnais?
Marie-Claude is a Canadian glamour and cosplay model. She was born on October 15, 1979, in Sainte-Anne-de-la-Pocatière.  Marie Claude claimed to be a nerd when she was a teen.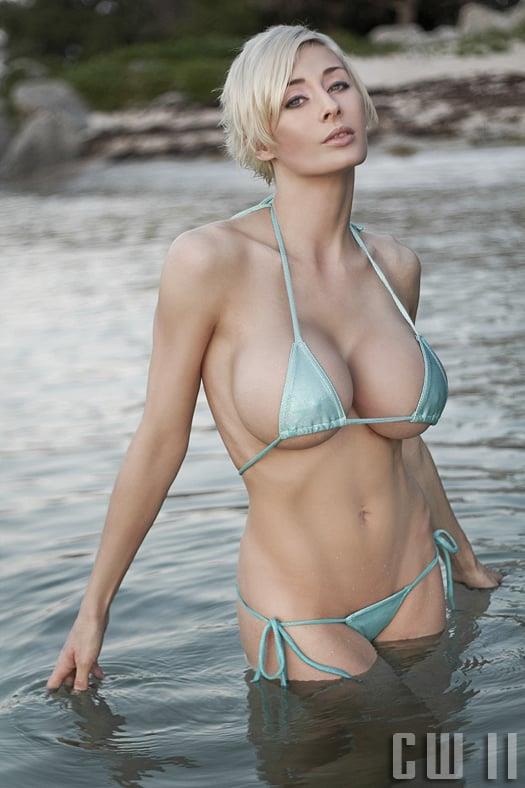 "Studying all the time, doing homework at lunchtime, preferred to go to the library than attending a gym class.  I had huge glasses and long, natural brown hair.  People made fun of me when I was younger because I was only interested in school books and had 'nerdy' hobbies…. all this was a bad thing 15 years ago but now everybody claims to be a nerd or a geek.  I just want to be myself."
Career Journey
Before beginning her professional modeling career, Marie-Claude worked as a costumer and fashion designer for the 2008 calendar Dream Team, which was sponsored by RadioX and Molson Export.  She appeared in an advertisement for New York Fries, a Canadian franchise fast-food restaurant, in July 2008.  Marie-Claude continued to model for publications such as American Curves, Elle Canada, FHM Philippines, People, PlayStation Official Magazine, Summum, and Toronto Sun, as well as for charity.  She established her own business in 2010.  Marie-Claude has also been cosplay modeling and making costumes since 2009, including participation in the 2011 calendar Cosplay for a Cause, which raised donations for earthquake and tsunami relief in Japan.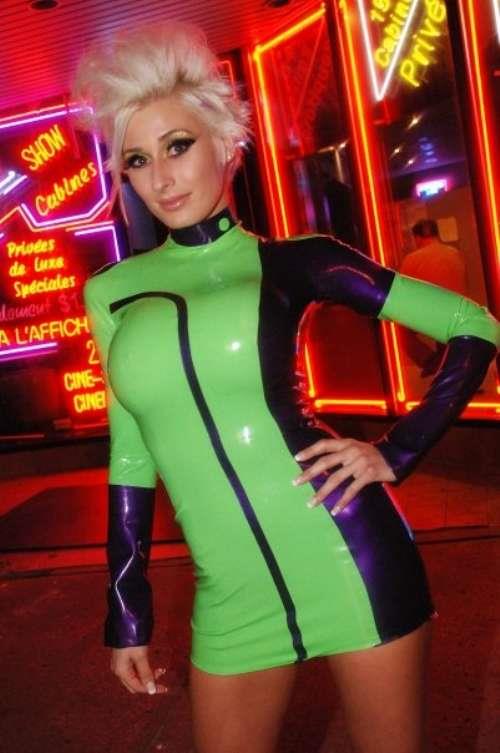 "I was already making clothes, costumes and prom dresses for a living when I started as a model.  Being a model allowed me to create costumes for myself, which I had never done before.  And being a comic book fan made me want to sew costumes from characters I liked for my photoshoots.  I love creating stories and bringing to 3D what is otherwise flat on paper.  It's always challenging!"
Marie-Claude was a speaker at Anime Weekend in Atlanta 2012, and a special guest at several North and South American conventions including Cape & Kimono 2010 and 2011, Ottawa Comiccon 2012, Nadeshicon 2014, Comiccon de Québec 2014, Montreal Comiccon 2014, and Comiccon de Québec 2015.  She was featured on radio and TV shows, and Soda Pop Miniatures and Paolo Parente featured her as a character in their games.  She also played the character Hornet in the web series Heroes of the North that has an action figure made in her image.
Facts and Trivia
Marie-Claude Bourbonnais' favorite cosplay character is Scorpion from Mortal Kombat.  Constructing the costume was difficult because she had to learn new intricate stitching techniques when working with leather.
"My favorite cosplay is Scorpion from Mortal Kombat, not only because this video game is iconic to me, but also because this leather costume is one of the most complicated I made.  I learned specialized leather sewing techniques especially to make that costume.  At the time, I was in the process of getting a diploma in leather clothing sewing and I submitted my Scorpion costume for the final examination.  I got my diploma thanks to my Scorpion costume!  This costume means a lot to me.  It's the result of 19 years of experience in pattern drafting and sewing."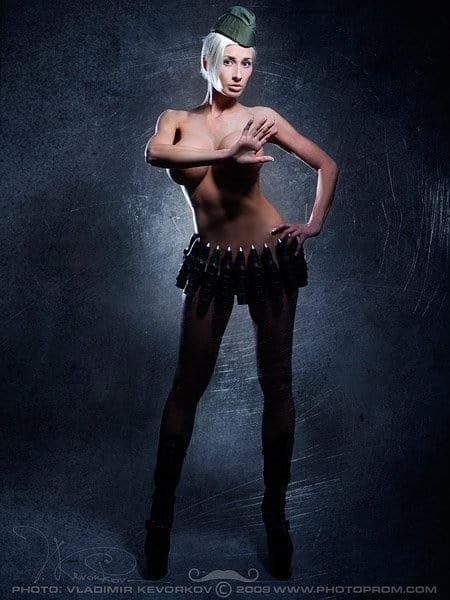 In addition to costume making, Marie-Claude also has experience with prop making and set building.  Her knowledge of latex allowed her the opportunity to make costumes for a blockbuster movie.  Although the costumes she made didn't make the final cut of the movie, it was still an amazing experience for her.
"I have friends who live in Atlanta and they were working on the set of Guardians of the Galaxy Vol. 2.  The costume designer wanted latex costumes for some background characters and they couldn't apparently find anybody available around at that time to do what she wanted, so I had the chance to go and make these costumes. The costume departments had made 3 different options of costumes for these characters, including the latex costumes I made, and when I left, the costume designer still hadn't decided which costumes these characters would finally wear.  When I watched the movie, I didn't recognize any of the costume options I had seen while I was on set, they didn't use my latex costumes either.  It means they had more costumes done last minute or they used literally something else.  It's surprising to see that they built all these costumes just to have a choice and they didn't use any of these at the end.  No wonder why these superhero movies are so expensive to produce! I'm very happy I had the opportunity to see even a little part of a movie set and their costume department.  Even though the costumes I made were not used, it's an unforgettable experience."
Her Body Measurements
This bombshell stands 5 feet, 7 inches and she rocks a 38GG-25-37 figure.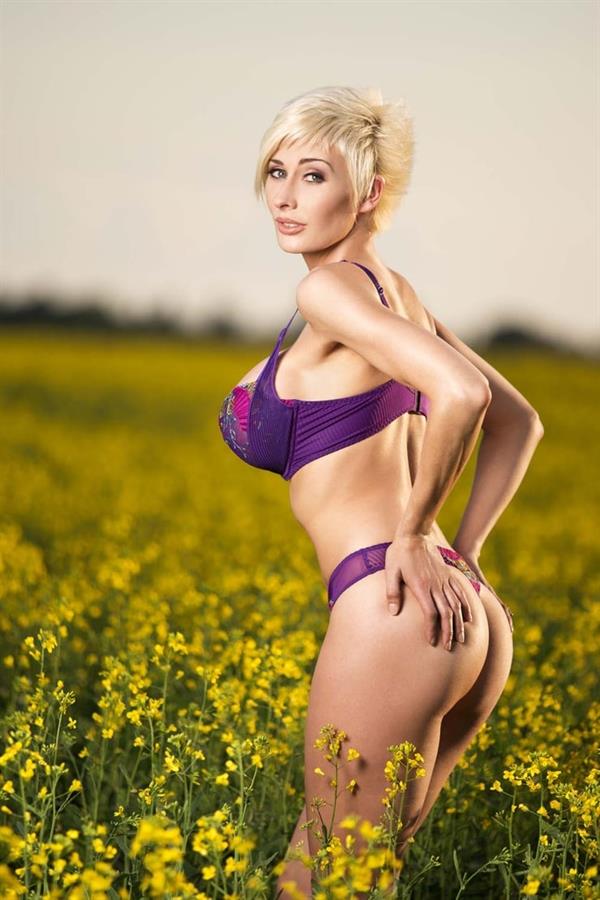 Marie-Claude Bourbonnais Photos
Follow this babe on Instagram for her newest super hot posts.
Also, do visit our Marie-Claude Bourbonnais page for more of her.
Oh, and you might want to check out a few of her nudes here.