And she delivers a very powerful punch.  And not just with her fist but by her very presence alone.  Oh, look at how hot she is and the impact it can give you.  Imagine being an audience to one of her training sessions…  You know, she sporting activewear and just sweating like its mid-summer.  Woohoo!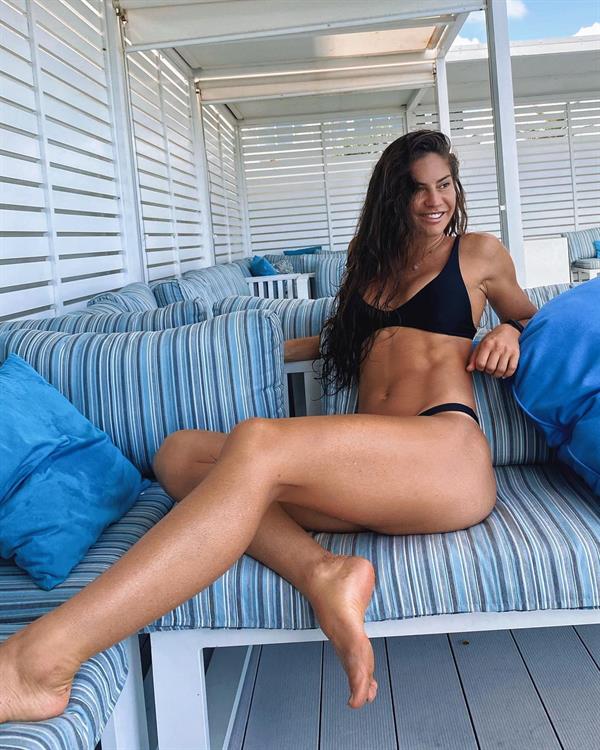 Avril Mathie is as hot as the middle of her birth country.  And yes, you would totally be watching her matches after this.
Who is Avril Mathie?
Avril is an Australian boxer, fitness expert, and model who was crowned Miss Swimsuit USA International in 2014.  She has also fought in amateur boxing tournaments throughout the United States, including the Golden Gloves and Ringside Boxing World Champions.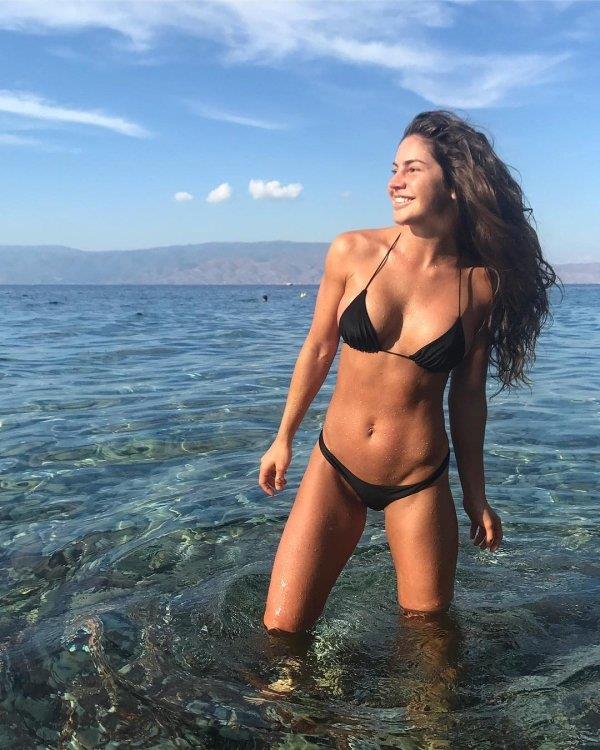 Avril has owned and run her own online training program, BodyBAM (Body By Avril Mathie).  She also has her own Mathie Athletic women's fitness clothing line.
"I'm just a girl having a go at life and I hope that by my example I can inspire others to do the same.  I want to show people that an ordinary kid that was kicked out of home at 15 years old and supported herself through the final year of high school can be anything she wants to be.  In 2016 I moved to the USA with no visa, no job, no place to live, and to Miami…  where I had no friends.  Partly because I love an adventure, but mainly to pursue my dreams of becoming a boxing world champion, model, and role model."
Her Early Life
Avril Mathie was born on June 26, 1987, in Australia.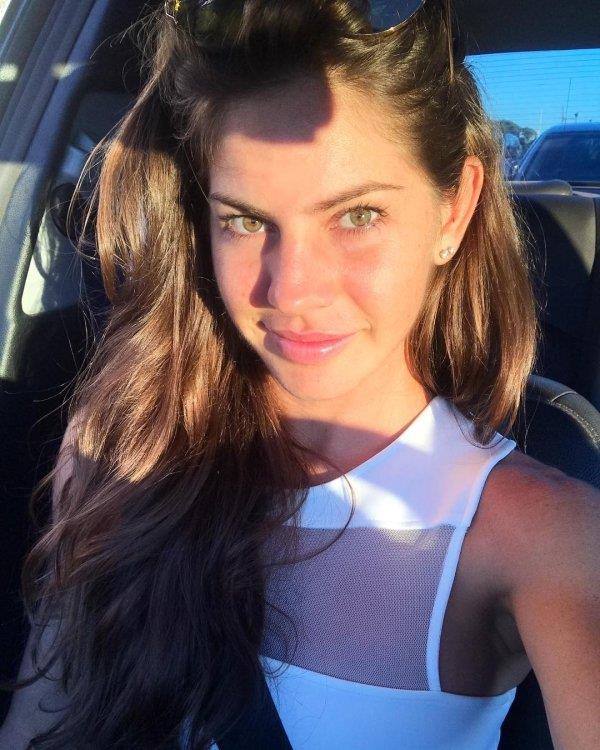 At the age of 15 boxing might not have been a thought for Avril, but the fighting spirit was perhaps evident even then.  Kicked out of her family home at such a young age, Mathie was forced to go it alone:
"It was nothing bad, I had my views on what I should be allowed to do and they had theirs.  At first, I went to a friend and stayed in her loft.  After a week my mum was begging me to come back and sort out our differences, but it was just like a repeat for 6 or 7 times after that, and I decided to move out permanently.  At 16 I moved in with some friends in their spare room."
Career Journey
In 2008, Avril began working full-time as a personal trainer.  She then began boxing in 2012, and six months into her training, she competed in her first amateur bout.  She began her professional career in December 2017 after five years and 20 amateur contests.  Shortly after turning professional, she was scouted and signed by one of the largest boxing management companies in the world, MTK Global and now has an undefeated professional record of 5 wins (3 by TKO) and 1 draw.
"I just love boxing, it's the thing I love to do the most, if you are doing boxing for the pay then get out of here."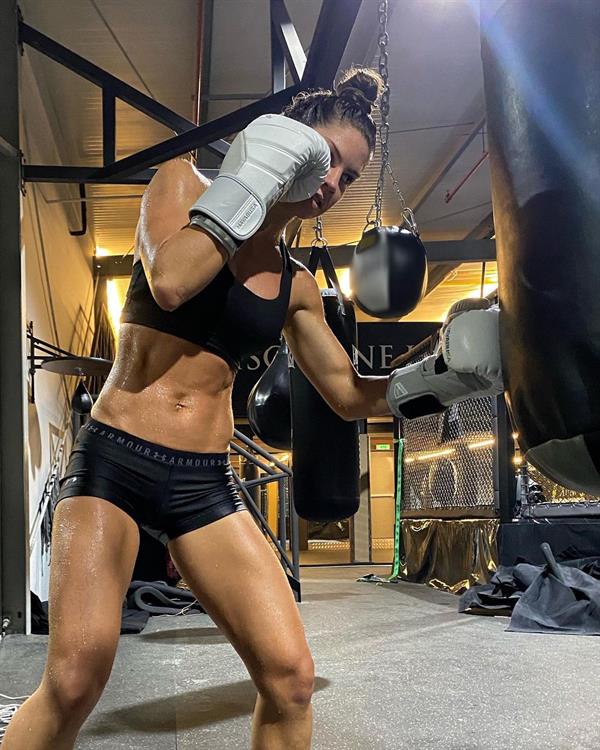 But Avril is best recognized for winning Miss Swimsuit USA International 2014, the world's largest swimsuit pageant, and the $50,000 Las Vegas International Model Search in December 2015.  These two major international crowns, as well as a top 5 finish at the Miss Fashion TV International Diamond Model awards in Cyprus in 2012, have earned her the title of Australia's most successful ever pageant model.  Her accomplishments earned her lucrative contracts in the United States, where she now resides.  Avril has worked as a fitness and swimwear model on the side for the past 15 years as a supplement to her sporting profession.
"I did random jobs for different brands, but when I was 18 working in a nightclub where they used to have beauty pageants with cash prizes, and one night they didn't have enough girls so they asked some of us, bar girls.  I ended up making it to the final and came 2nd, and I thought this is great.  So I started doing more and more, you get to know people.  I entered and won a few bigger ones, and started to get invites to the biggest pageants in the world.  I won Miss Hawaiian Tropic Australia in 2012, Miss Swimsuit USA International in 2014 and Las Vegas International Model Search in 2015.  I never really pursued modeling it sort of fell into my lap."
Facts and Trivia
Avril left Australia because a boxing career there wasn't really an option, and she moved to Miami.  She was doing Muay Thai purely for fitness before an injury led her to a life in boxing, her competitive nature was a natural fit for the sport.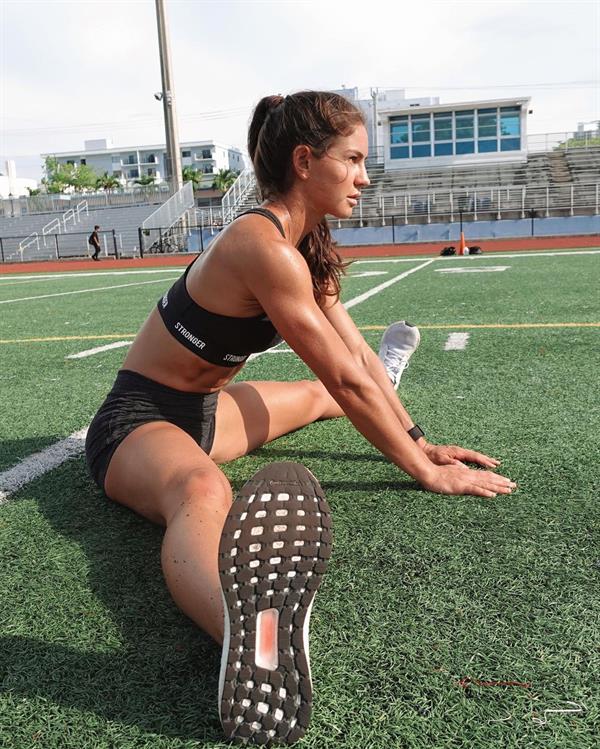 Mathie wants to change perceptions and inspire others to take up boxing:
"Where I think I am different is that I don't come from a terrible background, I'm not struggling for money, I'm doing this purely because I want to and people can relate to me in a sense that I look like them and hopefully they think if she can do it, so can they."
Her Body Measurements
Avril stands 5 feet, 7.5 inches and she rocks a 34-25.5-33 figure.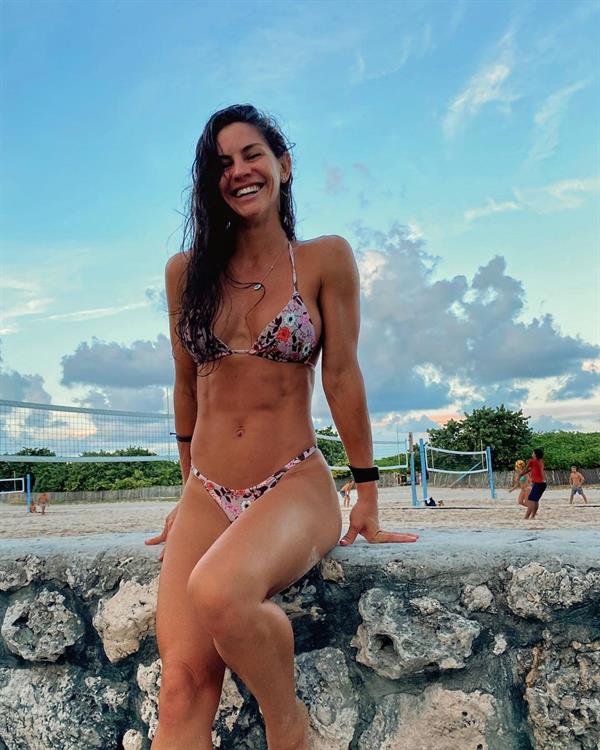 Avril Mathie Photos
Follow this babe on Instagram for more of her hard-hitting hotness.
And do visit our Avril Mathie page for more of her super-fit photos.