So let's talk about curves.  Not just dangerous ones but powerful and inspiring curves.  Yes, ladies and gentlemen…  our feature here is a fitness model who possesses curves like no other.  Here, have a good look…
Now, that is what you may call the body of a goddess.  And yes, you'd totally enjoy her gallery below.  But before you go ogling at Mia Sand's gallery, how about we get to know her better by reading about her other fine, fine qualities?
Who is Mia Sand?
Mia Sand, also known as 'Miss Mia Fit' online, is a Danish fitness model and social media influencer admired worldwide for her unique muscular and curvy figure that defies "today's norms."
Starting out her fitness journey in 2015, as the mother of a (then) four years old child, Mia immediately made a name for herself in the fitness industry and is a highly sought-after fitness model who is sponsored by several top fitness brands like WorkoutEmpire.  In July 2016, she collaborated with the YouTube channel 'My Fitness Girls' to release the short video titled 'Mia Sand: Fitness Model – Bigger Butt Exercises – Building Massive Butt @ Denmark.'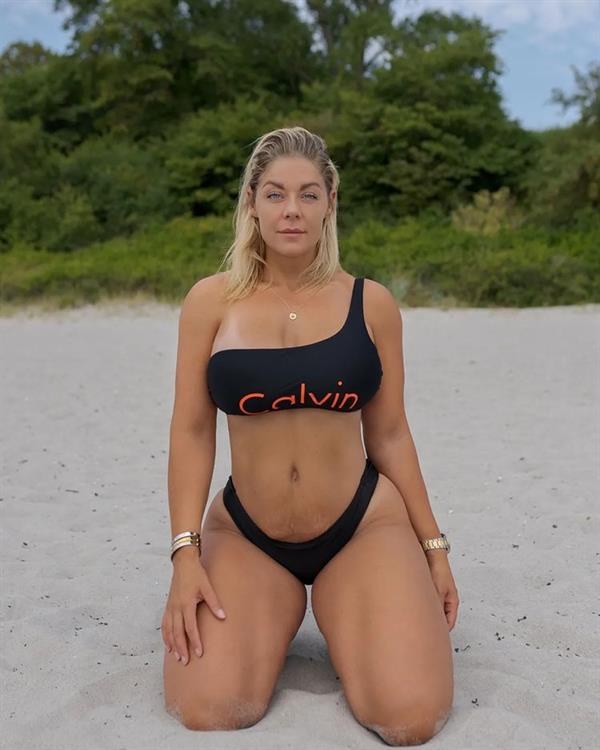 'Fitness Superstar,' 'Big Booty TV,' and 'Its Booty Thing' are some of the other YouTube channels that have featured her workouts.  She has also become a spokesperson for women's empowerment and confidence in general, and for young mothers in particular.  Her message to her fans around the world is that "people can only take from you what you allow," and that they should not let others define what they are capable of.
Her Early Life
Mia Sand was born on October 11, 1987, in Denmark.  She is a young mother who gave birth to her first child, Sean, in her early twenties.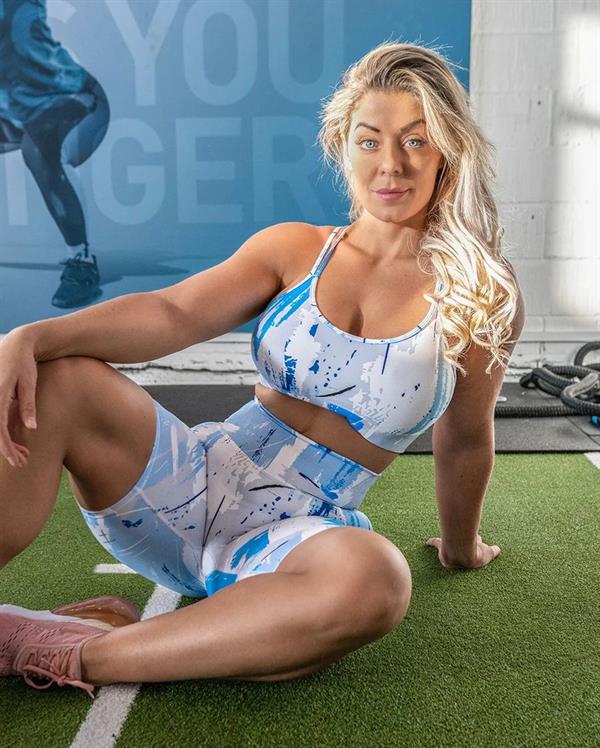 Her Story
Mia Sand had always been a tall, curvy girl.  She, like most girls her age, struggled to accept her size because everyone else was smaller than her.  She eventually realized, however, that she needed to appreciate what she saw in the mirror and was determined to make her current body look better.  Mia began going to the local gym when she was well over 25 and a mother of a child.  She had gained some unwanted weight at the time and resolved to exercise on a regular basis.  She quickly fell in love with weight training and began heavy lifting to sculpt her muscles on the advice of an experienced trainer.  Her trainer also taught her that there are no shortcuts, but that it is a mind game that she can easily win with determination.
Based on her own experiences, she now encourages young women who are unhappy with their body shape and size to take the initiative and work hard to achieve their ideal figure, because no one else can.  And her advice to young mothers is to do something for themselves and their bodies rather than just being a mom.  She also isn't afraid to remind herself and those around her that she has accomplished so much by setting norm-defying goals for herself rather than conforming to societal norms.  With this mindset, she inspires a huge fan base of young women as well as men, who make up the 2.5 million followers on her Instagram account.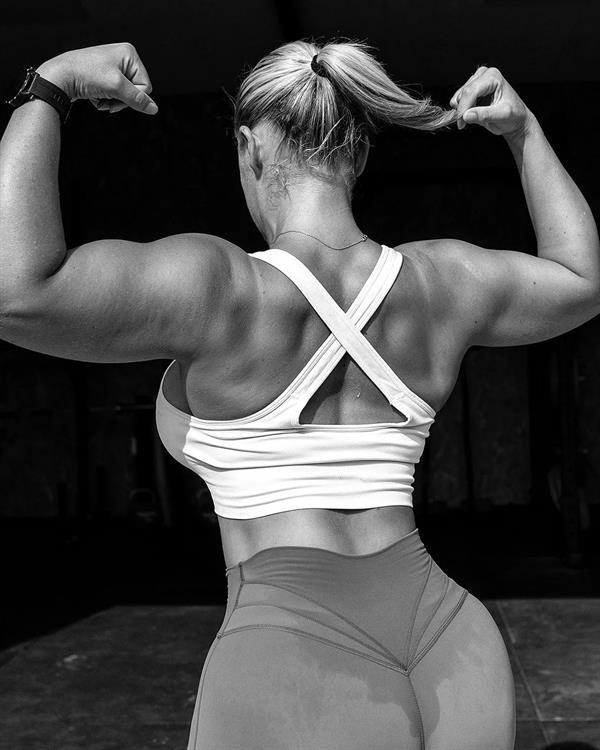 The most important lesson Mia Sand has learned through her own journey is that it is not necessary to conform to societal norms in order to be successful.  There are set definitions of 'fit' and 'beautiful' in the fitness and entertainment industries, both of which can be misleading, if not completely incorrect.  Mia has created her own look, for which she is now praised by people all over the world, rather than allowing the set image to influence her.  Not only that, but despite her unusual physique, she has found success as a fitness model in an industry dominated by rigid standards.
Facts and Trivia
According to Mia Sand's online alias, being 'fit' means being strong and having an aesthetically pleasing figure, which she achieves by combining powerlifting and bodybuilding.  If she does a lot of heavy compound exercises with low reps one week, she balances it out with isolation movements with rep ranges of 10-12 the next.
While she doesn't do cardio exercises every day, she likes to shorten the rest period between sets to keep her heart pumping throughout the workout.  Dips, bench presses, and squats are among her favorite exercises, with the latter being her top priority as the ultimate glute builder and her favorite muscle to train.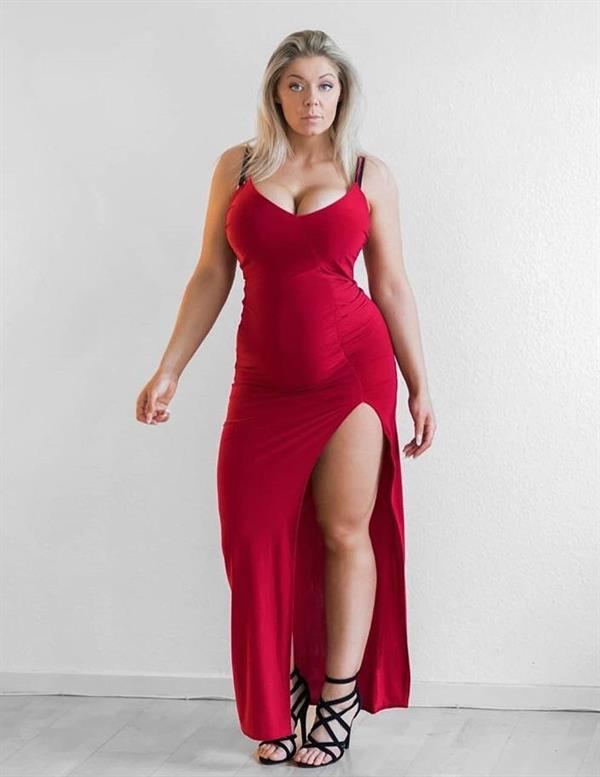 She incorporates rest periods of 20 seconds between each set, as well as drop sets and super sets as needed, to lose extra fat.
"As I go about my days, form new relationships, take on new challenges in my career, encounter obstacles, and celebrate accomplishments in life.  I take the time to remind myself of who I've come to be on my own terms, not who other people have deemed me to be."
Her Body Measurements
Misa stands 5 feet, 7 inches and she rocks a 38-26-41 curvaceous figure.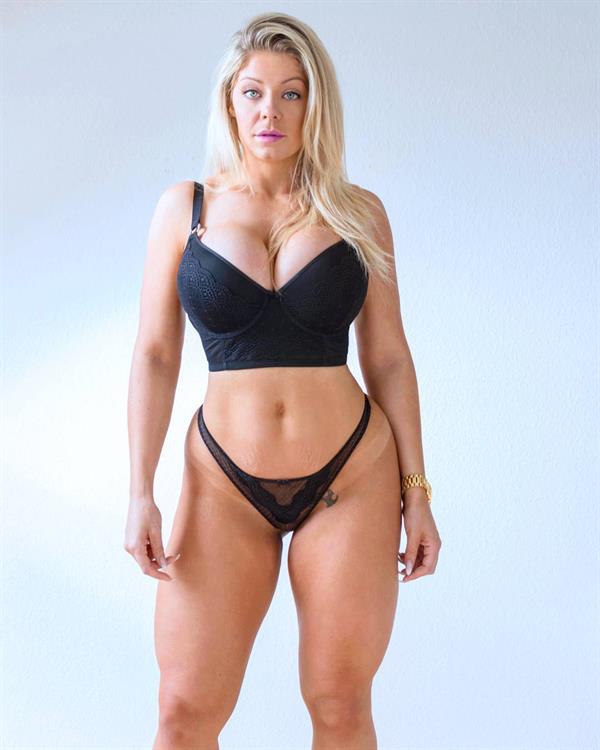 Mia Sand Photos
Join her over 2.5 million followers on Instagram for more of her stunning physique posts.
And don't forget to check out our Mia Sand page for a good amount of her pictures.