There are a lot of crazy things happening around the world right now…  And it seems each day is f*cked up more than the last.  But don't fret, people.  We are always here to change whatever gloomy mood you have right now, into a positive one.  Yup, that's our job…  That's what Hotness Rater is really for.  How irritated life has made you, we'll wipe that away.  How?  By showing you the finest err scenery this world has to offer.  Like this walking wonderland here…
That girl (with the good set of lovely mountains), my friends, is Mariah Lee Bevacqua and she is a beautiful American model who should be on everybody's radar.  You know, something (someone) to fight the gloom with.
Just look at that smile, man! Infectious!
Who is she
Mariah Lee Bevacqua (known widely as just Mariah Lee) is a fashion and lingerie model who has posed for brands such as Fede Swimwear, Tiger Mist Intimates, and Pink Sands Bikinis.  She is also an Instagram sensation…  She posts her modeling shots and workout routines in the said photo-sharing app for all her 131k followers to see.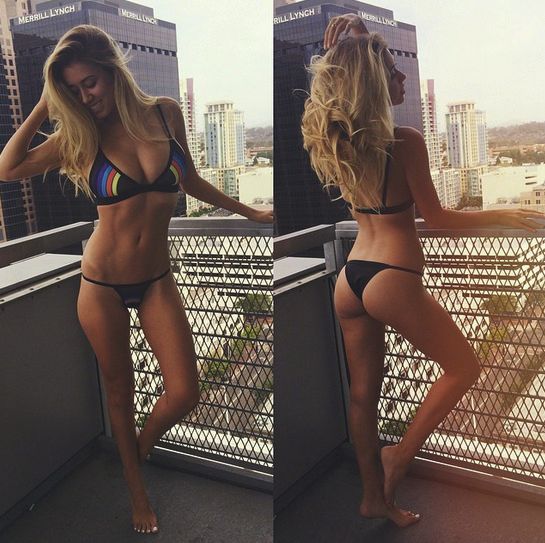 Mariah appeared in a beach segment on Jimmy Kimmel Live! in 2014.  And just April of this year, Mariah starred in Chase Atlantic's music video for the song Triggered'.
Personal life
Mariah was born on May 12, 1994, in Ventura County, California.  She is of Italian, Scottish, Irish, and Swiss heritage.  Her full-time modeling career started when she turned 21-years-old.  And this babe is all natural, folks….  No implants or injections.  Just the natural and original beauty that was gifted to her by the heavens.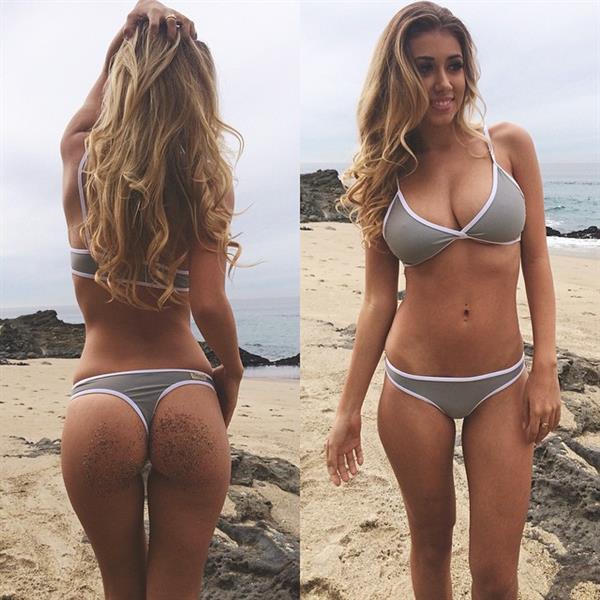 Mariah specializes in swimwear and lingerie modeling.  She also does commercial acting.  And while modeling full-time, she has also worked as a creative director for a fashion company in Downtown L. A.
A Break from Modeling
She went on a hiatus from modeling and creative directing when she became pregnant.  Then she worked as a social media manager for a celebrity hairstylist and makeup artist.  It's almost an effortless job as according to her, "I was able to take what I learned from the modeling industry and turn it into a marketing technique."
After giving birth to her firstborn, she went back into modeling.  But this time, only as part-time.  She still works as a social media manager but her main priority is being a full-time mommy.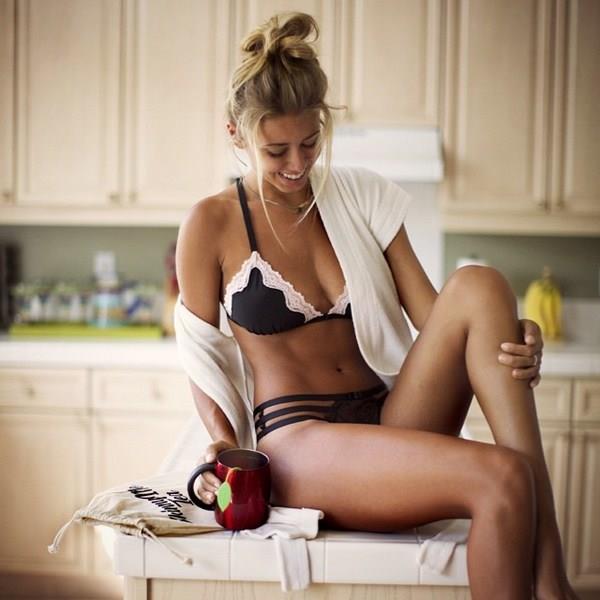 Her Body Measurements
This brown-eyed blonde bombshell stands 5 foot 7 inches and she boasts a (US) 36-24-34 / (EU) 91-61-86 body measurement.
Mariah Lee Bevacqua Photos
You may also want to check out her Instagram account for additional melancholy-killing photos.  Also check out our main page for her that has a lot more pictures than this article does:  Mariah Lee Bevacqua pictures