Don't we all just love women who look mysterious!  Oh, Sara McDaniel…  such enigma, such beauty (we have her Ugly Youth video at the end of this article).  This girl, we would all love to be with.  I mean, aside from being so hot, you can also use her to creep the shit out of anyone ignorant enough to actually believe in witches (like me).  Yup, you'd creep them out for a sec but watch out!  They will surely fall in love the next second (and might just steal from you this lovely vixen).
People this super hot stunner here is someone you won't just run into in the park, or mall, or coffee shop.  Her eyes plus her beauty/hotness, (really) hard to come by.  Believe us.
Who is Sara McDaniel?
Sara McDaniel is an American model who is probably best known for having different colored eyes.  She is the first model to grace the cover of Playboy's first non-nude issue (March 2016).  She is also a social media sweetheart and she has appeared in several music videos.
Sara McDaniel's Early Life
Sarah Rose McDaniel was born on 30 July 1995, in Roseville, California to parents Gregory Paul and Angela McDaniel.  She has two brothers and two sisters.  Sarah was born with a blue left eye color and hazel right eye color due to a genetic abnormality called Heterochromia Iridum (which occurs in only 6 out of every 1,000 births).
Sarah McDaniel and her family moved to San Diego when she was eight years of age.  According to Sarah, she had a hard time forming close friends and she was often bullied because of her eyes (but really, we don't know why she's bullied.  She should've used her condition to creep those bullies out…  You know, pretend that she's going to put hexes on them).
Sarah's dream is to be a Victoria's Secret model.  And so she eventually dropped out of high school to pursue a career in modeling (with the help of her father).  She ended up completing her high school diploma online.
Sara McDaniel's modeling journey
When Sarah started posing, that condition of hers actually helped her land more modeling gigs.  She has, actually, garnered fans among fashion photographers who find her look unique.
"When I was younger, I wore contacts to hide it so my eyes would match; when I started modeling,
I wore contacts to highlight it since photographers and agents seemed to like its differentiating factor."
Sarah McDaniel did small photo shoots before L.A. Models (her then agency) got to her and signed her.  Photographer Theo Wenner, whom she met while working on a music video, invited her to New York to do a photo shoot which they submitting to Playboy.  Not long after, she was on the cover of the said magazine's non-nude issue.  Opportunity came after opportunity and that Playboy gig landed her a guest spot on The Late Show with Stephen Colbert.
On The Late Show with Stephen Colbert, she was having a lot of trouble trying to keep that dress on.  If you just skipped that video, you might want to check it out.  There is lots of pulling and adjusting going on.
Sarah McDaniel Outside modeling
Aside from modeling, Sarah has also appeared in several music videos.  She was in Mark Ronson and Kevin Parkers 'Summer breaking' and 'Daffodils'.  Sarah also appeared in G-Eazy's single "Some Kind of Drug" featuring Marc E. Bassy.  She also made her acting debut in the series Super High which stars Kev Adams and DeStorm.  Super High, by the way, is written by Edouard Pluvieux and produced by the Paris-based company My Family & Together Media II for the digital media company, Blackpills.
Sarah also has a passion for writing.  She has a personal Tumblr blog and she considers herself an "investigative journalist".  She has written a few articles on science and medicine.  Just last month (August of 2017), Sarah wrote an article about anti-vaccination in which she mentioned the thiomersal controversy.  She also posed the question: "People are still injecting their children or themselves with mystery chemicals and for what?"
Sarah McDaniel's Body Measurements
She stands 5 foot, 10 inches and her vital statistics are 32C bust, 24″ waist, and 35″ hips.
Sarah McDaniel Pictures
You can follow Sarah McDaniel on Instagram and ogle at her rare beauty.
You can also check out our Sarah McDaniel page for more pics.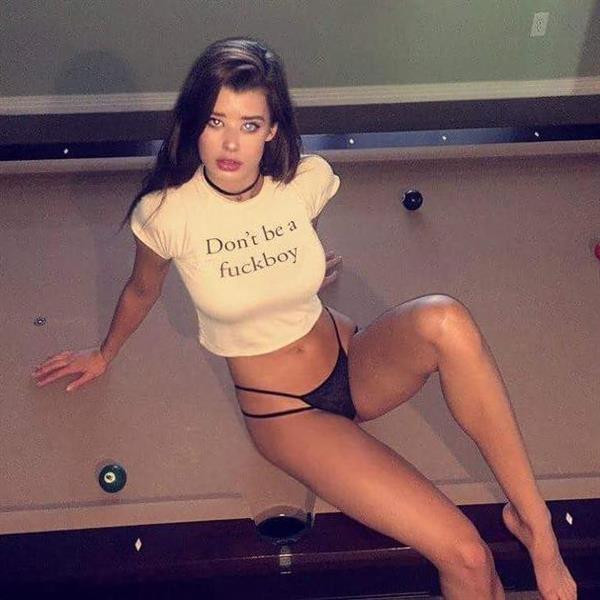 ---
Oh yeah, I almost forgot. Here is that video I promised you