Now this babe is a monster hottie.  Nope, she doesn't look like a monster (obviously), her hotness level is massive.  Monstrous as my editor would put it.  (Editor Note: yeah I wouldn't say that)  Just look at her chest and tummy (can it get any fitter than this?)…  oh and that glorious bum that screams "squeeze me with all the might your geeky hands can give!"  Julia Gilas is truly a sight to behold.  Her magnificent body is an envy to many…  and a desire to most.
Who is She?
Julia Gilas is a social media star that is admired for her fitness.  Her incredible figure has garnered her over 5 million followers on Instagram.  She is one of the leading females in the fitness industry.  This Southern California-based 'inspiration' also owns a hair extension business for more than a decade.
Her Early Life
Julia was born in 1985 in Ukraine.  She spent her early life in the Ukraine with her family; her mother, father, and sister Halen.  As a child, Julia already had the energy and ambition to make it big.  She never really liked school (and we feel her, really) and that is, perhaps, the reason why she wanted to be a model.  At the age of 14 she enrolled in a modeling school and at 16, she rebelled (we don't know her reasons but yeah, that happens) and left her home to go after her longtime ambition of becoming a success in the modeling world.  In 2009, at the age of 24, she moved to the United States to pursue a career as a fitness model.  In 2013, Julia became an American Citizen and she now resides in California.
According to Julia, she is an unpredictable sweet bitch who often has Attention Deficit Disorder.
Yup, that's how she sums herself up.
Julia Gilas Facts
Julia is an animal lover.  She has a Himalayan cat named Tazo and a long-haired Chihuahua named Tyson.
She spends a lot of money every month at Victoria's Secret.  Yup folks, she loves lingerie and bikinis.
She has a sweet tooth and her weaknesses are macaroons, frozen yogurt, and Godiva chocolates.
Julia is also, according to her, a very funny person.  She's also into music and she loves to dance.
Body Measurements
This awesome fitness star stands five feet, six inches and she sports a 32-25-38 body measurement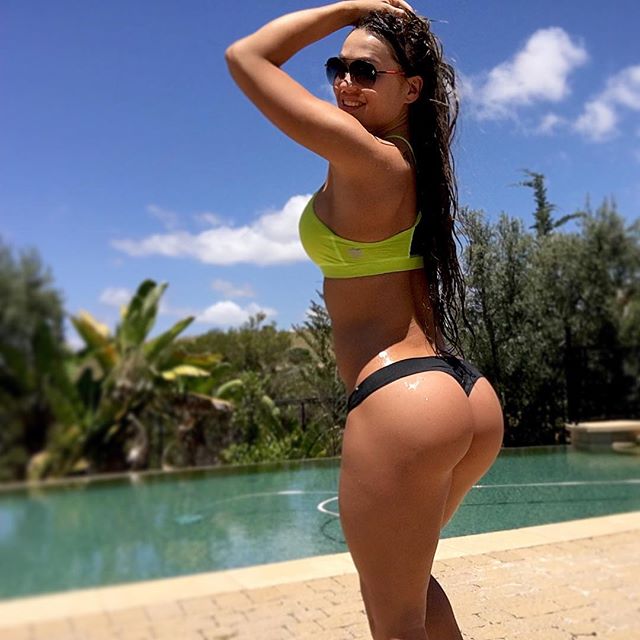 Julia Gilas Photos
Follow her on Instagram for her latest workout tips and pictures.
Also, please do check out our Julia Gilas page for more of her sizzling hot photos.