Many hot, birthday-costumed women have graced the pages of Playboy over the years.  And, as much as warm-blooded people enjoy seeing the Playmate—imagined by Hugh Hefner to be the girl next door, stripped bare for your convenience—nothing beats celebrity skin for the gawk factor.  Fans know movie icons, TV stars, athletes, and supermodels with their clothes on, and many of those fans want to see them without their clothes. I  mean, who doesn't?
Playboy debuted in December 1953 with a celebrity on the cover and on the pages—Marilyn Monroe (who didn't actually pose for the magazine)—but the magazine didn't specialize in famous nudity for the first two decades.  The girls in Playboy had names like Phyllis and Melba, and while they were stunning, they were not well-known outside of the brand.
That began to change around the turn of the century.  Playboy realized the worth of famous nude ladies.  Pictorials by Bo Derek, Barbara Carrera, and Kim Basinger were among the first examples of celebrities who decided to "do Playboy," a phrase that has since become a universal recommendation for any starlet with a film or two under her belt.  By the late '90s, Playboy was utterly hooked on celebrities.  In the absence of celebrities, the magazine would feature celebrity relatives, former celebrities, girls who looked like celebrities, girls who'd slept with stars, and, of course, Playboy models who had achieved some level of celebrity themselves.
So here they are folks!  Again, in no particular order of hotness…
Vida Guerra
Issue: July 2006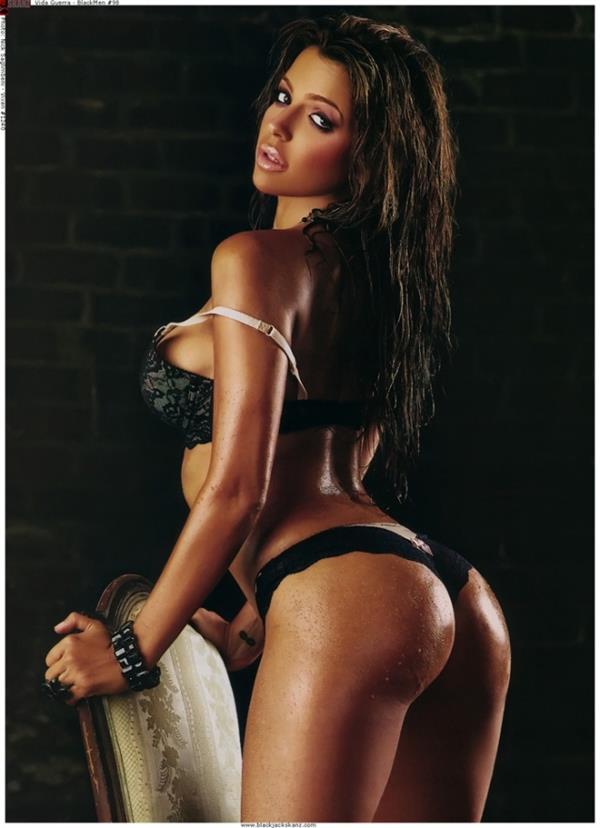 Vida Guerra made the most of what she had, parlaying a few photos in FHM into a full-fledged magazine modeling career.  What does a girl do when she's exhausted her options with Maxim and FHM?  For Playboy, she goes all out.  The book was one of the best-sellers of the twenty-first century.
Kim Kardashian
Issue: December 2007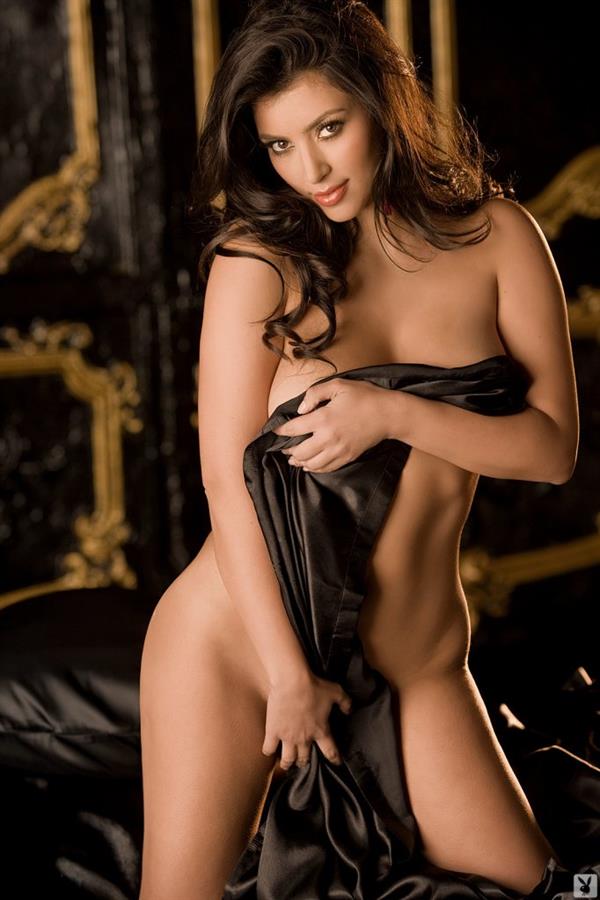 Kim Kardashian posed for Playboy to own her sexuality, which was exposed after her sex tape was leaked.  The photo shoot, clearly not hiding anything from the cameras, was documented in her reality series, Keeping Up With the Kardashians.
Amanda Beard
Issue: July 2007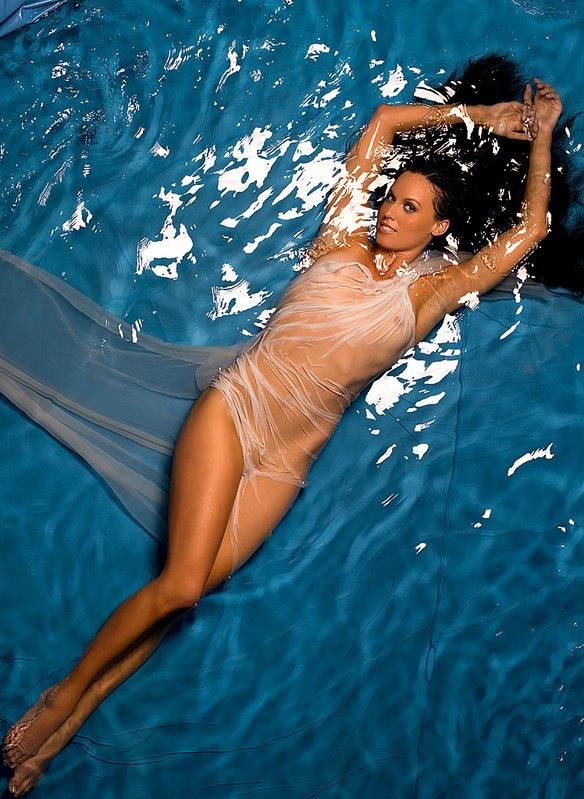 Amanda Beard was the undisputed American Olympic sex symbol, a late replacement for Germany's Katarina Witt.  She grew up in front of our eyes, as she was only 14 years old when she competed in her first Olympics in Atlanta in 1996.  Amanda posed nude in 2007, but not as an afterthought; she made the 2008 Olympic team and was named co-captain alongside fellow hotties Dara Torres and Nancy Coughlin.
Shannen Doherty
Issue: March 1994, December 2003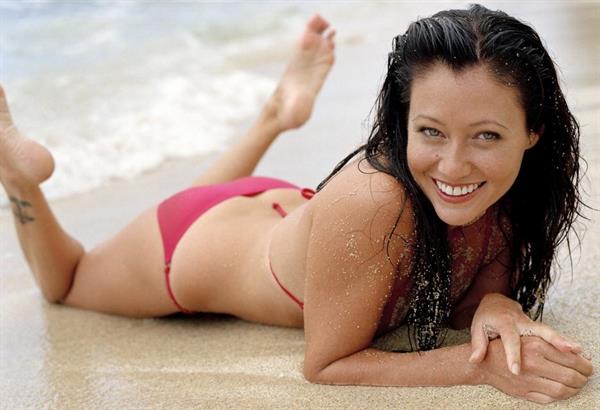 Shannen Doherty's pictorial hit newsstands shortly before her character, Brenda Walsh, left Beverly Hills, 90210.  If you liked the bad girl, Brenda was your cup of tea.  It was said that Shannen was a bit of a Brenda off camera as well, and that friction with the rest of the cast led to her dismissal.  When she showed up nude in Playboy—even though it was just three pictures in a larger pictorial promoting "safe sex"—all your hopes were confirmed.  Such a bad, bad girl… Who we totally love!
Lindsay Lohan
Issue: January/February 2012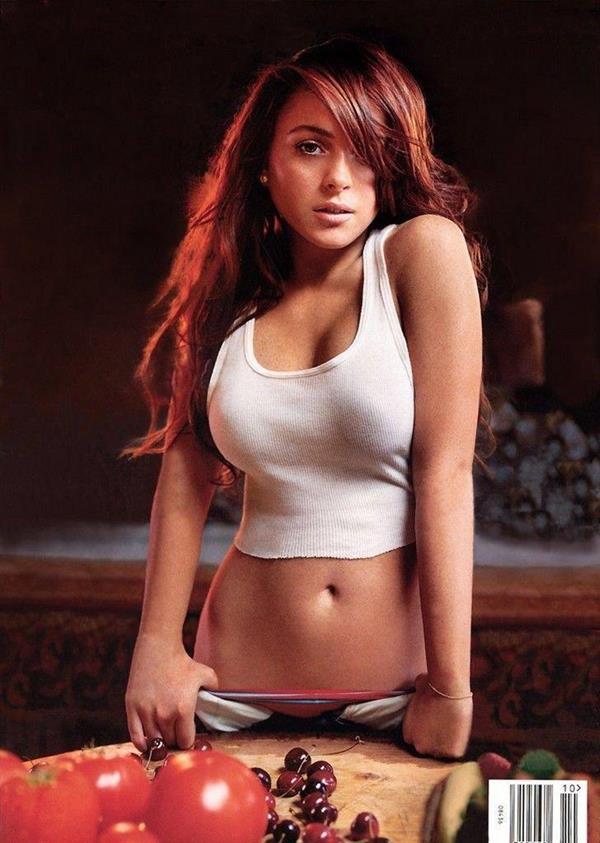 When it was revealed that Lindsay would be posing for Playboy, Americans were divided.  Her reckless lifestyle, they claimed, was wreaking havoc on her appearance, and the photo shoot could be a disaster.  Lindsay Lohan's tribute to Marilyn Monroe, on the other hand, was perfectly sexy.
Drew Barrymore
Issue: January 1995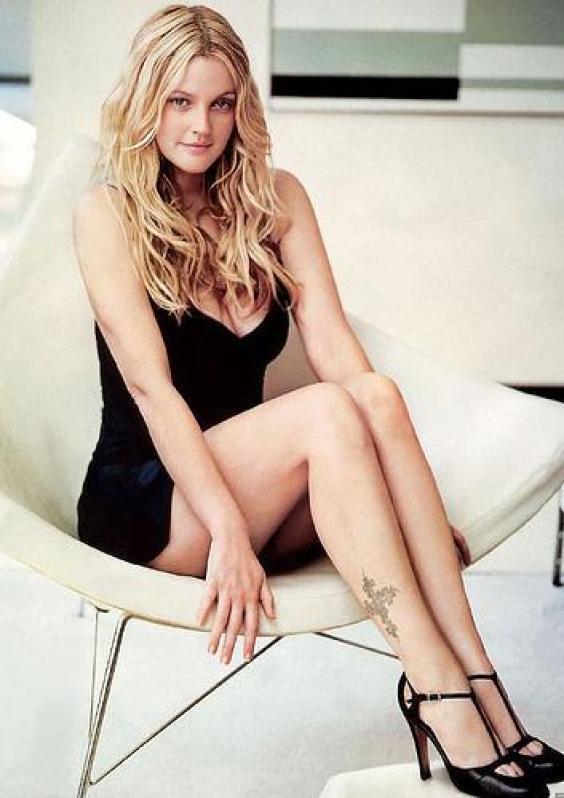 Drew Barrymore was only 19 when she posed for Playboy, but she'd already lived the life of a rock star.  And not the good kind of rock-star life—as a pre-teen, she was going to Studio 54 and doing coke.  She eventually got her act together and is now a bankable star, but in 1995 she was still a wild child.  You may recall that she flashed birthday boy David Letterman on his talk show around this time.
Lizzy Jagger
Issue: June 2011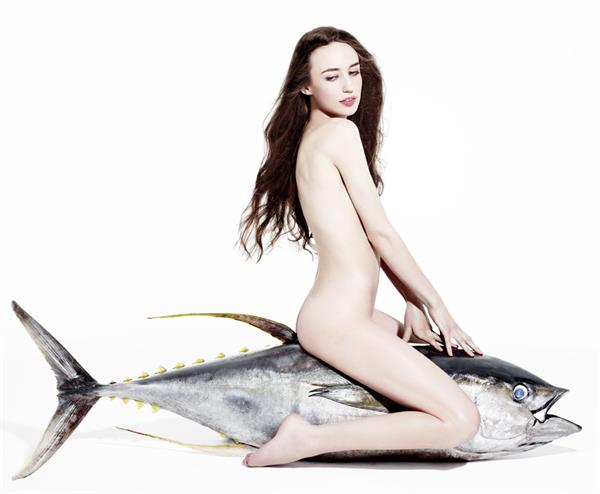 Rock legend Mick Jagger would probably punch your lights out for wanting to see his daughter, Lizzy Jagger, naked in the real world.  You can do this without getting into a fight thanks to Playboy.  As an added bonus, her mother, Jerry Hall, has her own spread from 1985.
Farrah Fawcett
Issue: December 1995, July 1997
Farrah Fawcett was a 1970s icon thanks to a poster that sold 12 million copies and the alpha-babe role on Charlie's Angels, but she resisted requests for nudity her entire career—until she decided to get naked for Playboy at the age of 48.  She had appeared on the cover 17 years before but was not nude inside.
Diora Baird
Issue: August 2005
Celebrity in the twenty-first century can be difficult to define, especially in light of reality TV and lad-mag-inspired model fanaticism.  So, Diora Baird, the stunningly beautiful and enthusiastically naked woman.
She landed on the cover of Playboy seven years ago and delivered one of the best photo shoots of the era, all on the belief that she would become a huge star.  She's not a big star by any standard, but she's a big star to us.
Tricia Helfer
Issue: February 2007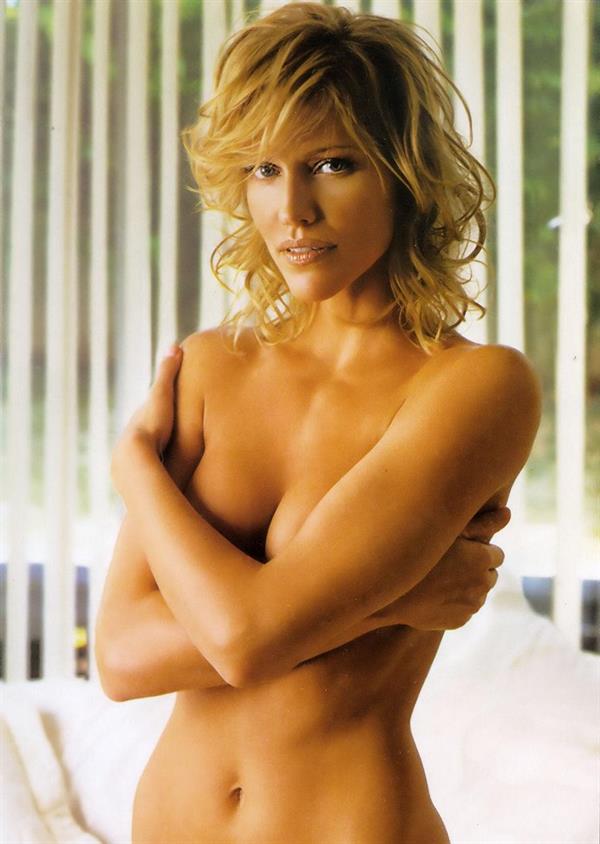 When their favorite Battlestar Galactica humanoid Cylon appeared on the cover in 2007, geeks everywhere rejoiced.  It added a whole new dimension to the concept of "frak-ing."  Oh, Tricia Helfer is just hot there.
Madonna
Issue: September 1985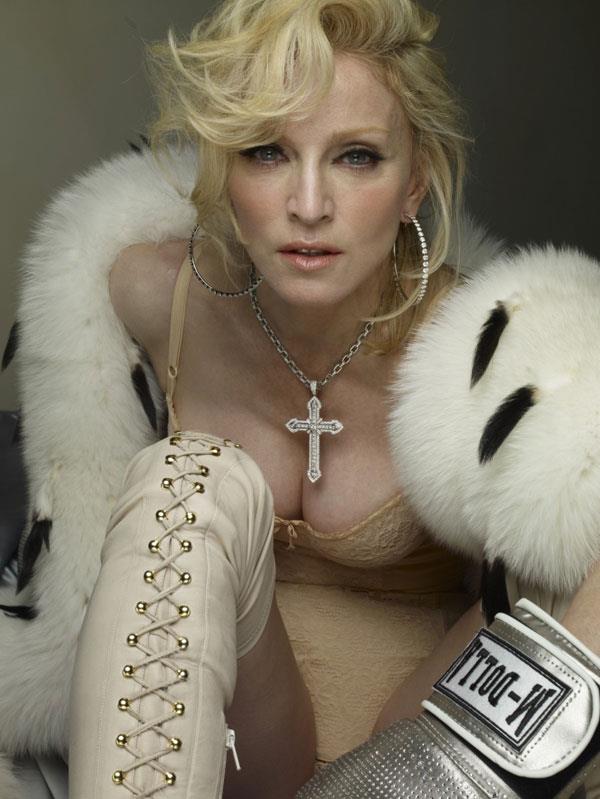 Madonna was just a woman trying to make it who needed money before she became "Madonna."  Some old nude photos were released in the magazine when she found fame and was on the verge of a film career in 1985.  The "Like a Virgin" actress refused to apologize and graced the cover of this storied publication.
Kiana Tom
Issue: May 2002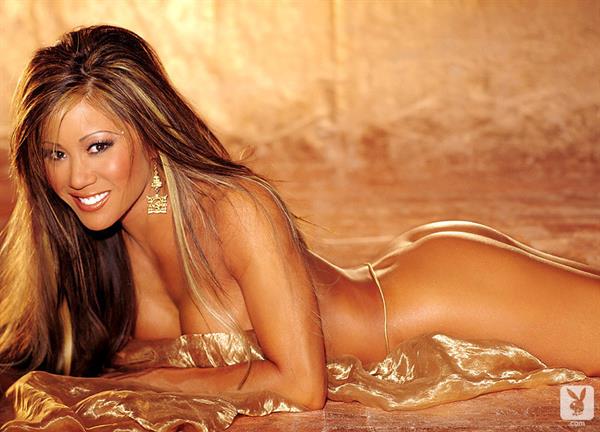 Kiana Tom hosted a popular exercise program on ESPN in the mid- and late-'90s, and many of the people who watched it weren't exercising at all.  She was stunning, and she wasn't afraid to flaunt it.  After all, the name of her show was Kiana Tom's Flex Appeal.  She knew what she was doing, and so did Playboy—the cover line "ESPN Fitness Guru Kiana Tom: Get Hard in Six Seconds" is one of the magazine's least subtle ever.  And that's saying a lot.
Daryl Hannah
Issue: November 2003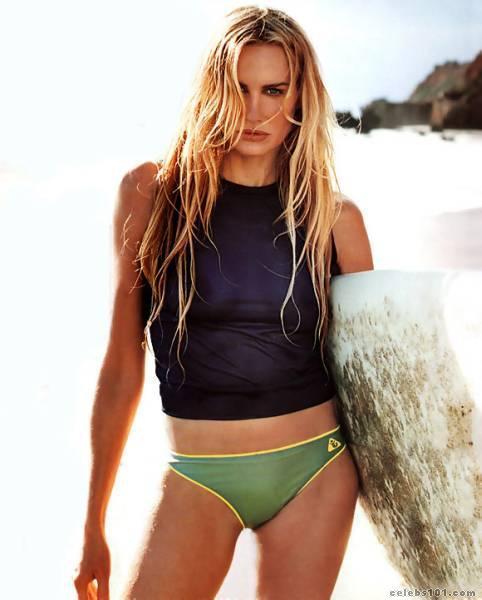 Daryl Hannah's career took a turn for the better in 2003 when she starred in the revenge film Kill Bill.  However, the cover itself makes us long for her mermaid days in Splash.
Winter Zoli
Issue: March 2011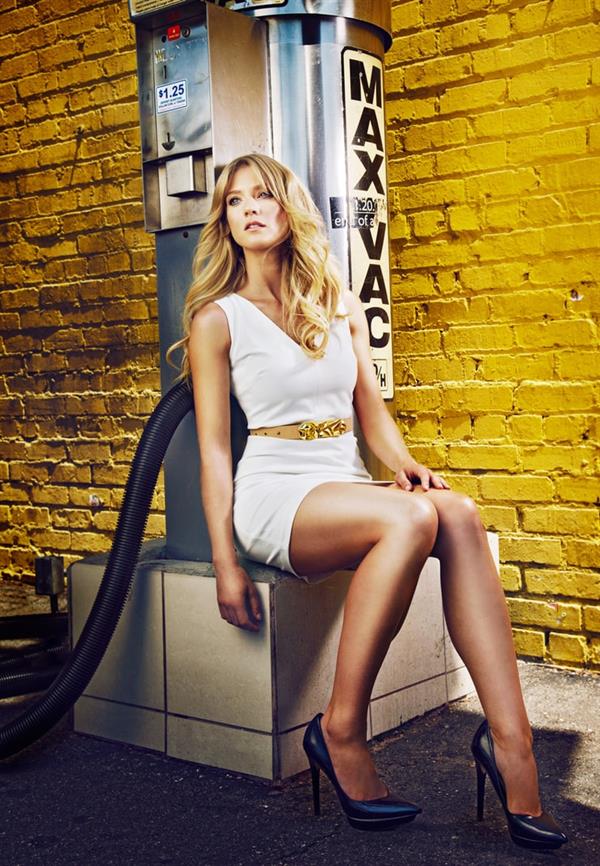 Winter Zoli, who plays an adult film star on FX's Sons of Anarchy, claims she was prepared for her Playboy shoot.  She appears topless on the cover of the March 2011 issue, where she admits, "It turns out nudity is not a problem for me," and it wasn't for the thousands who picked up the magazine.
Charisma Carpenter
Issue: June 2004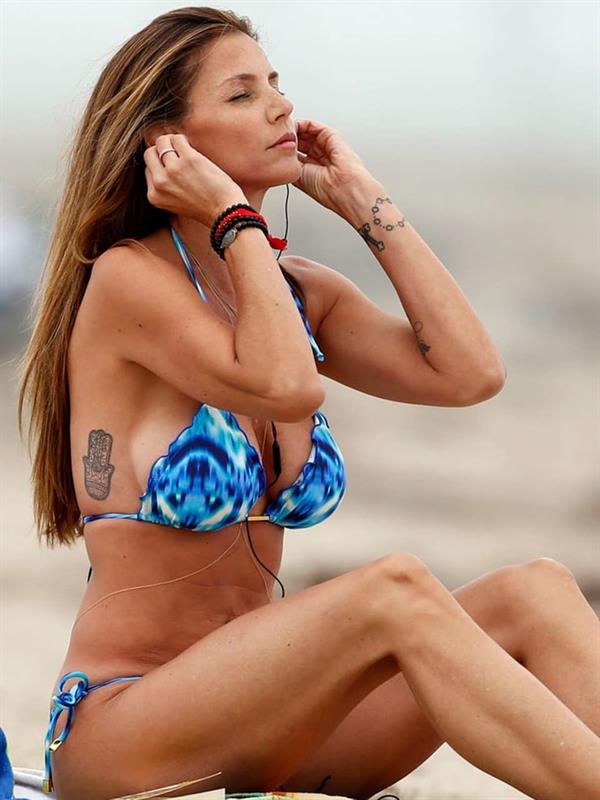 The perfectly named Charisma Carpenter gained fans thanks to Buffy the Vampire Slayer and its spinoff Angel, but a career as a movie star or television lead never materialized.
Playboy had no idea in 2004 when Carpenter's run on Angel was coming to an end and she was topping all the "hot babe" lists.  She appeared to be on the rise. And she was stunning.
Leeann Tweeden
Issue: August 1996, December 2011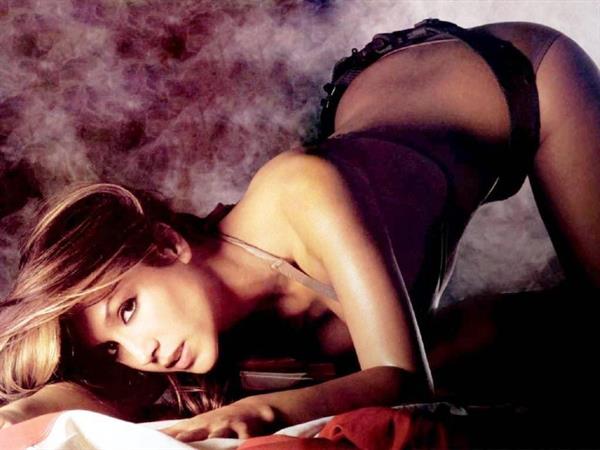 Leeann Tweeden graced the cover of the magazine in 1996, and she also appeared inside in a photo spread about ESPN's "hardbody" girls.  And she was wearing what would become known as a "hair bra" a decade later.  Disappointed readers were thankful years later, in 2011.  Tweeden had risen to prominence as a correspondent for The Best Damn Sports Show Period.
Aubrey O'Day
Issue: March 2009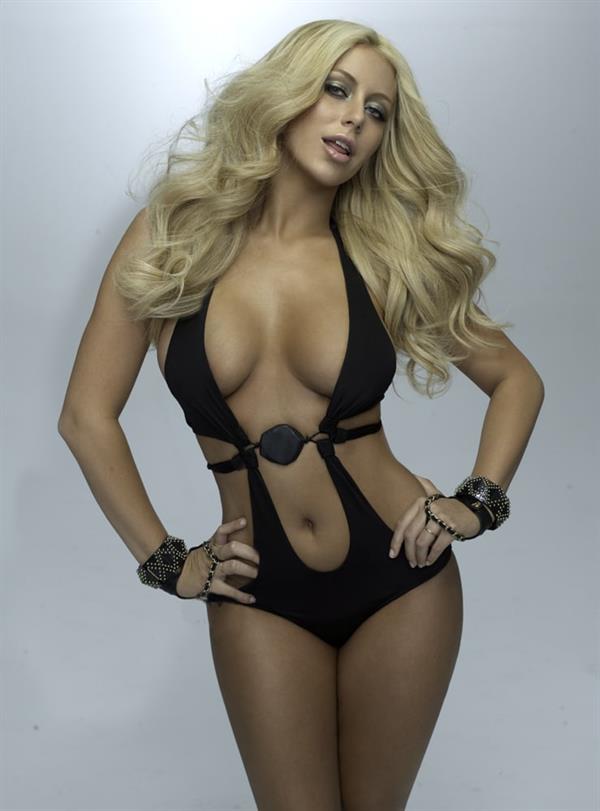 Aubrey O'Day has more than proven that she is worthy of a solo career.  At the height of the drama surrounding Danity Kane's break-up, O'Day stripped it all off for Hugh Hefner, making us forget that Diddy's foursome included other girls.
Olivia Munn
Issue: July/August 2009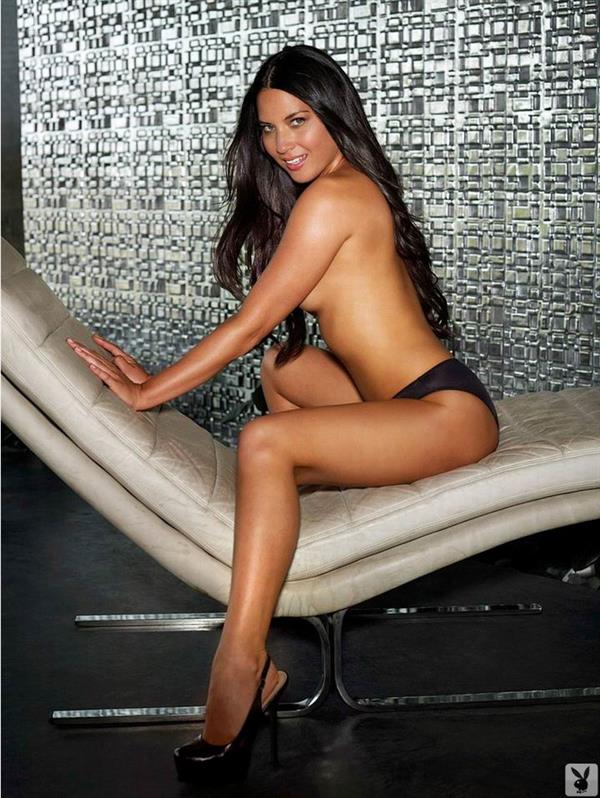 Olivia Munn didn't strip naked for her Playboy cover—readers had to wait a few years for those famous leaked cell phone photos.  But it was still a sexy shoot, and Playboy signed her while she was still a geek sensation.  That hasn't always been the magazine's strong suit, as the American institution frequently prefers to get an established star on her way down over taking a risk on a woman who appears to be on the rise.
Give credit where credit is due: putting Olivia on the cover was a wise decision by the magazine.
Kristy Swanson
Issue: November 2002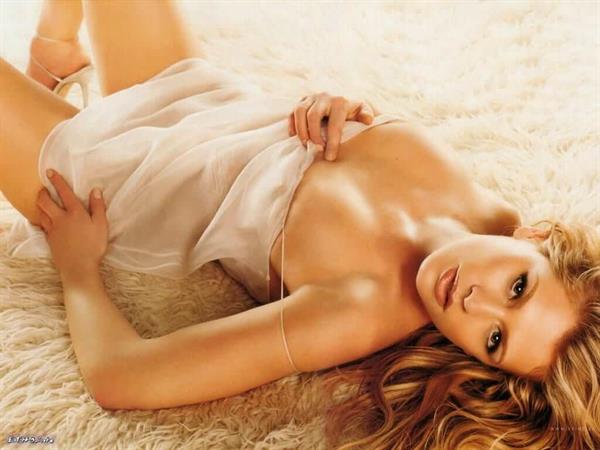 Kristy Swanson fulfilled fanboys' dreams by appearing in the buff for the magazine as the original Buffy the Vampire Slayer.  She slays us even when she is naked.
Nicole "Coco" Austin
Issue: March 2008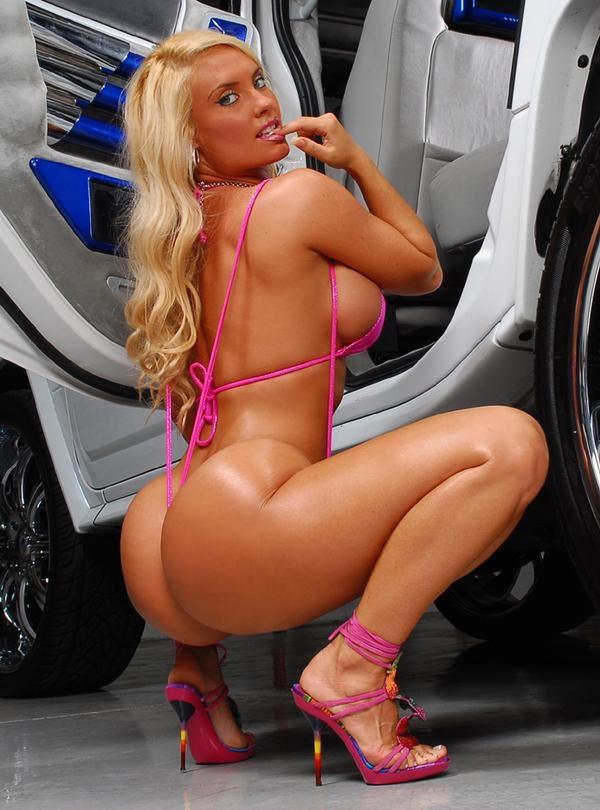 Coco's star was rising when she posed for Playboy's annual music issue, but Ice Loves Coco wasn't due for another three years.  She should have gotten the cover, in retrospect.  Of course, in retrospect, Coco gets her way.
Sherilyn Fenn
Issue: December 1990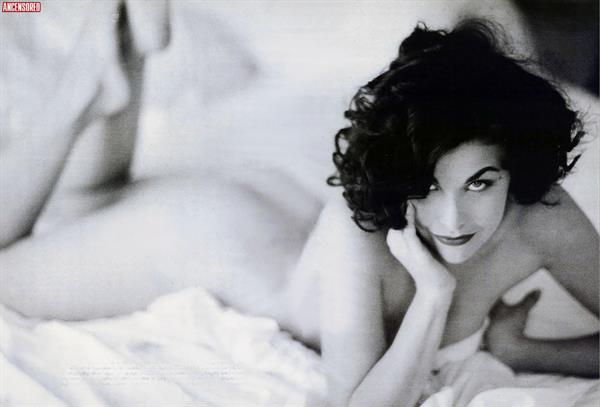 Unless you're talking about celebrity, timing isn't everything when it comes to nudity. P layboy worked with Fenn on a shoot in December 1990, right in the middle of Twin Peaks' run.  Sherilyn Fenn was the femme fatale on TV's hottest show at the time. It doesn't get much better than that.
Barbara Carrera
Issue: March 1982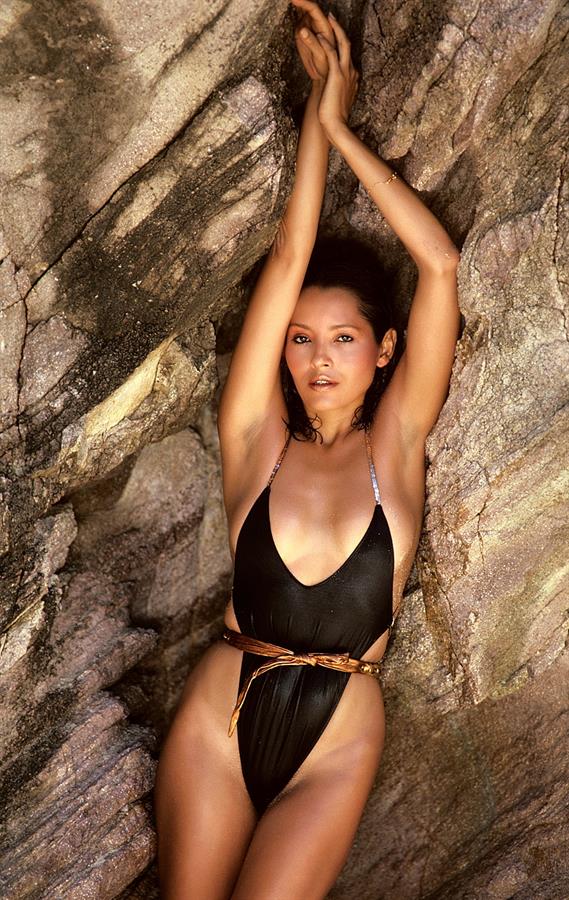 This Nicaraguan temptress appeared in several films in the 1970s and went on to become a Bond Girl (Never Say Never Again) and a Dallas regular.  In 1982, however, she was promoting the film I, the Jury, starring Armand Assante as Detective Mike Hammer.  The film received mixed reviews from critics, but Barbara Carrera received unanimous approval from Playboy readers.
Traci Bingham
Issue: June 1998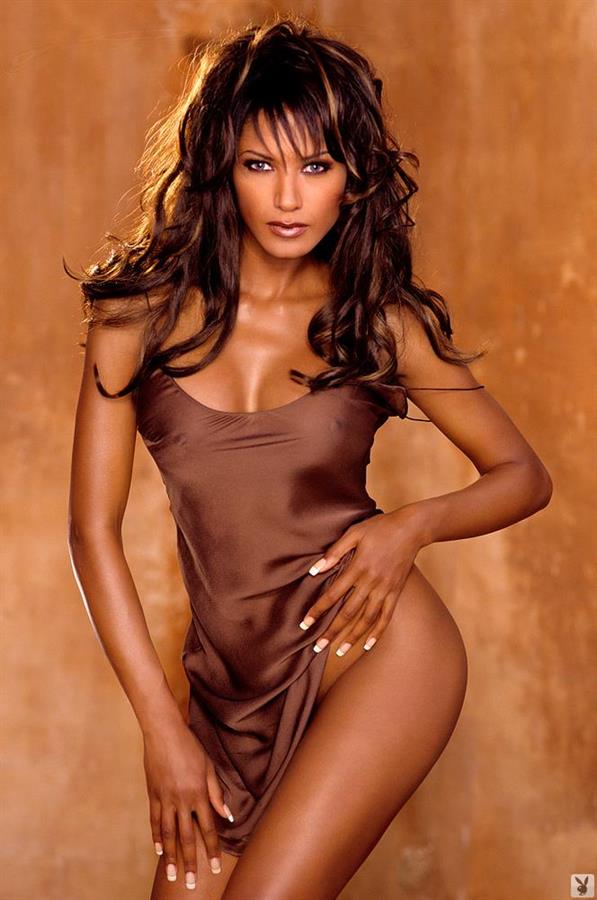 Traci Bingham only appeared in Playboy once, in a composite photo with another Baywatch actress, but her naked photos appeared in the magazine several times.  Some international editions, like Italy, Japan, Poland, and the Netherlands, had the foresight to give her the coveted spot all to herself.  Germany did it twice.
Eva Herzigova
Issue: August 2004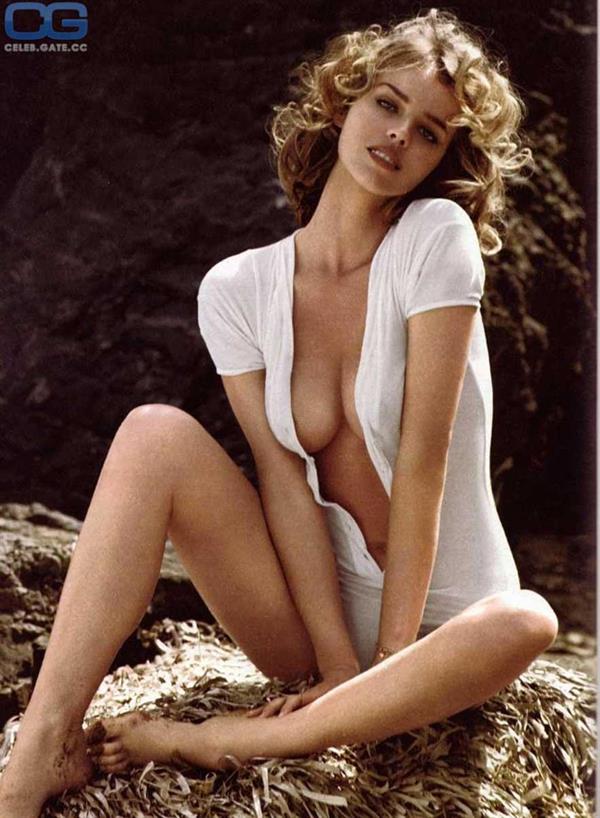 Eva Herzigova rose to prominence as the Wonderbra's face in 1994.  In the iconic advertisement, she wore a black bra and a smile, accompanied by the words "HELLO, BOYS."  What do you do for an encore when that's your debut?  How do you say "Hello" again in a meaningful way?  The solution was obvious.
Sharon Stone
Issue: July 1990, December 1992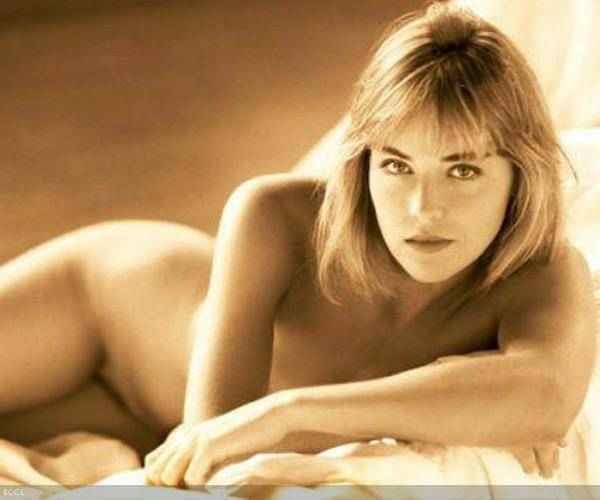 Sharon Stone's career took off in 1990, two years before she showed off her skills in Basic Instinct after she appeared in Total Recall.  What was it that brought this film the attention it deserved? Stone timed the film's release to coincide with the July 1990 issue of Playboy.
Garcelle Beauvais
Issue: August 2007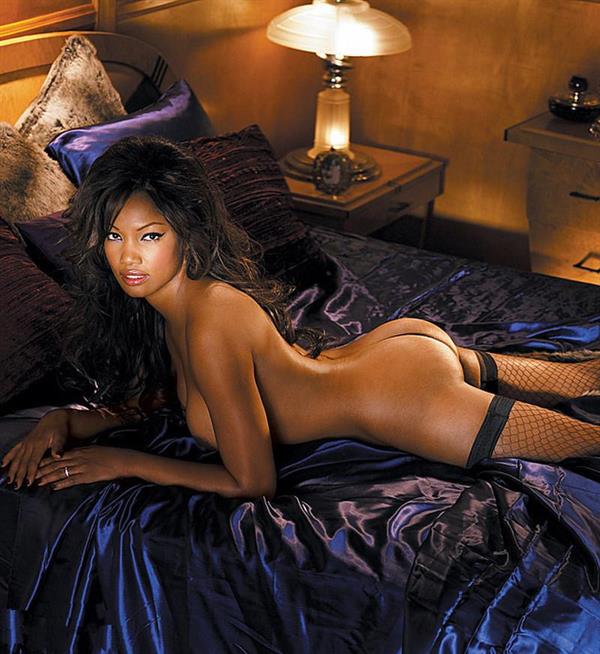 Garcelle Beauvais was a successful model for several years before landing her most famous role: Fancy Monroe, the object of the protagonist's affection on The Jamie Foxx Show, which aired from 1996 to 2001.  She later became a regular on NYPD Blue.  She made her Playboy debut at the age of 40, and it was well worth the wait.
Denise Richards
Issue: December 2004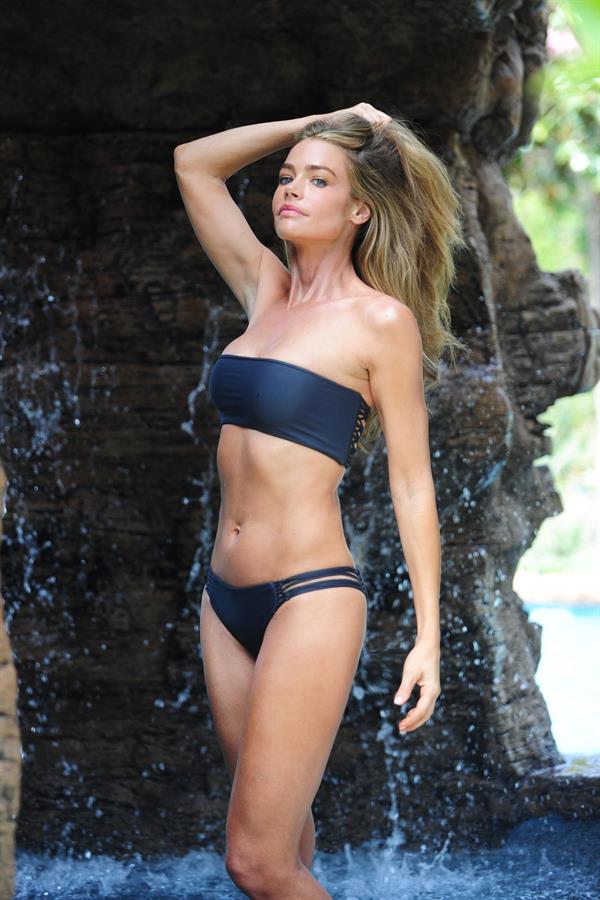 Denise Richards was still with Charlie Sheen in December 2004, and she had just given birth to their daughter five months before.  She demonstrated that women can be unbelievably sexy even after childbirth, and Charlie Sheen isn't really a winner after losing her.
Arianny Celeste
Issue: November 2010
Since professional wrestling and Playboy teamed up, thanks to a girl named Rena Mero (better known as Sable), the magazine has been able to rely on wrestling fans for blockbuster issues.
We all know that professional wrestling is a sham, but we're pretty sure a lot of WWE fans grew up to be MMA fans.  Ring Girls elbowed out female wrestlers, and Arianny Celeste was the one that every fight fan was waiting for.
Joanna Krupa
Issue: July 2005, December 2009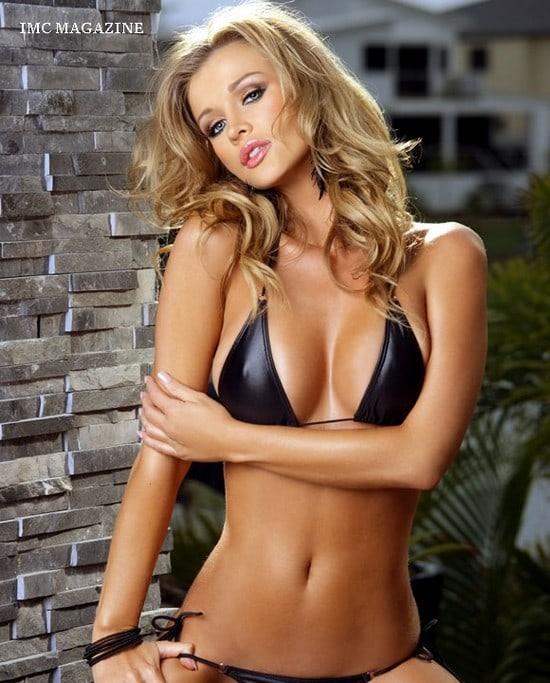 In the late 1990s and early 2000s, there was a clear rivalry between Playboy and the "lad mags" Maxim and FHM.  While the lad mags ate away at the Bunny's circulation, there was one interesting side effect: Maxim and FHM spent a lot of time and effort turning models into celebrities, and then Playboy swooped in and got them to take their clothes off.
One of two prime examples was Joanna Krupa (the other being Vida Guerra). Joanna Krupa, a Polish swimsuit and lingerie model who appeared on Maxim and FHM's hot lists, was never a true celebrity.  Until Playboy intervened.
Rachel Hunter
Issue: April 2004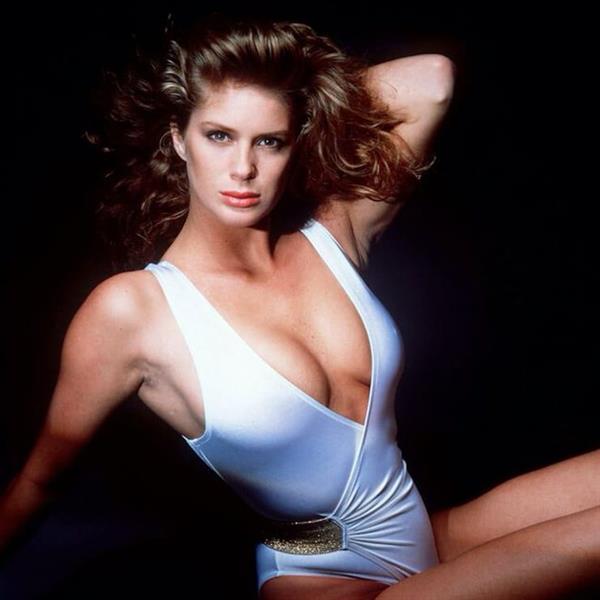 Prior to her Playboy shoot, the swimsuit model teased our former MTV-watching teen selves with a one-piece in the hot mom anthem "Stacy's Mom."
Stephanie Seymour
Issue: March 1991, February 1993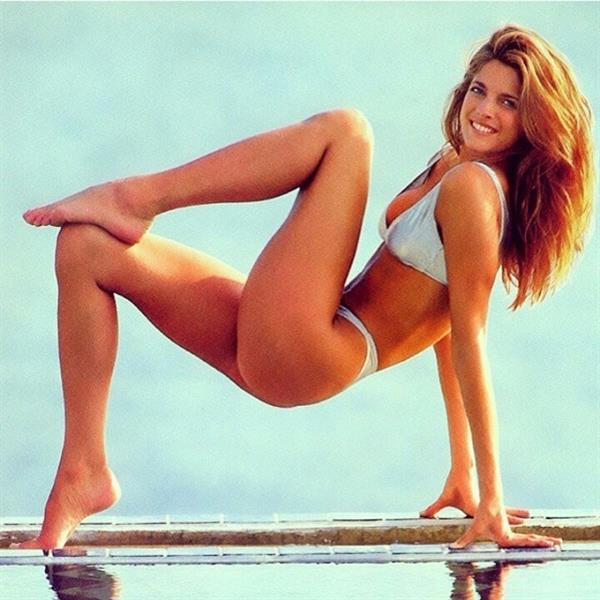 Stephanie is one of only a few survivors from the heyday of the Sports Illustrated Swimsuit Issue to make this list.  Elle Macpherson, Rachel Hunter, and Cindy Crawford were among her coworkers.
Stephanie Seymour was the outcast. Her two Playboy appearances almost coincide with her tumultuous two-year relationship with Axl Rose, possibly rock and roll's least dateable man at the time.  It did not end well.
Naomi Campbell
Issue: December 1999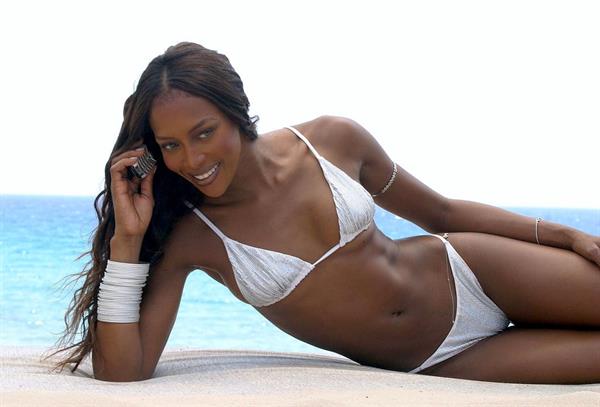 In this world, there are two kinds of men: dreamers and realists.  Naomi Campbell's Playboy issue was number one on the realists' Christmas wish list in 1999.  The dreamers simply wrapped Naomi Campbell, one of the decade's top models, in white gift wrap.
Carmen Electra
Issue: April 2003, January 2009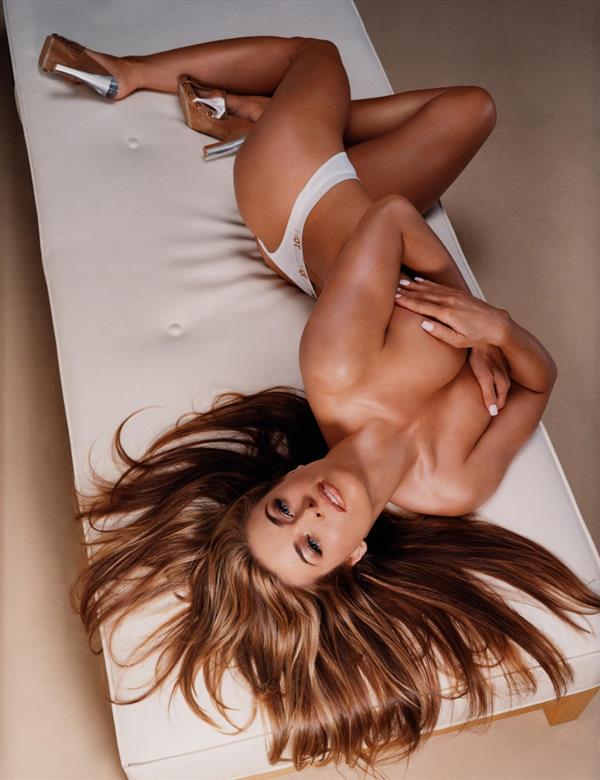 Carmen Electra has appeared in the magazine a few times, but 2009 was her breakthrough year.  Playboy gave Electra the cover spot for their 55th-anniversary issue, toasting the world to another 55 years.
Robin Givens
Issue: September 1994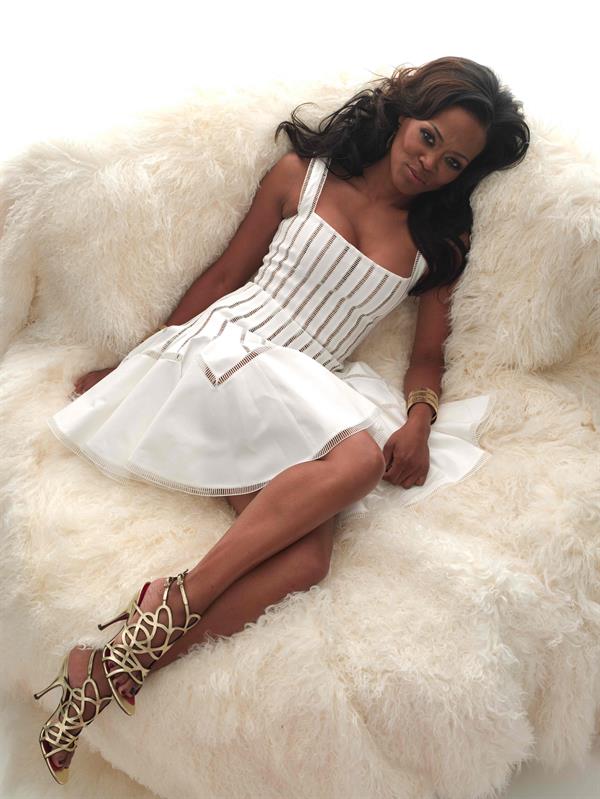 The woman who won Mike Tyson's heart was once known as "America's most hated woman."  Hate is a strong emotion, as is lust.  Even though Robin Givens' Playboy photo shoot took place five years after her divorce from Tyson, public reaction was mixed.
Dita Von Teese
Issue: December 2002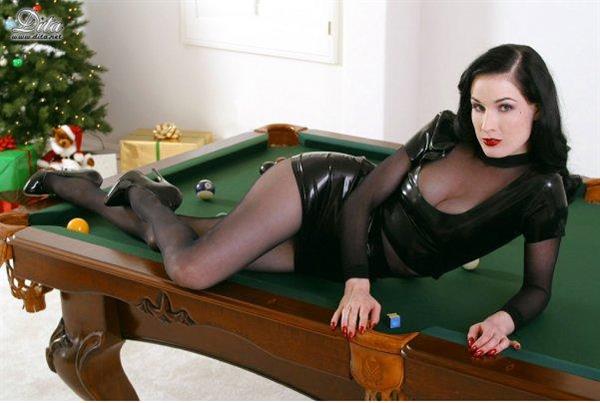 The sultry burlesque dancer, best known for her relationship with Marilyn Manson, had previously posed for the magazine, but this was her first cover.  The picture-perfect pin-up was apparently inspired to become a glamor model after perusing her father's old issues of Playboy.
Fun fact: the publication required her to have a surname for her cover.  She chose Von Treese from a phonebook, but Playboy misspelled her name, giving her the moniker Dita Von Teese.  She stayed with it.
Kelly Brook
Issue: September 2010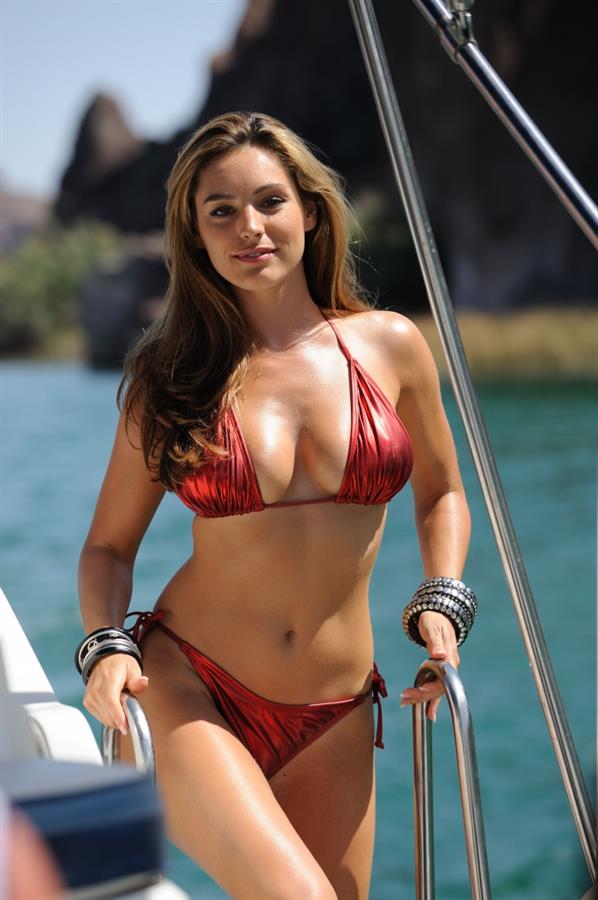 Kelly Brook's titles include actress, entrepreneur, and presenter, but he's also known as a "Playboy model."  That's because this sexy English import crushed it with one of the most memorable Playboy spreads in the magazine's history.
Brooke Burke
Issue: May 2001, November 2004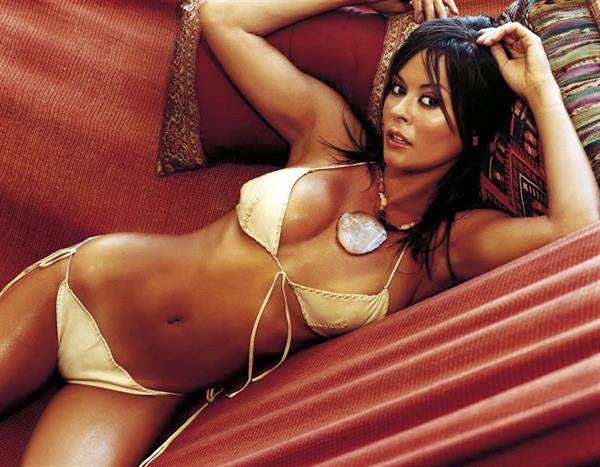 In 2001, Brooke Burke found her fame on E!'s Wild On, and seeing her present Dancing With the Stars in her skimpy outfits has probably brought back some of your old fantasies of the television host.  Just like that, your worries fluttered away like the sheet Brooke Burke used to cover herself in her November 2004 issue.
Katarina Witt
Issue: December 1998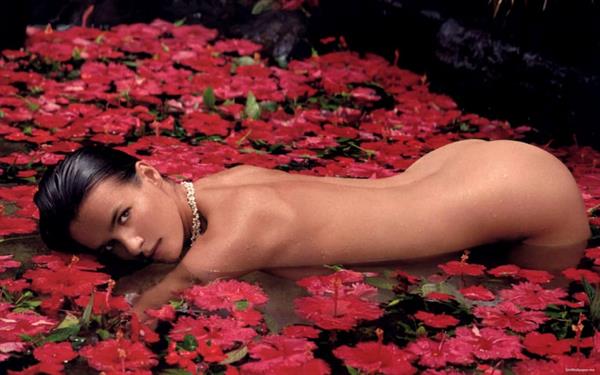 Katarina Witt will be remembered as a great Olympic figure skater. Athletes and Playboy can be difficult because superfit women don't always fit the magazine's aesthetics. Katarina, on the other hand.  She was not only in excellent shape, but she was also perfectly shapely.
Jenny McCarthy
Issue: June 1994, July 1996, December 1996, September 1997, January 2005, July 2012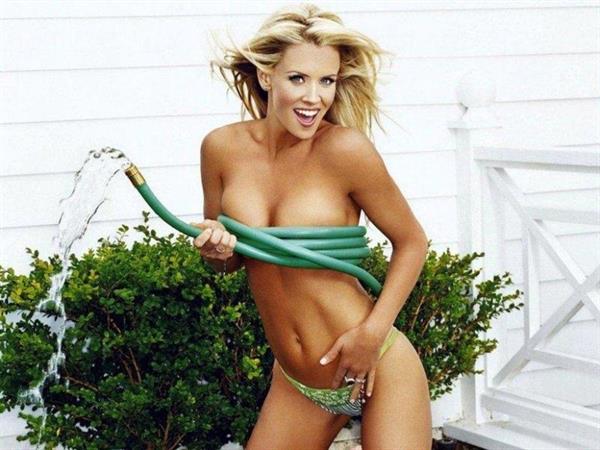 There are women who appear in Playboy because of their accomplishments, and then there are women who emerge from America to become girl-next-door sex symbols. Those are called Playmates.  And every now and then, a Playmate advances to the next level and becomes a celebrity.
Jenny McCarthy did it better than anyone else, going from a hugely popular Playmate photoshoot to Playmate of the Year and then to MTV's Singled Out.  She proved to be more than just eye candy, as she went on to appear in BASEketball (1998) and Scary Movie 3. (2002).
Stacey Dash
Issue: August 2006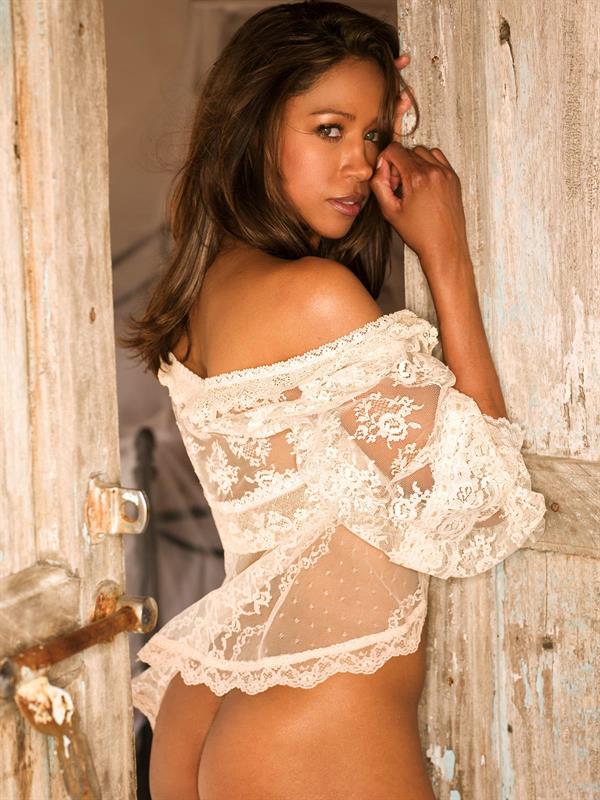 Stacey Dash wasn't on the cover, but the mere mention of her name in the Contents section had us turning to her spread right away.  No pun intended.  This was a far cry from the crazy overalls and Mad Hatter hats we'd seen her in on Clueless.
Ursula Andress
Issue: June 1965, December 1981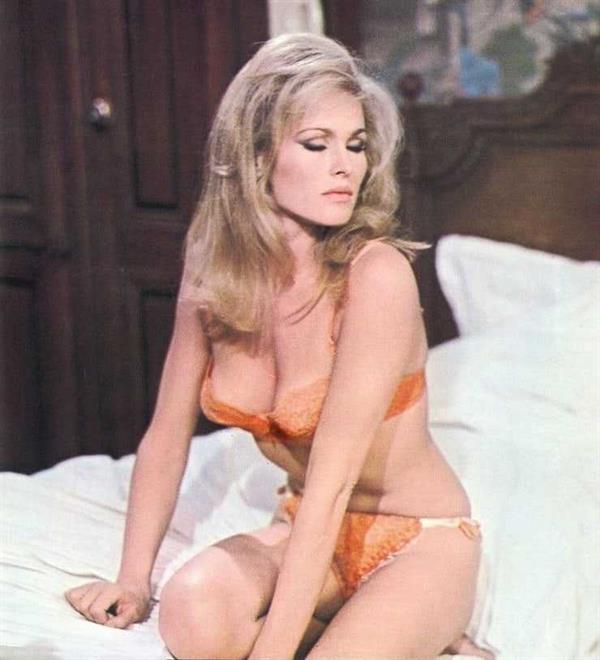 Ursula Andress won a Golden Globe for New Star of the Year in 1964 for her role as Honey Rider, the Bond girl.  The biggest sex symbol of the 1960s first flaunted her golden globes inside the pages of Playboy in 1965.  She simply replied, "Because I'm beautiful," when asked why she did the spread.
Pamela Anderson
Issue: October 1989, February 1991, July 1992, August 1993, November 1994, January 1996, September 1997, June 1998, February 1999, July 2001, May 2004, January 2007, January 2011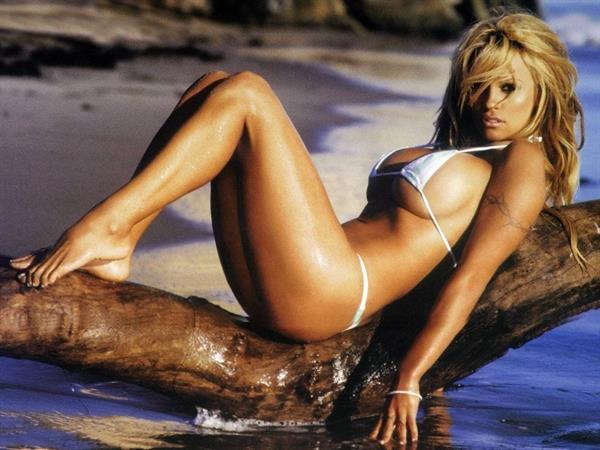 Pamela Anderson, a blonde bombshell, has been posing for Playboy for three decades.  She's also appeared on more magazine covers than anyone else, so choosing one was both a challenge and an honor.  Her January 2007 shoot (pictured above) pretty much encapsulates her relationship with the brand.
Tia Carrere
Issue: January 2003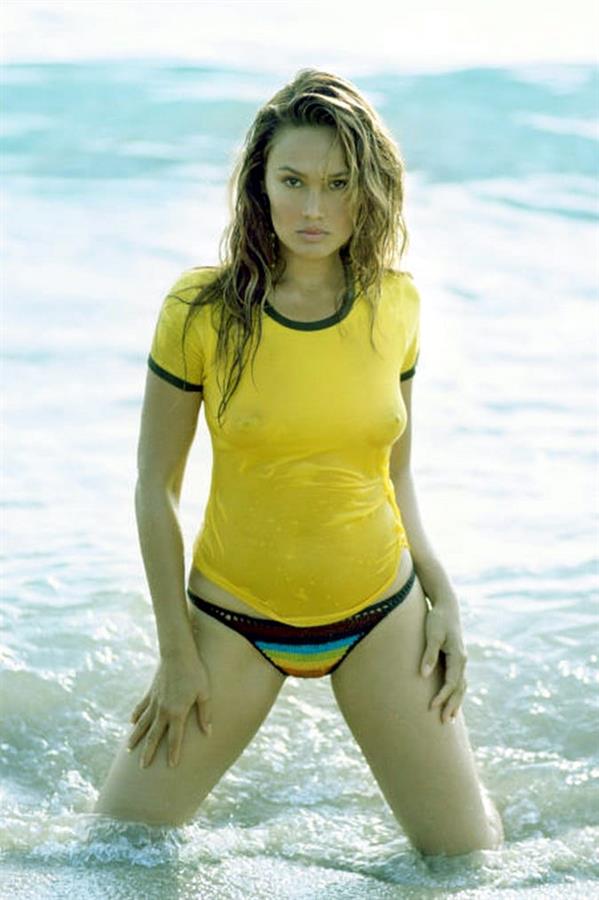 Tia Carrere is of Chinese/Spanish/Filipino descent and was born in Hawaii.  She burst onto the scene in the early 1990s, with roles in Rising Sun, True Lies, and Wayne's World.  Throughout her career, she had the option of appearing naked, but she declined.  Following her divorce in 2000, she posed for the Bunny.
Raquel Welch
Issue: December 1979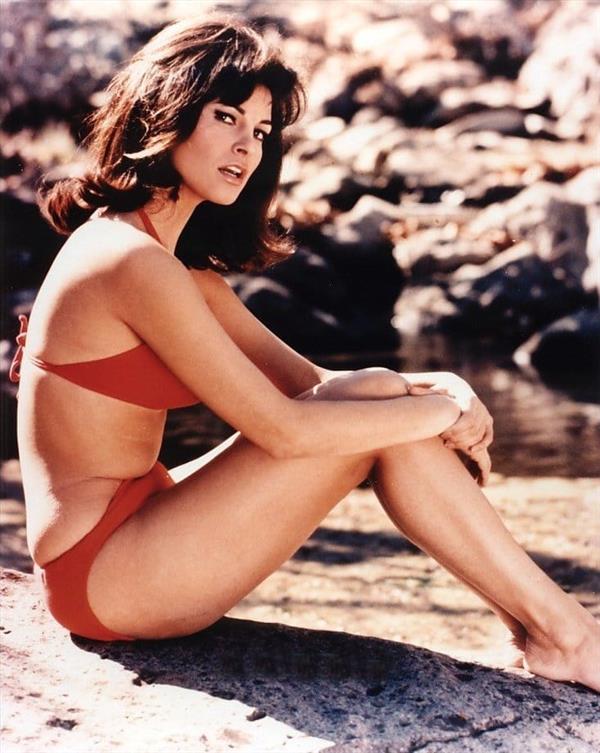 Raquel Welch appeared in the December issue of Playboy in 1979 as a gift to subscribers.  Even in the issue, the sex symbol in her tight red swimsuit left things to the imagination.
Jayne Mansfield
Issue: February 1955, June 1963
Jayne Mansfield's peek-a-boo cover from 1963 epitomizes the era's sexuality: you had to be sneaky about it.  Mansfield and all of her blessings were contained within the issue.  It's still difficult to compete with the sex appeal exuded by this risque actress, who was also Miss February 1955.
Kim Basinger
Issue: February 1983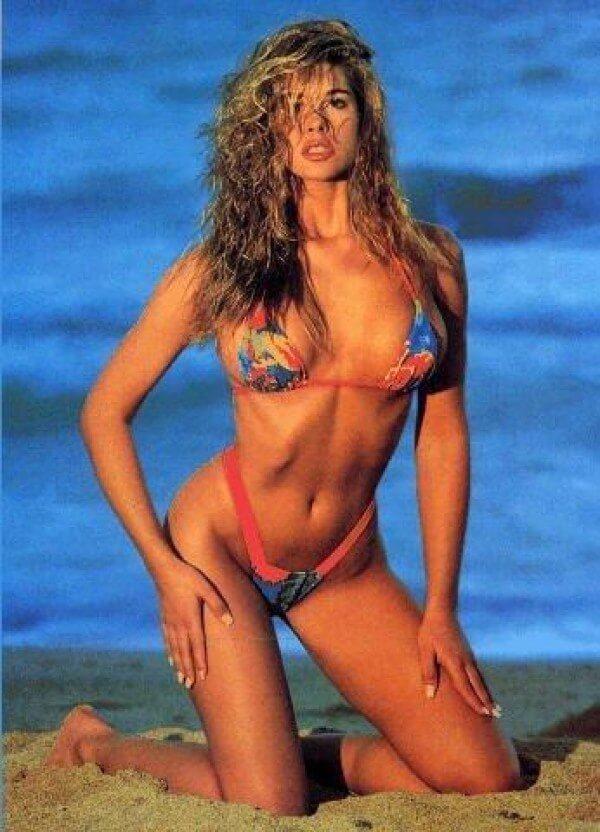 Kim Basinger was a hugely successful model who hadn't quite found her stride as an actress yet, but that was a virtual certainty with her then-upcoming turn as a Bond girl opposite Sean Connery in Never Say Never Again.  The magazine went all out, publishing a mega-profile that included Bob Fosse, Roger Vadim, George Plimpton, and Connery himself.
Elle Macpherson
Issue: May 1994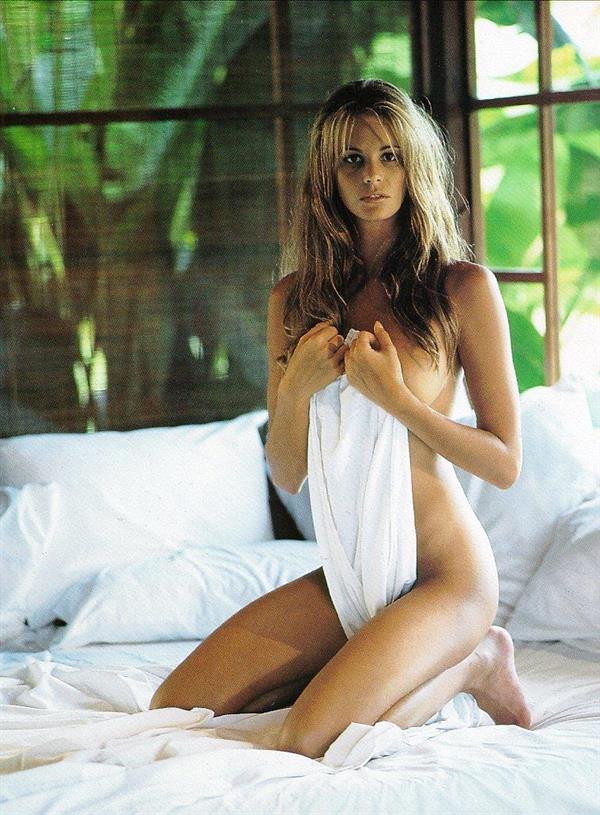 In 1994, Elle Macpherson demonstrated why she is known as "The Body," with a cover that featured the model in pantyhose and only "Elle" and Playboy in print.  The pose was inspired by a famous photograph of Brigitte Bardot from the 1960s.
Bo Derek
Issue: March 1980, August 1980, September 1981, July 1984, December 1994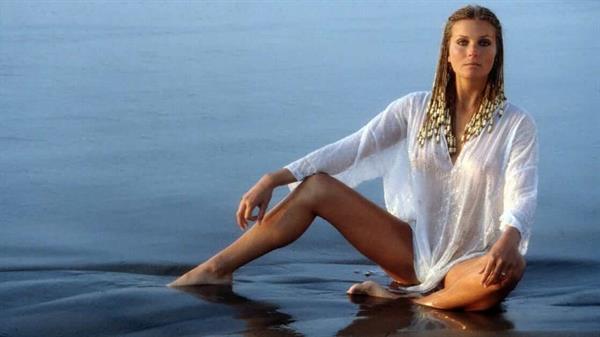 Because of her previous Playboy shoots and her breakthrough role in 10, Bo Derek was already the star of men's fantasies around the world by 1984.  Men realized they'd be okay with a little role reversal and would love to be her "damsel in distress" when she posed as a cowboy sucking a cigar.
Cindy Crawford
Issue: July 1988, May 1996, October 1998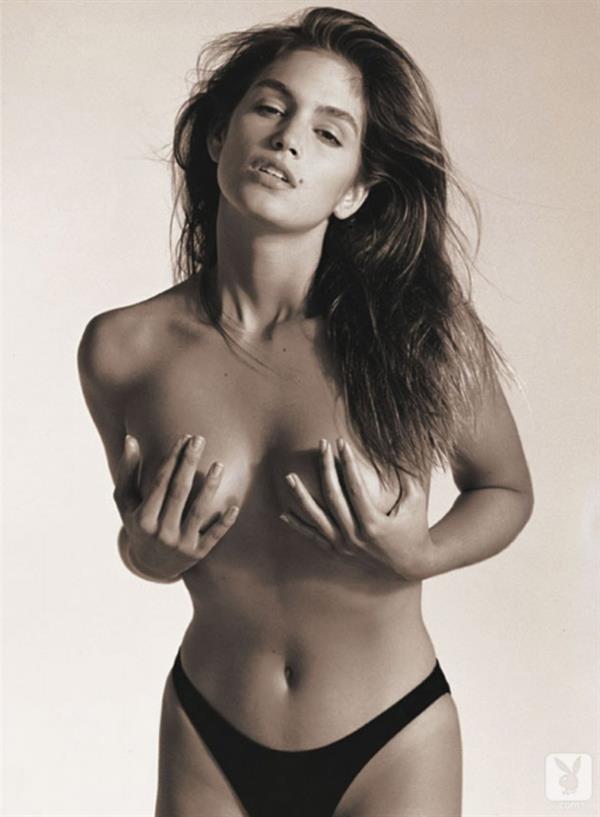 Cindy Crawford decided to model her birthday suit instead of her usual high fashion designer clothing in July 1988 (and again in 1996 and 1998).  We'd have to say the former looks particularly good on her.
If you think we've left out someone, please feel free to tell us in the comments section and we'll be happy to include them.