Elizabeth Turner: Not the Pirate
How many of you here got turned on by Keira Knightley's character Elizabeth Turner in the Pirates of the Caribbean movies?  I guess pretty much all of you.  But did you know that there is an equally hot chick with that name in real life (well that name is kinda common but we don't know about the hotness)?  Yup, and oh, like the character, she's beauty and brains, too.
Here, check her out.
Her name, folks, is Elizabeth Turner.  Elizabeth grew up in Griffin, Georgia (a very small town south of Atlanta)
She's 24 and she has worked with major brands such as GUESS and she has appeared in major magazines like Maxim.  Los Angeles based modeling agency, LA Models, currently represents her.
Elizabeth Turner's Career
Elizabeth got her start, while she was still in high school, in magazines/publications like Teen Vogue and Seventeen.  This girl though, although modeling full time, still put her education as her first priority (she spent a good four years studying at Duke University).  She's now a graduate and focuses her attention on her less academic gigs like being a lingerie and Guess Jeans model.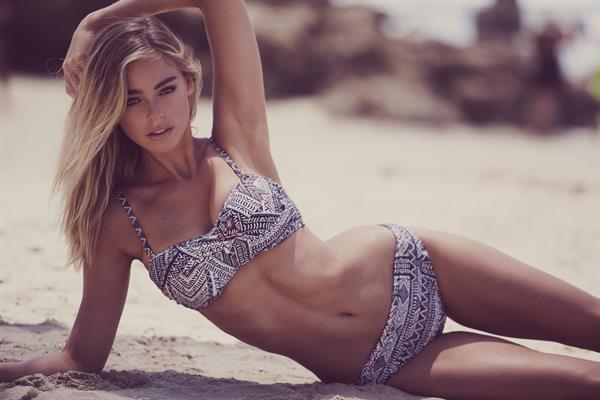 Los Angeles is currently her home but her career has turned her into a jet setter.  This vixen may be a serious lady but she still finds the time to enjoy her life by attending music festivals like Coachella.  She also loves exercising, reading, and movies—all those, things, as she tells it, helps her unwind after photo shoots and stressful travels.
If Elizabeth Turner didn't become a model (that would be one less Instagram star to follow), she would have pursued, according to her, a Ph.D. in Psychology.  Man, she just likes feeding that big brain o' hers…  We really admire that in a woman.  This very studious babe also considers her diploma/degree as her most prized possession (she wouldn't trade her degree for anything) and she wants to go back to school one day.  Okay, where she gets all the patience and all, we just don't know.  All we know is we have a huge crush on her.
Elizabeth Turner Pictures
So let's get on with it and show more pictures of Elizabeth.  You can also see more of her on her Instagram account