Everything about Ivana Santacruz is so attractive.  From her skin to her physique…  Everything.  Man, she's the type of woman you'd shamelessly follow with your eyes.  And you'd be totally focused that you won't notice the drool that is itching to touch your left breast pocket.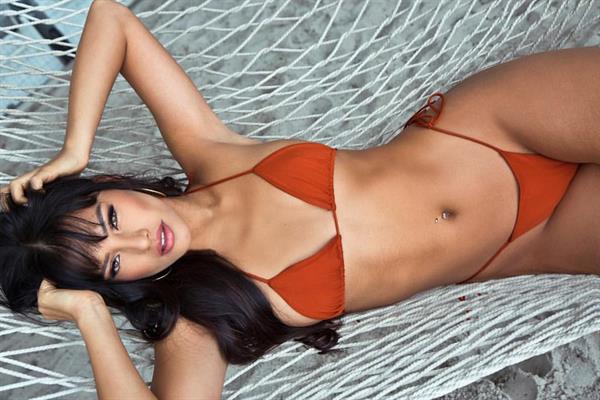 Man, just look at her.  Beautiful face, super-fit body, and her ass is something that would make you dream the best steamy dreams.  The only problem would be is the painful morning wood that follows.
Who is Ivana Santacruz?
Ivana Santacruz is a Germany-based, Mexican singer and Instagram star whose dance, fitness, and fashion-related posts have earned her quite a massive following.  This famous social media influencer recently launched her own dance and fitness program titled 'Sweat & Dance', which offers three 20-minute special dance sessions per week.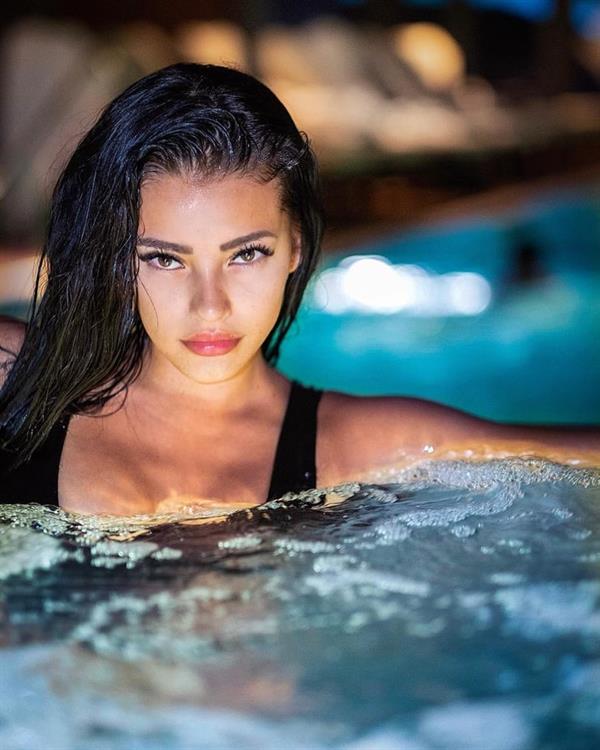 She signed a sponsorship deal with the international sports brand, PUMA, and often showcases their products on her feed.  Ivana also has her own clothing merchandise available for sale via the NA-KD online fashion store.
Her Early Life
Ivana Santacruz was born on January 23, 1996, in Puebla, Mexico to a Mexican mother and an Italian father.  At the age of five, she relocated with her mother and German stepfather to Germany where she was raised.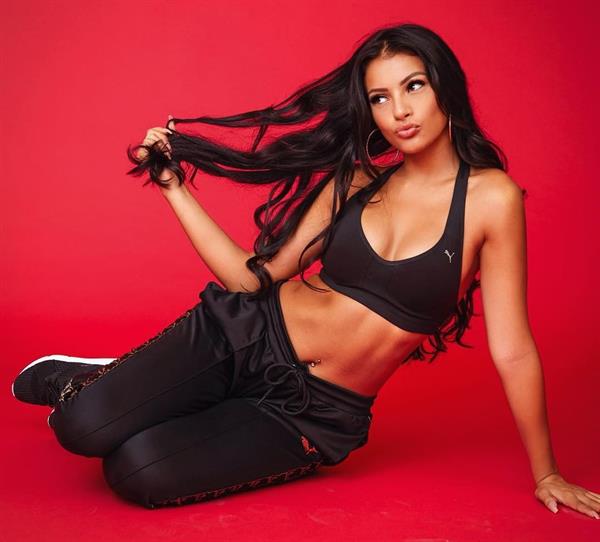 Ivana Santacruz was an athletic child who trained in gymnastics, but an injury forced her to abandon her professional sports ambitions.  It is her love for music that encouraged her to begin dancing when she was 14.  She became interested in fitness when she visited a McFIT gym at the age of 16.  While the first experience at the gym was quite exhausting for her, she continued her fitness journey, often combining it with dance moves.
Her Story
Ivana began to randomly post her own blend of fitness and dance videos on Instagram in 2014, and her first video was performing a set to the tunes of 'One Drop' by QQ.  Her videos attracted an increasing number of fans, which made it all the more fun for her.  By the end of 2016, she had amassed nearly 700k followers on Instagram and decided to focus more on her YouTube channel.  She joined YouTube back in September 2014, but her first video was only uploaded in early 2016.  She became more regular on YouTube by the end of 2017 and uploaded dance and workout videos, vlogs, Q&A's, room tour videos, unboxing, and more on her channel.
Facts and Trivia
One of her earliest Instagram posts was a dance routine set to QQ's hit single "One Drop."
In late 2016, she was chosen as the German face for the promo tour of 'Keeping up with the Kardashians', a popular reality television show.
In early 2017 she was seen on the red carpet for an event hosted by Maybelline at Berlin's Fashion Week.
Ivana Santacruz has been in a relationship with Instagram star and model Abbas Mourad since November 2017.  They first got to know each other through Instagram and communicated via direct messages before finally meeting in person in Milan.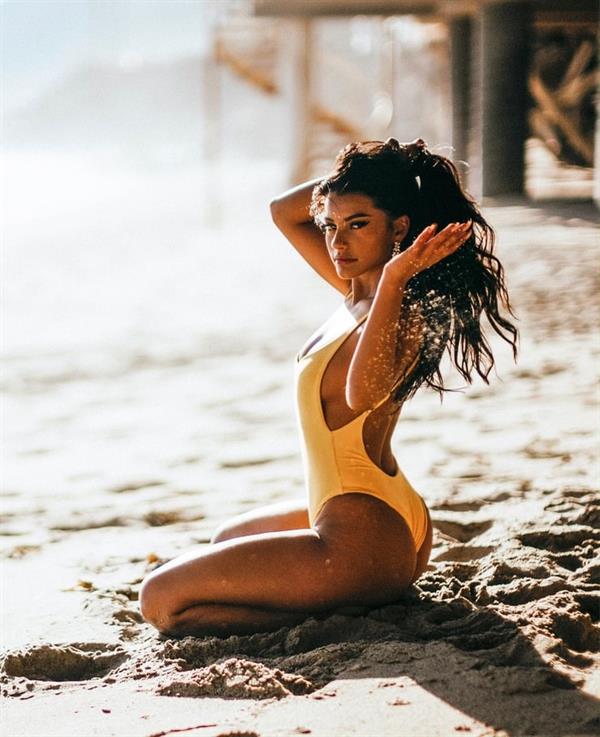 Ivana attended the 'World Fitness Day' event in Frankfurt in 2018.
Despite the fact that her current life revolves mostly around the internet, specifically Instagram, she is a private person who loves to spend her time offline.
Ivana also prefers to go to movies rather than to clubs or parties, even though she admits that she partied a lot when she was in her late teens.  She loves home-cooked meals but cannot cook herself, and often depends on her mother or boyfriend for the same.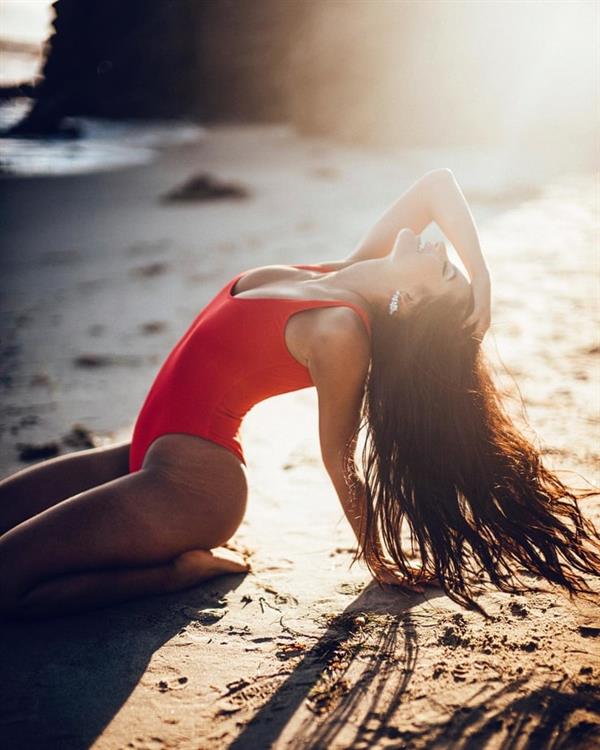 Ivana is mostly vegetarian but loves fish, especially shrimp and salmon.  Among all the countries that she has visited and lived in, she loves Germany the most because it is very organized and its people are punctual and disciplined. Ironically, she is admittedly a very messy person and cannot keep things organized.
Apart from German, she can fluently speak Spanish because it is her mother tongue.  She can also speak in English, and while she understands Italian, she cannot speak in that language very confidently.
While she is well-versed in street-dance, she told NA-KD in December 2018 that she finds modern dance quite inspirational.  She also loves classical dance and had once gone to a ballet in New York, even though she could not dance.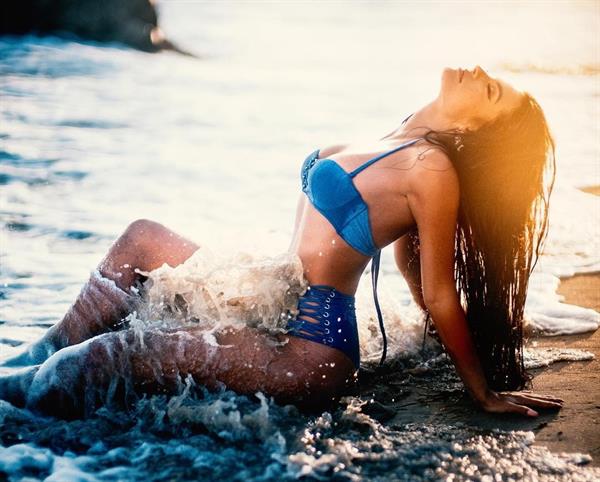 Ivana did an internship in graphics designing and feels that she would have chosen that profession had she not found fame on Instagram.  While she loves to show her creativity on social media platforms, she is also interested in acting on stage and loves photography as well.
Ivana moved out of her parents' house following her 18th birthday, and she is very proud of making it on her own.  She is very close to her mother, whom she considers her best friend and has gifted her mother with a car recently.
Her Body Measurements
Ivana Santacruz stands 5 feet, 6 inches and she has a 31-23-33 figure.
Ivana Santacruz Photos
Join her over 1.7 million followers on Instagram for a daily dose of her gorgeousness.
Also, do visit our Ivana Santacruz page for more of her hot, hot pictures.