Kenza Fourati is what you may need to see today.  Actually, every day.  Yup, for you to be inspired and to see the beauty in everything.  And yes, you should tape a photo of her in everything.  Just kidding but yeah… her hotness kinda' likes uplifts the mood and an image of her is enough, I think, to just put you all on fire.  And by that, I mean, be really inspired to work your ass off the whole day.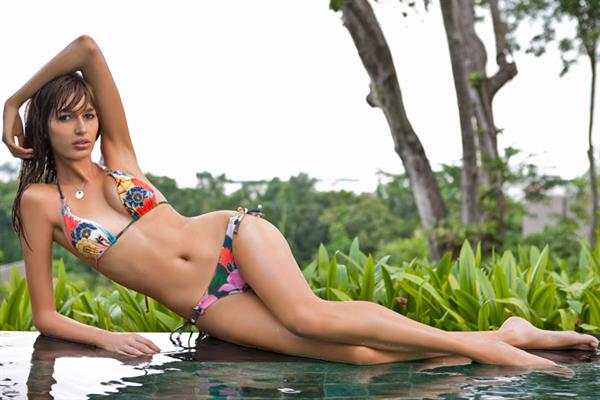 Who is Kenza Fourati?
Kenza is a French fashion model who has been featured in Vogue Paris, Elle, Marie Claire, L'officiel Voyage, Grazia, and GQ.  She walked the runway for Armani, Céline, Jean Paul Gaultier, Stella McCartney, Tommy Hilfiger, Valentino, and Vivienne Westwood.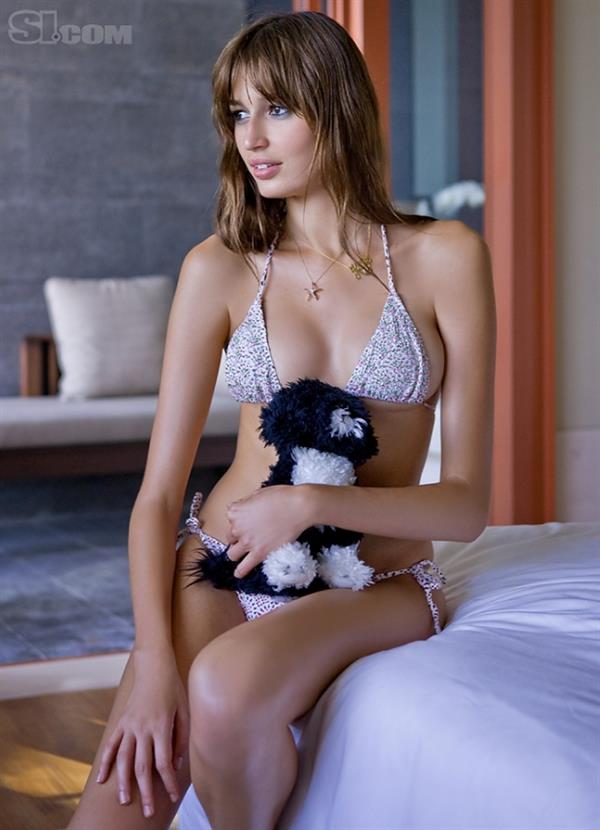 Kenza also appeared in Sports Illustrated Swimsuit Issue in 2011, which made her the first Muslim model to be featured in Sports Illustrated.
Her Early Life
Kenza Fourati was born in Lille, France on May 13, 1987.  She moved to her native Tunisia with her family when she was two months old, growing up in the coastal town of La Masra in Tunisia.
Her mother, Dora Bouchoucha, was a film producer and her father, Kamel Fourati, was a radiologist.  She has a younger sister, Maleke. She married journalist Ayman Mohyeldin in April 2016 and gave birth to their first daughter, Dora, in March 2017.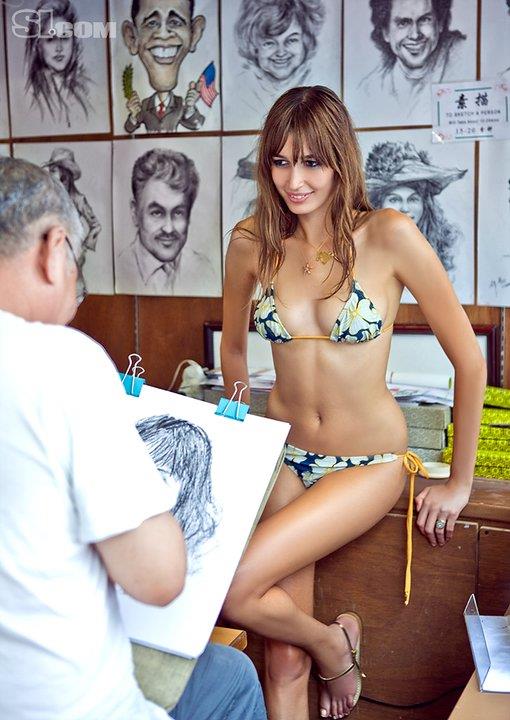 Kenza attended a French high school in Tunisia and began modeling after graduation.  Shortly thereafter, she moved to Paris, to study at the L'Universite de la Sorbonne.  Kenza graduated with a Bachelor in Literature and Fine Arts in 2008.  She then moved to London to study filmmaking at Kingston University, London where she continued modeling Fourati graduated with a master's degree in Film/Cinema/Video Studies in 2010.  Kenza has said that she has wanted to become a director since she was young. She has been studying acting at the New York Film Academy since 2011.
Kenza speaks Arabic, English, French, and "a little bit of Italian".  She has dual French and Tunisian citizenship.
Career Journey
Kenza finished third in the Elite Model Look competition at the age of 15 in 2002, and she signed with Elite Model Management.  She has appeared in numerous international magazines, such as Vogue Paris, Elle, Marie Claire, L'officiel Voyage, Grazia, and GQ.  Kenza has walked the runway for major fashion houses including Armani, Céline, Gianfranco Ferré, Jean-Paul Gaultier, Stella McCartney, Tommy Hilfiger, Valentino and Vivienne Westwood.
She co-starred with Diane Kruger in the 2005 French film Frankie.  Kenza co-hosted the Carthage Film Festival's opening and closing ceremonies in October 2010 alongside Tunisian actor Dhaffer L'Abidine.
In November 2013, Kenza launched her own women's fashion line in Tunis, Tunisia.  Her apparel collection comprised graphic T-shirts, long, sheer dresses, and oversized, long-sleeved tops.  Kenza created the fashion line in New York with the help of a pattern maker, and it was made in her native Tunisia.
Facts and Trivia
Kenza Fourati dated rapper and singer Ryan Leslie in 2011.
Following the Tunisian Revolution, Kenzai became an advocate for artistic expression in Tunisia.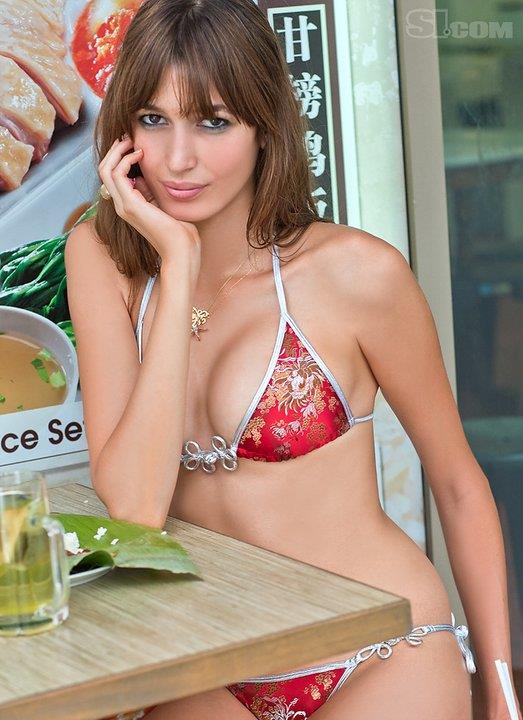 Though she was living abroad at the time, Kenza participated in Tunisia's four-week Jasmine Revolution that toppled President Zine El Abidine Ben Ali.  The revolution which began on December 18, 2010, culminated with the flight of Ben Ali and his family on January 14, 2011.
As the first Arab Muslim model to be featured in Sports Illustrated, she raised debates in Tunisian society and abroad about what it means to be Muslim and about variety within the religion.
In August 2011, during the Muslim month of Ramadhan, Kenza appeared in a bikini and body paint on the cover of Tunivisions, which created controversy.  In a 2012 interview, Kenza was critical of the magazine.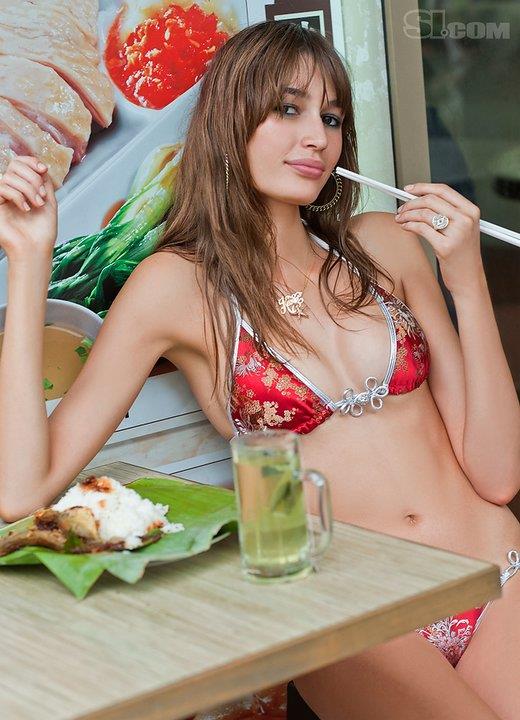 On April 26, 2016, Kenza married Ayman Mohyeldin, a television journalist for NBC News, in an intimate ceremony in his home state of Georgia.
Kenza revealed in a "Vogue Arabia" interview that she was expecting her first child with her husband, Ayman Mohyeldin, in early 2017.  Their daughter, Dora Fourati Mohyeldin, was born in New York on March 12, 2017.
Her Body Measurements
Kenza stands 5 feet, 10 inches and she rocks a 34-24-34 figure.
Kenza Fourati Photos
Follow Kenza on Instagram for her latest personal posts.
And don't forget to visit our Kenza Fourati page for more.