Golf.  Yup, boring to many but to some, it's an exciting sport.  Okay, I may be a part of the 'many' and you may also be but we can't deny that this sport has got some of the classiest and hottest women.  Yup.  You don't believe it?  Well, read on my friend.  It may not have the same number as that of tennis (or beach volleyball) but this sport truly sports the cultured hotties.  And so here they are in no particular order…
Carly Booth
Carly Booth, a Scottish professional golfer, is the first on our list.  She became the youngest Scot to qualify on the Ladies European Tour at the age of 17.  Her most recent victory came in the Tipsports Czech Ladies Open in 2019.  Booth was allowed to practice on the course built just for her and her brother, professional golfer Wallace, at the family farm when she was younger.  It's safe to say that golf is in her blood.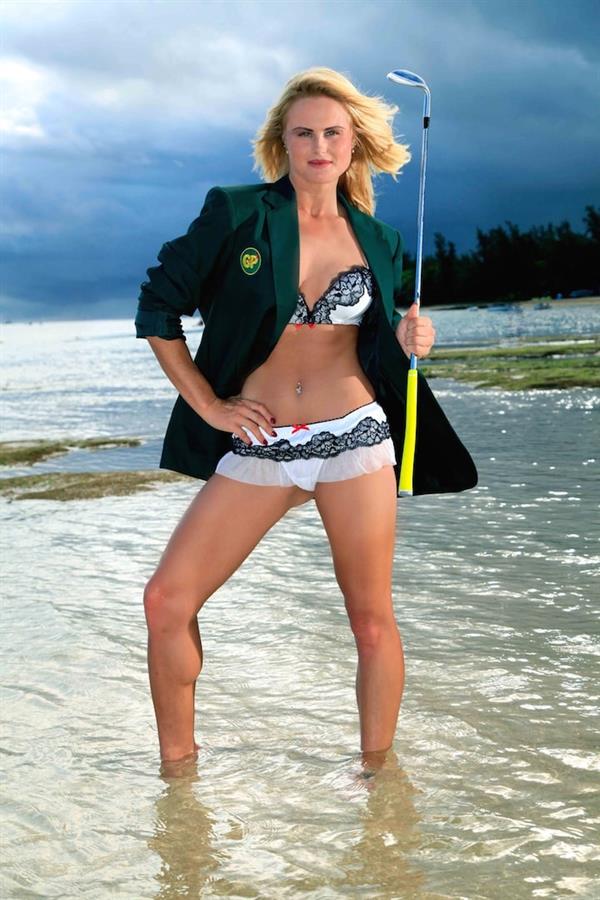 Natalie Gulbis
Natalie Gulbis is a professional golfer from the United States who competes on the LPGA Tour.  Natalie grew up playing golf in California and won her first tournament at the age of seven.  She competed in her first LPGA tournament at the age of 14 and was a member of her high school's boy's golf team.  She has not only been playing golf, but she has also released her own calendar, appeared on reality television shows, and was included in the Sports Illustrated Swimsuit Issue in 2012.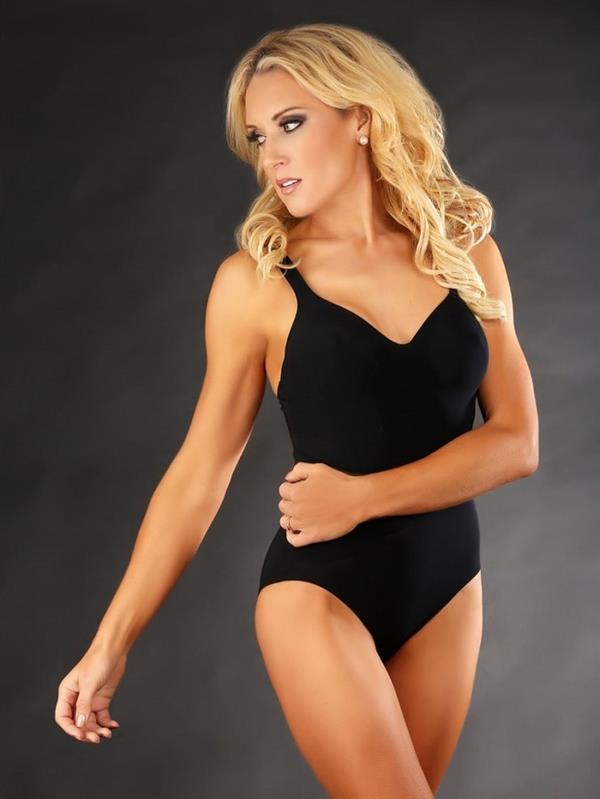 Sydnee Michaels
Sydnee is a golfer from the United States who has been a member of the LPGA Tour since 2012.  Back in 2011, she was also named Future Rookie of the Year.  Her career has been somewhat quiet since then, yet she is still attractive…  very.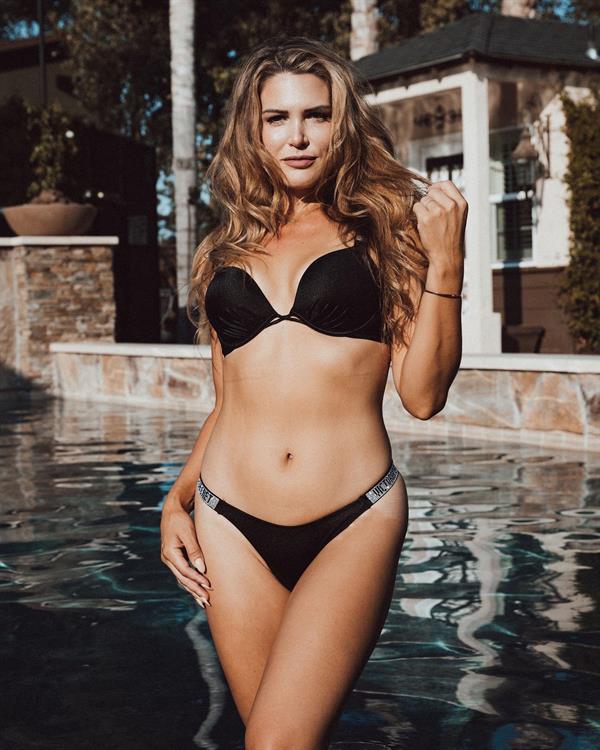 Her hobbies include working out, yoga, cooking, listening to music, shopping, dancing, and performing arts.
Paula Creamer
Paula is another American golfer who has won 12 tournaments, 10 of which were on the LPGA Tour.  She is without a doubt one of the most accomplished golfers on the list, and she has a number of endorsements.  She has previously been named one of the top ten highest-earning female athletes.  Paula's life is going well.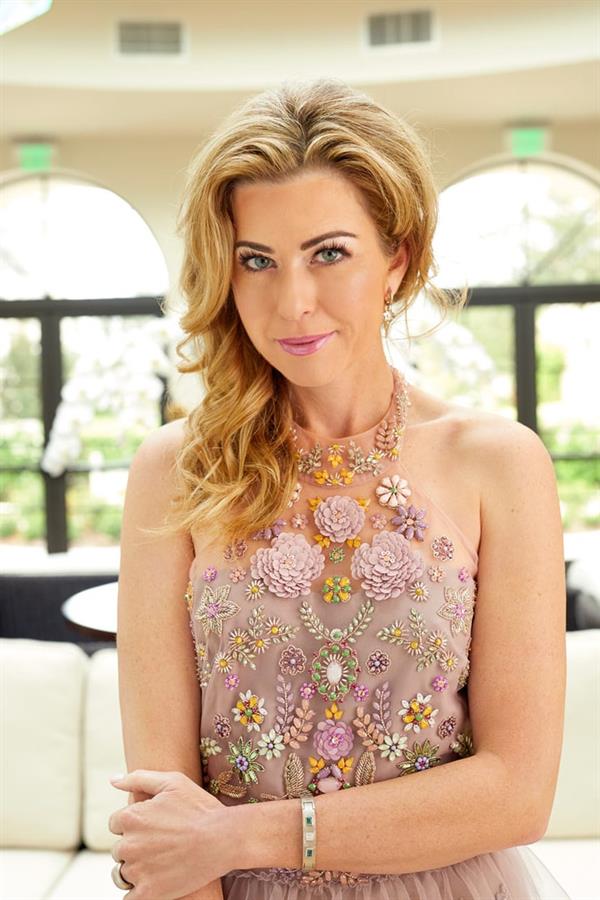 Paula Creamer was born in Mountain View and reared in Pleasanton, California.  She is the only child of a flying father and a stay-at-home mother.  Paula began playing golf at the age of ten after participating in acrobatic dancing and gymnastics as a child.  She won 13 consecutive regional junior competitions in northern California at the age of 12, and the next year she was the top-ranked female junior golfer in California, before moving to Bradenton, Florida in 2000 and enrolling at IMG Pendleton School, a co-educational prep school for athletes.
Courtney Harter
Courtney Harter is a golfer from Clearwater, Florida who competes on the LPGA Symetra Tour as well as the Ladies European Tour.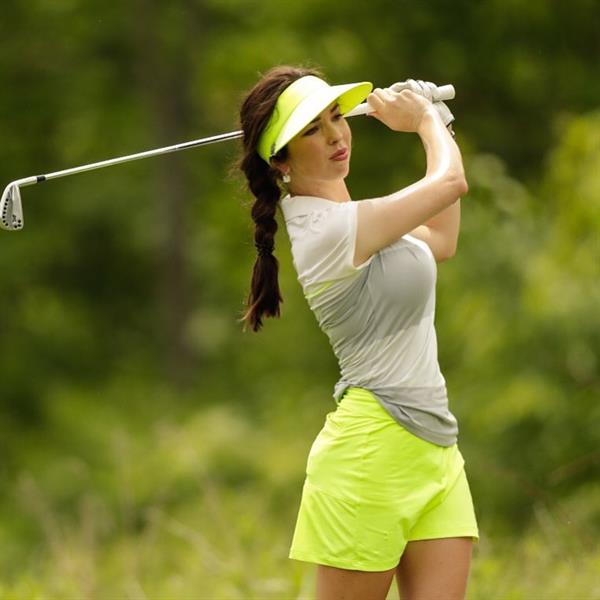 She began playing golf at the of 10 years old.  She enjoys traveling, cooking, working out, yoga and she's a sports fanatic.
Veronica Felibert
Veronica Felibert, a Venezuelan who turned pro in 2012, is up next.  Her finest year thus far has been 2014, when she won the Credit Union Classic and finished in the top ten six times. She likes to run, cook, and spend time with her family.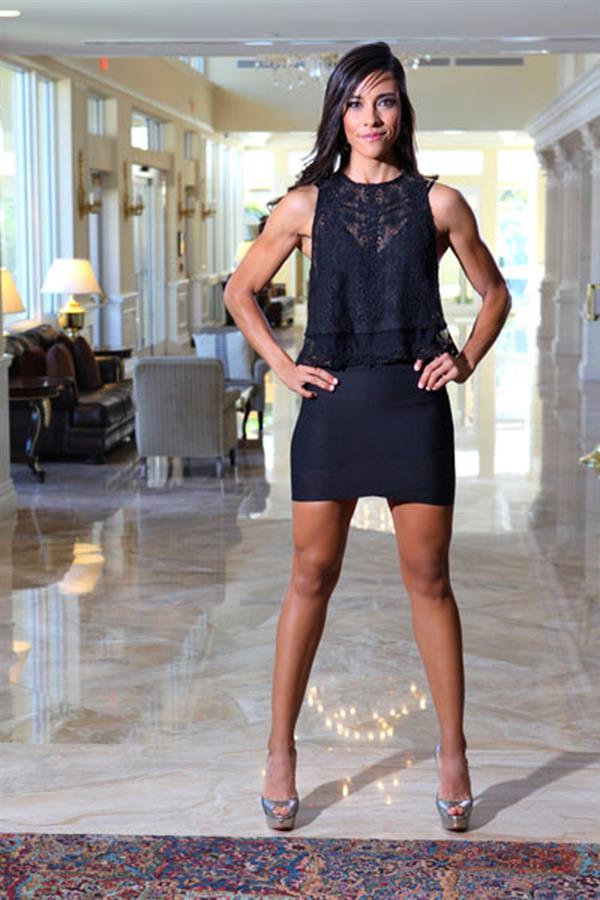 Veronica began playing golf at age of seven years old. She credits her parents and sister as the people who most influenced her golf career. She enjoyed a successful amateur career, winning the Venezuelan Junior Stroke Play Championship (1997, 2000-2002); the 1997 Venezuelan Junior Championship, and the Venezuelan Junior Match Play Championship (2000-2002). She played her collegiate golf at the University of Southern California where she recorded two wins.
Natalia Ghilzon
Natalia Ghilzon is the next name on our list of the sexiest female golfers.  Natalia is without a doubt one of the coolest gals on our list.  Why?  Because she enjoys working out, dogs, drinking, and is a professional golfer.  She is literally every guy's fantasy woman, and she is also a total babe.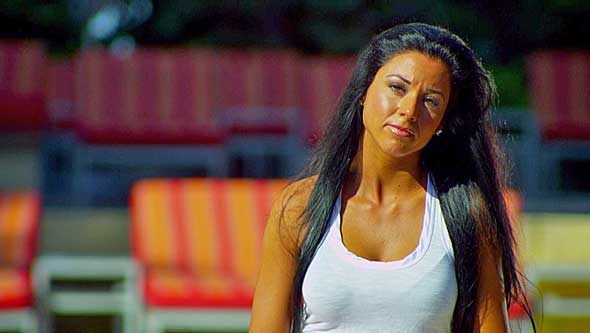 Natalia became interested in the game when he was three years old.  She began competing in golf events at the age of eleven, defeating opponents three and four years her senior.  On June 17-19, 2013, she competed in the CN Canadian Tour tournament at Ambassador Golf Club.
Kathleen Ekey
Kathleen, who was born in Cleveland, Ohio, is another American on the list.  She became a pro in 2009 and is now on the LPGA tour.  Sorry, fellas, she's married as well.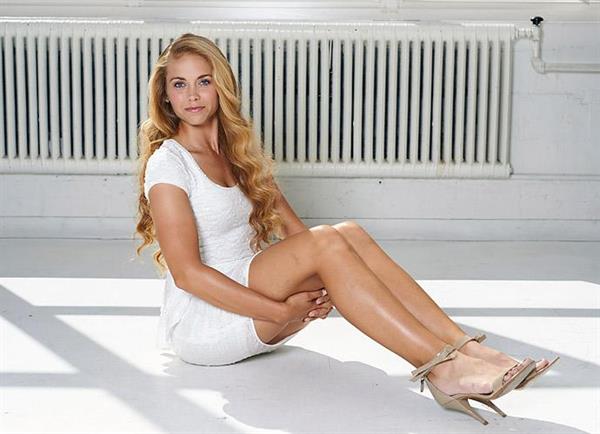 Kathleen Ekey played college golf at Furman University for the first two years of her career before transferring to the University of Alabama for the final two years.  She earned a bachelor's degree in Communications Studies.
Valeria Ochoa
Valarie Ochoa is an LPGA golfer who appeared on the golf reality show Big Break VII.  She also teaches golf at the Diplomat Golf Club in South Florida.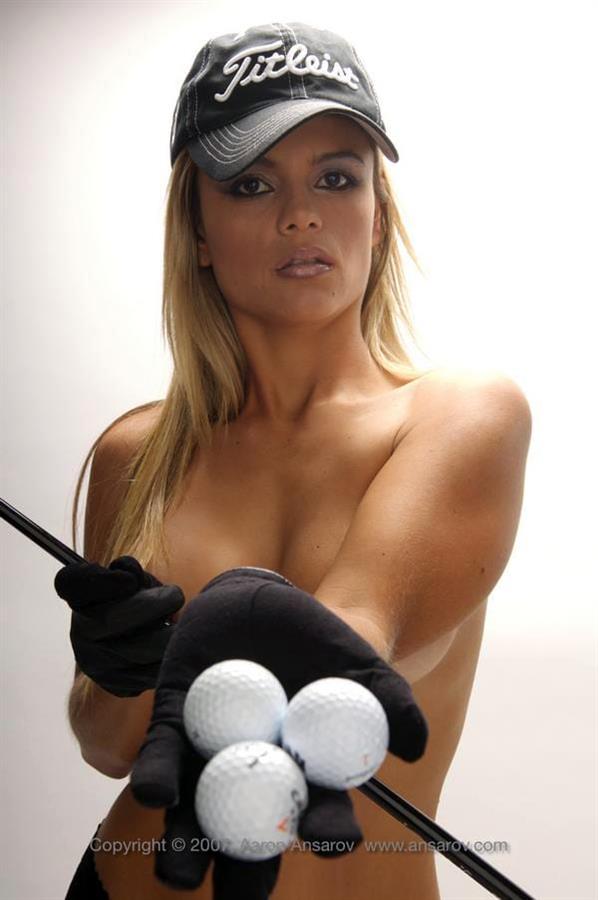 Demi Runas
Demi Runas of the United States is up next on our list of the sexiest female golfers.  She joined the LPGA Tour in 2014 after playing college golf at the University of California, Davis, where she was named Big West Conference Player of the Year.  Yoga, baking, and working out are among her interests.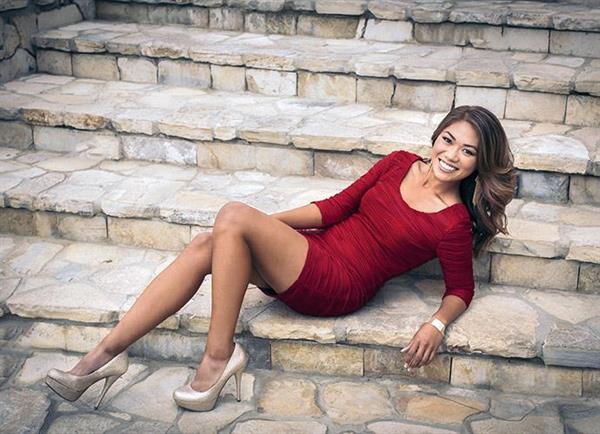 Demi was born in Los Angeles, California in 1991 to Filipino parents.  She began playing golf at the age of eight.  Torrance High School in Torrance, California was her alma mater.  Demi was a member of the school's golf and soccer teams throughout high school.
Jessica Korda
Jessica is another LPGA tour golfer from the United States.  She has 5 LPGA victories to her name so far.  Jessica Korda is the daughter of Petr Korda and Regina Rajchrtová, both professional tennis players.  Her sister, Nelly Korda, also competes on the LPGA Tour.  Those are some potent genes.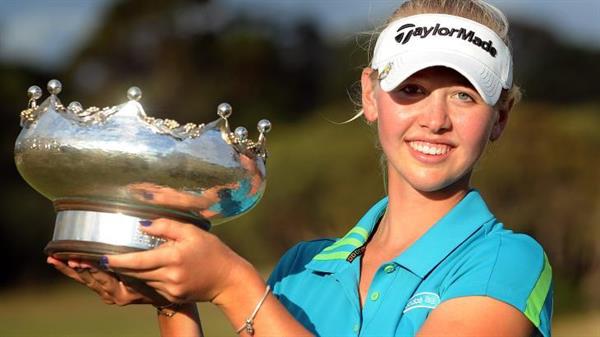 Jessica Korda was a member of the United States Olympic Team in 2009.  Junior Solheim Cup and U.S. Open in 2010.  Curtis Cup squads She won the South Atlantic Amateur in 2010 and reached the cut in the US Open in 2008 and 2009.  The women's tournament begins.  Korda finished 19th on her debut in the United States.  In her Open debut in 2008, she shot the only round in the 60s on Sunday, a 69.  She came in second place in the 2010 U.S. Women's Amateur (Women's Amateur).
Nikki Garrett
Nikki is an Australian professional golfer who made the Ladies European Tour in 2006, when she was named Ryder Cup Wales Rookie of the Year.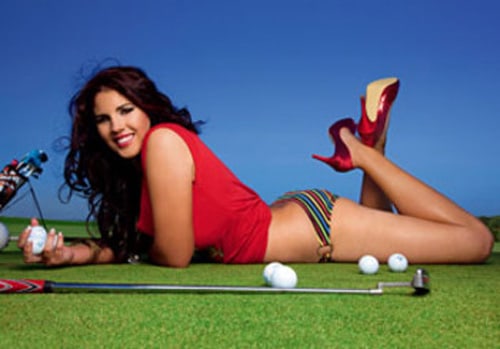 Nikki Garrett made her professional debut in late 2005.  She won back-to-back LET titles in 2007 at the Tenerife Ladies Open and the Open de Espana Femenino.
Sharmila Nicollet
Sharmila is a pro golfer from India who is Indo-French. At 6'1″, I'm prepared to wager she's the tallest golfer on this list.  Not unexpectedly, she is one of India's most photographed golfers of any gender.  Sharmila enjoys fitness and working out, which we think is a wonderful benefit.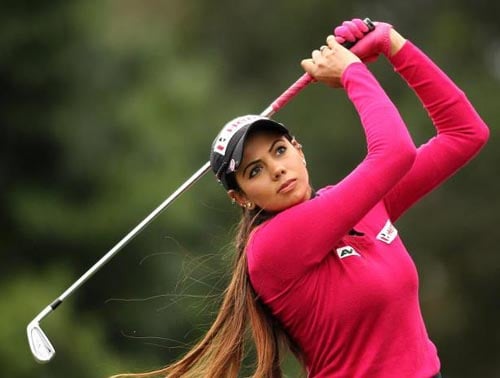 Sharmila Nicollet began playing golf at the age of 11 in 2002.  She won her first event when she was 15 years old.  She is a former national sub-junior swimming champion, having won over 72 gold and silver medals in state and national competitions (1997 to 2001).  She was also a state-level athlete, setting records at Bishop Cotton Girls School, where she attended.
Belen Mozo
Belen Mozo is a Spanish golfer who competes on both the LPGA Tour and the Ladies European Tour.  She won the British Ladies Amateur Championship in 2006 and went on to play college basketball at USC before turning pro and joining the LPGA in 2011.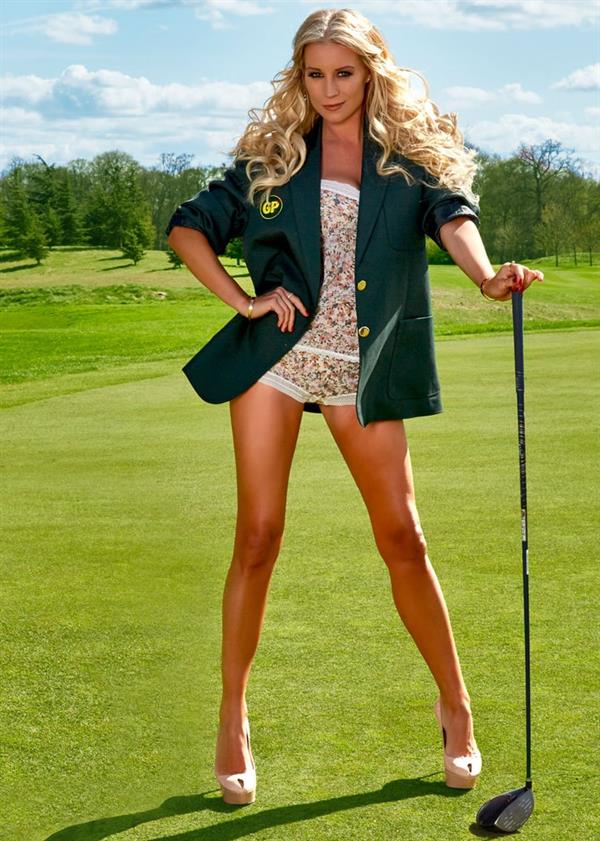 Her hobbies include playing tennis, reading books, and going to the beach.
Melissa Reid
Melissa Reid is an Englishwoman who competes on the Ladies European Tour.  She debuted on the Ladies European Tour in 2008 and was voted Rookie of the Year.
Fun fact: At the 2019 Hope Founders Cup in Arizona, she was upstaged by a bobcat prancing over the green on live television in 2018.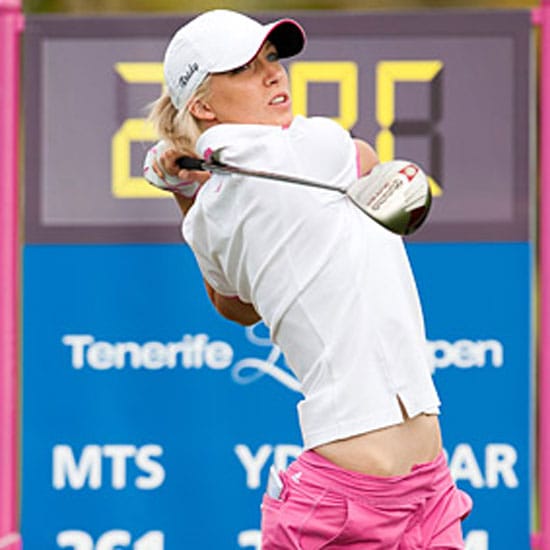 Melissa was born in the English town of Derby.  As an amateur, she won the English Girls' Championship in 2004 and 2005, the Helen Holm Trophy in 2006 and 2007, the St Rule Trophy in 2007, and the Ladies' British Open Amateur Stroke Play Championship in 2007.  In the 2006 Curtis Cup, she was a member of Great Britain and Ireland squad.
Melissa was the low amateur at the 2007 Women's British Open with a T16 finish.
Sophie Horn
We can't lie, Sophie looks more like a model than a golfer, so much so that we almost didn't include her on the list.  She was more involved in golf about 2012, but she hasn't done much golf or modeling since then.  It appears that the only place you can locate her is on lists like this one.
Sophie Horn has been golfing for as long as she can remember, she claims.  Three years in a row, she was elected Norfolk County Champion, and at the age of 15, she won the Under-21 title.  She also won the Midlands Championship and went on to become the Champion of Champions in 2001.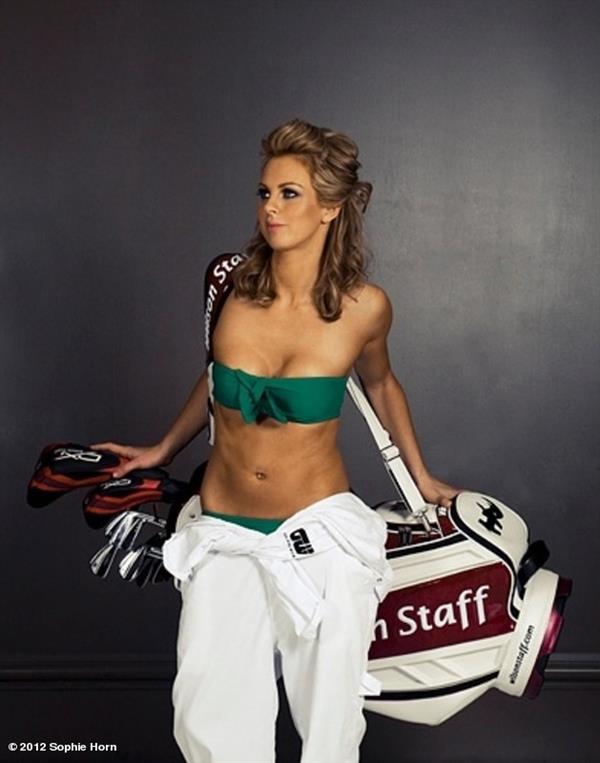 Enjoy her while you can, when we update this list she will likely be the first to go since she doesn't seem active.
Maria Verchanova
Maria Verchanova is a Russian golfer who is the country's first full-time member of the Ladies European Tour.  During the Rio Olympics, she also established a course record with a 62.  In addition, she has done a lot of modeling over the years.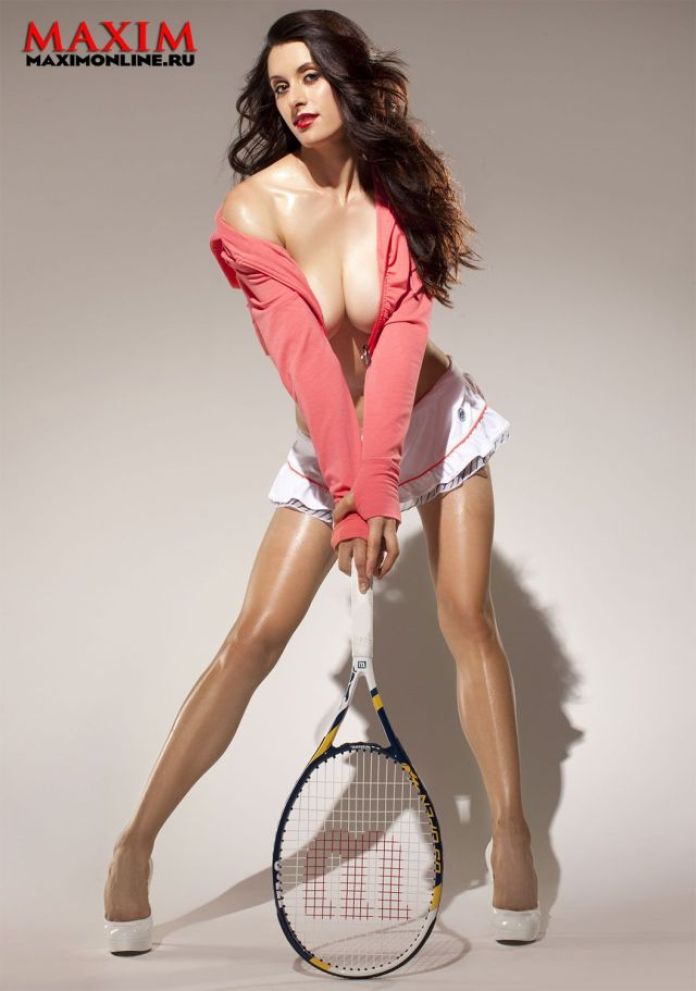 Lily Muni He
Muni (also known as Lily) is a golfer and Instagram sensation noted for providing an unusual blend of golfing and modeling images. She is also known for publishing a variety of leisure content, such as golfing tournaments and new recipes she tries.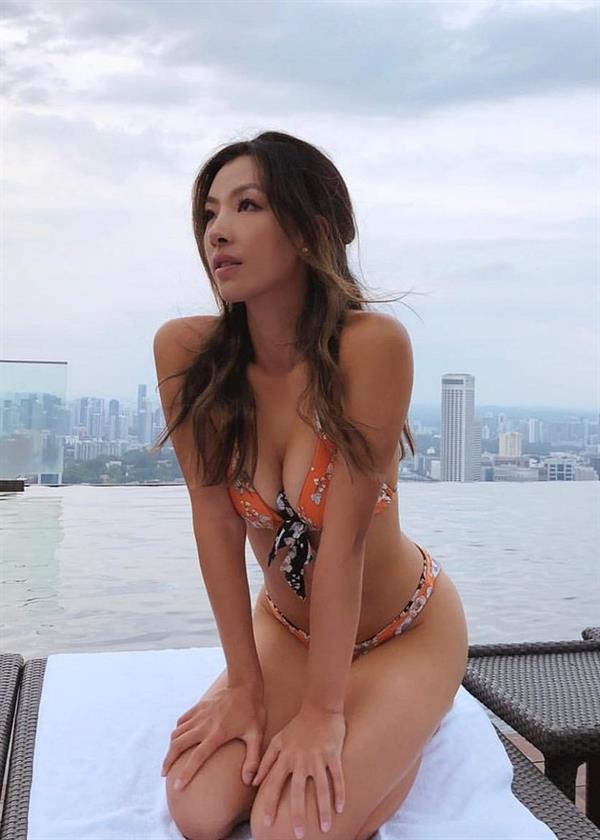 Muni He is well recognized for her performance in the CLPGA in July 2017, when she ended with a score of 70-67-68. She also won the 2018 Prasco Charity Championship and the 2019 Ladies Golf Professional Association (LPGA) Q series competition, gaining her coveted membership in the LPGA, the world's largest association for female professional golfers.
Lexi Thompson
Lexi Thompson, an American golfer on the LPGA Tour, is up next. Lexi qualified for the US Women's Open at the age of 12, making her the youngest player ever to do so.  She turned pro at the age of 15 and won the LPGA's youngest ever winner at the age of 16.
She has since had a tremendous career, winning one major and nearly a dozen more tournaments.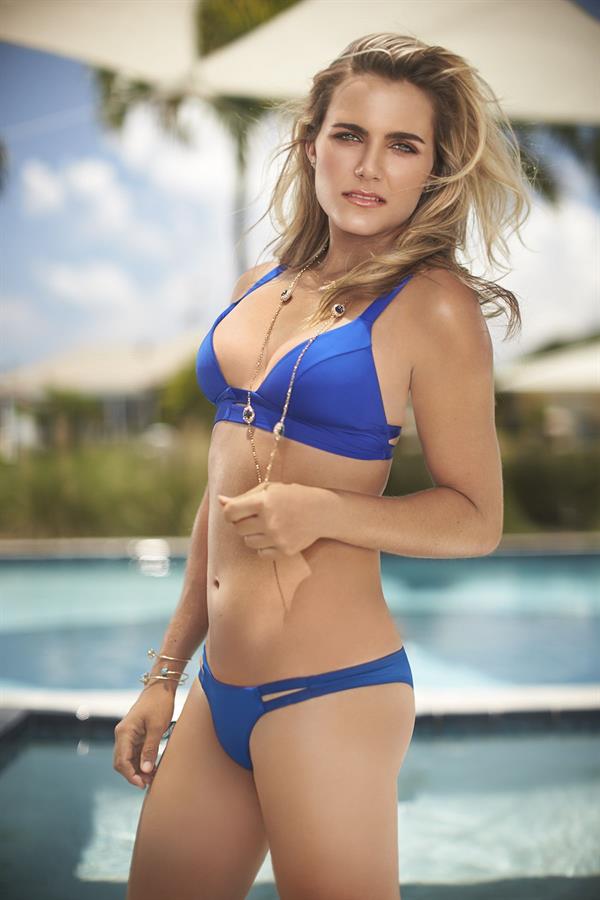 Her two brothers are both professional golfers, with Nicholas Thompson competing on the PGA and Korn Ferry Tours and Curtis Thompson competing on the Korn Ferry Tour.
Michelle Wie
Michelle is yet another American who competes on the LPGA Tour.  She was also the youngest female golfer to qualify for an LPGA Tour tournament, and she owns numerous more titles in the "Youngest Female Golfer" category.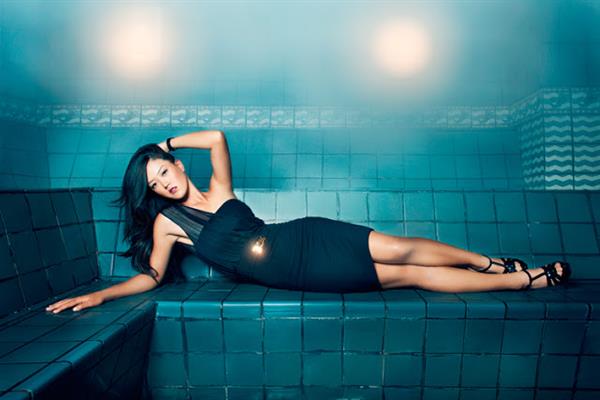 She has won one major and various other tournaments throughout the years and has faced criticism for participating in men's tournaments, which she hasn't done since 2008.
Michelle Wie is married to the son of basketball icon Jerry West, and they have a baby girl due in June 2020.
Beatriz Recari Eransus
Beatriz is a Spanish professional golfer who competes on both the Ladies European Tour and the LPGA Tour.  She has three LPGA Tournament victories to her credit, as well as one on the Ladies European Tour.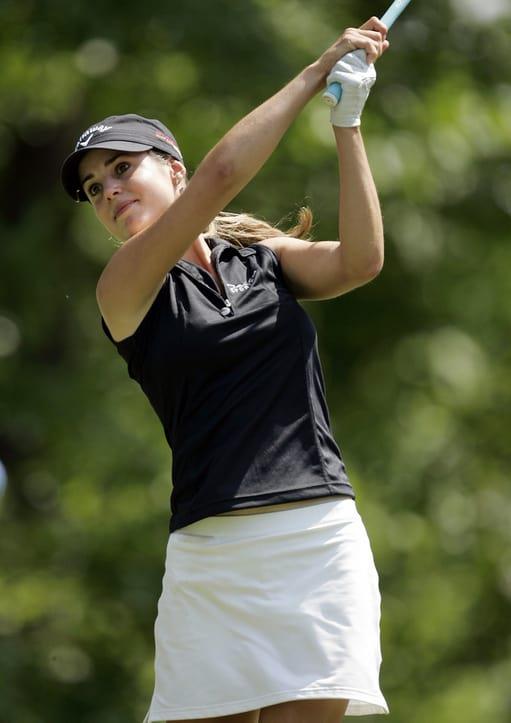 Beatriz Recari began playing golf at the age of 11 and went on to win the 2004 Spanish Amateur Championship and the 2005 French Amateur Championship as an amateur.  In 2003, she came in second place at the Girls Amateur Championship.  She won the European Team Championship in 2004 as a member of Team Spain, and she competed in the Junior Solheim Cup in 2005 as a member of Team Europe.
Lucy Robson
Lucy Robson, a British golfer, is up next. She is classified as a "Instagram model who golfs." She is undeniably attractive, but she does not play golf professionally.
She was voted Treasure Coast Player of the Year in 2012 and 2013, and she attended the University of South Florida and Cal Poly college. Since then, she hasn't done much other than post on Instagram, but with her large following, she could easily show up at a celebrity golf event, which I'm sure the guys wouldn't enjoy watching.
Cheyanne Woods
Cheyanne Woods is Tiger Woods' niece, thus golf is clearly in her blood.  Before turning pro, she won more than 30 amateur tournaments and the Volvik RACV Ladies Masters.
She enjoys ping pong, hiking, and traveling when she is not playing golf.  She would work in sports broadcasting if she wasn't playing golf for a living.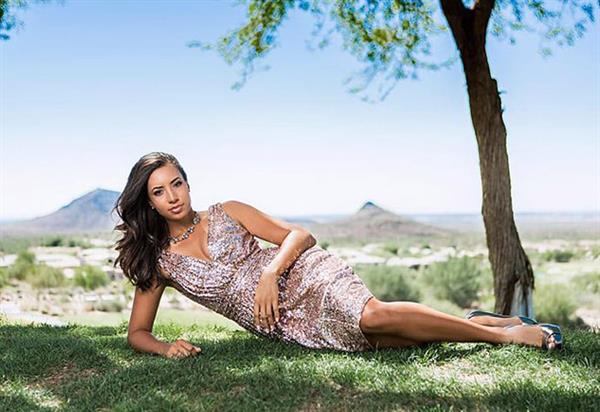 Cheyanne is the LPGA Tour's sixth African American player.
Blair O'Neil
Blair O'Neil is a professional golfer, model, and Golf Channel host, as well as the winner of the golf reality show "Big Break: Dominican Republic."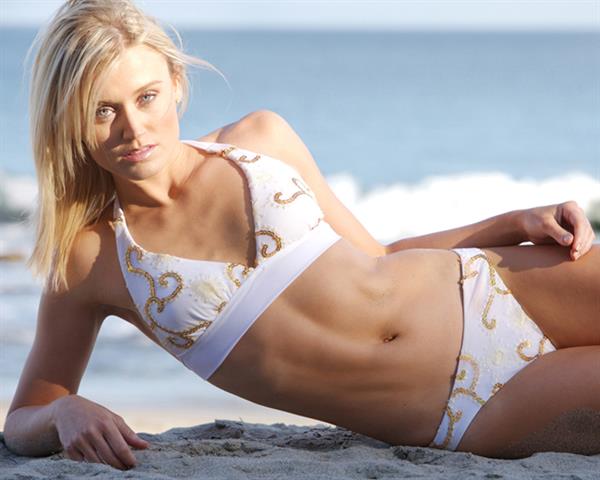 She and her brother entered a local junior golf clinic at San Marcos Golf Resort in Chandler, Arizona, when she was 11 years old.  Her father enrolled them both. She practiced at Dobson Ranch Golf Club in Mesa at the same time.  She began playing for the American Junior Golf Association when she was 13 years old (AJGA).
Paige Spiranac
Paige Spiranac is a professional golfer and fitness fanatic from the United States.  She's been playing golf since high school, and she's won a number of trophies along the way.  Paige is also an internet celebrity with a rapidly rising fan base that shows no signs of slowing down.
Her first choice wasn't necessarily golf.  In reality, she had wanted to become a gymnast as a child, but a shattered knee cap at the age of 12 changed her plans totally.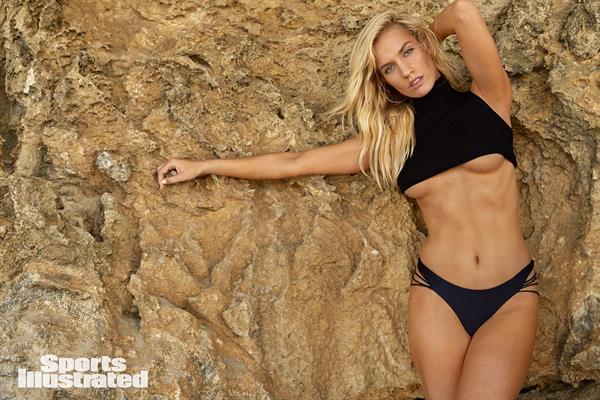 Paige has toured the world playing events and modeling for a variety of sports organizations since breaking into the world of professional golf.  She also began to share more of her personal life on the internet.  This included her workouts, which she adhered to religiously in order to remain in peak condition.
Paige Spiranac's name became well-known not only in the game of golf but also across her social media channels.
And that's it, friends! See you on the next!