Is there someone in here who doesn't know who Claudia Schiffer is?  Maybe…  But I'm pretty sure you've heard or come across her name at least once in your life.  I mean, she's a household name for crying out loud.  Only those who are from a galaxy far, far away are not familiar with her.
But seriously now…  Claudia Schiffer here is our ultimate Timeless Tuesday feature.  Because she is an ultimate hottie and because she is friggin' timeless!
Who is Claudia Schiffer?
Claudia is a German supermodel, fashion designer, and executive producer, based in the United Kingdom.  She became famous for walking the catwalks during the 1990s.  She has appeared on more than 1,000 magazine covers and holds the record for the model with the most magazine covers, listed in the Guinness Book of World Records.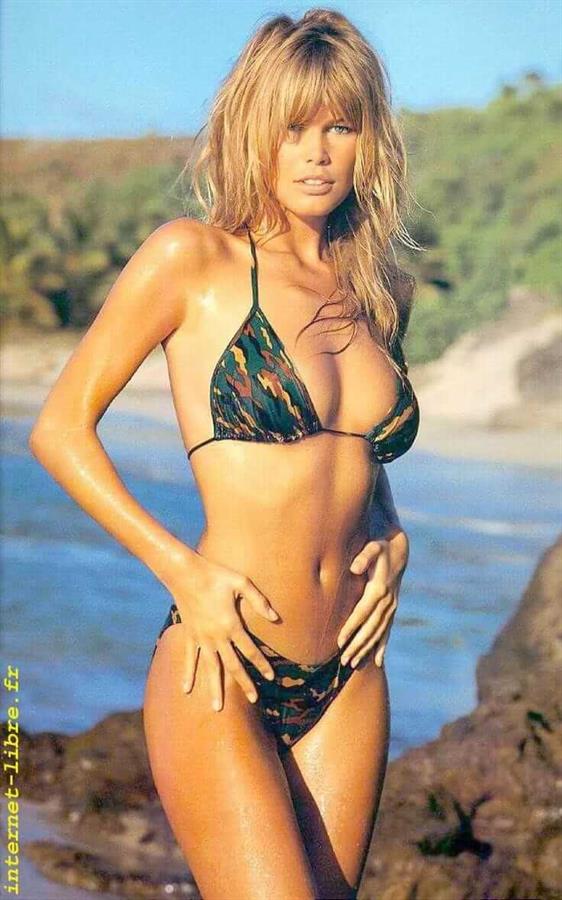 Claudia is also an actress and producer is known for Love Actually (2003), Kingsman: The Secret Service (2014), and Ri¢hie Ri¢h (1994).
Her Early Life
Claudia Maria Schiffer was born on August 25, 1970, in Rheinberg, North Rhine-Westphalia, Germany to Gudrun and Heinz Schiffer.  Before she was discovered at a local night club, she wanted to be a lawyer and join her father's practice.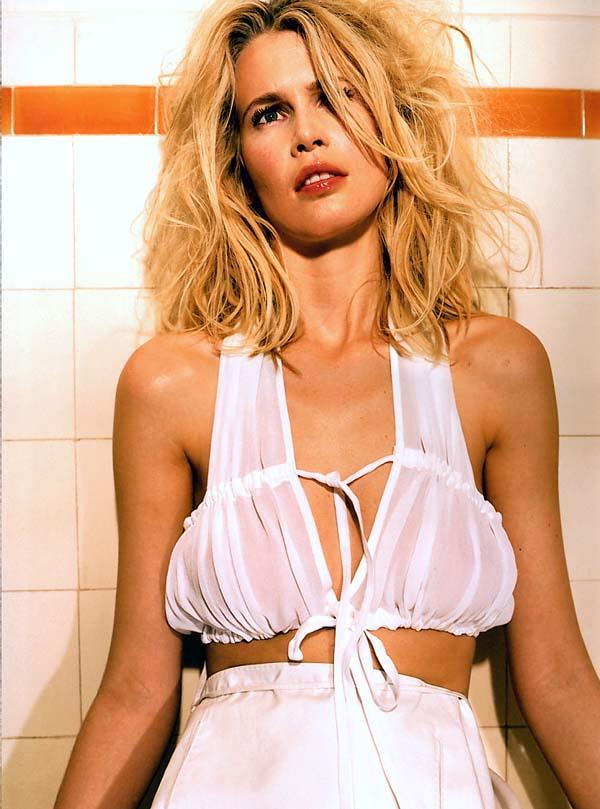 Modeling Career
Schiffer originally aspired to become a lawyer and used to work in her father's law firm.  In October 1987, at age 17, she "was spotted" in a nightclub in Düsseldorf by Michel Levaton, the head of Metropolitan Model Agency, and was signed to the agency as a model.  And six months later after graduating from high school the statuesque 5ft 11in blonde who had always considered herself too tall and too thin made her first appearance on the cover of Elle magazine.  High profile jobs with Guess? Jeans and Chanel followed, with a series of long-term contracts with Revlon helping make her one of the highest-paid models in the world.
In the early 1990s, she starred in campaigns for Guess?.  After several other magazine appearances including the cover of British Vogue, Claudia was selected by Karl Lagerfeld to become the new face of Chanel.  In May 1997, She was featured on the cover and in the pictorial of Playboy.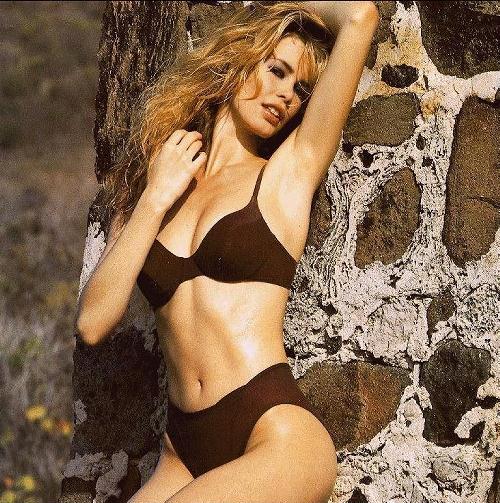 Claudia appeared on the November 1999 millennium cover of Vogue as one of the "Modern Muses".  Since then, Claudia has appeared in advertising campaigns for Chanel, Versace, Balmain, Giorgio Armani, Karl Lagerfeld, Dom Pérignon, Alberta Ferretti, Bulgari, Chloé, Escada, Blumarine, Dolce & Gabbana, Fendi, Max Mara, Louis Vuitton, Michael Kors, Oscar de la Renta, Ralph Lauren, Emporio Armani, Liz Claiborne, Prada, Yves Saint Laurent, Marc Jacobs, Guess?, Salvatore Ferragamo, Neiman Marcus, Gap, Dillard's, Saks Fifth Avenue, L'Oréal, Revlon, Intergaz and Pepsi.
As well as endorsing luxury brands, Claudia has also appeared as the face of high street retailers including Mango and Accessorize, and had her ears pierced for the first time especially for the 2006 Autumn/Winter Accessorize campaign.  From her appearances in a 1998 Citroën advertisement she allegedly earned £3 million.  Claudia still holds a contract with L'Oréal and is one of their longest-standing ambassadors.
In 2012, Claudia posed for Guess? again, marking the brand's 30th anniversary.
Designing Career
Claudia launched her eponymous cashmere collection during Paris Fashion Week in March 2011.  The Autumn–Winter 2011 season saw her fashion design debut and was followed by a Spring–Summer 2012 collection.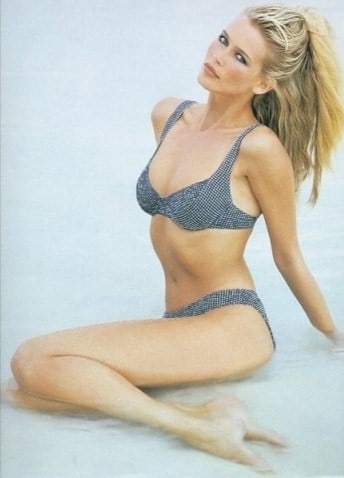 Acting and Television Career
Claudia made her film debut in the children's movie Richie Rich (1994, as the title character's personal fitness trainer).  She then starred opposite Dennis Hopper and Matthew Modine in The Blackout (1997).  She then went on to appear in Friends & Lovers, Black and White (both 1999), In Pursuit, Life Without Dick (both 2001), and Love Actually (2003) in a semi-cameo role.  Films in which she has made cameo appearances include Ben Stiller's Zoolander (2001).
Claudia has also appeared on several talk shows such as The Oprah Winfrey Show, Larry King Live, Late Show with David Letterman, Late Night with Conan O'Brien, The Jonathan Ross Show, and sitcoms Dharma & Greg and Arrested Development.  She made a cameo appearance in the music video for Bon Jovi's "Say It Isn't So" in 2000, and appeared in the music video for Comic Relief's 2001 charity single, Westlife's "Uptown Girl".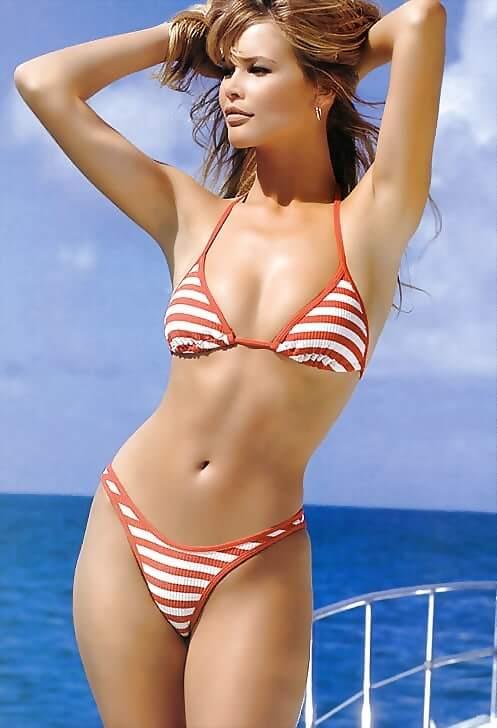 Claudia was a judge on Fashion Fringe in 2011.
Facts and Trivia
Claudia holds the record for the supermodel with the most magazine covers, gracing over 1000. Her record is listed in the Guinness Book of World Records.
She owns the chain of Fashion Cafe restaurants with Naomi Campbell, Christy Turlington, and Elle Macpherson.
In 1990 and 1991 she was chosen by People magazine as one of the 50 most beautiful people in the world.
In 1993 she met magician David Copperfield at a Berlin celebrity gala, and in January 1994 they became engaged.  During this engagement, she sometimes used to appear in his stage shows as a special guest assistant in a number of illusions: first, he would levitate her high in the air before making her vanish and reappear, then he would use a large guillotine to behead her.  Finally, he would saw her in half inside a glass-sided box in what has sometimes been voted by other magicians as one of the most baffling versions of the sawing in half ever performed.
Claudia also appeared in David Copperfield: 15 Years of Magic (1994), a documentary in which she played the role of a reporter interviewing Copperfield in his Magic Warehouse.  After a six-year engagement, in September 1999 they announced their separation.
She is a spokeswoman for the fight against breast cancer.  Moreover, she is a member of UNICEF since 1997 and ambassadress since 2006.
After engagement with magician David Copperfield she was engaged to Green Shields Stamp heir and playboy Tim Jeffries until 2000.
By the end of 2001, she was engaged to producer Matthew Vaughn until marriage in 2002. They had 3 children: Caspar Matthew (born on January 30th, 2003), Clementine Poppy (born on November 11th, 2004), and Cosima Violet (born on May 14th, 2010).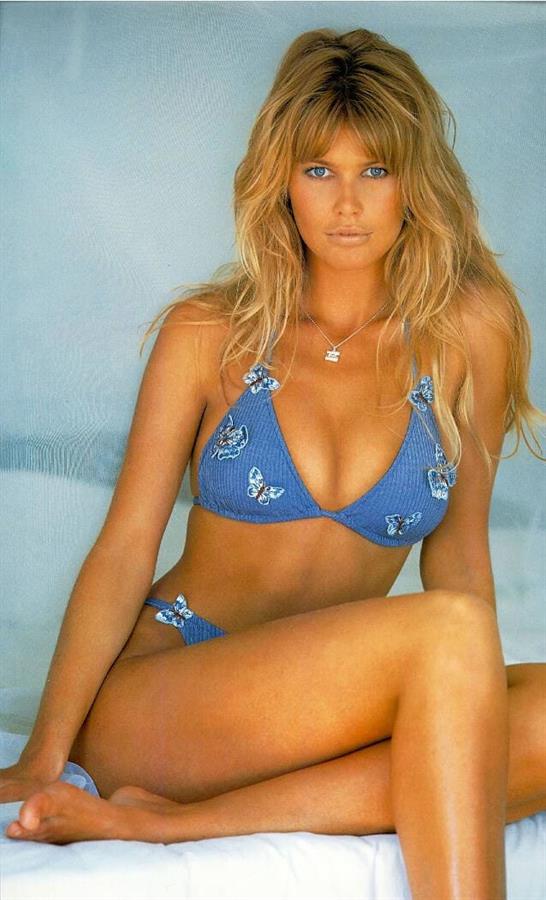 Claudia presented Prince William with a polo trophy in 2002.
She is fluent in German, English, and French and has been compared in both looks and attitude to former French model Brigitte Bardot.
June 1992, at the personal request of Sting, she participated in the "Rhythm Of Life Fashion Charity Gala" at London's Grosvenor Hotel, to raise money for the Rainforest Foundation alongside the world's top models including Kylie Minogue, Yasmin Le Bon, and Naomi Campbell.
When she signed up to front the Autumn/Winter 2006 Accessorize advertising campaign, her contract included an additional payment to cover her getting her ears pierced for the first time in her life.
Since getting her ears pierced in 2006, her favorite earrings have been a pair of diamond studs given to her by her husband.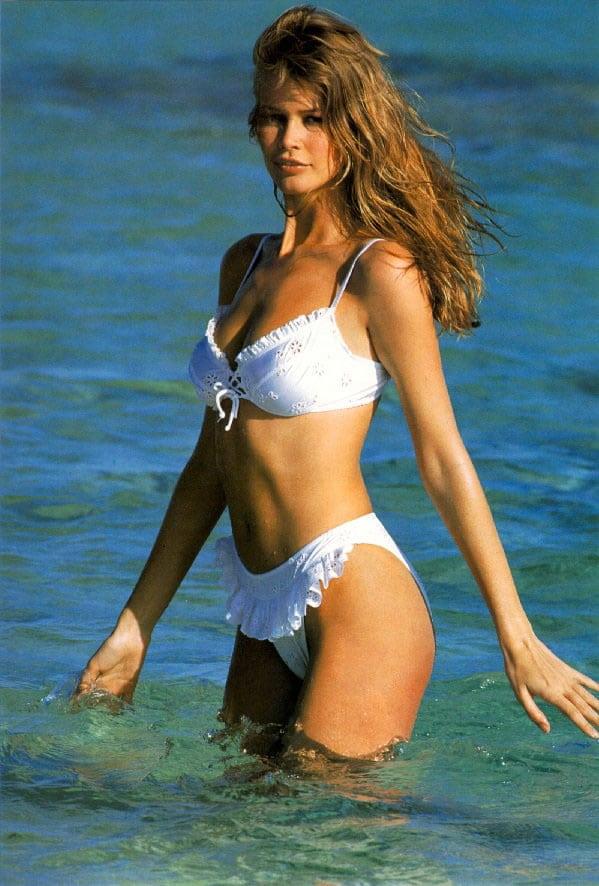 Was the first model to wear Victoria's Secret famous million-dollar 'Fantasy Bra' in 1996.
Although she continues to be known as Claudia Schiffer for professional purposes she has, according to papers filed in the UK as part of 2003 legal proceedings against a man accused of stalking her, officially taken her husband's name.  As a result, her full legal name is now Claudia de Vere Drummond.
Her Body Measurements
Claudia stands 5 feet, 11 inches and she rocks a 37-24-36 (34c bra size) figure.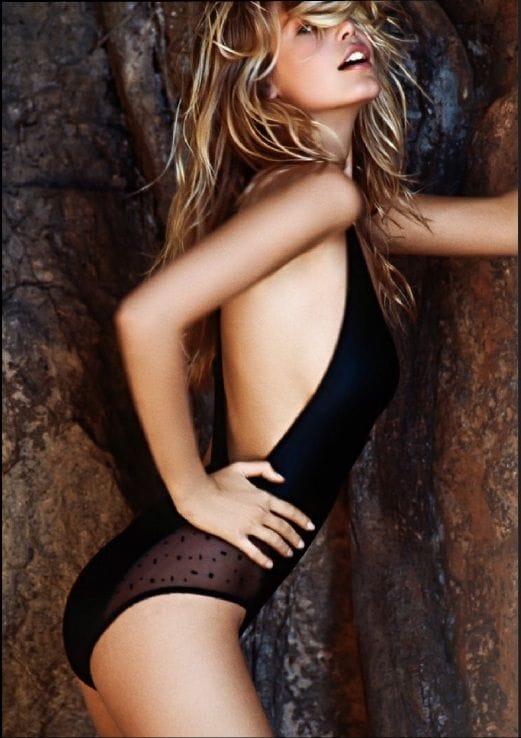 Claudia Shiffer Photos
Join her over 1.3 million followers on Instagram for her latest personal posts.
Also, do check out our Claudia Shiffer page for more of her stunning pictures.
Oh, and here are a few of her topless pictures that we know you'll just love.