Oh, we just love cosplayers because…  Simply because they are friggin' hot as hell.  And yes, because we are geeks who love to see our fantasies come to life.  So, we're going to give you not just one or ten but 30 of the sexiest cosplayers.  Oh, and this is just part 1.
Okay, some of these babes, we've featured already.  But hey, we just got to include them so you'll have a full list.  And yes, if you think we've left out someone, please put them in the comments section below.
Here they are friends, in no particular order.
Alodia Gosiengfiao
Alodia Gosienfiao can be described in two words: hot and sexy.  Her lovely eyes, glass skin, and doll-like features enable her to pull off the charming and seductive anime girl image.  It's no surprise that she came in first place in The Filipino FHM 100 Sexiest Women survey.
Alodia began her cosplaying career with the priestess from Ragnarok online, and she has now cosplayed over 40 characters.  Some of these characters are from popular anime and video games like Witchblade, K-on, and Evangelion. In addition, the 33-year-old attended a number of international cosplay conventions, including Anime Festival Asia and San Diego Comic-Con.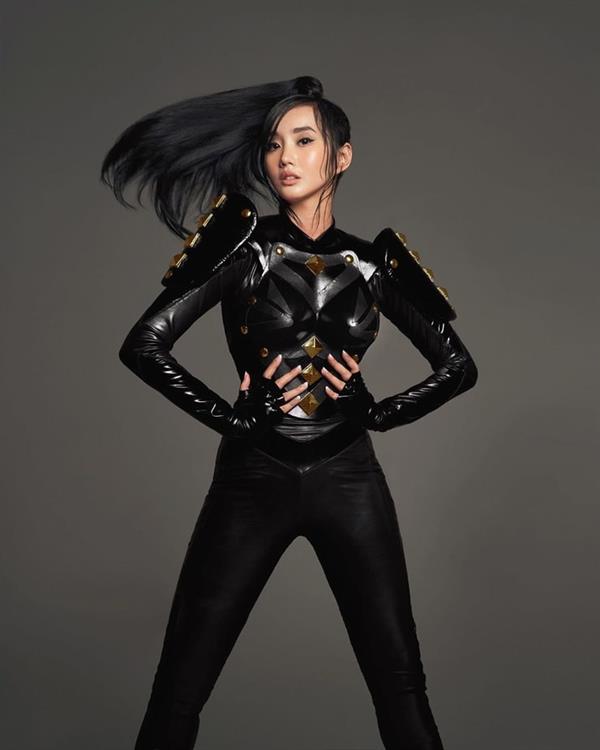 Apart from owning her own YouTube channel, Alodia is also well-known with other brands.  She has already appeared in advertisements for video game businesses such as Level-Up Games, SEGA's Love, and Bery.  Her endorsements include clothing brands, beauty items, figure distributors, and more.
Alodia has also appeared in a number of films and television episodes, including Julie in The Reunion and Sang Kang Kang in Kimmy Dora and the Temple of Kiyeme.  Her television credits include Rated K, Regal Shocker, Laugh Out Loud, and others.
Crystal Graziano
This cosplayer possesses the ideal blend of hotness and sweetness.  Crystal Graziano has already captured the attention of Japanese pop culture enthusiasts, but her following base is not restricted to this demographic. She is an artist, and her cosplays are nothing less than a reflection of how she sees art.  Crystal has an estimated net worth of more than 40 million US dollars as one of the hottest female cosplayers.
Crystal began cosplaying in 2005, and then she mentions that her act of Aeris at a Comic-Con was "terrible", her fans found it good enough to appreciate her.  Over the years, she has also cosplayed characters like Black Widow, Fem Shepherd (Mass Effect), Motoko Kusanagi (Ghost in the Shell), etc.  Crystal has turned her passion into a profession.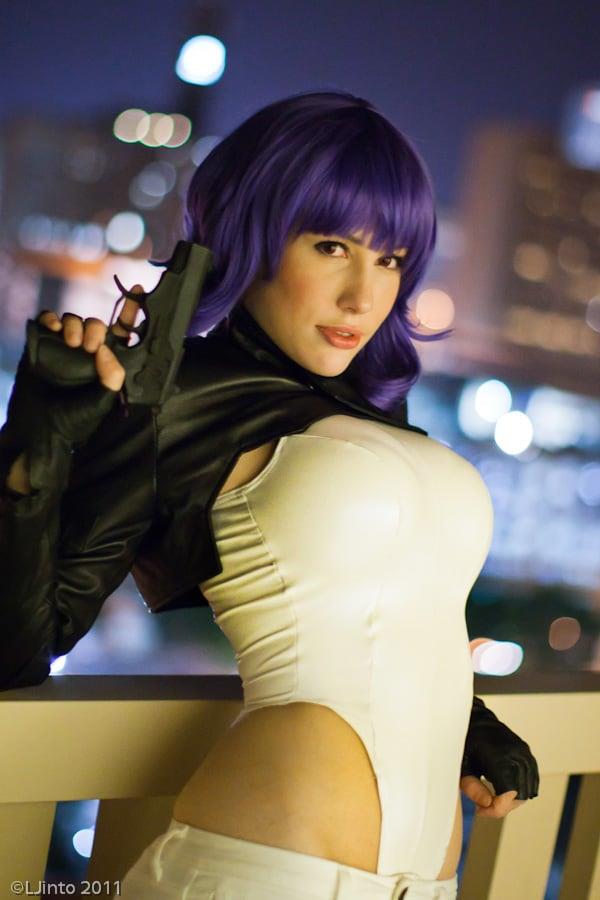 She has also been associated with video game campaigns; Firefall invited her to play the character of Mourningstar, and she owned it.  She also appeared in multiple shows including four in the USA and one in Germany.  The 31-year-old is also often posts pictures of her cosplays on social networking sites.  Her perfectly designed costumes and charming projections make her performances a sight to behold.
Bell Calssara
Bell Calssara, a 23-year-old German cosplayer, debuted in 2004.  She is fascinated by Japanese pop culture and considers it to be distinct from everything else she is familiar with.  Calssara's cultural appropriation operates in a unique way.  As a child, she watched anime such as Sailor Moon and developed an interest in Cosplay. Yes, this girl is a huge anime fan, and her favorites include Claymore, Rozen Maiden, Vampire Knight, and Otome Youkai Zakuro.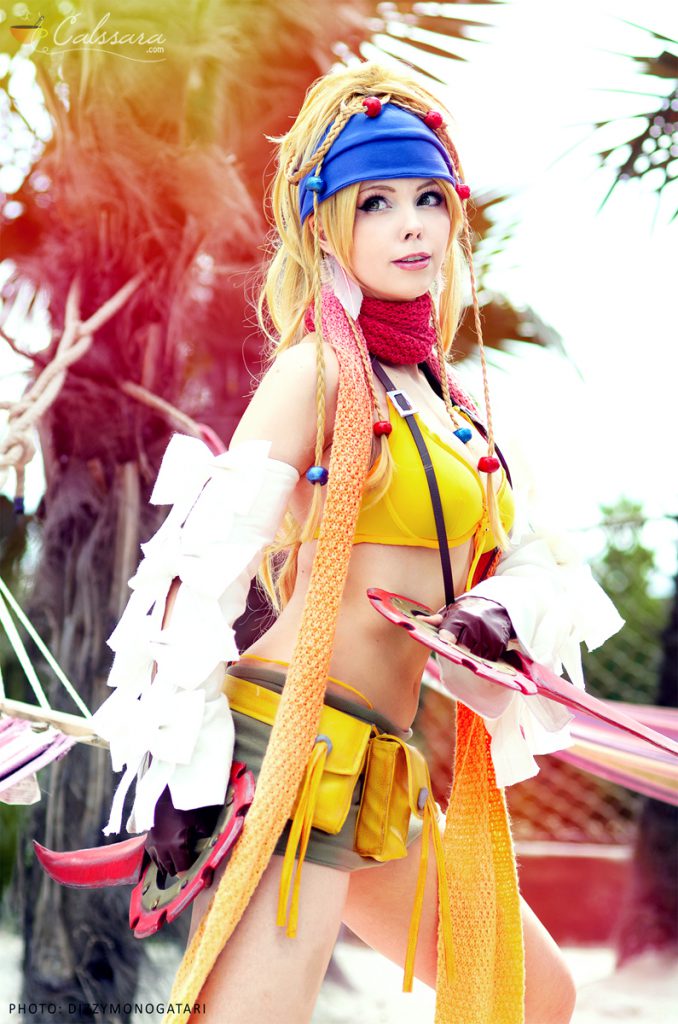 Calssara stands 5 feet, 5 inches and she is blessed with a sculpted physique.  She prefers to design and make her own costume and she developing them, according to her, is the most crucial part of Cosplay.
Calssara has been invited to cosplay events in over 40 countries as a participant, judge, or panelist.  In 2007, she took first place at the Hanami conference, and in 2009 and 2011, she won two preliminary WCS selections to the Germany team.  Her most notable cosplay accomplishment is her victory in the World Cosplay Summit 20201 grand championship.
Linda Le aka Vampy Bit Me
Linda Le is an American cosplayer of Vietnamese descent.  She goes by the stage name Vampy aka Vampy Bit Me because…  Well, just because. Her petite physique and gorgeous face add a lot to her charm.  She was born in Okmulgee, Oklahoma and studied at San Jose State University.
Linda began her cosplaying career at the age of 12.  Oh, and aside from that, she is also a professional model.  She got the attention of cosplay lovers and the Otaku community after being featured in the showcase book Otacool 2, published by a Japanese collectible and figurine company called Kotobukiya.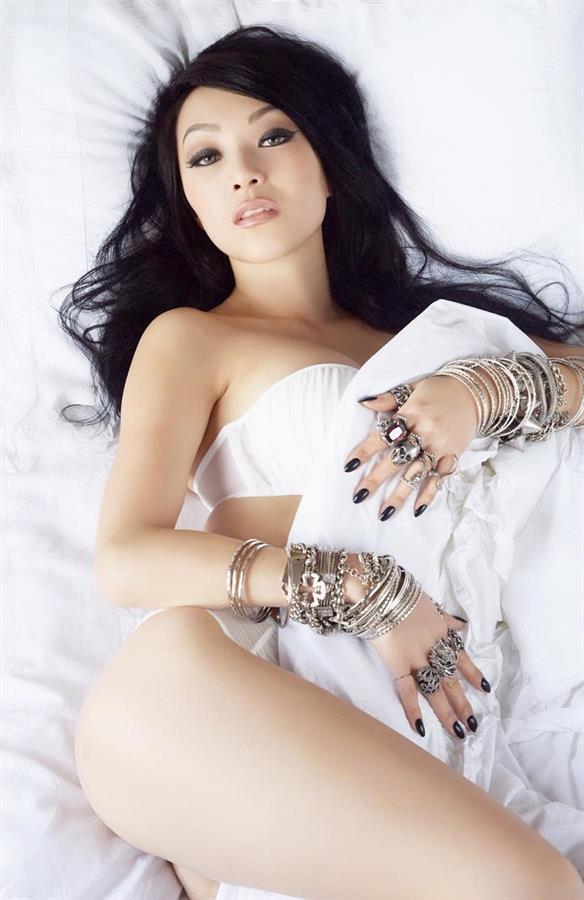 Linda is one of the cosplayers who is a believer in both quality and quantity.  She cosplays a wide variety of characters and she never forgets to reflect her sense of art while designing her costumes.
Maridah
To many, cosplay is a form of cultural expression. Maridah, on the other hand, believes it as a form of artistic expression.  When she gets into character, this attractive American girl with a nicely shaped figure looks incredibly gorgeous.  This babe's cosplays are outstanding because of her perfectly tailored costumes, attractive accessories, and impeccable projections.
This anime lover defines cosplay as a sort of expression of fandom…  "Cosplay is a great way to show you love something, so sharing it with others is the epitome of the craft to me."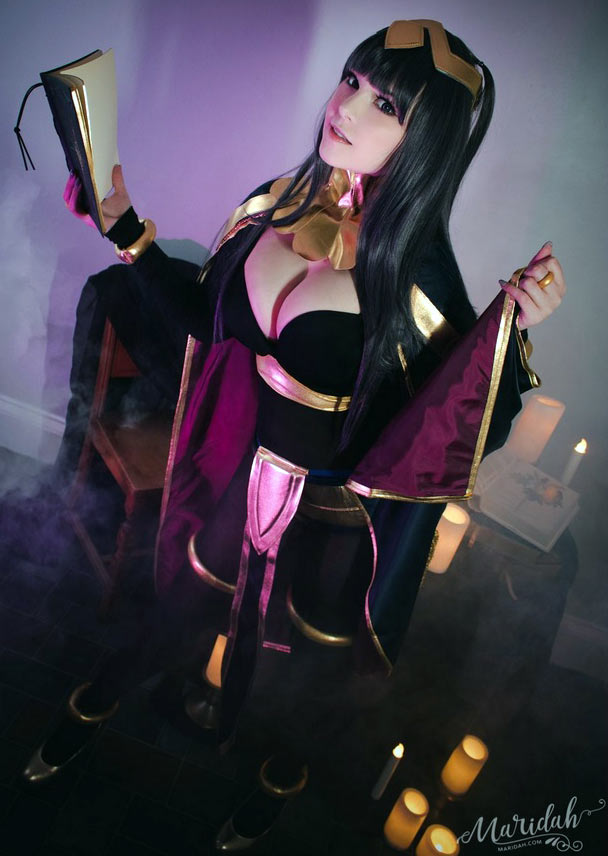 Maridah is a Star Wars fan who has been involved in the cosplay community for over 20 years.  Back in April 2001, her first cosplay persona was Relena from Gundam Wing.  Maridah has cosplayed a variety of characters, but her favorites are Saber from Fate/Stay Night and Lina Inverse from Slayer.  She also found it "thrilling" when her Saber armor costume earned acclaim from fellow cosplayers and fans during Anime Expo 2009.
Maridah prefers girly characters and her cute face and expression put life to them.  She also runs her own website for blog posts, images, and patronized content.  She also shares her experience of costume making and characterization to guide new cosplayers on the said blog.
Yaya Han
This Chinese-American cosplayer is well-known for his sharp mind and passion.  When she attended the Anime Expo in 1999, the young anime enthusiast was immediately captivated by cosplay.
Yaya began her cosplay career with no prior tailoring experience.  However, her unyielding attitude and perseverance enabled her to match the delicacy of professional cosplayers in just a few years.  Yaya has designed over 400 costumes as of this writing, and she has cosplayed various characters from anime, comic books, manga, and video games.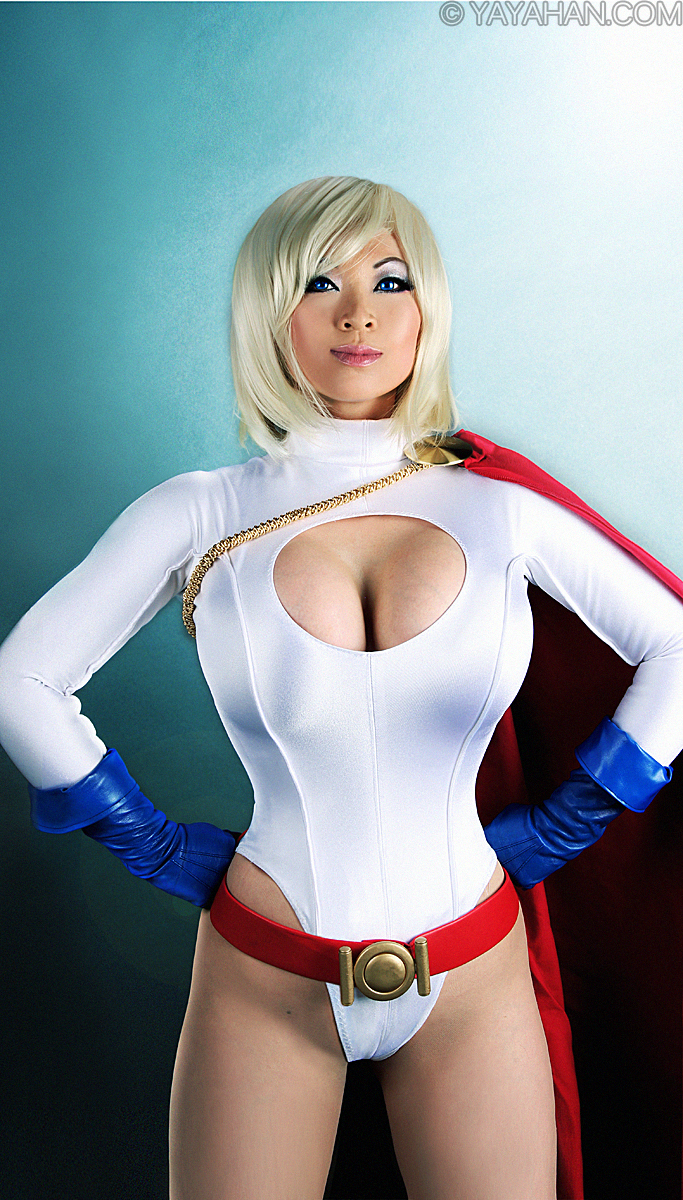 Yaya has also successfully built her own brand of cosplaying merchandise.  She is known for her artistic creations and received accolades and acclaim for her perfection.  Yaya has already attended more than 200 conventions as a participant, guest, or judge. She has also appeared on two seasons of the TBS TV network's show, King of the Nerds, as the judge.  She was also cast in Heroes of Cosplay, a docu-series on Syfy TV network.  Yaya was featured in the documentary, Cosplay – Crafting a Secret identity. She has portrayed Jasmin Synn in Archangel: Deadliest of the Species and Archangel: From the Winter's End Chronicles.  Her 22 years of experience in cosplay and passionate approach have made her a favorite of anime lovers and cosplay enthusiasts.  The cosplayer's Instagram account shows how much her fans love to see her performing.
Anna Faith Carlson
Yes, from the Frozen cosplay fame.  We've featured her before and we definitely think that she should be on this list.
After cosplaying Elsa in 2014, this Florida resident rose to popularity overnight.  Following this, the stunning Anna Faith Carlson stole the attention of anime enthusiasts.  She was also named one of the top seven Sexiest Cosplayers in 2015.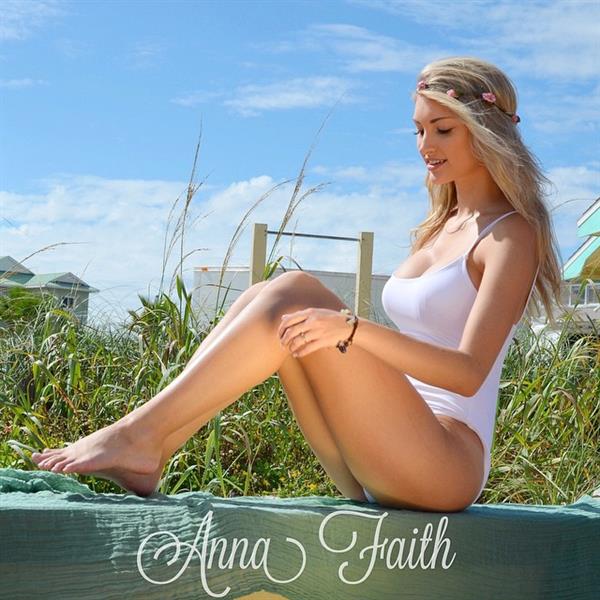 Anna has been modeling since the second grade and considers it her major vocation.  She has also visited various comic cons and collaborated with her sister (who cosplayed Princess Anna).  The pair became known as the 'Frost sisters.'  To avoid being stereotyped as a single figure, Anna cosplayed as characters from Maleficent, Harry Potter, Cinderella, and other stories.
Anna also received praise after cosplaying Harley Quinn from the Suicide Squad movie.  She also has appeared in magazines and TV Shows after getting into the limelight.
She also has experience in acting and has appeared as a minor character in films like Dolphin Tale (2011) and Waves of Grace.  She appeared as Quee Elsa in the 2014 show Access Hollywood.
Jessica Nigri
We've featured this babe just a while ago. And man, you got to go check that out.  Jessica here began cosplaying in 2009 and with that 12 years of experience, she is still dominating the cosplay scene.
This hot woman has got an incredibly charming smile and a physique one would just kill for.  The American-New Zealand model and cosplayer was born on August 5, 1999, in Nevada.  She also came under the spotlight after getting viral on social media when she chose to cosplay Sexy Pikachu at the San Diego Comic-con.
Jessica began her modeling career in 2012 and she is still continuing her career as a model.  However, she wishes to retire and pursue marketing and advertising as her new career.  She also currently works as an independent voice artist and as an influencer on Instagram.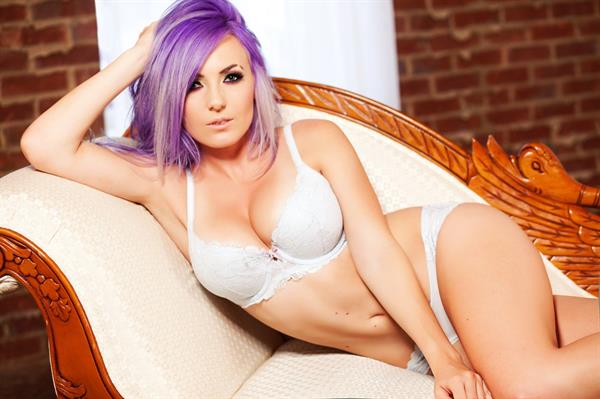 Jessica rose to prominence after posing as Anya Stroud to promote Gears of War 3 for Microsoft and GameStop.  She later cosplayed a variety of characters and attended a number of conventions and events.  Jessica also served as a Warner Bros. spokesperson.  Games. She has promoted various video games and comic books as a cosplayer.  Elseworlds (video game), Grimm Fairy Tales, and Knightingail are among the titles on the list.
Jessica has also attended several cosplay events as a guest and spokesperson including the Arizona Comic-Con 2011, AVCon 2013, Ottawa Pop Expo, etc.  She has also appeared in commercials for Lollipop Chainsaw as Juliet Starling and was featured in the 2018 documentary, Becoming Jessica Nigri.  Oh, and she was cast as Sonico in the 2016 video game, Sonicomi: Communication With Conico.
Marie-Claude Bourbonnais
Her fans are smitten by her perfectly shaped physique, gorgeous face, and commanding gaze.  This French-Canadian glamour model was more interested in making costumes for fun than in dressing up.  Her love of tailoring inspired her to pursue a career in fashion design.  Her skills in sewing, creating costumes and making swimwear honed her ability to make beautiful costumes, which is the major reason for her sophisticated and stunning cosplay costumes.
Marie-Claude Bourbonnais came to the spotlight after entering a competition in November 2007 as a part of the calendar published by a radio station in Quebec City.  Marto Napoli, the radio host, found her to be the perfect face for the 2008 Dream Team Calendar.  Hence, Marie's first fan base mainly was Marto Napoli fans and with her passionate projections, she has come a long way to have her worldwide fan base.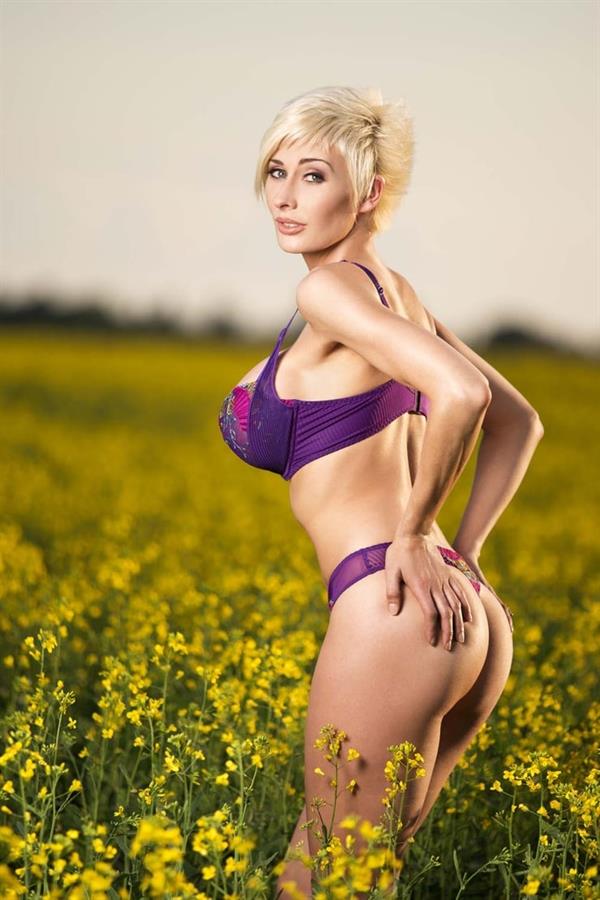 Marie published photos from her video game cosplay in 2009, which received a tremendously positive response.  After her first comic con in 2010, she attended numerous conventions and was. a guest in several events in North America, Mexico, and Europe.  She Popularized Polymorphe as a costume and made it a part of her Sue Storm cosplay.  Marie was also cast in a live-action web series, Heroes of the North, to portray Hornet.
As an anime and video game fan, Marie finds Frost from Mortal Kombat to be incredibly fascinating.
Tasha
This South Korean cosplayer has demonstrated that cosplaying can be more than just a pastime, and her drive to dominate the South Korean Cosplay industry has made her a favorite among anime fans and cosplay enthusiasts.  She was a member of Gaming Studio at first, and she saw cosplay as a way to promote herself.  It didn't take long for this anime enthusiast to decide to pursue a profession in cosplay.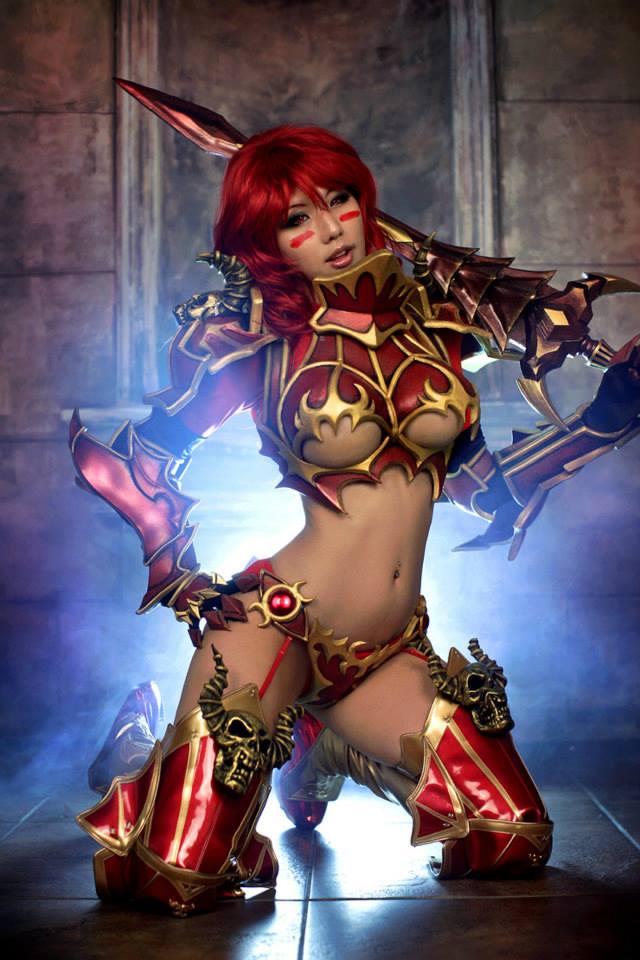 Tasha began cosplaying in 1999 and has since cosplayed a plethora of characters from anime series and video games.  She has stated that her favorite book is The Five Star Stories.
Tasha is blessed with a stunning physique which helps her look great in anything she wears.  She often posts high-quality cosplay pictures on her social media accounts.  Detailed costume designs, makeup, and editing make the photos mind-blowing.  The 34-year-old is currently the leader of Spiral Cat, the most discussed cosplayer group in South Korea.  Their Professional quality pictures and charming acts help them garner international acclaim.
Pion Kim
Pion Kim is most recognized in the Otaku community for her excellent editing and projection skills.  But, of course, she pays close attention to detail when it comes to her costumes and accessories in order to show off her gorgeous body.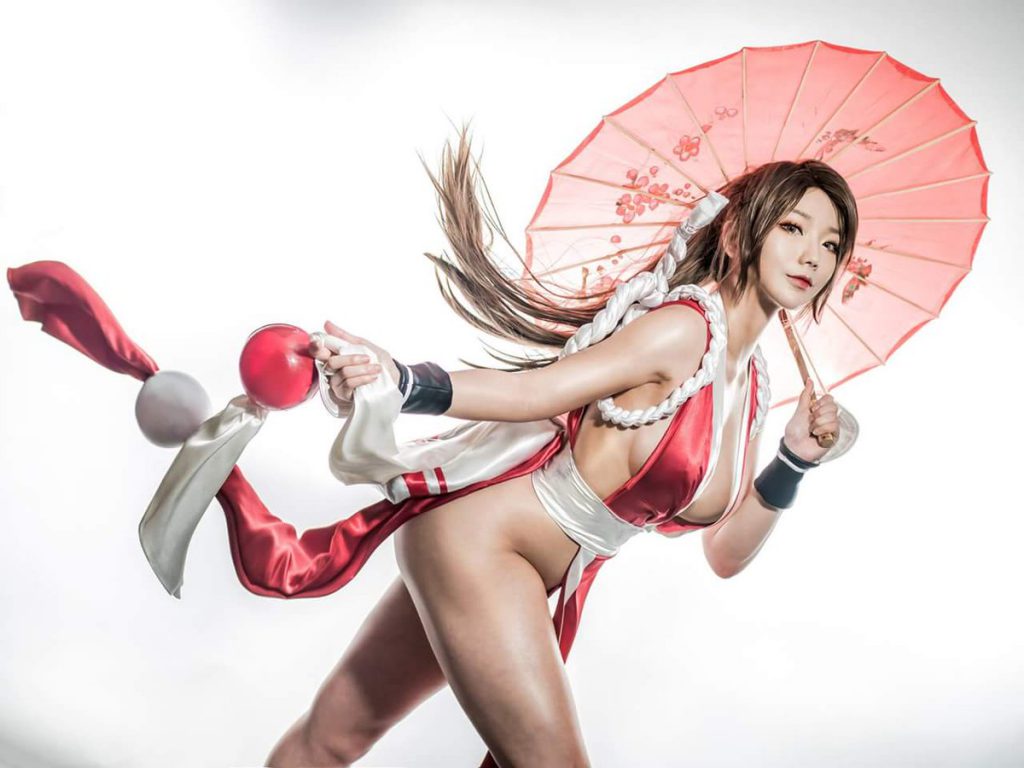 Pion Began cosplaying in 2012 and has been working as a freelancer.  The acting student is a master. of gory acts.  She cosplayed Poison Ivy and Eliza and both the characters received praise, and her acting skill, which she incorporates in her performance made them superior. With nine years of experience in the bag, Pion has cosplayed multiple characters from many anime, video gems, and webtoons, which include Vera Nair, Veronica, Harley Quinn, etc.
Pion considers Sombra from Overwatch to have a captivating personality, making her one of her favorite characters to cosplay.  She donated her hair to a children's cancer nonprofit that manufactures wigs for kids during her Sobmbra costume.  The cosplayer has stated her preference for characters with a strong image, such as a villain.
Riki "Riddle" LeCotey
Riki's cosplay odyssey began when she discovered a 'cool outfit' and continued after that.  She rose through the ranks of Canada's cosplayers over the course of a few decades.  She was a participant and judge at several upcoming cons and conventions.  For cosplay events and conventions, the Canadian model and costume designer has previously traveled to the United States, Ireland, Dubai, Chile, and the United Kingdom.
Rikki has cosplayed a variety of characters including Hell Girl, Snow White, Black Cat, Huntress, and others.  She was cast in the Syfy Channel's original series Heroes of Cosplay.  Her cosplaying acts were included in the 2012 PBS documentary 'Cosplay: Crafting a Secret Identity.'  She has also been seen in films such as Captain America: Civil War, Godzilla, and Infinity Wars.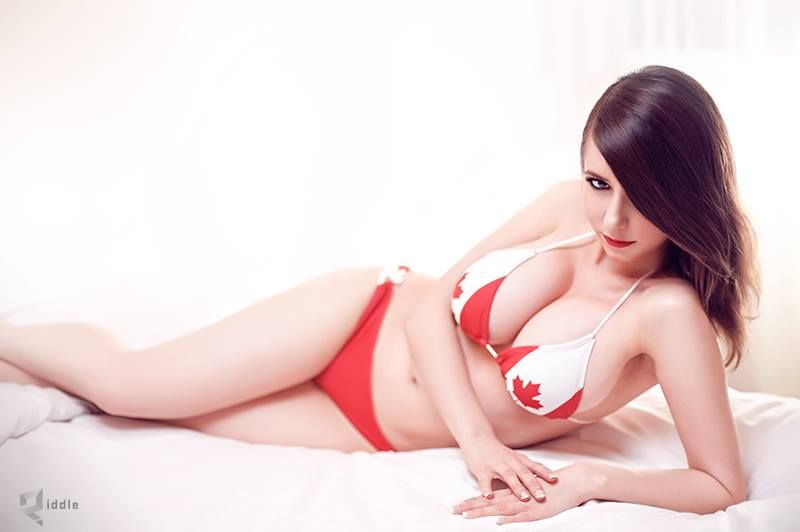 Riki is an expert. costume maker and she pays keen attention to the details.  However, she has also revealed that creating costumes needs patience and may be "frustrating' sometimes considering the time and monetary investment.  However, the cosplayer seems to pay attention to the ensemble, accessories along with her expressions.
Rikki is not only one of the top North American cosplayers and one of the hottest…  You see, she started the charity project, Cosplay for a Cause, and she contributed 30,000USD to the Japanese Red Cross.
Haiden Hazard
Her beauty and humorous demeanor are the secrets to her hotness, and these are what make many anime fans fall in love with her.  The 23-year-old American cosplayer began cosplaying after attending a convention, which inspired her to pursue cosplay as a pastime.  Suigintou from Rozen Maiden was Haiden's first cosplay act.
Haiden has cosplayed a variety of characters, most of which have strong personalities and come from a criminal backgrounds.  Bellona from Smite is one of her favorite cosplayers.  She also finds Reaper to be fascinating in Overwatch.  Throughout her interviews, her reactions and performances have always been a hot topic.
Haiden wittily reveals her thoughts about the similarity between cosplays and her real life, "Well, most of the characters that I cosplay are murderous villains so I don't really think that be a good plan.  I could but I don't think that would be publicly acceptable, you know."
The cosplayer is a known face of comic cons and fan events.  She has done The Acts of Viper, Freya, and Reaper.  Her Overwatch cosplay received tremendous attention from video game lovers and fans.  She bagged the Judges Choice award at the Anime Weekend Atlanta 2016 for her performance of Flemeth from Dragon Age.
Monika Lee
The beauty of the American cosplayer is well known, and the attraction of her cosplay rests in her expressiveness.  The show's youngest cast member, "Heroes of Cosplay," began cosplaying when she was only 13 years old in 2006.  She has since cosplayed a variety of characters.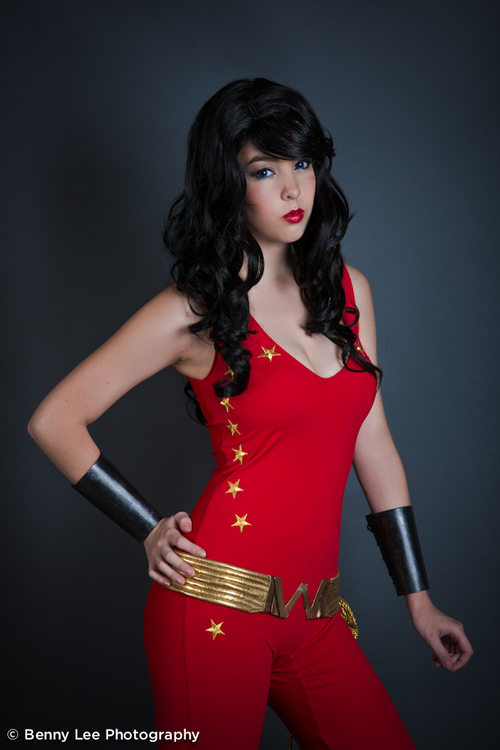 Monika's first cosplay performance was as Yuna from Final Fantasy, which spurred her to continue.  Her photographs are distinguished by fine props, exquisite costumes, and high-quality editing.  She is also well-known for her superb representation of video game characters. Monika also appears at comic cons, costume contests, and other cosplay events on a regular basis.  Her magnetism is tough to resist, and she has appeared in gaming media publications such as Game Informer, Gamesrader, and others.
Costume-making is one of the significant parts of cosplay. her costume ideas show her fondness for the art of designing.  The cosplayer's love for costume making may be a reason for enrolling in the industrial designing course of Georgia Institute of Technology.
Stella Chuu
Her name is famous in the gaming and cosplaying community. Her quirky personality works like a magnet.  Stella began cosplaying in 2011 as a hobby.  She did the cosplay of Sakura from Naruto as the president of the Anime Club in Highschool and that was her first act. And with her lovely physique and eye-catching costumes, it did not take long for Stella to rise to fame.  She later quit her job as a graphic designer to continue as a professional cosplayer.
Stella makes her own costumes which allows her to read the characters in detail before working on them.  This is what helped her to create masterpieces like Psylocke, Ima from Queens Blade, KDA Ahri, Riven from League of legends, Mercy from Overwatch, etc.  She also revealed her idea about cosplaying…
"I don't cosplay costumes that I'm not inspired by."
She was featured in Kotaku, Nerdist, Mashable, Tech Insider, Geek, and many more.
Stella also began a career in doing burlesque performances and she points and she points out the blurring line between burlesque and cosplay.  She is a born performer, and her enthusiasm is truly something. S he does live streaming on Twitch and Caffeine.  Besides her cosplays, she is also having fun while flaunting her baking skills on live streams.
Katyuska Moonfox
Katyuska is a sexy Australian cosplayer.  Her provocative outfits show off her small yet voluptuous figure.  She began cosplaying in 2013, and she posted a snapshot of herself doing so on Instagram.  She has been constantly uploading amazing cosplay images on her social media platforms since April of the same year.  Her first cosplay performance occurred when she was 13 years old after she had dropped weight.  You know, this attractive lady here was bullied in the past, which inspired her to take care of her body and begin cosplaying.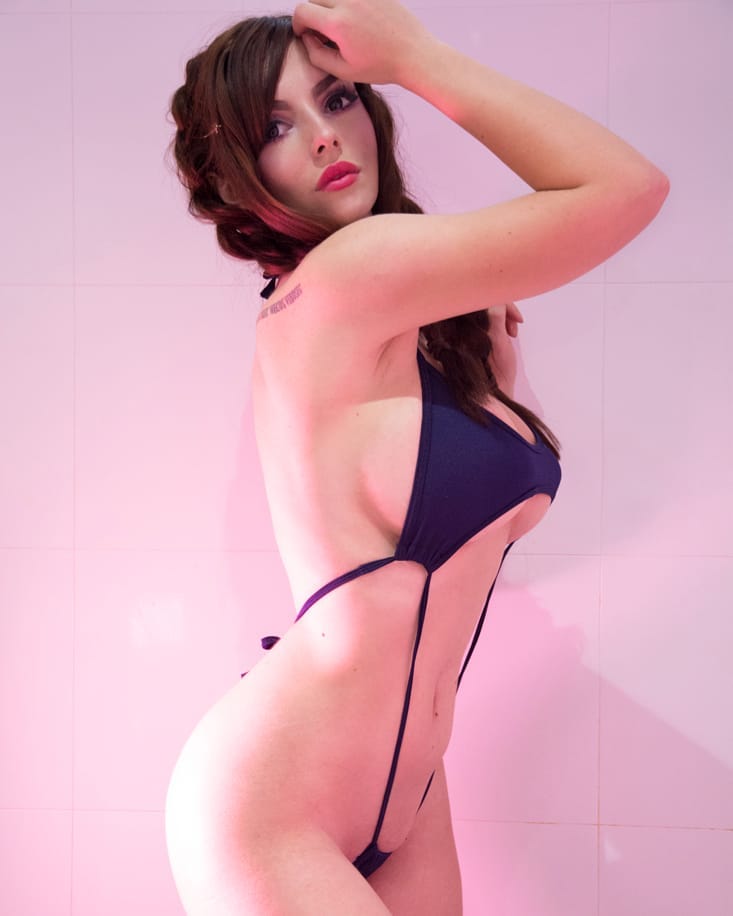 Katyuska is fond of expressing her sensuality with her cosplays and she prefers revealing costumes.  She has cosplayed characters like Ulquiorra, Tifa Lockhart, Jalter, Mera, and many others but she is best known for her cosplays of Yono Littner, Marki Kurihara, A2 (NieR Automata), and Black Widow.
The cosplayer is very active on social media and her Instagram account has more than 800,000 followers.  She also runs a YouTube channel where she posts podcasts.
Dzikan
On occasions, cosplay is related to exhibitionism (okay, maybe most of the time).  The expression of the character's inner desire is also part of cosplay.  Dzikan is one of the cosplayers who have chosen to amalgamate eroticism with the very act of cosplaying.
For cosplaying, she gives more attention to the expression and perfect portrayal of the vibe of the characters.  She has gained fame for her noir photoshoots. a stunning setup, perfect poses, camera angles, and professional editing make the images perfect.  Besides being a cosplayer and model, she is also a talented photographer and editor.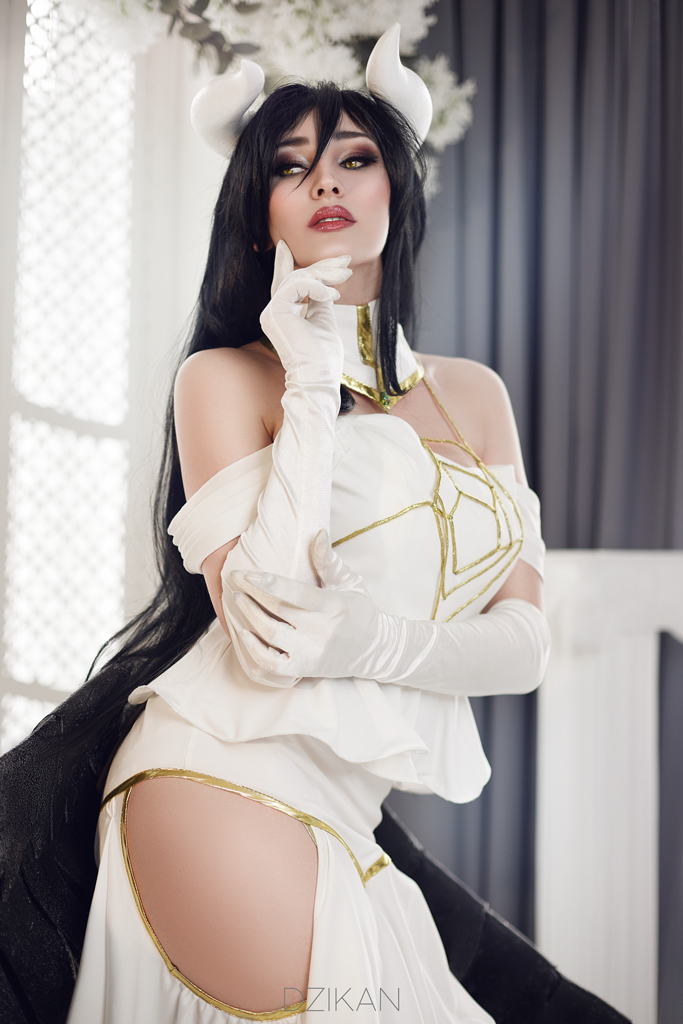 Though high-end editing is one of the special features of the photos she delivers, her choice of characters is also an addition to it.  She has a knack for portraying sexy characters, really.
This Russian cosplayer has tied up with online stores to sell her photos.  She has signed up to the Patreon platform and has multiple levels where she has more than 150 patrons.  She is also active on social media and often posts snippets of her photoshoot.
Dzikan has cosplayed a wide range of characters, and she has published them on her website.  The list includes sweet characters like Zelda, anti-her Sobra from Overwatch, Cirilla from Witcher, Ashe from Overwatch, and a lot more.
Ginny McQueen
It is impossible not to know her if you are a cosplayer or a cosplay enthusiast.  The 40-year-old cosplayer from Philadelphia has experience of 23 years.  Yup, she is a master costume maker and her detailed designs make her acts look beyond perfect.
She is most famous for cosplaying Ayanami rei from Neon Genesis.  Though her tailoring talent snatches the most attention when it comes to her acts, she also incorporates her acting skills in her performance.  Yup, she studied acting as well.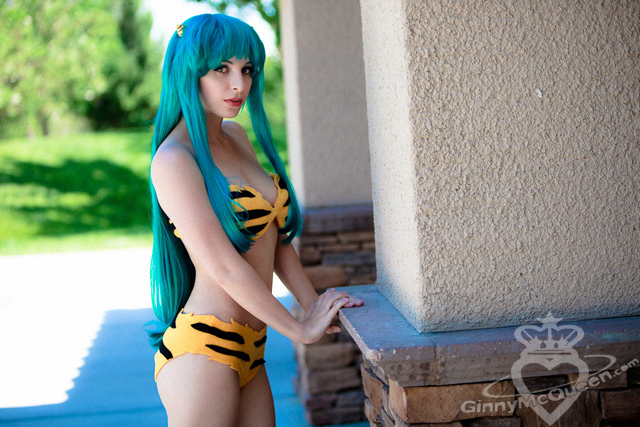 Ginny is also a model and she began posing in 2002.  But she just loves to put her sexy, slender body on display and her costumes are the perfect fit for that.
Ginny has attended many conventions in Japan, Italy, Germany, Russia, Chile, England, UAE, Austria, Canada, and Mexica either as a participant or a judge.  She has been featured in some magazines like the 24th and 30th issues of Cosmode and she also appeared on MTV and Fuji TV Japan.
Oh, yeah, she doesn't have any social media accounts but she runs a website where she posts blogs about her daily life.
Verisa
Porcelain skin, soft smile, and bright eyes…  Oh, the perfect combination of a heart-stealer.  This Russian cosplayer by the name of Vera Zaitseva (aka Verisa) is such.  She is a well-known face at festivals and comic cons.  She has been cosplaying since 2008 and that came from being highly interested in the scene after attending an anime festival.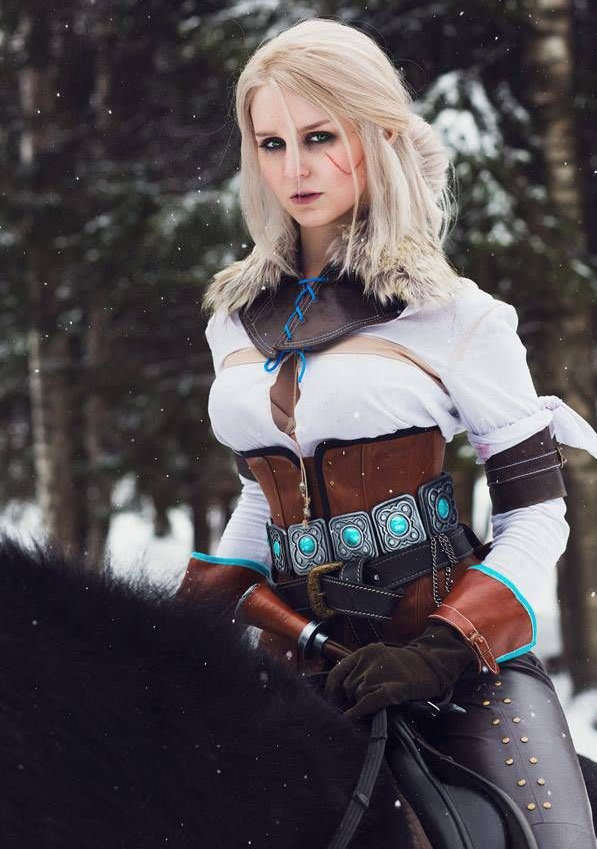 Verisa'as first cosplay was as Howl from Howl's Moving Castle.  Since then, she has cosplayed a lot and one of her fans' favorite was when she did Ciri from The Witcher.  She earned international fame for cosplaying characters like Emily Chadwell from Dishonored, Elizabeth from Bioshock, Sculley from The X-File, and Jaina Proudmoore from Hearthstone.
Lena Litvinova
Lena's lovely eyes and enticing form are ideal for an anime waifu. Her pleasant personality also contributes to this.  The Russian cosplayer operates a workshop where she and her pals tailor cosplay things.  She is a cosplayer who designs her own costumes and creates scripts for her cosplay group, R &R&R. (Ryoko and Rei).  She began cosplaying in 2002 and has become a skilled performer in her 19 years of expertise.
Lena also goes by Ryoko Demon and has cosplayed Ash Ketchum, Coco Bandicoot, Belle, Tinker Bell, and other characters.  She also prefers to make her own characters and cosplay them.
Lena has mentioned that she enjoys animation because of the vivid colors, intriguing characters, and abundance.  Her costumes are designed to be a precise portrayal of the character, using brilliant colors. Her photoshoot is particularly appealing due to the high-quality editing and smart emotion.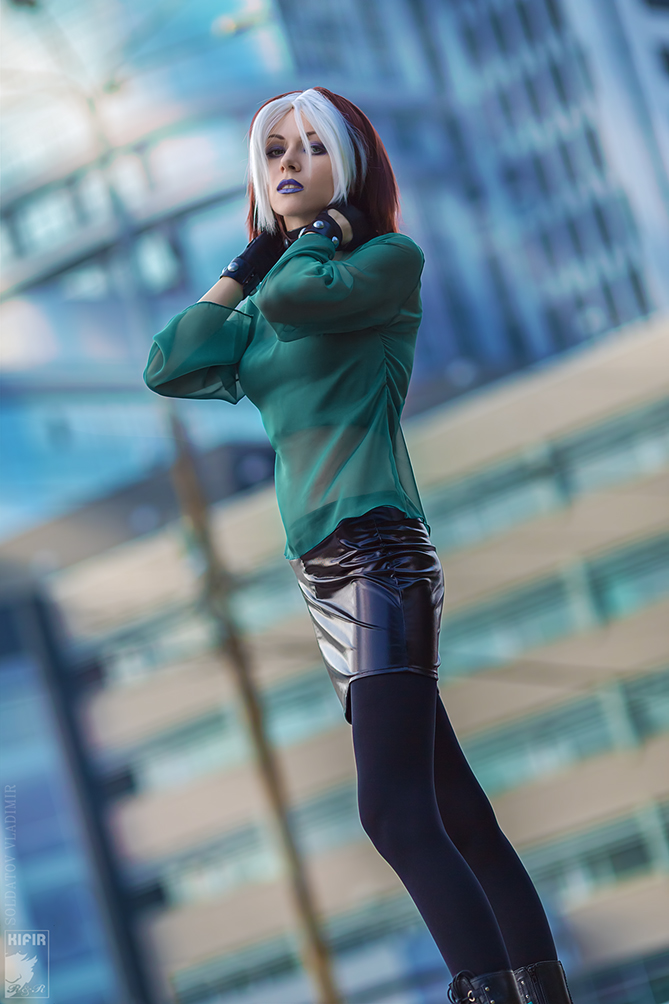 She teamed up with Irena ushering amidst the Pokemon Go hype and their Rocket duo cosplay took the internet by storm.  Lena is also present on the online platform, Deviant and shares her exclusive content there.
Lisa Rosenberg AKA Lisa Lou Who
Lisa is a national award-winning cosplayer.  She is not only a hottie but an inspiration for many aspiring cosplayers for her incredible craftsmanship.  The American cosplayer began her career in 2012 as she realized her love for costume making had turned into a passion for cosplay performances.
Lisa has been making costumes since she was 11 and with time, they have become detailed and perfect.  Her first cosplay was Roxie Richet from Scott Pilgrim.  She has also cosplayed characters like ANna, Ariel, Azula, Catwoman, Garuda, Harley Quinn, Kratos, Ryuko Matoi, Tinker Bell, Toph Beifong, etc.
Lisa received the Best in Show award at the DragonCon contest for her cosplay of Ty Lee.  Her fame as a costume maker and cosplayer led her to work with companies like Aniplex, 2K, Square Enix, Blizzard, the Nerdist, Sourcefed, etc.
This is the winner of Syfy's cosplay Mell and is also a regular face of conventions (and she travels around the US for that. The cosplayer is active on social media and she prefers to promote body positivity and talk about caring for the environment through her posts.  Lisa has also turned her love of costume-making into a business as she owns a hoodie company called Rarity's Boutique.
Svetlana Quindt
Costume plays an important role in cosplay performances, and if the cosplayer is a world-class costume designer, the results are bound to be spectacular.  Svetlana Quindt's original screen name was Kamui.  But now that she is married to Benni Quindt (also a cosplayer), the couple shares the same surname.
This German citizen began cosplaying in 2003, and her passion for anime and manga has fueled her career as a cosplayer.  She went to a cosplay convention just to see who was dressed up.  Svetlana's first cosplay was the Great Saiyaman costume from Dragonball Z.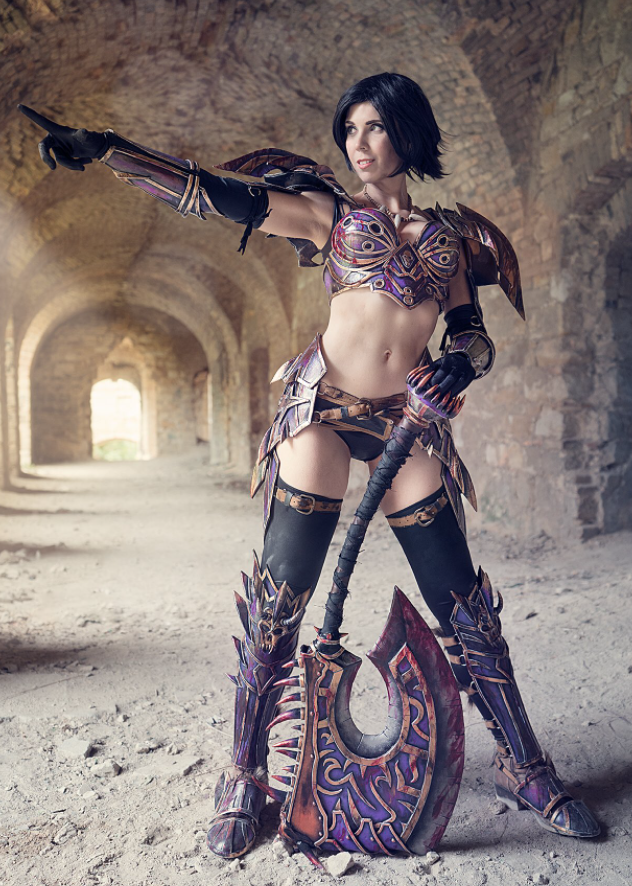 Svetlana has cosplayed many characters such as Alexstarza, Aloy, Asmodian, Blood Elf, Dani Moonstar, Druid, Daedric Armor, Eloys, Sordormi, Vanessa VanCleef, and more.  Her 17 years of experience have helped her garner international fame.
Svetlana has attended several anime festivals and was presented as the judge for the 2020 Virtual Crunchyroll Expo.  She is active on social media and runs a website together with her husband.
Jannet Vinogradova
Sensuality oozes out of all her cosplays and she does not shy away from flaunting her stunning physique.  The 33-year-old Russian cosplayer has also snatched the attention of the netizens for publishing sexy cosplay pictures.  She is very attentive to the costumes she is using for the acts which make her images remarkable.
Her charming expressions, props, projections, and editing is just on point.  Jannet is famous for creating prints that are absolutely close to the appearance of the character.  She masterfully recreates both villain and innocent characters, and her portrayal of complex emotions makes her a favorite of many.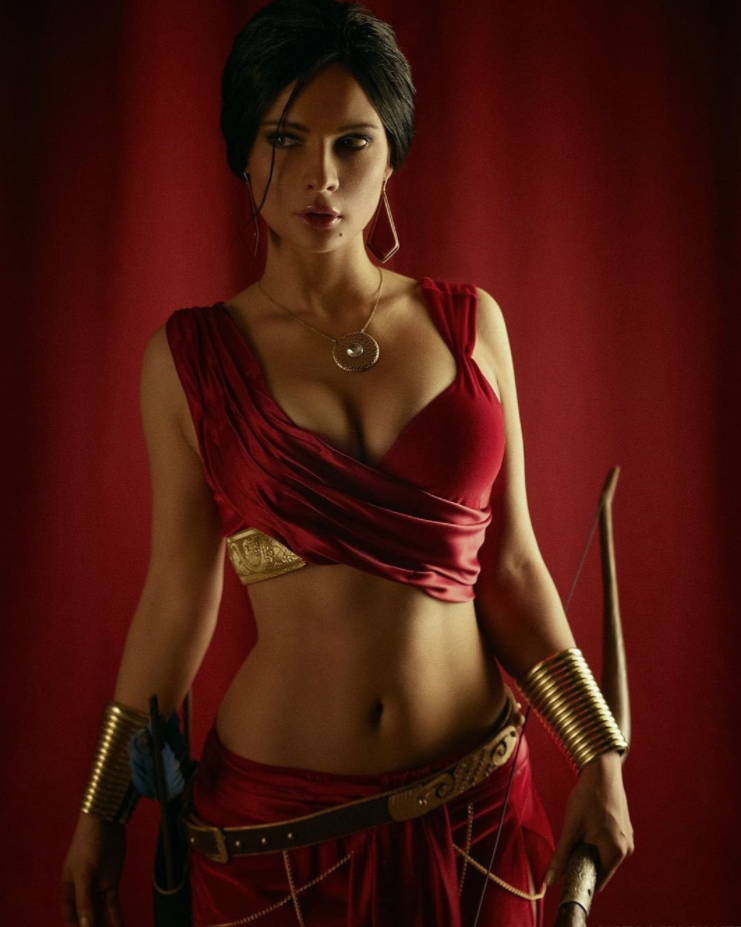 Jannet "Incosplay" Vinogradova is also a professional wig-maker.  She also collaborates to create costumes for other cosplayers and has her own online website where she sells costumes and cosplay images.  She has cosplayed a wide range of characters such as Lara Croft, Widomaker, female Goku, Mystique, Venom, and many more.
Her performance as the Joker went viral because of her expressions.  She also earned praise for her Overwatch cosplay.  Yup, Janet did a picture-perfect portrayal of Widowmaker and her costume and physique made her look like she came out of the video game.
Janet runs a YouTube channel where she posts cosplay content and she is also active on Instagram.
Courtoon
She has always been a fan of art and she puts passion for it while expressing a character with her cosplay.  The American cosplayer began her career in 2007 and it did not take her that much time before she earned recognition.
Courtoon was into fan are and fan videos and as soon as she discovered "fandom" and the art of cosplay, she got sucked in.  She makes her own costumes and rather than making them complicated, she likes to keep them simple.  Her expressive eye, contagious smile, and ability to show complex feelings make her acts worthy of praise.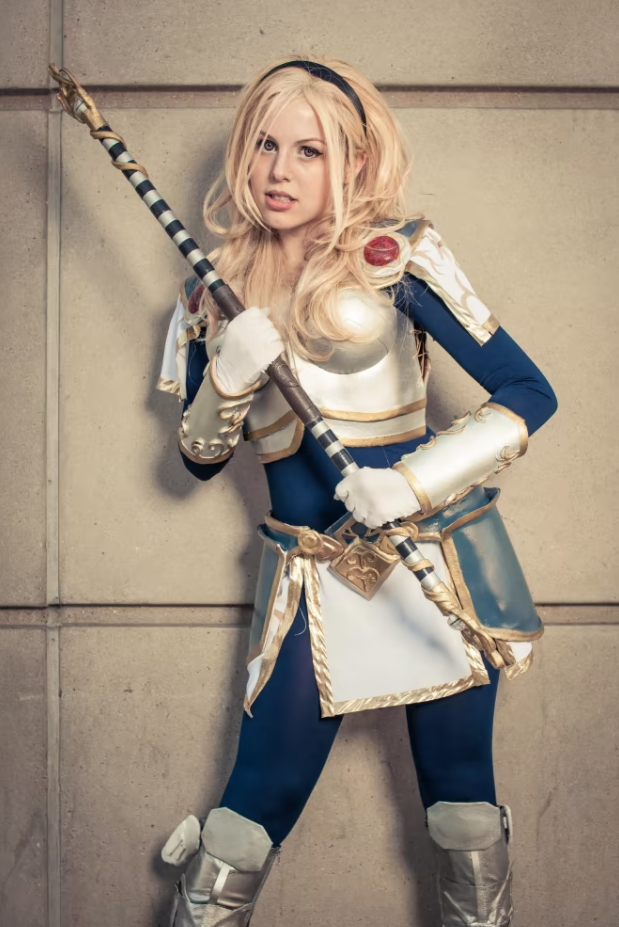 Courtney Morelock aka Courtoon designs what costume she will sport and with that, she has the liberty to highlight her lovely figure.  Though she has been involved in costume-making for a long time, she states that the hardest part about making a costume is the motivation.
Courtoon who wanted to be n animator finds her eternal love in cartoons (Avatar to be specific).  This is the reason she chose Courtoon as her stage name.  She has also participated in several cosplay events such as Mechacon 2015 and 2016, Florida Supercon 205, and more.  She also earned recognition for working Teenage Mutant Ninja Turtles. Her Sailor Venus cosplay remains one of her most popular acts.
Vera Chimera
Yasemin Arslan aka Vera Chimera is from Australia but her love for cosplay and her dedication to it has helped her garner the attention of anime and cosplay enthusiasts from all over the world.  She began cosplaying in 2006 and her reason for taking that path was to "escape a not-so-nice reality."  But cosplay has soon changed that and she now loves it for the fun and "exploration of self-identity."
Vera is also a widely-known designer, pin-up model, and actress and is also a freelance ambassador for the Australian cosplay scene.  She has joined many podcasts and panels and has voiced her thoughts about many controversial issues.
She has portrayed many characters from video games, manga, and anime with the utmost passion…  Characters like Ada Wong, Black Widow, Katarina, Litchi Faye-Ling, Lilith, Violet Parr, and more.  Among these, she considers Tracer from Overwatch to be her favorite character.  She has also attended many conventions and cosplay events in Sydney, Adelaide, Singapore, the Philippines, and Los Angeles either as a panelist, judge, or participant.  She has also worked as a promotional cosplayer for Overwatch, Cyberpunk 2077, Personal 5 Royal.
Vera earned international recognition after being chosen for her Lilith The Siren cosplay.
Souji Yarou
The dark theme of Lady Loki and her charming aura made the most deadly team ever, and it only took hours for the act to take the internet by storm.  The Russian cosplayer is famous for her beauty and sensuality and she knows how to use them in her cosplay performances.  She has been cosplaying for eight years and her fans know of her ability to portray characters seamlessly.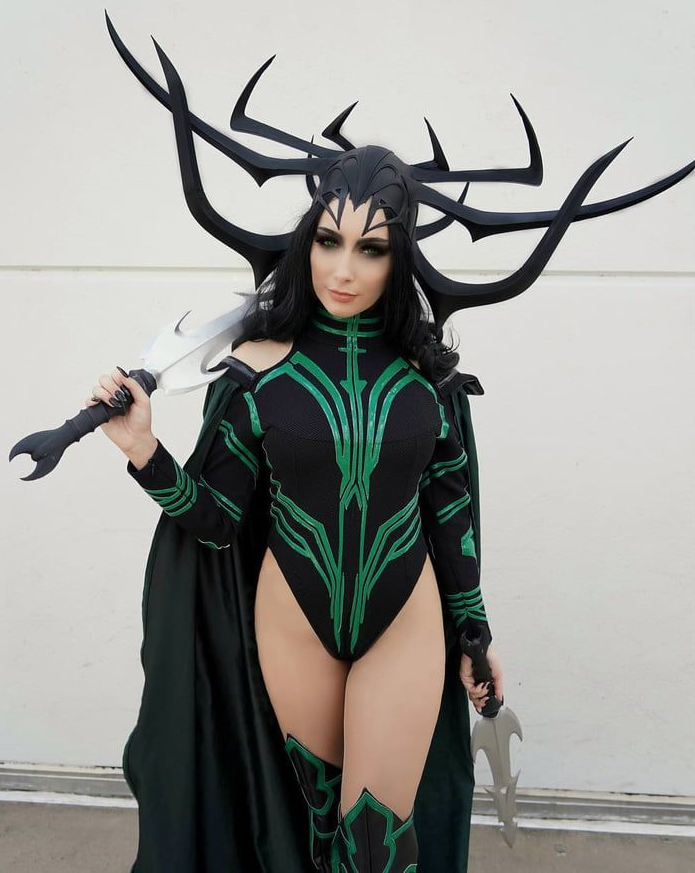 Souji Yarou has sharp facial features and a nicely toned body which allows her to look good in outfits of both genders.  Her talent in crafting helps her figure out how to perfectly represent a character starting from the costumes and props.
Her makeup skill is also mind-blowing and thanks to that ability, she can recreate almost any kind of character.  She has recreated a number and played a part of the pair of Gellert Grindelwald and Albus Dumbledore, She captured the attention of the cosplayer community and the international Harry Potter fans with her performance.
Adrianne Curry
This Cat Woman once made excellent use of her whip and slapped a person who was assaulting her friend.  Adrianne is well-known for cosplaying Cat Woman and she is regarded as one of the best to have ever done so.
Adrianne began her career as a model and she rose to fame after winning America's Next Top Model. However, has talked about how much she was in love with the idea of wearing different costumes but money was her concern.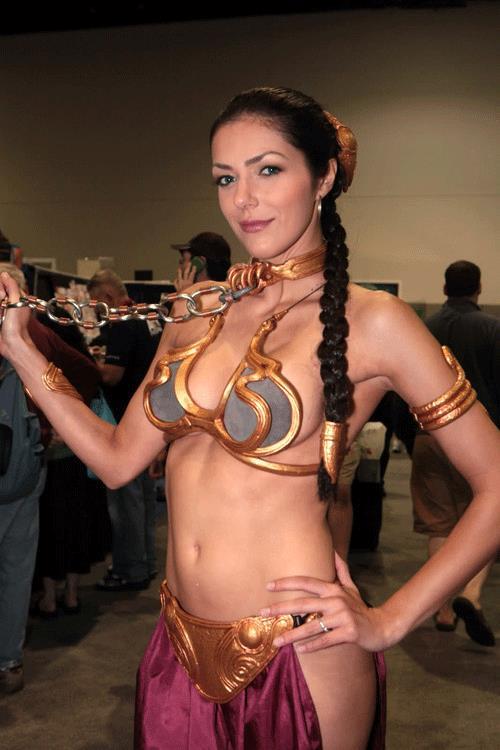 Cosplay gives her the chance to express her quirkiness and she is one of the cosplayers who prefer to ick sexy costumes to flaunt her marvelous physique.  Aside from Catwoman, she has also cosplayed characters like Poison Ivy, Psylocke, Princess Leia, Wonder Woman, and Leeloo.
Adrianne has appeared in several films and television shows including The Surreal Life, My Fair Brady, Jack Rio, Light Years Away, etc.  As a model, she was also featured in magazines such as Maxim and Playboy.  Adrianne has retired from the cosplaying scene in 2016.
Ae Ri
Her pretty features and eye-catching costumes make her captivating every time she appears at cosplay events.  The Filipino cosplayer Ae Ri aka Erika Jean Garbin has been actively cosplaying for more than ten years.
Though initially was just her hobby, it took her only a short time to find that cosplaying is her passion.  Her first-ever act was of Shana from Shakugan no Shana.  Though Ae Ri has a toned physique, she has expressed dislike. for more revealing costumes.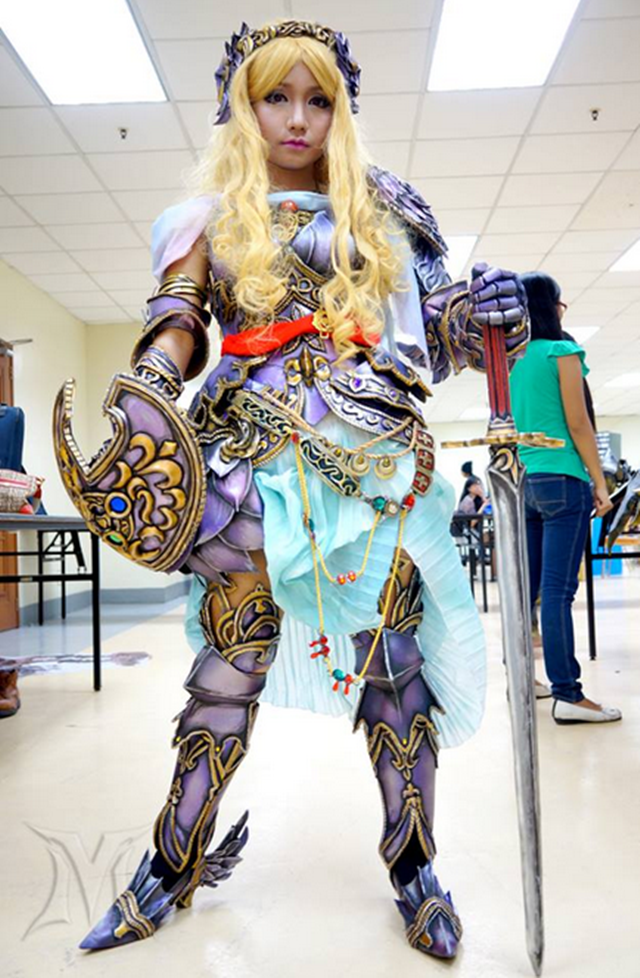 Her love for cosplaying is, to some extent, rooted in her passion for craftsmanship. she makes her own costumes and finds it intriguing to convert 2D images into wearable costumes and armor.
She loves to make armors and heavy arms are the common features of most of her cosplays.  She also wants to make good use of LEDs, electronics, and power tools to create more realistic costumes in the future. she has cosplayed characters like Sara Pezzini, Barbarian, Rathalos Sett.
The cosplayer is shy in nature and doesn't like to go out.  She has often stated that her desire to learn is one of her main driving forces.  She, along with her friends, makes commissioned costumes, and most of them are for Overwatch cosplays. She mostly posts images of her crafts on her Instagram and she also runs an online shopping business.
Lindze Merritt
Lindze is one of the cosplayers who has always been vocal about her thoughts on body positivity n cosplaying.  It is her powerful aura that makes her hot and enigmatic.  She is also a pin-up model and a makeup artist who is often collaborating and working with studios.  Her boudoir, high fashion photography is also popular.
Lindze is also a skilled custom-maker and she thinks costumes can be designed to appreciate each and every body type.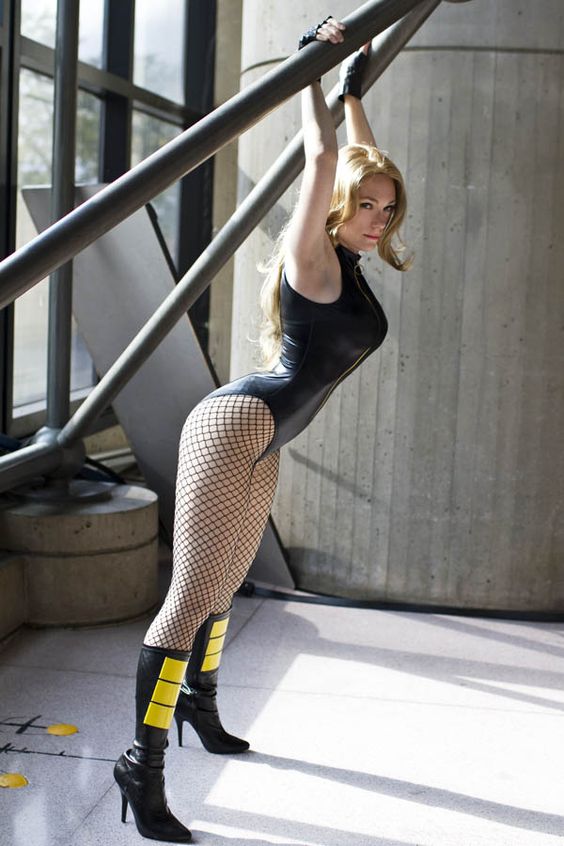 "There are ways to change designs to flatter your body type and play to your strengths, and ways to make you feel more confident even if you aren't the same size or look as the source character."
She also puts vibrant energy into the costumes she creates.  She has won multiple awards for her costumes including Best in Show in Otakon Costume Contest in 2001 and Katsucon Costume Contest in 2003.
Lindze was featured in multiple magazines such as Spin, Good Housekeeping, Creative Loafing, and Playstation Magazine.  She has also attended many conventions around the world and she has traveled around Columbia, Puerto Rico, The Philippines, Mexico, and Dallas to attend cons and cosplay events.
That's it, folks! See you in part 2!