Ah yes, the Philippnes.  The country where every corner there is a woman worthy of your admiring (or lustful) stare.  And yes, we're going to feature a good number of the hottest, most beautiful women from the Pearl of the Orient.  Just some, really, as there are a lot there.  Man, I cannot stress that enough.  Do visit that country if you have the time to see for yourself.
But if you can't right now because of what's happening in the world, it's okay.  That's is why we are here for you.  Now, pay attention as to how hot and beautiful these ladies from the Philippines (or with Filipino blood in them) are.
So here they are fellows, in no particular order of hotness.
Max Collins
This stunning lady is proof that Filipina women are among the most beautiful in the world.  She was born on August 28, 1992, to a Filipina mother and an American of Irish-Italian blood…  This is most likely why this lady has been able to establish a profession in both the Philippines and the United States.
Max Collins, unlike most of the women on our list, did not seek a celebrity status; it sought her out.  When she unintentionally stepped onto a scene, she was discovered by a talent scout.  She was only 13 when her career began, but unlike many other child stars, she has demonstrated her aptitude and has never stopped working since.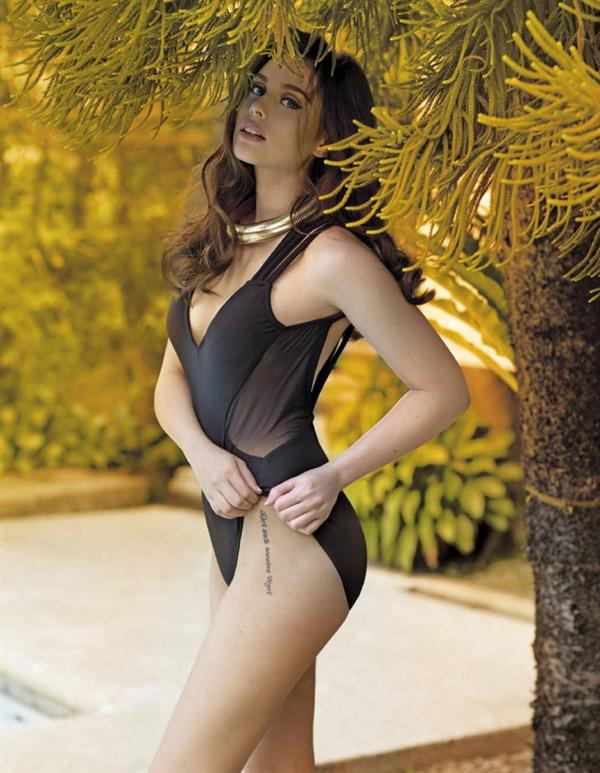 Max is most recognized for her performances in the films Coffee Prince, Bamboo Flowers, and Encantadia.  She is working on various new projects, and we can't wait to see what she comes up with next.
Sanya Lopez
Sanya Lopez, the younger sister of actor Jak Roberto, lost her father when she was two years old.  She met her guru, German Moreno when she was 14, and she dedicates her performance to both her father and her mentor.
Sanya's career began in 2012 when German Moreno spotted her on a set where her brother was filming.  That's how she ended up co-hosting Walang Tulugan with the Master Showman.  Her most well-known roles are Encantadia, Dormitoryo, and Haplos.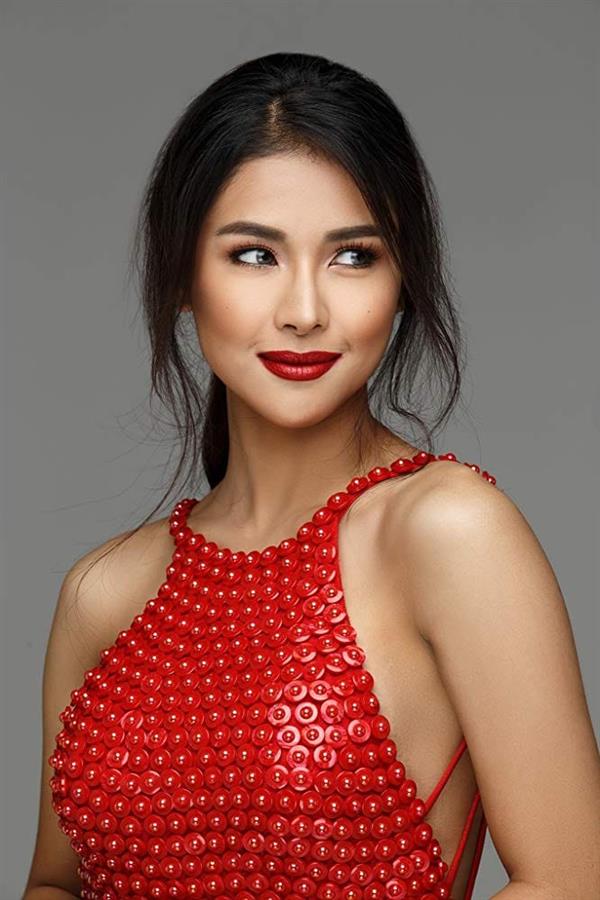 Her cheeky smile promises a plethora of mysteries, and wouldn't we love to be the ones to whom she exposes those mysteries?  She is charming, successful, and stunning, and she properly demonstrates why Filipina girls are among the sexiest in the world.
Maxene Magalona
Maxene Magalona comes from a family of successful celebrities.  Her father was a famous Filipino rapper, and her grandparents are some of the most beloved Filipino actors to have ever lived.
In March of 2010, she graduated from the Ateneo de Manila University, where she had earned a bachelor's degree in social sciences.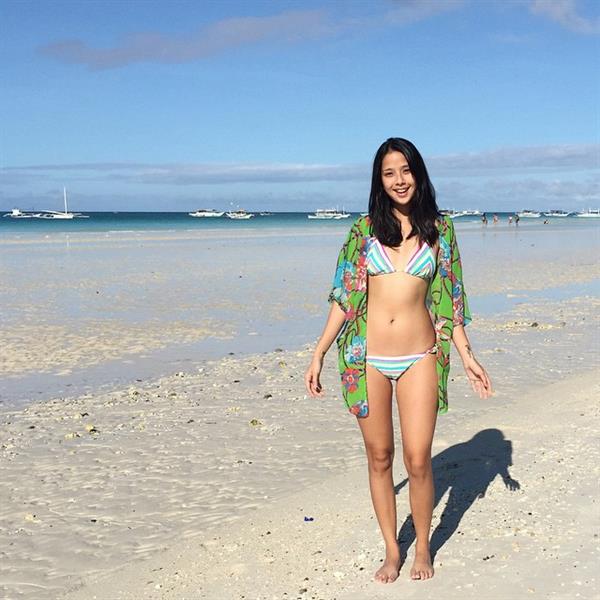 When it comes to her career as an actress, Magalona started out as a child in a kid show "Ang TV."  And when she was only fifteen, she transferred over to GMA Network to further her career goals.
Nowadays, Maxene Magalona is getting lead roles in TV shows and is highly sought after for her talents.
Rhian Ramos
This actress, commercial model, singer, and producer was born in Makati, Metro Manila, in the Philippines, as Rhian Denise Ramos Howell on October 3, 1990.
Since her debut appearances in the television series Captain Barbell and Stairway to Heaven, it was clear that she'd swiftly become a fan favorite.  She has maintained her career in shows such as Lupin, Lalola, Zorro, and Genesis, as well as films such as Ouija and The Promise.  Her talent is multifaceted, as she has delighted audiences in parts in comedies, horror films, and dramas.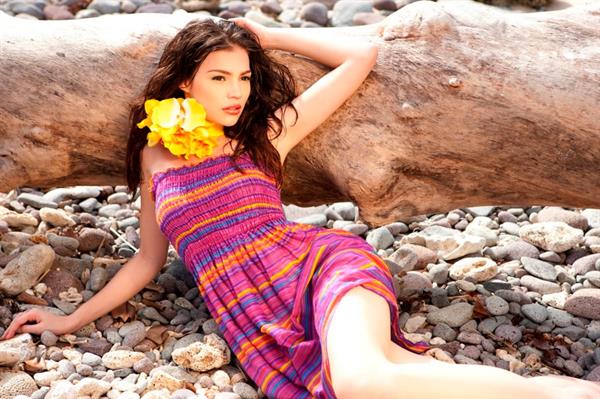 That wasn't enough for her, so she also works as a model, writes poetry, and sings. Rhian Ramos was named one of FHM's Sexiest Women in the World six years in a row.  Just one glance at that amazing figure, attractive face, and stunning eyes explains everything!
Bangs Garcia
Bangs Garcia (born Valerie Garcia) grew up in Davao City.  She was destined to be a celebrity from a young age.  She won Campus Idols in 2005 and began her career.  Bangs swiftly rose to prominence after taking on duties such as hosting a teen show and competing in a model search.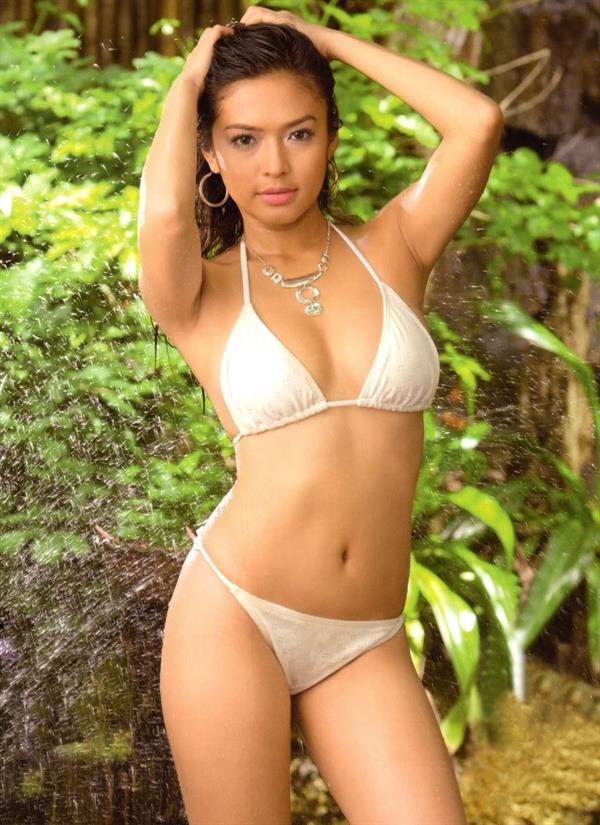 Garcia's genuine claim to fame came a little later, in May 2006, when she was cast in the famous sitcom Let's Go.  She portrayed Bangs in that sitcom, a hard-core female who simply controlled every room she was in.
The nickname from the show stuck, and for well over a decade now, Valerie Garcia has been famous only as Bangs.
Solenn Heussaff
This actress, model, TV presenter, singer, and painter, graduated from Eurocampus and went on to study fashion design in Paris, where she took a course in makeup, prosthetics, and body painting.  And the rest is, as they say, history.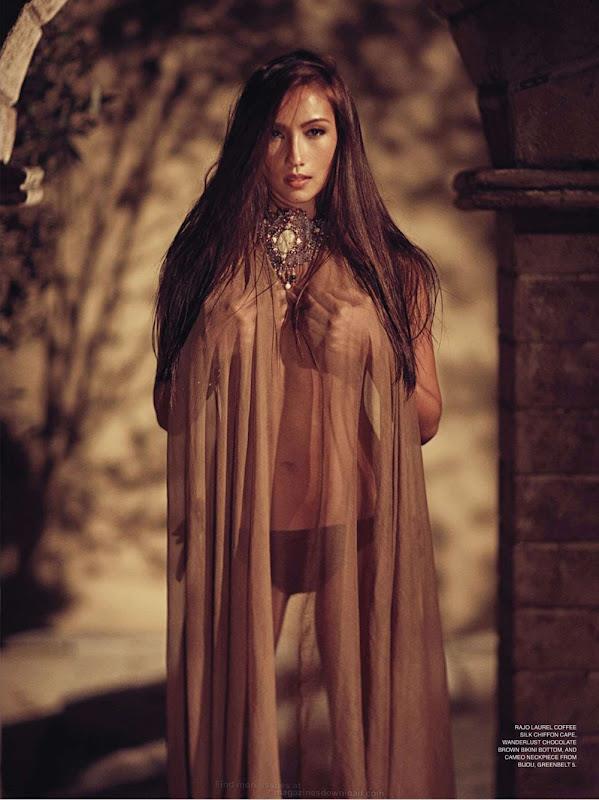 Solenn Heussaff captured audiences' hearts in Temptation Island, Yesterday Today Tomorrow, Alyas Robin Hood, The One That Got Away, and Encantadia.
Daphne Joy
Daphne Joy Cervantes Narvaez is the perfect combination of Latin and Asian ladies — the ultimate gravity-defying beauty.  Daphne's mother is Filipina and her father is Puerto Rican, and they were brought together by the United States Navy, as so many happy couples are.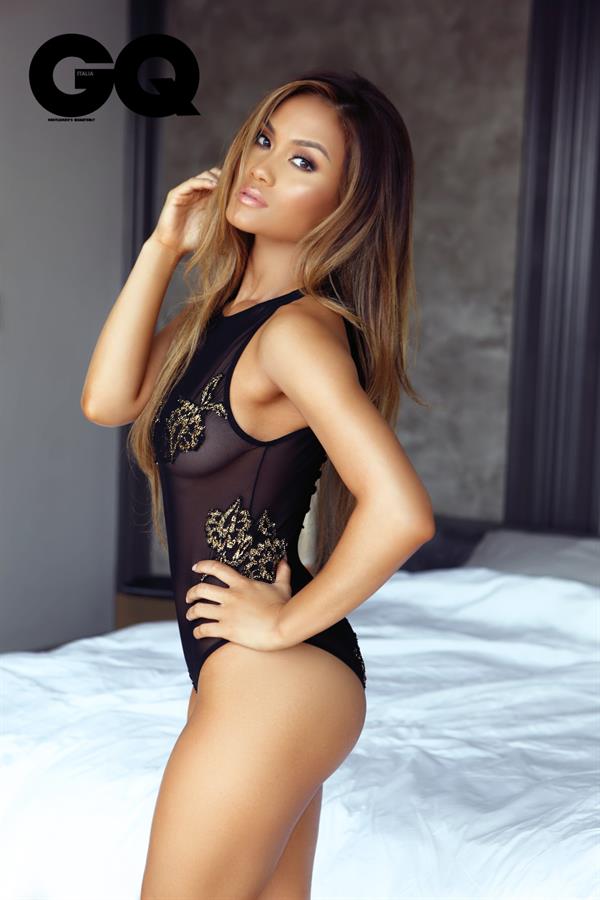 She is the best of both worlds.
Daphne Joy was born on February 8, 1987, near the massive US Navy installation that used to be at Subic Bay, north of Manila, on the Philippine island of Luzon.  She was born in the Philippines and lived there until she was seven years old. Her family had relocated to Los Angeles, California, at the time.
And she may have a little more genetic mix than she realizes because central Luzon is known for beautiful ladies with a little ethnic mix.  From 1898 to 1999, Subic was home to tens of thousands of American soldiers, sailors, and marines, and there was also a big air force facility in Angeles City, about forty miles away.
Previously, there had been Spanish, Portuguese, and Malaysian sailors in the area for centuries.  There are many beautiful, exotic Filipinas in that neighborhood, but Joy stands out.
She was a high school cheerleader and now works primarily as a bikini model and actor, but she enjoys working out and has begun doing some fitness modeling.
Lovi Poe
This hottie is the daughter of legendary Filipino action hero Fernando Poe Jr. and actress and beauty queen Agnes Moran.  We can only conclude that she inherited her mother's knockout physique tenfold.
She began singing in 2006, but she rose to prominence after landing a starring role in the successful TV series Bakekang.  Her career took off after this part, with appearances in Zaido: Pulis Pagkalawakan, Woke Up Like This, Dear Uge, Mayohan, Temptation Island, and Someone to Watch Over Me.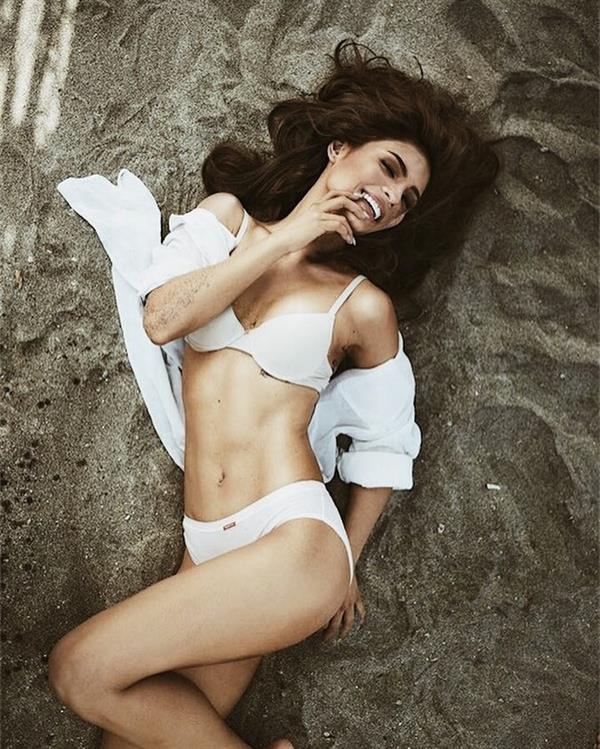 Lovi Poe's beautiful smiling eyes, great figure, and lips to die for have won her a spot on this list of the sexiest women from the Philippines.
Maine Mendoza
Born to Filipino parents, this lovely young lady graduated from high school in Bulacan and went on to earn a bachelor's degree in hotel, restaurant, and institution management.
This 26-years-old Maine Mendoza rose to prominence in 2015 after uploading a Dubsmash compilation video to YouTube.  That went viral, and she was dubbed "Queen of Dubsmash," and her acting career took off from there.  She has played a variety of parts since then, but she is best recognized for her portrayal of Yaya Dub, as well as her films My Bebe Love: #KiigPaMore and Imagine You & Me.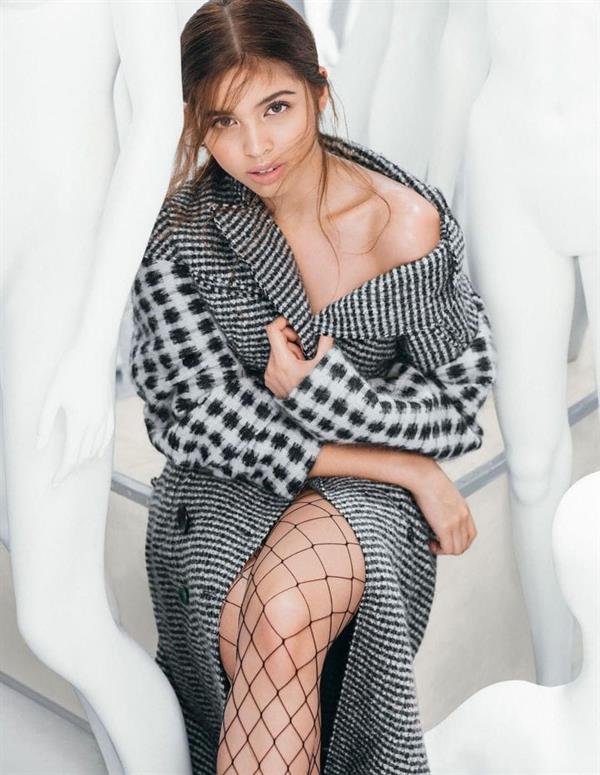 This stunning lady not only has a fantastic figure and an angelic voice, but she is also tremendously humorous! Hot Filipina women are recognized for their complete trifecta!
Angel Locsin
This Filipina's climb to prominence was quite remarkable.  Angel Locsin was born in Santa Maria, Bulacan, on April 23, 1985.  Angel completed high school and a fashion design course before being found in a shopping center by a talent scout.
People fell in love with her acting and beauty because of her parts in Mulawin, Darna, and One More Try, despite the fact that she had many unique roles.  She received both mainstream and indie prizes for her performance, demonstrating that she is a true artist in her own right.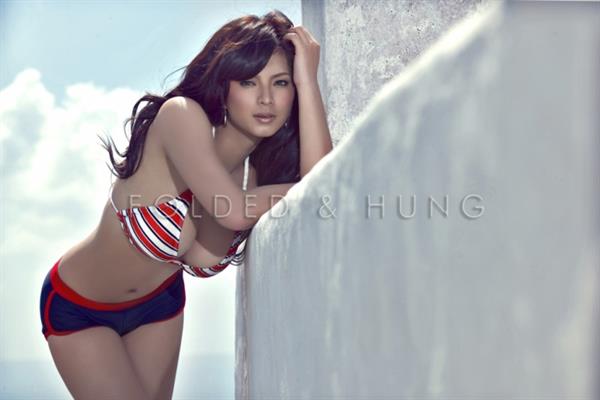 This stunning actress may have an angelic face, but when you look at the rest of her, you'll feel very guilty.
Jennylyn Mercado
This Filipina lady achieved critical praise at a young age, but her path to stardom was not simple.  She made headlines for the first time, not because of a movie role, but because she was a child abused by her stepfather.
She, on the other hand, did not let her personal sorrow slow her down.  Jennylyn tried out for StarStruck, a talent show on Philippine television.  She and Mark Herras were named winners out of hundreds of applicants.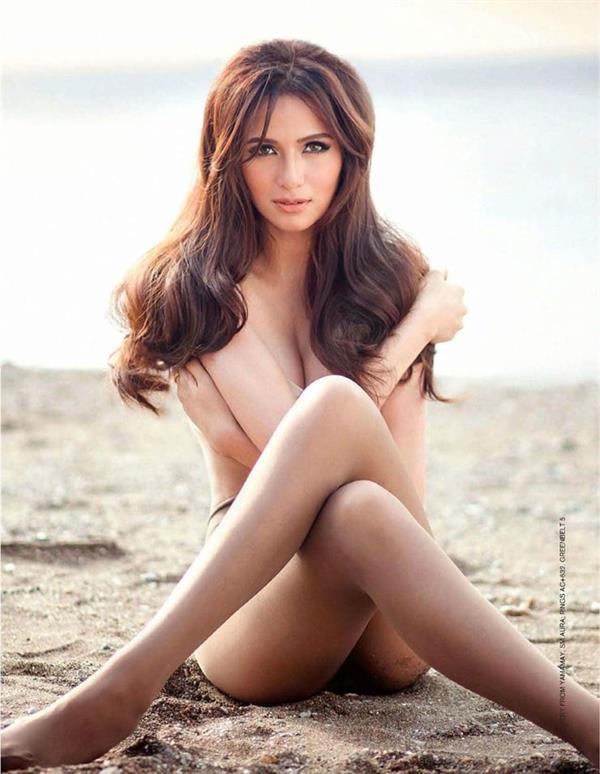 Jennylyn Mercado went on to star in a number of box office hits, including Walang Forever, The Prenup, English Only, Please, and Just the Three of Us.  She also had three successful albums published.
Kim Domingo
Kim, who was raised by her grandmother, admits to being Lola's (her grandmother's) girl.  This girl, raised in a pretty strict environment, completed elementary and high school before pursuing a career in dentistry.
None of this suggests she'll become a huge Filipina star any time soon, does it?  But that's exactly what occurred.  Kim Domingo rose to prominence after recording a dubsmash of the song Twerk It Like Miley in 2014. Following that, she appeared in a number of hit films, including Bubble Gang, Juan Happy Love Story, and Mang Kepweng Returns.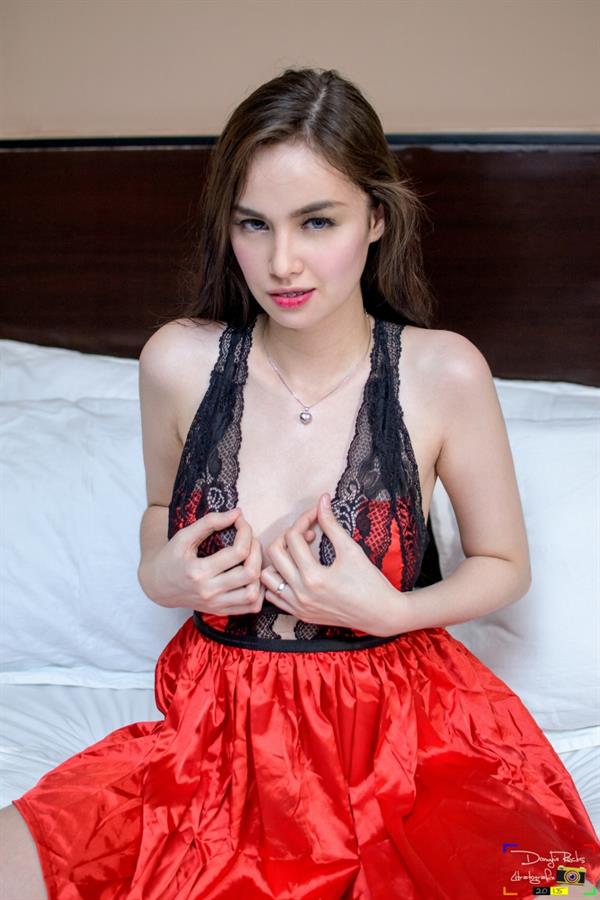 She has 1.6 million social media followers, and it's not all due to her outgoing nature. It's because of her sizzling hot curvy body – simply look at her pictures to see what we're talking about.
Nadine Lustre
This lovely lady began her career when she was just nine years old.  She was the host of the children's show Storyland on television. She went on to host shows, act, and sing after that.
Nadine is most recognized for her parts in the films Talk Back and You'll Be Dead, Diary of a Panget, This Time, and Para sa Hopeless Romantic.  Her film career, however, did not prevent her from acting in teleseries such as On the Wings of Love and Till I Met You.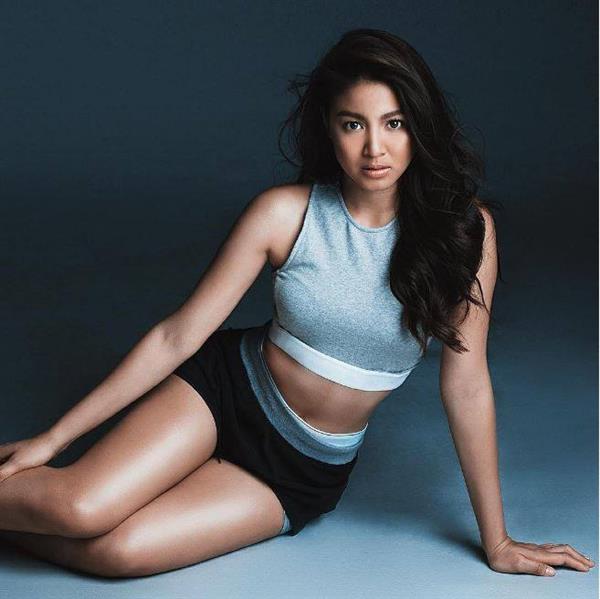 Nadine Lustre was named FHM's Sexiest Woman in 2017.  Why?  We'll let her photographs speak for themselves. You now understand why we adore gorgeous Filipina women.
Andrea Torres
This wonderfully attractive girl, born in Makati City, Philippines, has always known what she wanted.  She was a contestant on the adolescent show Qpids when she was 15 years old.
Her career took off once she secured an exclusive contract with GMA Network.  Andrea Torres then landed a role in the drama series Blusang Itim.  Despite the fact that this was her breakout role, she is better known for her roles in Sana Ay Ikaw Na Nga, The Millionaire's Wife, and Meant to Beh.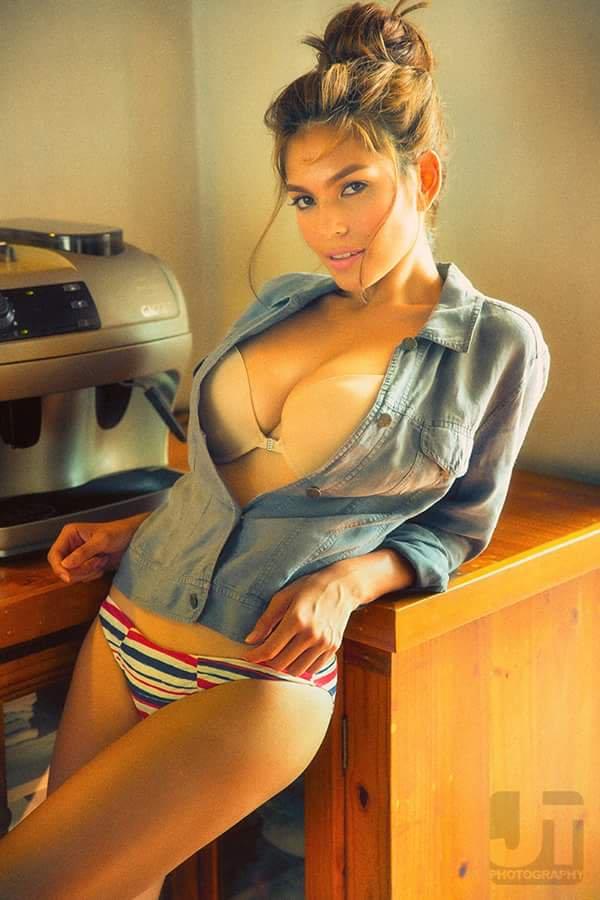 This curvaceous Filipina girl adores her figure and isn't afraid to flaunt it, which is presumably why she has over 1.4 million Instagram followers.
Pia Wurtzbach
This girl was born in Germany to a German father and a Filipino mother.  Her parents divorced when she was nine, and her modeling and acting royalties became her and her mother's primary source of income.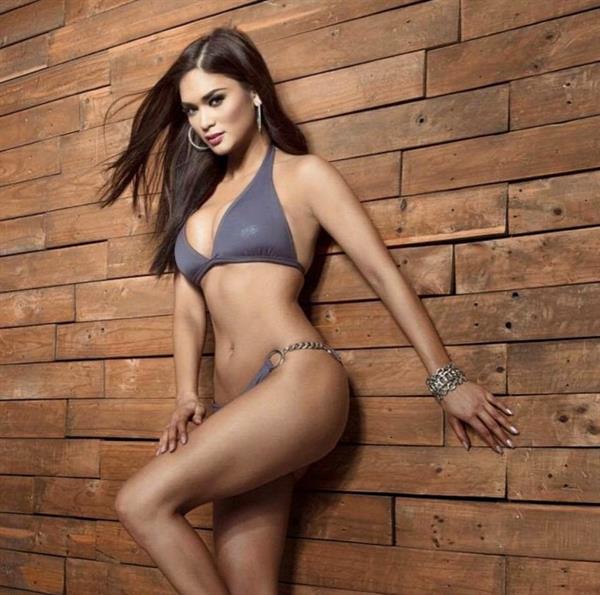 Her profession began when she was four years old, but she became famous globally due to her status as one of the world's hottest ladies.  Pia Wurtzbach was named Miss Universe 2015.  She continued to perform after that, appearing in films such as Gandarrapiddo! My Perfect You and The Revenger Squad.
Coleen Garcia
Believe it or not, this lovely aspired to be a journalist and a psychotherapist before deciding to pursue a career in entertainment.
Coleen Garcia's modeling career began when she was just two years old when she starred in a commercial for Johnson&Johnson alongside her mother. She had similar engagements after that until her adolescence when she began performing.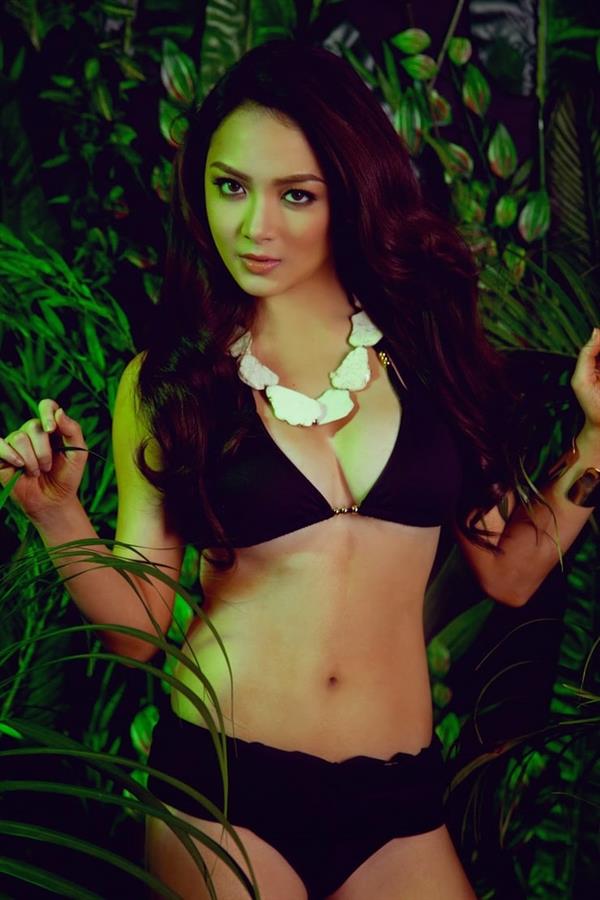 She is most recognized for her work as a TV show host for It's Showtime and as the actress in the film Love Me Tomorrow.  This Filipina is stylish, seductive, and wonderfully gorgeous, and she makes us want to move to this amazing nation!
Jessy Mendiola
This girl, who was born in Dubai, absolutely redefines the meaning of the word hot.  She studied public communication but ended up working in the film industry.
Jessy is most recognized for her portrayal of the lead character in the remake of the Mexican drama Maria Mercedes.  Her work can be seen in films such as Salvage, Budoy, and Kung tayo'y magkakalayo.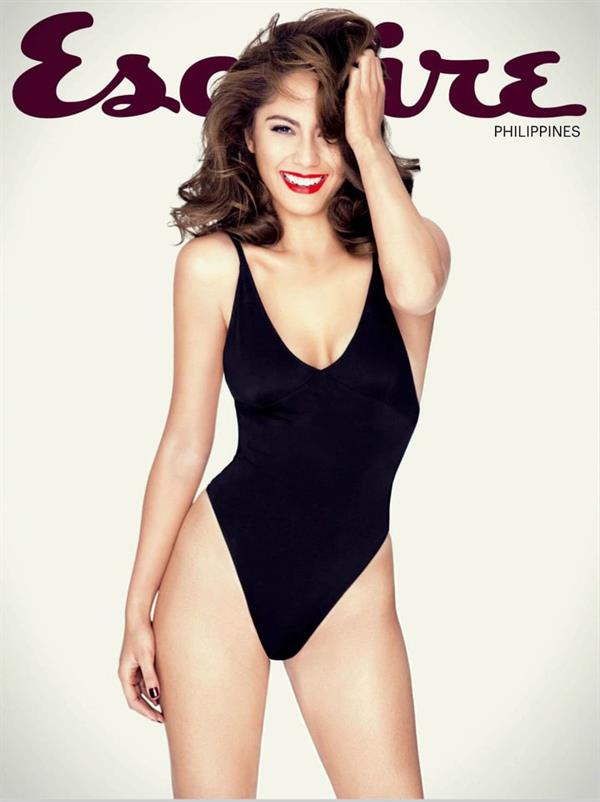 Jessy Mendiola was named the No. 1 Sexiest Woman in the Philippines by the magazine FHM in 2016.  7.5 million people follow her on Instagram alone, proving that we're not the only ones who adore her sumptuous form. Check out her photos to find out why.
Anne Curtis
She was born on February 15, 1985, in Australia, but her family relocated to the Philippines, where this stunning beauty was approached by a talent scout when she was only 12 years old.
Anne Curtis was offered an opportunity to act a month after the scout approached her, and she gladly accepted. Princess Dahlia would be her breakout role.  Although this was a nice role, she really stole our hearts in her later appearances in A Secret Affair, No Other Woman, and Baler.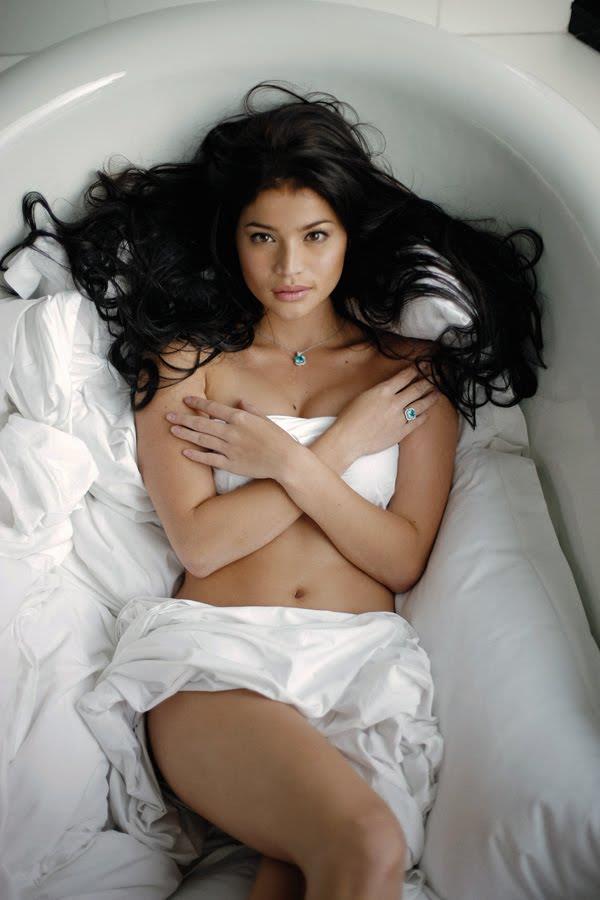 Her huge eyes and plump lips, together with her beautiful cleavage and shapely legs, are everything most men can only wish for.
Arci Muñoz
This Filipina beauty rose to prominence in 2005 when she appeared on the popular talent show StarStruck.  She utilized her celebrity to feature in a number of additional TV5 and GMA shows.  Her extraordinary beauty earned her the opportunity to represent the Philippines in the Asia Supermodel Competition a few years later.
She is now well-known for her role as the show's leading lady in the wildly popular rom-com Since I Found You.  She is also the lead singer of the rock band Philia.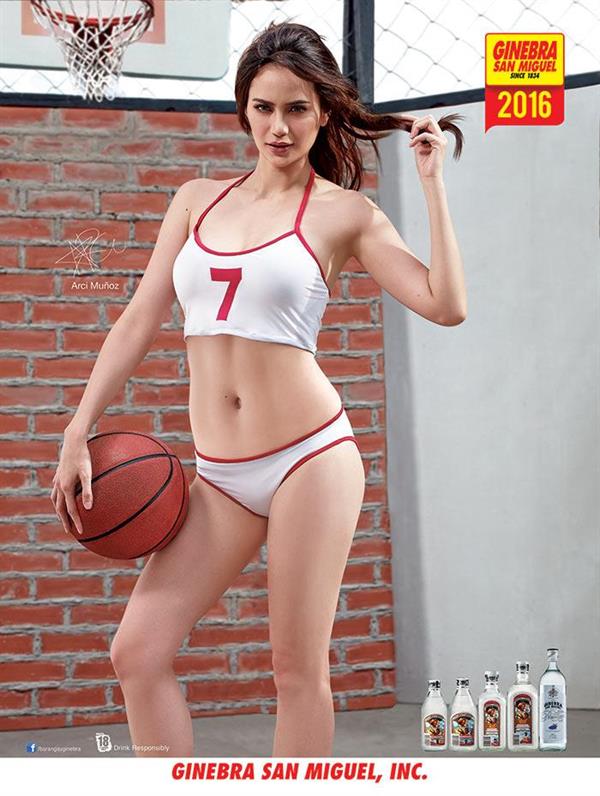 Arci Muñoz is sure to shake your world with her musical talent and a beach physique that most ladies only wish they had.
Megan Young
Megan Young exemplifies how the best things originate from two distinct worlds.  She was born in the Philippines to a Filipina mother and an American father.  Despite the fact that her family traveled frequently, this stunning beauty knew she aspired to work in the film industry and even studied cinematography at Dela Salle-College of Saint Benilde.
Despite her excellent film career, which includes films such as White House, Alyas Robin Hood, and others, her claim to fame stems from the fact that she was the first Filipina to win Miss World.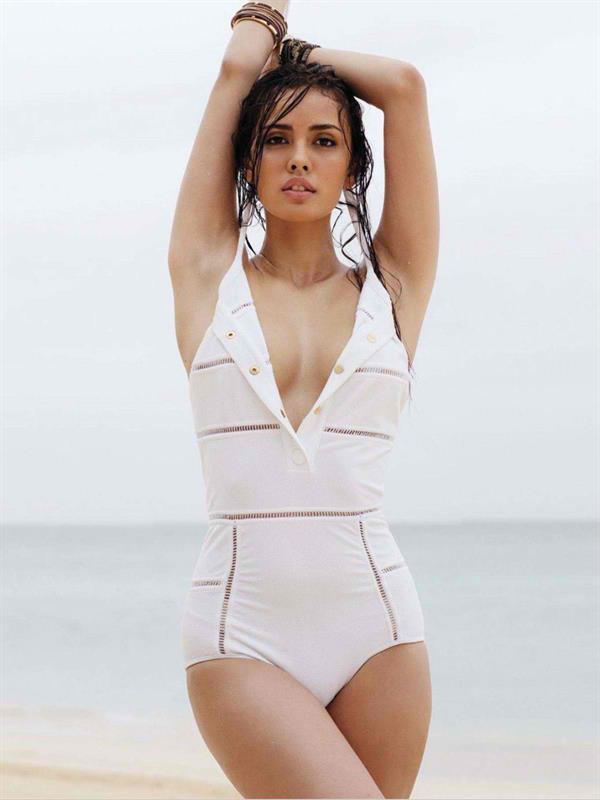 This exotic beauty is a showstopper because of her small waist, exquisite curves, and stunning face.
Catriona Gray
Catriona Gray is one of the most beautiful ladies in the world, having been born to a Filipino mother and an Australian-Scottish father.  And those who knew her realized it from a young age.
In reality, she originally entered the world of pageantry in 1999, when she was just five years old, and won her maiden title.
She holds a master's degree from Berklee College of Music and a black belt in Choi Kwang-Do.  The crowning achievement of her career was becoming the fourth Filipina to hold the title of Miss Universe.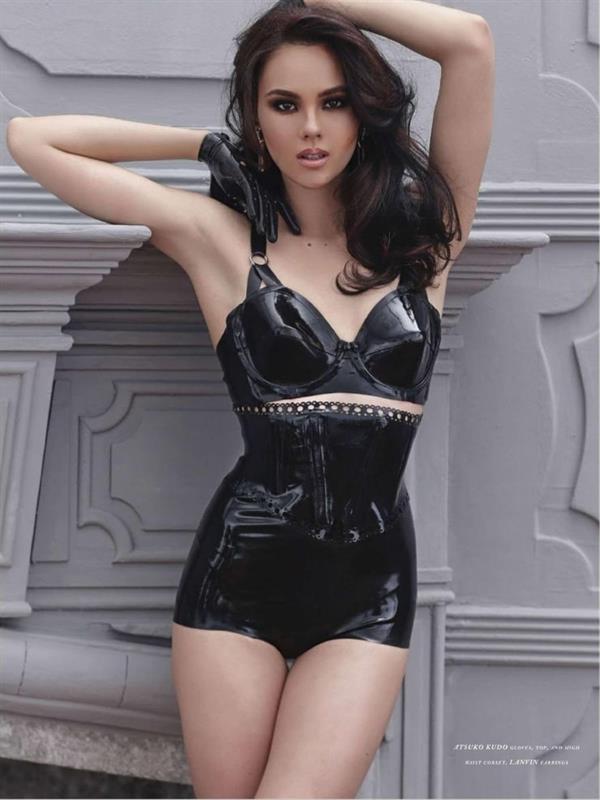 Catriona is one to watch out for, with stunning beauty, mind-blowing body, and fantastic voice.
See you on our next listicle, folks!